Rated

5

out of

5
 by
InspectorSix
Great product, but description/image out of date
Many 4x6 photo pages use a combination of landscape and portrait orientations, which is not elegant. These 4x6 albums are all landscape orientation. (The downside to this is that they are taller than most albums, and shelves for them may have to be taller.) The slipcase on the 4x6 albums makes them easier to stack on a shelf and prevents dust on the pages. (Unfortunately the portfolios larger than 4x6 do not come with a slipcase.) FYI, this text in the current description is inaccurate: "The first and last pages are full length single pockets for an index or storage of negatives." The full-length single pocket pages were a feature of an earlier version of the 4x6 albums, but these pages/pockets are no longer there. In its place is a single CD sleeve on the inside of the front cover. Also, the current image of the 4x6 album shows the background of the pages as light gray, but they are now black. Have attached an updated image.
May 27, 2015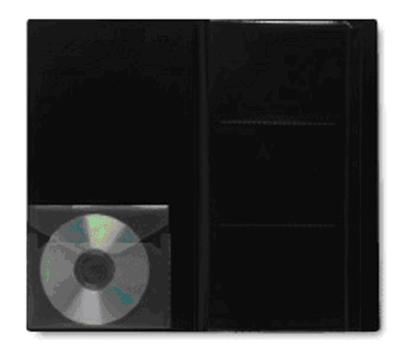 Rated

5

out of

5
 by
FamilyArchivist
Perfect Photo Storage
Slim and efficient storage with spine labels & indexing space. Great price too! Highly recommend for maximizing storage space.
July 20, 2014
Rated

5

out of

5
 by
msjeep26
Portfolio Photo Album
Excellent product especially if you are show casing 8x10 pictures. Highly recommend.
June 29, 2014
Rated

5

out of

5
 by
simplyme
Great quality in a photo album
I took over 75 pictures and needed an album that would protect the pictures. Not only is this archival quality, but it's extremely easy to insert the pictures. The cover stays clean and looks neat on the shelf.
June 24, 2014
Rated

5

out of

5
 by
BigMikeMiami
UH-MAZING Storage for Art and Other Flat Items
I travel internationally for work and have a lot of tear sheets of product and ad samples from all over the world I travel with as part of my job. I also do small art projects with my 4 year old nephew. I needed something that raveled well and didn't bend page corners. I discovered this portfolio/ binder in multiple sizes available ( great feature depending on the project and material size I am working with). Stores flat or vertically and keeps everything protected, organized, and easily accessible. Would be excellent for any student needing a portfolio to present their work as well.
April 1, 2014
Rated

5

out of

5
 by
capitolHillLisa
great for magazine and newspaper clippings
My husband often pulls out recipes from Sunday's NYT and they were piling up. This is a great place to organize them. Likewise, my daughter likes to cut out or print pictures of athletes and they sit in a pile. I gave her these books -- one for Hockey one for Baseball and it's like her own sports collection of photos! LOVE THESE!
March 31, 2014
Rated

5

out of

5
 by
Amy17
Greatest photo album
I love these photo albums.They hold a ton and barely take up any room. Since there are no rings like typical binder albums, the streamlined shape makes it possible to fit more on the shelf while keeping the lines neat. I do miss the fashion colors from years ago, however, black is always good.
March 22, 2014
Rated

5

out of

5
 by
Sassyboo
Amazing Photo Albums
I purchased two Profolio albums. They are very well-made and professional looking. In addition, the slots for the photos are archival safe and 100% acid free. I have been searching for this quality of album for some time...so obviously I am super excited. Thank you Container Store! I will definitely be a repeat shopper!
March 23, 2013
Rated

5

out of

5
 by
JulieS
Great for autographers
My husband is a huge MLB fan and often photographs players during the games. He used the larger albums to hold his 8 x 10 photos to get autographed at events. Album has clean lines and is sturdy.
March 18, 2013
Rated

5

out of

5
 by
mandylyn
Perfect and preferred by husband
The art portfolios are perfect for my husband who collects original art at comic book shows. He loves the way the folios expand to accommodate the art. He has used it to display art for sale received from artists he employs to draw his books. We have recommended the folios to everyone we meet in the industry.
April 29, 2012
Rated

5

out of

5
 by
KDobbs
Very pleased!
I always rip things out of magazines (recipes, wine lists, style options, etc) and never have a place to put them, so I decided to pick up one of these to keep myself organized and have easy access to those great tips and tricks I come across. I am very happy with the purchase. Things slide very easily into and out of the pages and it looks much nicer on my coffee table. I may buy another to keep take out menus in!
April 24, 2012
Rated

5

out of

5
 by
Pattycakes
1 - 11x14 and 2 - 8.5x11 art portfolios
OMG. Being from Lake Charles, LA, I could not find as nice a portfolio for my photography business (especially on sale no less) as these. They are perfect. Very professional looking. I will not be ashamed to take these to clients. Thank you again Container Store. You alwayss come through for me. Please come over here to Lake Charles, please,please, please!!!
March 20, 2012
Rated

5

out of

5
 by
Majudo
Archival Albums - Saving My Heritage
I have multiple newspaper clippings, birth & death certificates and family letters which I wanted to protect from deterioration because they document our family history. The associate at the Container Store knew exactly what I needed and introduced me to these wonderful products which provide protection for documents and pictures.
March 19, 2012
Rated

5

out of

5
 by
genecat
organize photoes
like it. I can only put 4X6 photoes. the front has one pocket for CD. I wish it comes with more CD containers. Love the overall quality, as always.
November 27, 2011
Rated

5

out of

5
 by
KlutzyMom
Money Well Spent
It's just the right size, easy to handle, acid-free archival paper, good price, and it can be used by my tattoo artist son as two books in one. He can fill it with photographs of his tattoo art from the front, flip the book over and it can be a book of his wall art.
August 22, 2011
Rated

5

out of

5
 by
Verified Reviewer
compact and practical
Excellent design and effortless set-up. These are superb photo albums - practical, well-designed, and compact.
February 15, 2011
Rated

5

out of

5
 by
PHare
Nice Purchase
The purchases were sent quickly. The items were just what I had been looking for.
October 6, 2010
Rated

5

out of

5
 by
Carm
Repeat Buyer
I love these photo albums. They fit a lot of pictures and they fit nicely on a book shelf since they are all the same it looks very uniform.
March 3, 2010
Rated

4

out of

5
 by
Arnold
Functional
Great for storing pictures but definitely not a coffee table album. Photos slide into sleeves, so there's not fuss with double stick tape. No option for vertical display of pictures.
January 30, 2010