Rated

5

out of

5
 by
Cuenca1950
10 Compartment Box Is Space Efficient
I bought three of the 10 compartment two sided boxes for storing electronic parts and supplies. They're great! I especially like that the compartments are of varying depths and sizes, and that the lids are slightly domed so that you have just a little extra room if a compartment seems a little too full. The dividers between the storage compartments extend into that domed lid and keeps the contents well contained within each compartment. The double sided storage makes it easier to find what you're looking for by just turning over the box. Stuff doesn't get lost or overlooked at the bottom of a compartment as easily this way. The next time I'm back in the States I want to buy a least a couple more.
November 6, 2015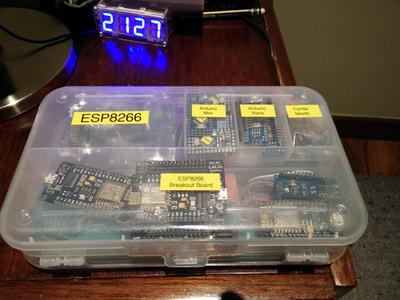 Rated

5

out of

5
 by
ThinkingButterfly
Efficient container
I keep the small one next to my bed with asst. items I use regularly in it. My husband has one also and uses his at his desk. I am going to buy more when I go to Florida this week as there aren't any Container stores in Michigan. I glued pieces of that non-skid mat stuff from the dollar store on both sides so it stays put.
August 16, 2015
Rated

2

out of

5
 by
Mom720
Two-sided compartment storage box
I purchased several of these for organizing beading supplies. While the idea is great, the description did not say that while it is two sided storage, you can only access one side at a time. I expected it to open like a book and it did not.
May 18, 2015
Rated

5

out of

5
 by
UnderTheTableAndDreaming
Awesome School Supply Box!!
This pencil box is fantastic. The clear box allows the student to see inside to instantly see that if he or she has enough pens, (short) rulers and flash drives. On one side I keep my pens, short ruler and flash drive. On the other side I keep my sharpened pencils in one compartment and paper clips, mini post-its and small binder clips in the other compartments. It keeps me organized so that as an adult going back to college, I can focus on studying not on searching through my pocket book to find my school supplies. A bonus is that the clear case makes it easy to see whether I've taken my flash drive with me after using college computers - no more lost flash drives!
July 13, 2014
Rated

5

out of

5
 by
FL2RI
Inexpensive Multipurpose Storage
I originally bought this to corral some of my kids rainbow loom bands and accessories, but then realized that it would be perfect for the drill bits, screwdriver bits, nails, picture hangers, screws/plugs, etc. Everything is sorted into it's own compartment and easy to find. I worried initially that the latch might not hold these heavier items, but it seems to be holding up well! This item was priced very well and I'm sure I'll pick up a few more of these to corral small items around the house.
February 16, 2014
Rated

5

out of

5
 by
applehead1
Another purpose for the Two-sided box
I had been looking for a small container that would hold both used and unused "sharps" or disposable needles. My medication is in an epi-type pen, and uses disposable needles. When home, I keep the used sharps in a special container designed to safely and properly dispose of them. When I travel, however, I need a smaller container for the same purpose. I found this in the Two-Sided Compartment Storage Box. I labeled one side "used" and the other side "new" and place the needles in accordingly. The compartments snap closed, and hold! There is little chance of them popping open and spilling the contents. I used to carry the sharps in small plastic bags (in the pack with my medications) but always had to warn anyone who inspected the pack that the sharps were in there, and to be careful not to shove a hand into the bag. With this container, I don't have to worry that anyone would get stuck. Sharps disposal products are much larger, and cumbersome in suitcases. I can keep this container in my purse or carry-on luggage without having to worry about a plastic bag tearing and sharps spilling out. I can also carry the epi-pen in the same container and keep all my supplies together.
November 29, 2013
Rated

5

out of

5
 by
foxxybeader
A Beaders best tool
I like to work on jewelry/beading projects while on the go. The two sided compartment boxes are perfect for this exact thing. On one side I have my beads and clasps and on the other side I can store my thread, needles and folding scissors.
August 29, 2013
Rated

5

out of

5
 by
Jules222
Superp
I love this compartment storage box. Having it clear so I can see exactly what I have stored in it is ideal. Perfect size and durable material.
April 29, 2013
Rated

5

out of

5
 by
LPasteur
handy dandy
This is a pretty handy dandy device that my sister appreciates for organizing beads. Good way to store & organize little objects.
March 25, 2013
Rated

5

out of

5
 by
calamommy
Best for Baby!
I bought this container to keep my baby's snacks contained in his diaper bag. It works SO great! I definitely recommend this item to all my friends now too, because you can use it for virtually anything, but who would've thought- diaper bag! No more crumbs on the diapers now!
March 21, 2013
Rated

5

out of

5
 by
SweetpeaAndi
I love organizing
I bought 3 of these divided boxes. One for each of my grand kids so they don't fight over things. This way they have their own. They keep crayons, colored pencils, erasers, pencil sharpeners, etc.
January 19, 2013
Rated

5

out of

5
 by
mjdm
Love these!
I ordered four of these to add to the one I already had' They're great. you can store so much in even the small ones. Since the price is so low you can have them for each craqft or project.
June 9, 2012
Rated

4

out of

5
 by
ascj66
great draw organizer
I use these in my drawers to avoid clutter. It is much easier for me to grab what I need.
April 9, 2012
Rated

4

out of

5
 by
Drmrs
Almost perfect
I have the 6 compartment box and it fits pencils, paperclips, extra lead, and larger erasers SO WELL. And it closes firmly so I know it won't fall apart in my bag. I just wish it was a little bit wider because it doesn't fit small post-it notes, but that's just a small thing. Great buy!
March 21, 2012