Rated

5

out of

5
 by
Cristen
Saved my closet!
I love these totes (and the medium totes as well). I reorganized my closet this summer, and the color wave totes are the primary solution. The labels are especially helpful and have made it possible for my daughters to keep the closet organized themselves. The totes are sturdy and can hold a substantial amount of weight, and the inserts and organizers are great for keeping small items separate.
September 27, 2016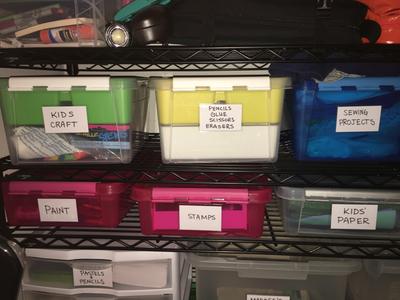 Rated

5

out of

5
 by
GoofyMe
Perfect!!!
I needed storage for all my crochet stuff. This fits the bill. I can stack them and see everything I have. It helps me with all my projects. In fact I'm planning on getting more.
July 28, 2016
Rated

5

out of

5
 by
MtCabinAunty
Stackable Saving for the Future
5 granddaughters - much accumulation. Wanted to organize it so they would have something after I was gone. This size is perfect for stacking in an obscure corner. The plastic accepts labels nicely so each child can have her own box. They can look in them when they visit and know that there will be something here for future visits, and to remember me by when they can't visit me any more. Anything can be placed in them. The only limitation is my imagination.
March 19, 2015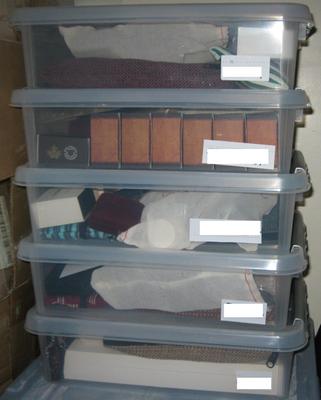 Rated

5

out of

5
 by
HermosaBeach
Small & Medium Smart Store Totes
I use these containers to store fabric swatches for my business. They're very sturdy and snap together tightly with the built-in fasteners...best of all--they're stackable. I add more containers as I need them.
March 13, 2015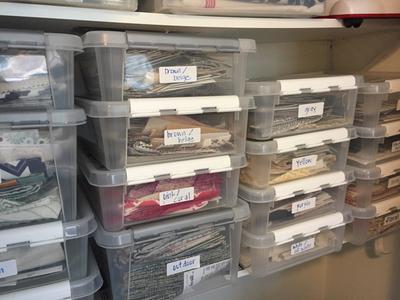 Rated

5

out of

5
 by
Nana26
Very useful
I bought 10 containers and found them to be durable and handy for sorting and storage of small items. I am going back for more. The lids snap on tightly and secure the contents.
June 24, 2014
Rated

5

out of

5
 by
1trutexan
Great organizer/tote
I needed a way to carry my jewelry line without it getting all messed up while being transported. This tote allows me to keep the jewelry in place, and I bought the deeper tote so I can put catalogs, sales slips and other supplies in the bottom.
June 9, 2014
Rated

4

out of

5
 by
SmallSpaceBigCity
Versatile, we use these for tons of stuff
We love these bins--we use them to store Legos, Playmobil, arts and crafts. They are roomy, we have them in all different sizes. The only thing I'm not crazy about is that the handles are a little hard for my toddler to open but my 5 year old doesn't have a problem.
March 13, 2014
Rated

5

out of

5
 by
mashag
Smart is exactly what it is
I have several of these boxes with all inserts that are available. I absolutely love it for my crafts and for my kids stuff. The close well. they are stack-able, see-through. Just truly smart organizational containers for everything and everyone
November 20, 2013
Rated

5

out of

5
 by
Esquire
COOOOl!
I have been crafty in the last couple of years and have built up quite a collection of just about everything you can make something with, including, 12 books of scrapbook paper(I don't scrapbook). I needed a way to organize this stuff and be able to quickly grab what I need. I bought the Med, Lg and Xlg bins with every different size inserts and handled trays and I love it. Waiting on labels and 3 more tall inserts to finish. Pics to come when I finish
November 13, 2013
Rated

5

out of

5
 by
MWhite
Great Storage Solution
Easily fits 12 coffee cups for closet storage so the don't fill up the buffet
September 20, 2013
Rated

4

out of

5
 by
Verified Reviewer
Jewelry Storage
I used the small box for jewelry storage. Everything fits beautifully, is easy to see, is protected, and can easily travel with me if needed. The only reason that I didn't give 5 stars is that the inserts don't fit together as snugly as I imagined. The quality is great, though, and I really like that it is so customizable.
July 22, 2013
Rated

5

out of

5
 by
Guildheim
This has so many uses, such as card games.
This container (with the three small long inserts) works wonderfully for people who collect card games (CCGs and non-CCGs). I personally use this for the card game Dominion, it's the perfect fit for the main set, 3 large box expansions, and 2 small box expansions. Or you could just put in the main set and 4 large box expansions. Even with all that weight (roughly 2000 cards) there's very little bowing on the bottom of the case, and the clamp-downs on both sides are lightweight but hold up nicely. I'm planning on buying a couple more of these, not just for card games but for lots of small item storage.
June 17, 2013
Rated

5

out of

5
 by
4family
GREAT!
I came in for one product but saw these & I'm happy I switched. They are perfect for storing samples I keep in guest bathrooms. The separators are just the right size for shampoos, conditioners & lotions. I originally bought 2 & went back for 2 more.
April 26, 2013
Rated

5

out of

5
 by
Xintara
Sturdy storage
I bought 3 of these containers because they're strong enough to hold up to the weight of the polymer clay blocks I work with. I'm going to use 2 of the containers to further organize my crafting supplies. The containers fit pretty well into a large tote I already had. I'm so glad I found such sturdy containers. No other store had anything like them.
April 18, 2013
Rated

5

out of

5
 by
RINKADINKY
GREAT FOR ORGANIZATION
I have these for embossing powders. They are wonderful for organization. My art room is so organized because of the Container Store.
February 25, 2013
Rated

5

out of

5
 by
mendezla
I Love These Things!
These storage containers with changable inserts are so nice. I had an overwhelming number of items in my utensil drawer; everything from utentsils to chopsticks, to wine toppers, to medicine droppers. I was able to take out all of the items I rarely use, but don't want to get rid of, and put them in these containers. You can see through the top and identify everything, and the different size inserts work great depending on the type of stuff you want to organize. I bought a couple the other day, and I'm going back for more. Oh, and they stack well, too!
August 17, 2012
Rated

5

out of

5
 by
faithintaos
Great Storage System!
This portable storage system is fantastic for organizing my beads , jeweler's tools and sewing notions. I like it that they are stackable. Also the different size inserts allow for customizing the inside dimensions to suit all purposes. I have 4 totes with inserts that I have stacked in my studio. Everything I need is right there when I need it. Don't know how I ever lived without them!
July 30, 2012
Rated

5

out of

5
 by
katcass
Works great for storing office supplies and keeping them all together
April 28, 2012
Rated

5

out of

5
 by
Grace72
Great lego storage
Was looking for something to help organize and store my children's legos - this line of products is perfect. Different sizes of bins, as well as the inserts that go inside - very versatile!
April 22, 2012
Rated

4

out of

5
 by
smallone1
This product is perfect for organizing a big area.
March 8, 2012
Rated

5

out of

5
 by
AllisonTX
Great for Beyblades
Perfect size for Beyblades. I used 2 long containers and 3 small in each box, one for each child.
December 4, 2011
Rated

4

out of

5
 by
AFPlays
Smart Store Tote
I purchased this item to organize magic markers, and crayons for my grandchildren. It is just the right size, and they can grab it easily from the ELFA drawer I assigned to them.
August 27, 2011