Rated

2

out of

5
 by
x4light
Erasable? Not so much.
Was rather disappointed in these, they aren't quite as sticky as I would like and the advertised ability to erase isn't quite on point. Seems like you can, to a degree, with serious effort but it doesn't come completely clean. Maybe 80% of it, leaving a pretty noticable smudge. Certainly not what I expected.
April 24, 2016
Rated

2

out of

5
 by
Miami
They don't erase cleanly
I've opened the package and labeled multiple boxes, so can't return the item, but when I tried to erase one label, it did not erase cleanly, even after minutes of "erasing action." Looked at instructions, and I was doing it correctly. You are better off spending less money and going to an office supply store to purchase non-erasable labels to use (then cover with new label if contents dramatically change). Pen tip was also too thin - lettering needs to be thicker for ease of reading contents of stacked boxes. Handy concept, but I would not buy again.
April 28, 2014
Rated

5

out of

5
 by
stoehrrl
Erases easily
The ink must be dry and it takes a few passes before all the ink comes off. But the easer doesn't leave smudges on the label which I think is great.
March 11, 2014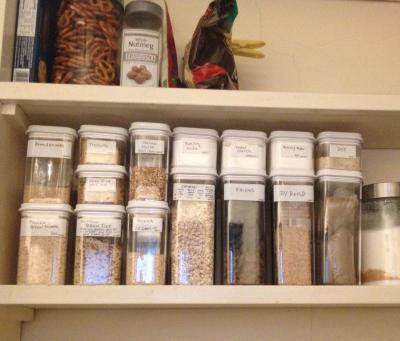 Rated

4

out of

5
 by
Bklein
Label obsession
If you're obsessed with labeling (or not quite there yet) this is a great tool! I've recently purchased it and find myself labeling all my left overs. I like that i can write and erase as many times as I want. The only downfall is that it doesn't write on a moist surface (i.e. take out a left over from the fridge, erase and try to re-write for something else).
September 26, 2013
Rated

5

out of

5
 by
OkeeChick
Awesome!!!
I absolutely LOVE all of the erasable labels! I change my mind quite often - these labels eliminate using "white out" or something similar which looks messy. Just erase & WOW a clean slate on which to write the different name!!! LOVE!!! LOVE!!! LOVE!!! I have used these for years! I hope they are NEVER discontinued!
April 27, 2013
Rated

4

out of

5
 by
DenzilDragon
Work well
These labels work well, and seem strong. Some of them have been through the dish washer a few times now, and there's no sign of wear & tear. The eraser doesn't seem to do a perfect job always, but maybe that's just me being lazy and not willing to spend ages on it. I'm only docking one star as I didn't think they had the best range of sizes (I use them on the Hermetic Glass Storage Jars, 500 ml up to 1.5 l sizes). I'm going to end up with lots of the largest size labels left after I've used up all the smaller ones. It would be good if refills were available of just one size of label.
March 18, 2013
Rated

5

out of

5
 by
RealtorGirl
Awesome labels!
These labels are great and very easy to erase. I use them for labeling my clear tea boxes. They are very handy when freezing food in re-usable containers.
March 4, 2013
Rated

5

out of

5
 by
TeacherMomNJ
love these
I almost never write reviews, but this is a great product. I bought a set years ago and still use it. They are especially great for storing pumped milk for baby, just write the date on the bottle and then decide if it is going in the fridge, freezer, or pour it in a bag and reuse the bottle.
February 18, 2013
Rated

4

out of

5
 by
JennyN
Does just what they're supposed to
I use these on my food containers which hold things for longer than just a day (i.e. for lunch), but the contents change regularly. Think: trail mix one day, frozen pesto next month. The labels are durable and stand up to dishwashing. The marker doesn't smear but it does erase for the next usage. I have had this first set for about 4 years and I haven't come close to using all the labels. Seems like for a little lower price and fewer labels I could have met my needs more easily.
April 28, 2012
Rated

5

out of

5
 by
Bubalesca
love that i can reuse them
Great use in pantry, frindge and just about anything. I wonder why did I not know about them earliuer than last year! TIP:you can use any marker in case their gets dry in time. And you can still reuse/rewrite them which is so cool!
March 23, 2012
Rated

5

out of

5
 by
fitgirl
LOVE LOVE!
Seriously I thought of this before I knew it existed many years ago and then here they are at the Container Store!! I label all my food containers in the frig and freezer with these, haven't been able to NOT use one again yet. I have had them for about 3 years.
March 19, 2012
Rated

4

out of

5
 by
kimcres
Love, love, love
I have used these on several storage items. In the day, CS had labels for VHS tapes and I loved those, too. This makes items easier to find in bins and totes and instead of peeling labels, you just erase or use rubbing alcohol and cotton swab to remove the writing. Great invention.
February 17, 2012
Rated

5

out of

5
 by
abtex35
labels
These are great and reusable many times. I also have the ones for the freezer.
February 21, 2011
Rated

5

out of

5
 by
pepper042
Work Great
I've been using these for 2 weeks now on babyfood containers and I have no complaints. They've been frozen and microwaved, though I haven't tried them in the dishwasher. Works a lot better than my previous system, which was guess/sniff/taste to see if you're feeding the child sweet potatoes, peaches, or carrots. :)
June 22, 2010
Rated

5

out of

5
 by
Claire
GREAT product; Can be reused many times!
I use these to store food (like cookies or crackers) in canning jars which are vacuum sealed with the lid attachment on a Foodsaver. Hand-wash the lids with the labels, and they can be used/reused for a very long time. I did have a problem with the eraser which kept breaking off every time I used it, but once I replaced it with a big pink eraser, I was good to go. Putting the labels on the lids are great for seeing into a drawer; once I accumulate quite a few they're erased all at once, and ready to put onto another jar.
April 5, 2010