Rated

5

out of

5
 by
TroyC
This is great for Scrapbooking!
I use the 5x7 photo cases to store those little bits and pieces that come in die cut packs. It works great and holds a ton!
December 20, 2014
Rated

5

out of

5
 by
YouJustGotMACked
Photo Albums are So Last Year lol
I had hundreds of photos leftover from my college wall sticking days and never could find the right album for them. The albums were either too bulky or didn't hold enough pictures. I found this during the recent sale and was very happy with my purchase. Not only will a set hold hundreds of pictures but it also looks very fly stacked on a bookcase or coffee table. I also love that it's clear because it doesn't ruin the decor. I loved it so much that I bought the larger size (5x7") for treasured birthday cards. It was a great purchase. My only qualm is that i found it for about a dollar cheaper than the original price at a chain Arts & Crafts store. Word to the Buyers at Container Store, a $1.50/ $2.00 might be a better daily price point for these photo boxes.
July 11, 2014
Rated

5

out of

5
 by
labtech
These containers work great to store fake blood in them for teaching labs.
May 5, 2014
Rated

5

out of

5
 by
Catlover7
I'm finally organized!!!
My model cat has TONS of photos!!! Getting more stuff
April 20, 2014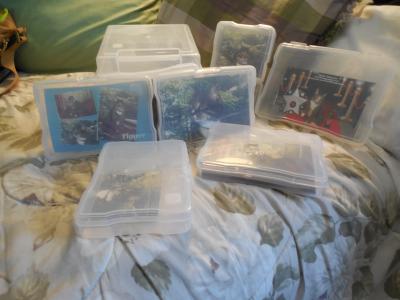 Rated

5

out of

5
 by
Levelup14
Photo Case
I mainly use this case for more than photos I use it for a small portable office. It holds all the small items that I need epically when I am in the class room getting my next level of education which is my Bachelors Degree for Business.
April 10, 2014
Rated

4

out of

5
 by
riShells
Fits a lot of photos...
These cases fit more than 80 photos in each one. I wanted to try the case before buying the holder and cases. I like the organizational process this will give me for cataloging my photos. I did find that the latches on the case are flimsy and do not catch well. I think the pros outdo the cons.
March 25, 2014
Rated

5

out of

5
 by
kianeema
Great tool to organize pictures
Love these boxes - it's amazing how much more space we had after transferring photos from various albums/boxes into these storage boxes. We're heading back to the nearest store to get some more of these soon!
March 19, 2014
Rated

5

out of

5
 by
PhotoBuff
Perfect Photo Storage
These photo boxes come in all of the most popular sizes. They are great for storing photo's and have a lot of other versatile uses.
March 19, 2014
Rated

5

out of

5
 by
PaulaEL
Did the job!
Finally went through all my old pictures and sorted them out. These containers were great. Hold about a hundred or even a few more. Great way too keep lots of photos in a small space.
January 31, 2014
Rated

5

out of

5
 by
Carefulcustomer
Great storage item
I've bought a couple of these small cases. First of all, they hold up to 100 4 x 6 photos and they are a nice way to give someone some printed photos when you don't want to make a book or put them in albums. But also I store my camera battery charger and extra memory cards in one. The hinged case has lasted for years now and it's a nice size and price at under $3.00.
January 18, 2014
Rated

5

out of

5
 by
Jeroen
Had too many pics laying around. These cases allowed me to sort en store them. Pics fit perfect. Lid locks perfect for storage. No plastic smell that might ruin the pics.
October 17, 2013
Rated

5

out of

5
 by
Koni
4x6 clear container
I absolutely love these containers.. They are the perfect size to put pens in, since I am a demonstrator for a company. They contain all of my business cards and cards of others and at home they are great for small items around the house, like rubberbands. I also create firstaid kits with these and also church kits for the kids. Great product!
September 18, 2013
Rated

5

out of

5
 by
baohst
Perfect for my sample cards!
I was looking for something to organize my Avon sample cards, and I decided to give the 5x7 photo cases a try. They are perfect!
August 11, 2013
Rated

5

out of

5
 by
Wen66
Great Case
I'm amazed that you can fit 100 photos in this one little case, it's amazing!! The case is also very sturdy which makes such a difference and it's small enough that you can kit it in your purse for those "bragging photos" a mom likes to carry around :)
August 7, 2013
Rated

5

out of

5
 by
LeahNY
Best Invention Ever!
Love how compact it is. I can store it anywhere or take it with me to places. The design is simple, yet appealing, and it makes photo storing a neat and fun thing to do. I don't feel overwhelmed anymore. Check it out and see how unique it is! This is for those who don't want a million photo albums lying around the house.
August 5, 2013
Rated

5

out of

5
 by
frijack
item is perfect for intended use of holding 5x7 photos, but as a scrapbooker it is also useful for other kinds of storage, wish i had bought more, hmm, may need to make another trip to the Dallas area to do just that!!! you need a store in Tulsa!!!
July 31, 2013