Rated

5

out of

5
 by
bluevision
Best binder
A handsome high-quality binder. Sturdy black boards. The indescribable texture of a classic artist's portfolio. Rings in the center of the spine, where they should be.
March 14, 2014
Rated

5

out of

5
 by
MavisJ
Nice Binder
I ordered the binder in green along with several packets of photo storage pages to organize an old photo album (my mother's) that had fallen apart. The binder appears sturdy and durable. Ready for many years of opening and closing. I sat down this morning and put all the pictures in their new home and looking forward to surprising my mother with the new album.
July 14, 2013
Rated

5

out of

5
 by
vpbear1
Great Product
This is a great product and the 5th one I have purchased. Four are being used as memento gifts and the binders were sturdy enough to have the covers laser engraved.
June 25, 2013
Rated

5

out of

5
 by
IAIA
Made our bookcase So Beautiful !!!
We wanted to have a quiet and elegant design of our bookcase as it located in our TV room. So I got rid of all the colourful different size of binders and bought the Bigso Stockholm Binders in three colours⿦grey, light green and the Bigso. The result is beautiful. Every guest who come says WOW⿦
January 10, 2017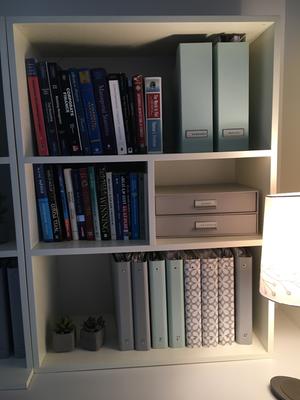 Rated

3

out of

5
 by
reecee
Miss the OLD high quality Leather Bound!
These two notebooks may not prove to be adequate for my use! While they are colorful, etc., and probably appropriate for many binder uses, they are Not the quality I visited The Container Store to purchase. In the past I have purchased MANY Leather bound binders, used for photos from various trips. They came in a number of different colors, ("the container store" embossed on the lower back cover!), they were VERY study, high quality, held many pages and most of all LOOK GOOD on the shelves in my family room--containing many memories It seems every time I find an excellent product in the store, continue to purchase it, it later becomes UNAVAILABLE! Once drove to Fort Worth to purchase the last of one item available in the whole state! I am a LONG-time customer of Container Store, from the original store in Dallas in the late 1960s. It is my top 5 of places to shop. Please don't do this to me!.
June 27, 2014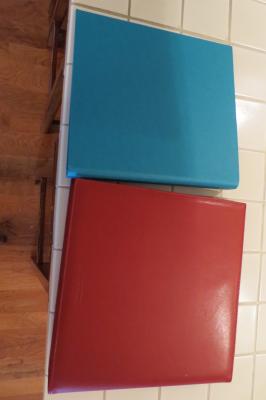 Rated

5

out of

5
 by
Designer31
Like the colors!
I use these to hold design magazine articles of interior designers. I like the aqua one the best! They work great too!
May 29, 2014
Rated

4

out of

5
 by
LoriDe
Good All Purpose binder
Not much to sayt about a binder. It's well made and I love the colors. I think it's a little pricey.
May 1, 2014
Rated

4

out of

5
 by
organizedteacher1
I love these binders. They look nice on my shelves and are a good quality. I only with that they came in more sizes.
April 29, 2014
Rated

5

out of

5
 by
BeachBumProfessor
I Love It
After a second flood in my basement I decided to organized my pictures. Started with negatives and I love the negative pages. I also got a gray binder and I love the color and the strength of the binder. Only complaint, which is not a complaint but a suggestion, but pockets in the side would be nice. I will order more.
August 3, 2013
Rated

5

out of

5
 by
Canes
Great Purchase
I purchased one of these albums and the 5x7 and 8x10 photo inserts to put all of the larger photo's laying around in one place. This binder is really sturdy... not flimsy at all. Probably going to buy more to hold CD's and/or more photo's.
April 14, 2013
Rated

4

out of

5
 by
Nashville615
Nice looking binders
Very nice looking binders, perfect for my work place. The only downside is they are very rigid and stiff making it difficult to open them and have them lay flat.
February 14, 2013
Rated

5

out of

5
 by
Valentine
well done
I ordered photo packets in several sizes. They were promptly shipped. The products were well made. Good online shopping experience.
February 9, 2013
Rated

5

out of

5
 by
genhen
Very happy about it!
I have had CDs all around the house for quite a while now and it was driving me crazy!!! I decided it was time to tackle the cdraziness. These binders as awesome! They are very sturdy and perfect for what I was looking for. They are very plain, so if you want something girly you might want to look into something else. I myself bought two, one for me and one for my husband. I will use my Cricut to cut our names on vinyl and put them in the cover.
January 19, 2013
Rated

5

out of

5
 by
darianm
Beautiful and strong binder I'm using for photo's
I love the loves that these binders came in they are so bright. The binder is very strong and made well but not bulky. More room for what you put inside. I have all my autographs 8 1/2 by 11 and it fits perfect
November 2, 2012
Rated

1

out of

5
 by
McDub
:Poor quality
while the colors are lovely (and the reason I initially was drawn to them), the construction is terrible. The metal binders don't actually come together properly and the binder itself looks/feels cheap.
September 9, 2012
Rated

5

out of

5
 by
chapppie
Since I had already purchased one of these, this one came as expected and in a timely manner. Sturdy and exactly what I needed. I will order more items of this nature.
August 9, 2012
Rated

2

out of

5
 by
smalldog
Not what I expected
I purchased this binder as it appeared to fit the archival CD pages. It does not. The pages are too wide for the binder. If I were to use this binder for other things, I would just purchase a 3 ring binder at an office supply store. This is stiff and does not feel as if it will stand the test of time. It is nice looking, though.
March 9, 2012
Rated

5

out of

5
 by
HJS73
Great, Sturdy Binders
Simple design and they look great on my bookshelves. Very sturdy.
March 8, 2012
Rated

5

out of

5
 by
irishwahinie
Love it.
I really like this binder and love the color. Great way to get organized in a colorful way.
February 29, 2012
Rated

5

out of

5
 by
organizedinIL
Perfect for My Purpose
I purchased these binders for use with Container Store DVD/CD plastic storage pages. The pages fit perfectly into the binders, and the DVDs fit perfectly in the pages. One binder contains my 4 year old granddaughter's DVDs. She can pull out her binder and have all her movies at her fingertips. I have other Stockholm pieces as desk storage and find them to be top quality in workmanship and style. They are also budget friendly.
February 5, 2012