Rated

5

out of

5
 by
Kaylietek
Not just for photos!
I LOVE these! These are a great for organizing just about anything small. I use one to organize our greeting cards, another to organize technology (ear buds, charging cubes, sd cards, jump drives, etc.), and another to store small games. My next mission is to create a Christmas card station with one of these!
November 14, 2016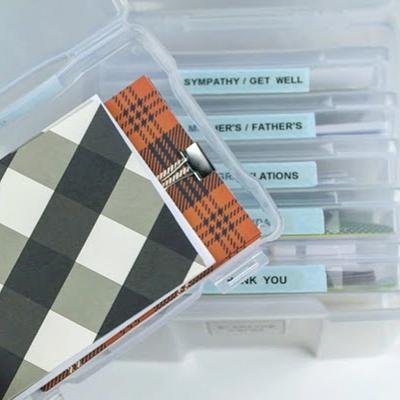 Rated

5

out of

5
 by
ChloeBelle
Photo Storage
The most efficient way to store 50 years worth of priceless family photos. Sorting by year or special event is easy now. No longer do I have to sort through photo albums searching for a particular photo. Have given these containers to family members as gifts.
August 6, 2011
Rated

5

out of

5
 by
julzounanian
Photo Container
I have purchased several of these for my final "organize my photos day". They are perfect for 4x6 or smaller photos.
January 28, 2017
Rated

5

out of

5
 by
VERWIEW
TOTALLY AWESOME BOXES
I totally love these boxes. I went from having several books of not knowing what was in each book to being organized and labeled. Makes it easier to find pictures when i need them. I would totally recommend these to anyone who wants to have your pictures organized.
January 12, 2017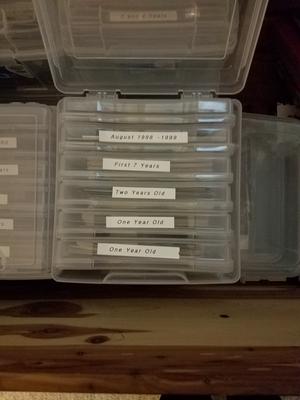 Rated

5

out of

5
 by
Bingo58
Awesome!
I wish I would have ordered 2 of these! I absolutely love it! I have so many pictures. It is easier to store them this way then in a photo album. Each kid has their separate box and I sorted them by activities also. I used my label maker to mark each box. I have one for my family pictures and the list goes on! It is a great item. I will order another for sure!
November 6, 2016
Rated

5

out of

5
 by
GabbyA
Photo Storage
Purchased storage organizers to organize years of photos and I am really glad I did! It is a journey as I have lots of photos to go, but love the storage items that I purchased.
September 22, 2016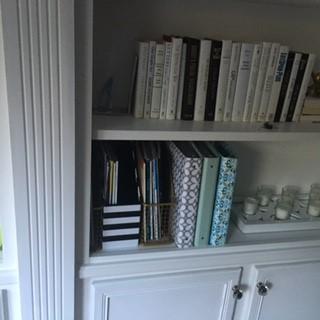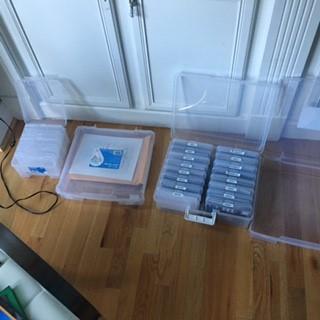 Rated

5

out of

5
 by
GeminiGem
Great Product
These are the second time I've purchased this brand of case. 1 12 count, and just now, 2 16 count cases. My mother had albums with the corner tabs that we're getting tattered, and I needed something that would preserve the pictures and still be easy to get out and look through. These are great!
August 9, 2016
Rated

5

out of

5
 by
StarEye
Love it!
This photo storage carrier is sleek and easy to use. I purchased this product to help me with the KonMari Method. It made organizing my photos a breeze! I just love it!
May 23, 2016
Rated

5

out of

5
 by
schnimz
absolutely perfect
I have hundreds of old printed photos that I removed from albums so I could scan and keep them in digital format. These storage boxes proved to be the perfect solution for what to do with those old photos. And now I'm inclined to store all new printed photos the same way. I like the look of photo albums but there is much to be said for the practicality of these boxes. The only dilemma now is deciding if photos should be categorized by chronology or subject.
January 24, 2016
Rated

5

out of

5
 by
meme102
Good product
I had been looking for a better way to organize my photos b/f scrapbooking them. I had been looking at this for several weeks/months and decided to go from my hanging file folder system to this and I love it! I can label the outside of each case if needed but I have made a master list of picture (events) and numbered them and label the outside of the individual cases with the numbers from the sets inside and keep that master list in the lid -- great storage!
November 17, 2015
Rated

5

out of

5
 by
Noel1cent
Excellant storage option for photos and more
I have several of these cases and use them for many items. It started with photos. I quickly realized this can store other smallish items that I have had difficulty with in the past. For my scrapbook supplies, I have one for my "bling" stuff; one for my flowers; one for my small stamps that get lost in other containers. For sewing projects, my various needles and threads, especially the embroidery floss.I also keep extras of the inside cases around for use on special projects until they are done. Each project can store all the little items needed to complete them. Can not stress enough about the usefulness of this case.
August 1, 2015
Rated

5

out of

5
 by
theredhare
PERFECT for storing embroidery floss and supplies
I keep all my embroider and needlework supplies in this carrier. I sort by color. The containers are exactly the right size for skeins of floss. You can see the colors and they don't get tangled. I always keep 1 - 2 empty cases which I use for projects on which I am currently working. Cases also good for needles, small scissors, etc. For ONCE in my life I can find if I have the correct color, not buy the same color over and over again, keep the floss neat and untangled. Such a blessing!
July 24, 2015
Rated

5

out of

5
 by
painthorse30
Best thing I've bought
I purchased this photo carrier but for something other than photos. I use it for my fat quarters of fabric. They fit perfectly and I can take them with me easily. It also keeps them clean and dry. I will definitely be purchasing another one. The inner cases hold my thread and sewing items easily. If you ever come up with a storage case like this without the inner containers and just the center divider let me know. This is the best thing I have every bought.
July 19, 2015
Rated

5

out of

5
 by
NJTeacher
Great for Photos
These boxes are perfect for organizing pictures. They hold so many in such a small space and they can be stacked. Love them! Just ordered more.
July 4, 2015
Rated

5

out of

5
 by
star619
Photo organization and storage
When we moved 10 years ago, I placed all of our candid photos in a desk (7 drawers) & promised myself that they would be organized & protected by the next time we moved. I didn't want to start scrapbooking (I quilt!) and kept my eyes peeled for an alternative. When I saw these cases in a box I knew I "Had It"! I ordered the boxes, labelled them with my label maker & got separate sets to give my 2 adult children pictures particular to them. It took me 3 days to go thru all of them, but its been wonderful! And with the carrying case, we're ready to grab them & get in the car if another Katrina should come!
May 27, 2015
Rated

5

out of

5
 by
grandma7
Great Product!
Love this product. My granddaughter loves helping organizing all my pictures.
January 30, 2015
Rated

5

out of

5
 by
Norine
Great Storage for Photos
I love the 12-case 4" x 6" photo storage carriers and purchased four of them. Each photo case holds 100 pictures so I am able to store 4,800 pictures from approximately 12 thick photo albums. The space saved is amazing.
December 26, 2014
Rated

5

out of

5
 by
Sortoforganized
Buy this.
I originally bought the 6-case storage carrier but realized it would not hold all the photos I needed to store. The latch on the 12-case carrier is much nicer than the 6-case carrier but both are sturdy. I like the latches on the individual cases as well. The colors help me distinguish the photo file and looks more fun. The all clear box is nice but too bland for me. I just put a file in the lid to hold photos larger than 4x6". I recommend the 12-case carrier and the 6-case storage box to everyone.
December 22, 2014
Rated

5

out of

5
 by
phouse
alternative storage
this case is great for storing playing cards. games like Rook, UNO, etc fit the boxes great. keeps all the games in one box. I use it at the house, then take it to the travel trailer.
December 2, 2014
Rated

5

out of

5
 by
AmberRose
Saved my photos!!
Last year I decided to upgrade my photo storage from old shoe boxes to these plastic beauties. I loved how clean and organized it made them all. Then last week my upstairs neighbors burst a pipe and water poured down my ceiling and wall, all over my bookshelf that had my scrapbooking supplies, cookbooks and these photo boxes. These boxes SAVED my photos! Some water got into a couple of them, but it was so minimal that I was able to save all of them, with maybe 5-10% of them becoming a little water damaged around the edges. I don't want to even think what would have happened to my photos if they'd still been in shoe boxes! I found myself kissing these boxes as I clean up the ruined cookbooks, soaked craft supplies and sopping wet carpet.
November 16, 2014
Rated

5

out of

5
 by
Arelys
Perfect Neat Place for my pictures
I started scanning all my boxes and old albums of photos to have everything available electronically. Wanted a secure, neat place to keep them instead of boxes which gather with dust. WELL the Photo STORAGE CARRIER is GREAT!!!! It is sturdy, easy to store and carry, and I love it. Now if they only came up with something for the panoramic photos.
November 7, 2014
Rated

5

out of

5
 by
RosieM
Photo Storage
I highly recommend this photo storage system to everyone. I have reduced the photo clutter and organized everything.
November 3, 2014
Rated

5

out of

5
 by
frun
Getting organized.
We have photos everywhere! It's time to get organized and get rid of all the old boxes that take up so much space. I'm looking forward to the task and, looking forward, will probably need another one!
October 14, 2014
Rated

5

out of

5
 by
Fletcher
Perfect for my needs
Great product easy access to photos. They really keep all of my photos contained in one place. Very good heavy plastic excellent product. I will be buying more soon!
September 10, 2014
Rated

5

out of

5
 by
tiger7ant
Best Photo Cases
Your photo carriers go beyond your specifications. This is the best solution for all your photos.
September 1, 2014
Rated

5

out of

5
 by
Frances2014
Wonderful purchase
This is a wonderful product to own. It keeps your pictures safe and secure.
August 17, 2014
Rated

5

out of

5
 by
DeQuin
Best idea ever
I have a ton of pictures and it keeps them together. I'm very happy.
July 20, 2014
Rated

5

out of

5
 by
lse1
photo storage
Perfect for my needs. I was combining my photos & photos I inherited from my mother & grandmother. Sorting them by dates as I identified them into these containers, made am overwhelming task easier. Now as I scan them for the family, I know they are stored safely and will be all organized for the next generation to have.
July 19, 2014
Rated

5

out of

5
 by
Shambles
Work as Designed
These photo cases work for what they were designed to do. Fun to fill with photos and keep them organized. Only problem is that for me as a scrapbooker I drag back other mementos that are too large, including postcards, airline tickets etc. I wonder whether the manufacturer would consider offering some alternative sizes. I used my label maker so it didn't matter that labels weren't included.
July 19, 2014
Rated

4

out of

5
 by
Photob
Handy Storage
On Sale, this is a good purchase (too pricey otherwise). I bought the set because it contained 6 individual containers, keeping them from ending up all over the place. My purpose was to file older extra photos (4X6) and the negatives (I did say "older"). You can store a large number of photos in each container, and the separate containers fit securely in the main box. It would be nice to have a labeling spot with each container and the box as well. Also, I had to trim some of the negatives to fit in the box, so it would be nice for the box not to be contoured as much. But it serves a purpose!
July 12, 2014