Rated

5

out of

5
 by
stars4bea
Wonderful hamper
I love this hamper! It's sturdy, looks great and is large. It holds about 5 days of clothes from both me and my husband (note: we workout almost everyday if not every other day plus work clothes). I love that it has a lid - no looking at dirty laundry. It gives everything a clean look. The slats allow air to circulate so no bad or musty odors. It's one of the better hampers I've seen - both aesthetically and construction-wise. I would highly recommend.
April 30, 2015
Rated

5

out of

5
 by
Lanny
Great Looking Hamper
Very pleased with the hamper. It looks very nice in the bathroom and is very practical. I love that it has 2 separate sections inside for light and dark clothes. Also, it has a removable liner which is easy to take out so you can bring the laundry to the washer. Very nice product.
May 5, 2014
Rated

5

out of

5
 by
janetlovesorganization
Earthquake Kit Storage
I have 2 hampers side by side in my entry way, underneath a wall-mounted shelf. (I use the shelf for keys, mail, ect.) The shelf discretely covers the top of the hampers. One hamper contains my earthquake kit supplies! It's near the door, I can pull out the insert and carry because it has handles, or lower it down the balcony with rope. I have flashlight, rope, matches & candles right on top.
March 6, 2014
Rated

5

out of

5
 by
DesignMaven
Ideal Hamper
We have a the world's smallest walk in closet. However, this hamper fits in and works extremely well. The color is very nice and the overall feel of the piece is that it is well made and will last. I can get about 5 days of personal clothing between my husband and myself in the hamper. Sheets and towels I just take directly to the washer and dryer without putting into the hamper.
February 28, 2016
Rated

5

out of

5
 by
BSwiss
Love this hamper!
For years I used plastic laundry baskets. When I saw this hamper with two sides one for dark one for whites, I knew this one would not only work for us but it's so much nicer to look at! Also easier to carry down the steps to the laundry room! We will enjoy this bamboo hamper for years!
February 12, 2016
Rated

4

out of

5
 by
dover77
Good Purchase
The Hamper is a little shorter than I thought but I like the two compartment division and the separation bags. I would recommend this to my friends.
January 23, 2016
Rated

5

out of

5
 by
AzRic85014
Double Dirty Duty
I've had this Zen BamBoo Laundry Hamper for three months now and absolutely love that I can sort my laundry as I fill it up and done! This sturdy well built hamper has worked for me , doing double duty with the split insert lets me sort as i go ! The heavy durable canvas liner with grip handles allows for easy carry up and down the stairs to the laundry room made easier.
January 14, 2016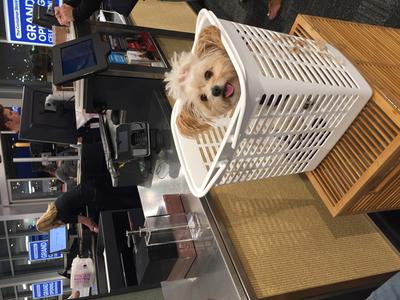 Rated

3

out of

5
 by
Dwillia
Not quite
We purchased this to replace some wicker hampers we had that had become moldy. I was attracted by the interior being lined with plastic so that it could be wiped out and would not grow mold if we accidentally leave wet clothes in it. Unfortunately, the interior divider is only lined on one side. The other side is a canvas fabric and, sure enough, within a couple of weeks, it had grown mold. While I fully realize that we need to be more diligent about not leaving wet clothes in the hamper, don't think that this one is impervious to mold. It's not. It is very nice looking, though.
March 31, 2015
Rated

4

out of

5
 by
Martha89
Looks very nice ...
Dimensions is true as described. Just right for our spa-like bathroom. Holds a weeks wash for my husband and me. I sort only whites and colors (not towels or king size sheet set). They go straight to the wash when replaced). This hamper is pretty but I think we have to be careful not to sit anything heavy on top or the bath door hitting it. It looks kinda delicate. Wish the bamboo that runs horizontally on all sides were wider. You have to hold the cover to stay open and It will slam close if not. Will see how this holds for 2 adults. Good enough for me to keep.
February 27, 2015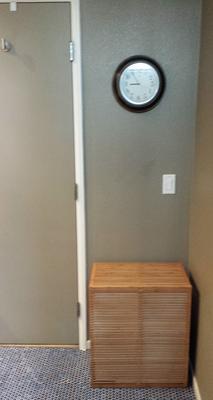 Rated

4

out of

5
 by
AGAK
nice looking hamper
I like this bamboo hamper. I wanted to try and make my laundry/cat room look less cluttered and this did the trick. However, it is rather limited in space for the price. I do like the plastic inserts that you can wipe clean. It is a nice looking piece.
May 30, 2014
Rated

5

out of

5
 by
SLEO
Perfect Hamper
I love this hamper! The design is attractive, and the liner is easy to keep clean. Plus I love the divided sections - it is like two hampers in one:)
April 26, 2014
Rated

5

out of

5
 by
RosieB
Does Its Job Well
Considered a few woven hampers prior to this one, but purchased it because my husband preferred its clean lines. He was right. It looks nice in our bedroom, fits under the windowsill, and I think the slats give some valuable ventilation. I also like that the liner has an oilcloth-like quality to it that means it's easy to clean. We don't lift the whole liner out, but transfer the clothes to a plastic laundry basket. It would be fairly easy to take the whole thing out and carry it to the laundry.
April 25, 2014
Rated

5

out of

5
 by
timunlimited
Great Hamper
This hamper has really great quality and above all it looks great... blends in beautifully in all sorts of interiors, it is in fact so nice looking I keep it in my bedroom rather than the bathroom.
April 25, 2014
Rated

5

out of

5
 by
BBJANE
Perfect hamper
This hamper is perfect. I love the bamboo wood!! It's very well made, stylish, practical and a good size. It goes great with Container Store wooden hangers. This hamper is well worth the money, quality item.
April 3, 2014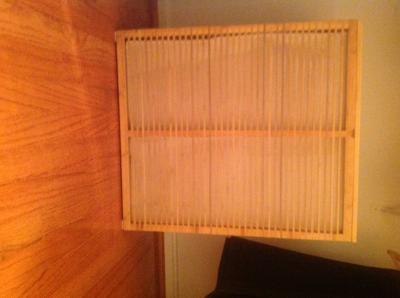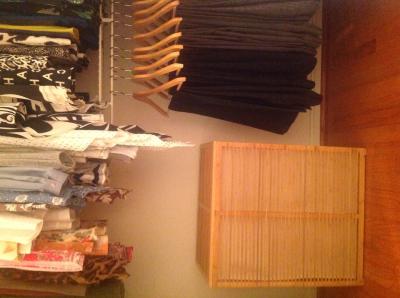 Rated

5

out of

5
 by
Neatnick2012
Best Hamper I ever purchased!
I purchased this hamper some time ago, in the darker color. (see attached below) I have it outside the bathroom which is not a problem since It is like a piece of furniture. When I do laundry I move the entire unit to the washer and utilize the top to fold the laundry from the dryer. It's a great product. I would highly recommend it. Thanks!
April 2, 2014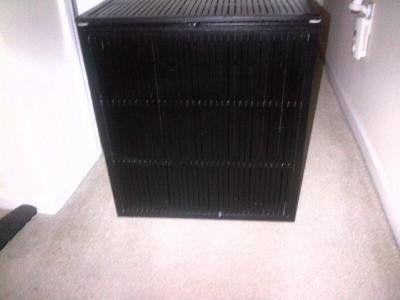 Rated

4

out of

5
 by
skiluva
Pretty Good hamper
The hamper does the job and it's nice that it has a separation for two types of laundry (I use it for cold and warm). The problem is that for two people using it, it fills up in 5-6 days in the winter. I thought it would be taller and hold more. Also, it's unfortunate that the bag inside isn't separated so I can't bring down the cold laundry bag and later the warm. Those are my only complaints.
January 3, 2014
Rated

5

out of

5
 by
Rick2112
Great Double Hamper, Well Constructed, Very Nice!!
I was going to purchase a Teak Spa Double Hamper but could not get past the $300+ dollar price tag, and they were too large for the area I had in mind. This is perfect, strong bamboo, no assemble, for under $100....WOW!!! Highly recommend. Has the spa look without the spa furniture price.
December 19, 2013
Rated

5

out of

5
 by
TK63
Convenient and attractive
This hamper is not too big, which works well for a smaller household. It is pretty enough to have exposed in an visible area, and with the lid, you might actually find yourself using the surface to place items on, now and again. The 2 sections are helpful. The hamper would not be bit enough for lots of sheets and towels - it is perfect for everyday clothing.
October 4, 2013
Rated

4

out of

5
 by
KCMO
Good Purchase
Have been looking for a hamper that would still look nice in our bedroom. This one did the job. Wish it was a little bigger but other than that it is well built and light weight.
September 19, 2013
Rated

4

out of

5
 by
Samfish
Attractively designed hamper
The hamper is attractive, a nice size, and looks very "zen" in our master bathroom. I like that the inside double compartment is removable, but would find it more functional if the two compartments could be removed separately. That way when I'm just doing a dark or white wash, I can carry the one compartment to the other side of the house where the washing machine is, rather than take the whole thing.
September 1, 2013
Rated

5

out of

5
 by
MadHatter75
My husband loved it!
I searched several sites before checking my reliable standby, Container Store. Once again the quality of the product was terrific and more than met my expectations. It was a bit smaller than I expected - I don't visualize measurements well - but it's big enough for the two of us. When my husband returned from a trip, he saw it and remarked on how great it was and said that I had picked very well! Considering that he hadn't seen it as i was ordering, i thought that was pretty wonderful! Great quality at a reasonable price. I never expect less from the Container Store!
July 15, 2013
Rated

5

out of

5
 by
SmartShoppa
Awesome hamper.
I was looking for a hamper that had at least two bins. But it had to be attractive and the interior had to be water resistant. This hamper arrived very timely & exceeded my requirements. I would highly recommend this hamper.
June 16, 2013
Rated

5

out of

5
 by
cheriana
Love it!
This laundry hamper is so perfect, I love it! It makes laundry easier with the two bins so you can separate white and colors. The bamboo is super stylish which is a plus.
April 26, 2013
Rated

5

out of

5
 by
SheerStyles
Beautiful and sturdy
I love this is a great space saver, super cute and sturdy! I love it!
April 16, 2013
Rated

5

out of

5
 by
DocD
Stylish and sustainable
I bought this mainly because it is made from bamboo, which is supposed to be really environmentally friendly. Love the stylish appearance and dual bins on the inside to help with sorting!
March 27, 2013
Rated

5

out of

5
 by
donald197040
Stinky clothes
I love this hamper. I love what it's made of and I love the fact that I don't have to smell stinky clothes sitting in a basket no more!!!! Love it!!!
March 25, 2013
Rated

5

out of

5
 by
cisa
EXCELLENT for sorting!
My husband works as a lab technician and his uniforms are constantly stained from the job. This hamper allows for his uniforms to be seperated from his streetclothes in one simple and stylish convenience. The best part is that the design allows for the clothes to breath, so there is no smell and the uniforms don't need to be washed every other day a before to prevent the smell. The hamper looks like a lovely S. Pacific feature when someone looks in the room, but does an amazing job.
March 19, 2013
Rated

5

out of

5
 by
Nado4
Great purchase
Exceptionally functional & decorative;sturdy construction
March 19, 2013
Rated

5

out of

5
 by
Pam16
Say Goodbye to Sorting Laundry Forever!
I LOVE this hamper! It's stylish yet durable. I can't imagine a better hamper than this one!
March 18, 2013
Rated

5

out of

5
 by
OrganizationCritic
Excellent product....
Bought this for our bathroom and the bamboo goes great with our all white subway tile. The removable inner means we never have to move the entire basket to get all the clothes to the wash and the division into 2 separate holders inside is great for separating colors and whites. We love it.
March 18, 2013