Rated

5

out of

5
 by
bcday3
Best Decision EVER!!!!
After looking at the Elfa closet for a couple of months, we finally made the purchase during their yearly sale. And it was the best decision we ever made to organize our master closet. The system is totally customizable leaving no unused space. It's fantastic. If you are on the fence, trust me it's worth it.
January 8, 2017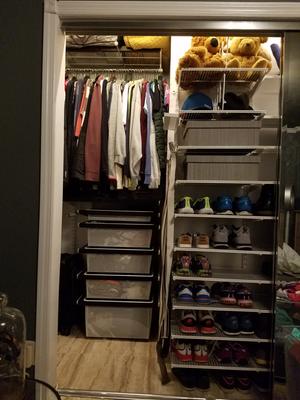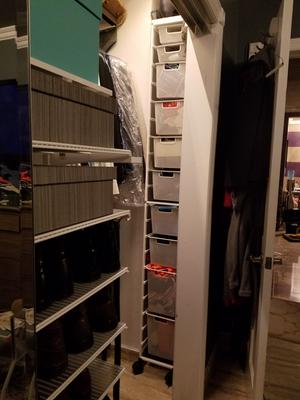 Rated

5

out of

5
 by
SueMac
RV closet transformation
We have a large closet in our RV but it was just a big open box. Everything got piled on top and getting stuff in and out was a hassle. We took our dimensions and ideas to the designer at the store and came away with all the necessary components to transform this big box into a fabulous closet for clothing and linens, etc. We installed it easily using the clear instructions. We are immensely happy with the entire process and end result. RV storage is notoriously limited and poorly designed for effective use. The Elfa system truly made our space make sense.
February 26, 2014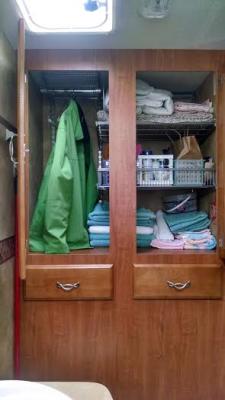 Rated

5

out of

5
 by
loftspace
Amazing Closet Space!
Living in 500 square feet, my husband and I needed a closet solution! We designed our closet on the container store website and it was so easy to mix around the elfa products, we got every storage system we needed within our small space. A shoe rack, hanging pant rack, a drawer, lots of shelving and we each have our own hanging shirt bar! After shopping around, Container Store provided the best prices and the easiest install system (I did it myself, no husband required).
February 15, 2014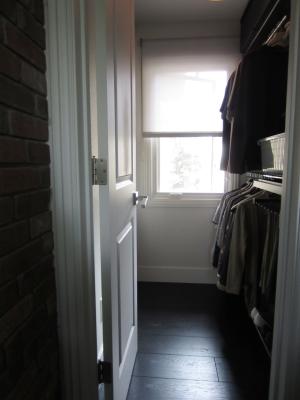 Rated

5

out of

5
 by
Jayme
Elfa walk-in
I have installed the Elfa closet system in two of my children's small walk-in closets. I love the flexibility of this product and how it grows as my children do. Everything is interchangeable and easily adjusts. The quality is outstanding and I could not be happier!
March 29, 2013
Rated

5

out of

5
 by
Angel73
I love my elfa self designed walk in closet
When we moved into our home back in the summer of 2007 I already knew I would be upgrading the master bedroom walk in closet with a custom Elfa closet design! Elfa products are well constructed, easy to install, cost effective and most importantly....customizable to your specific needs. Thanks, Angel
March 18, 2013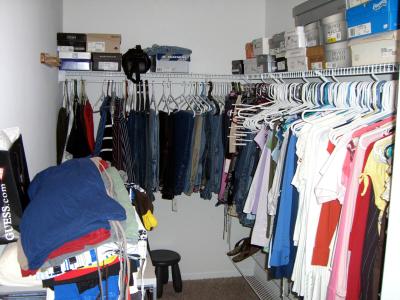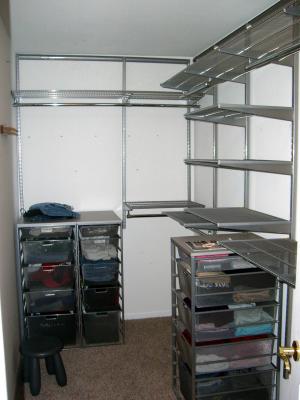 Rated

5

out of

5
 by
DonnaH
Max out space -Minimal time
We just added to our home instead of moving. My one wish was for a big walk-in closet. Now I have that and don't have to share it with my husband, he has his own walk-in. The best money spent was our matching plantium Elfa system. I have room for everything and nothing is on the floor. If you can describe it the store people they can find a way to organize it into your closet design. Our designer was top notch at designs and very patient ,even with a few chages we made after the order was completed. We would highly recomend the Elfa system to anyone that needs to max out their space with minimal time and money.
March 18, 2013
Rated

4

out of

5
 by
mamakatrina
Functional & Pretty
We got the customized Elfa closet system for our master closet. We decided to splurge on this during the 30% off components and installation sale. I have to be honest, it was still very expensive but we really like our new closet and it has help us to maximize the usable space - especially since it is shared between my husband and I. If you are feeling frisky and have the extra cash I say - go for it!
March 18, 2013
Rated

5

out of

5
 by
Eneat
Never had it so good
I was really frustrated by the limitations of my closet, even though I have an adequate amount of space. With the help of the assistant in the store we designed closet space that addresses my needs. Every time I open the door I am delighted with the results.
February 22, 2013
Rated

5

out of

5
 by
annabellesays
As Amazing As It Appears In-Store
Our new loft didn't have a closet at all, but we were able to design the DREAM closet at the Container Store using the elfa system. It is FANTASTIC. See enclosed photo - our closet looks as good as the model closets they show photos of. It's the one item I'm most proud of in our apartment. The quality is excellent, and the installation service was quick and efficient. We rescheduled several times, and they were very accommodating and didn't lose any of our items (we basically bought half the Container Store) in the process. I love how easy it is to customize your shelves. Once installed, we decided we wanted to change the order slightly and was able to do it on our own in 10 minutes. We also designed a small spare closet as drawers and shelves. Also AMAZING. Finally, we also added an elfa organization system to our laundry room door. It's amazing to finally be able to see all our laundry and cleaning supplies. I only wish I had more rooms/areas to install more elfa systems.
May 23, 2012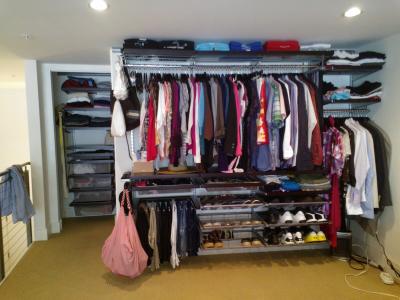 Rated

5

out of

5
 by
PenthouseC
Elfafied!
Thank you Container Store! I couldn't contain my excitement and appreciation for my new Elfa closet! I recently purchased my first apartment in NYC and knew I needed to Elfafy my new closet! Your staff did a phenominal job helping me design the perfect layout of the closet and made sure I was satisfied. The installation went smooth as well. I had the closet of my dreams in no time and I still had funds left over to fill it up with more shoes! :)
May 2, 2012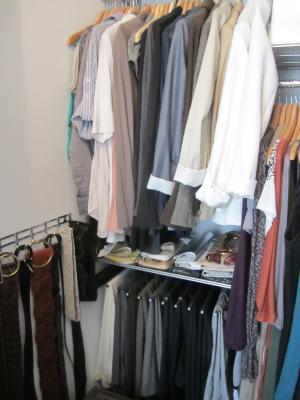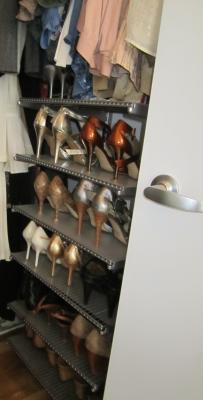 Rated

5

out of

5
 by
ClosetMaster
Great addition to our home!
Very easy to install and do. I can barely use a hammer and I installed a huge closet myself in a few hours. Thanks Container Store!
March 19, 2012
Rated

5

out of

5
 by
unclutter
Mini renovation
The shelves were easy to do on my own! It was like a mini-renovation for our old rambler style home. I put them in all of our bedroom closets. The hanging baskets are the best! Remember to paint your closet a contrasting color from the room for the best effect!
February 1, 2011
Rated

5

out of

5
 by
champion
It was SO Easy!
I installed a foyer closet all myself! The expert help and assistance I received at my local Container Store help so much. They explained to me how to do, I watched the video at home, and started to work! It's one of my proudest moments - to have created and completed this project all my myself!
February 1, 2011
Rated

5

out of

5
 by
ContainHer
LOVE IT!!!!!!
Even before I moved I knew that I was going to purchase the Elfa Closet System. Once we finally moved into our new home, I didn't realize how big our closets were - they were much larger than the original design workup that I'd done with a Container Store rep. I went into the store and reworked the design in about 20 minutes. The entire process was seemless and I even put up the system myself!!! This is huge, I'm not handy by any means and for me to be able to do this means that it's very easy, between the written directions and the video - it was a piece of cake. I love my closet system. I was waiting for the sale to come back around so I could be the wood finishes to give it an even more elegant look. I love my closet!!!!
February 1, 2011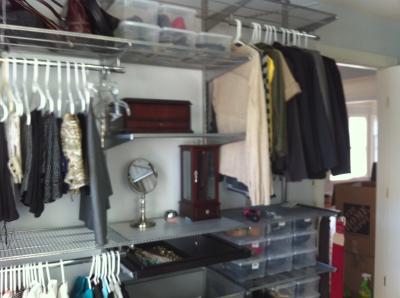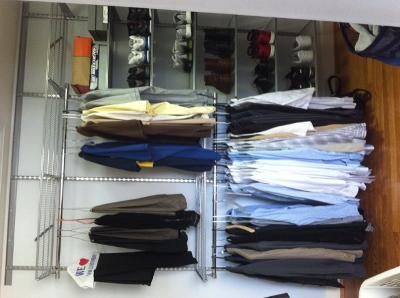 Rated

5

out of

5
 by
kathishops
wow! is an understatement
as a "0" birthday gift to myself i just did all the closets in my home. I just love everything. I am probably one of the most difficult customers they had, always reworking and rethinking, making changes to the design before it was installed, the designer worked with me and put up with all my changes and reworks. after 2 visits, looking at the designs pages at home and changing my mind again and again, I finally scheduled the installation. it was professional and the installer was so patient. I still had some changes in mind and he just worked with my " I think I changed my mind can you......" , moving something from one closet to another, up, down, over just a bit, and making changes to the design he was given. I even still "tweeked" a little after he left but that is what I TRULY LOVE - it is so beautiful and I still can change my mind over and over and it's so easy to "tweek" and add and move and rework. i am going to have fun for years!!!!!!
May 29, 2010
Rated

5

out of

5
 by
k9keeper
Still smiling!
It seems trivial to say a closet can make you smile, but 2 months later, every time I open the door, I STILL smile. It was the best purchase EVER. I only have one closet in my entire place, so this one does multiple duties. Vacuum cleaner, check, linens, check, winter clothes, check, summer clothes, check, folded sweaters, check, blankets and pillows, check, plus my shoes and bags, check, check, check, check (I have a LOT!)...AND I can see the entire contents. I got the extendable reach pole to make sure the things on the top shelves stay put, and it made everything perfect. The best thing I did was to spend the extra to have it professionally installed. They were quick, personable, tidy. All in all a terrific experience!
May 17, 2010
Rated

5

out of

5
 by
Organizermaniac
Everything Elfa
Elfa is wonderful! So far I've used various Elfa products in 11 closets, 2 pantries, 2 art studios, an office and a garage. I love how easy it is to design, purchase, and install their systems. They can take very heavy use when needed and don't bend or sag at all. Elfa gives you so many different choices to organize your home/work/life. I guarantee after you install a system you'll keep walking in the room just to see how great it works and looks. If you have any questions on what pieces to use, how it works, or how to measure, a customer service rep is available to help walk you through the design on their computers in the store. I highly recommend Elfa systems!
April 7, 2010
Rated

5

out of

5
 by
BethW
Sleek + Easy to Install
With the help of a container store designer, I designed and installed 4 closets in my home--one linen closet, master bed room closet, sports closet and my daughter's bedroom closet. The elfa units are sleek, well designed and use every inch of each of the closet spaces. I could not be happier with the results. I highly recommend the elfa systems and they are always on sale in January!
March 24, 2010
Rated

5

out of

5
 by
Sparky
Great addition to my closet!
I have purchased three elfa designed closets, two for my home and one for a theatre department I managed at a school. They are terrific! The space is usable and they are very sturdy, especially when being used by many teenagers! We buy many items from the container store - I really enjoy going there to get organizational ideas. Thanks!
March 17, 2010
Rated

5

out of

5
 by
scoutmom
Love It
I bought the Elfa system for my son's room. His room looked like someone opened the closet door and the closet threw up look. Clothes spilling out everywhere. Now everything is stored somewhat neater then before and we can see the floor of the room again. I love the sturdiness of the Elfa system and ease in which the drawers slide.
March 3, 2010
Rated

5

out of

5
 by
clum
a real time saver!
having an organized closet really is a time saver for those of us with a busy lifestyle. in the mornings, having to sift through piles of clothes and hangers crammed together while trying to make a mad dash out of the house before heading into rush-hour commute is the last thing you want to have to deal with. this closet system really helps keep things organized and gives everything it's place, which does give you that one less thing to stress out about when getting your day started.
March 3, 2010
Rated

5

out of

5
 by
dfwinorder157
Excellent Choice
I first chose this system about 6 years ago - I completely reorganized two closets in my master bedroom. Recently sold the house and the closets were the talk of the realtors that showed the house and the owners who purchased the house. Of course, in my new home - this was the first thing I did to upgrade. This system is something that enhances my everyday life.
January 8, 2010