Rated

5

out of

5
 by
CandiedFabrics
So much storage!
My son & 1 purchased four of these to be used under his bed in his dorm room at college. They are great, store a ton of stuff and stack really securely. As he moves around I'm sure he'll use these for years, purchasing more when his needs increase!
September 25, 2016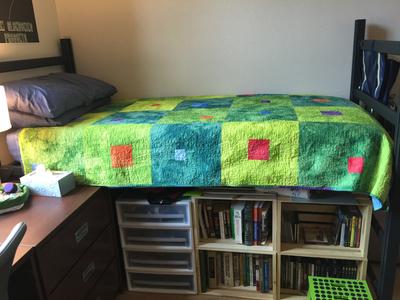 Rated

5

out of

5
 by
dancingf00l
Fits Sleep Number Adj Frame
After getting our new Sleep Number Bed with Adjustable Frame I had to rethink my storage options. We have the split King, which has 2 Twin XLs. This drawer fits PERFECTLY in the small space at the foot of the bed, between the legs and the edge of the mattress. I have 2, one for each side. I can't stack 2 high, but that's ok. I use a different style drawer from TCS for under the body of the adj frame.
October 12, 2016
Rated

5

out of

5
 by
Cristen
Very versatile!
I love these drawers! I started with three of them under my daughter's bed, and I've added two under our crib and two in my pantry. I am particularly fond of my pantry drawers because they have helped organize all my small storage containers, which used to be in a complete state of chaos. (My pantry is very deep and most of the space in the back was inaccessible before I added the drawers.) The drawers slide very easily and the entire drawer can be removed if necessary. They are also sturdy enough to hold a number of glasslock containers and lids without feeling like they are going to break.
September 26, 2016
Rated

5

out of

5
 by
Glassshaper
Great space saver
If you need extra space get these. They really are useful. They'renot a waste of money. .
January 31, 2016
Rated

5

out of

5
 by
Viggy
Just what we needed
Just what we needed for dorm room! Very deep drawers - will hold a lot!
July 25, 2015
Rated

5

out of

5
 by
SHOEGIRL1
Absolutely in Love
This is the best and most sensible purchase i've made in a long time. I no longer have to pull the whole sweater bag out from under the bed, i just pull the drawer open and all the sweaters are there, so easy. LOVE IT!!
December 29, 2014
Rated

5

out of

5
 by
Sunflower72
I now have 24 of these wonderful drawers; I don't use them for underbed storage, however! I stack them 8 high and have 3 columns which makes perfect storage in the under eave closet of my remodeled attic bedroom. I considered purchasing a wooden cabinet or installing shelves, neither of which would have resulted in the compact, space saving, yet changeable storage I have created with the Underbed drawers. The drawers stack nicely and securely and close - also nicely and securely - with a click. I am in love with the Underbed Drawers used as a modular dresser - sized to fit!
September 9, 2014
Rated

5

out of

5
 by
jillpb64
Brilliant purchase
I bought these for my daughters dorm room at college. Not only do they hold a lot of clothes they are light and stack neatly under the bed. Move in was a breeze as the drawers were all packed!
September 2, 2014
Rated

5

out of

5
 by
Gitaly
love it!
Love these storage drawers, I have 40 of them stacked in my walk in closet. I store my 250+ shoes, some have scarves, purses and jewelry all neatly organized and labelled. I wish they would have a sale on these drawers I would get more
September 1, 2014
Rated

5

out of

5
 by
richardson
Best Purchase
I love this storage container. It would of been great to use but I needed to store embroidery thread and the container would of been too heavy for me to lift so I returned it and found a storage container on wheels at The Container Store that is perfect. The employees were very helpful.
May 4, 2014
Rated

5

out of

5
 by
CNUMom
Perfect for dorms!
Purchased 2 of these for my son who is a freshman in college. Perfect for under the bed storage of towels, sheets, etc. May purchase more fore home!
April 25, 2014
Rated

5

out of

5
 by
Elle1982
Best space saver ever!
These are so nice. Paired with the 2.5 inch bed risers, my husband and I now each have 6 drawers under our king-size bed (12 total). It is like having an extra dresser under there. They are great for out of season gear and sweaters. The quality is so much nicer than I expected too!
March 27, 2014
Rated

5

out of

5
 by
pokeno
perfect for extra storage in dorm rooms
Bought several of these when my daughter went off to college. They easily stacked under her lofted dorm bed maximizing her usable space and storage. Great buy.
March 15, 2014
Rated

5

out of

5
 by
DetailGal
Great underbed storage!
Love this underbed drawer, plastic is good, strong quality and drawer glides in and out nice and easy. They fit perfect under my kid's twin bed frames, a slight amount of space to spare. We used under kids beds to store legos and under our queen bed to store 12x12 scrapbooks. Getting great use out of the space under our beds! Love that I don't have to haul out the entire container to flip open a lid, just slide out enough of the drawer to access what you need.
March 7, 2014
Rated

5

out of

5
 by
ScubaChick
Great shoe storage
I bought two of these to store shoes and I can fit 6 or 7 pairs of shoes in each one. It's the perfect height for under the bed frame.
January 18, 2014
Rated

5

out of

5
 by
vettemyster
Good Purchase
I actually purchased these for storage in our church kitchen under a work table--my wife thought out of the box on that, as stainless steel drawers were very cost prohibited. The underbed drawer fit perfectly, we used three stacked, used a very durable velcro to be sure they didn't shift, and the fit, cost, use, have proved to be exceptional, sadly one of the containers was cracked when it arrived but not so bad that we were unable to use it, plus we didn't want the hassle of returning then waiting for a replacement. All in all very happy with the end result.
September 28, 2013
Rated

5

out of

5
 by
bwinog
Perfect for Under a Dorm Room Bed!!!
The Container Store is the only company to carry these drawers and they are perfect for under a dorm room bed. Raise your bed with bed risers and you can double the drawers for additional storage. 2-3 wide will fit perfectly under and raise the bed to fit 4-6. My daughter raised her bed an additional 7 inches (with wooden risers not purchased from the Container Store) and she was able to fit 4 Underbed Drawers ( 2 stacked on each side) with 4 of the colorful plastic drawers ( 4 drawers in the middle with 2 stacked). She still had room to store luggage behind! Best purchase ever!!!
September 26, 2013
Rated

4

out of

5
 by
JNitas
Good storage solution
These bins are a little over priced but are extremely useful. I bought two and can fit at least 4 more without any risers. They are useful to help clean up the clutter.
September 6, 2013
Rated

5

out of

5
 by
BPandFam
Great product
Sturdy, easy to open and close while at the same time fits perfectly under my bed. Great for storing seasonal stuff. Price is a little steep but so worth it.
July 29, 2013
Rated

5

out of

5
 by
Devynne
Best ever
I've been wanting underbed storage ever since I was a kid. I am sooooo glad I got these. They are the perfect size. With a couple of risers on my bed I fit 6 in perfectly. They make my seasonal storage so much better and utilize the space under my bed (which is important in a studio apartment).
July 23, 2013
Rated

5

out of

5
 by
AlexN
Great Product!
This has been a great solution to my storage needs. It fits perfectly under my bed and is perfectly concealed by my bed skirt. This is the perfect space saver for a NYC apartment.
April 5, 2013
Rated

4

out of

5
 by
Meerkat
Top Notch System
My boyfriend and I down-sized our bedroom. I took all of his belongings from an old dresser and fit it all in these two storage drawers. The drawers are long and stack one on top of the other. They firt perfectly under our new platform bed. Exactly what we were looking for.
April 2, 2013
Rated

5

out of

5
 by
spiceoflife
Storage Drawer
This isn't the exact drawer I purchased but is very similar. The purpose for the drawer I bought was to be placed under my coffee table for storing newspapers and magazines. Perfect size and fit easily under the coffee table.
March 28, 2013
Rated

5

out of

5
 by
rodakino
extremely practical!
No matter how big my house is or how many closets and drawers I have, this is sooooo practical that I have a number of them under two beds and I wish I could take several of them to my summer house overseas!
March 5, 2013
Rated

4

out of

5
 by
Quick
Great for dorms!
I love having this for my underbed storage at college. However, if you want an actual dresser/drawer effect you have to purchase more than one which can get expensive especially if you're a college student. The containers work well, and they have plenty of room for my shoes and clothing. I still recommend purchasing more than one if you have a lot of items.
December 21, 2012
Rated

5

out of

5
 by
Workshopman
Many Uses
The Under-bed Drawers also make great drawers for underneath my workbench. With two, 4-in wide strips of 1/8-inch plywood, and 6 wood-screws in each strip, I have attached 6 of these under-bed drawers underneath the tops of two of my workbenches. The drawers are sturdy, and many shallow boxes help to compartmentalize the items that I store in the drawers. They pull out very smoothly, as if on roller bearings.
July 8, 2012
Rated

5

out of

5
 by
yogini
great storage
I purchased these to use in a storage room . I stacked them up on top of each other on shelves and use them to store wrapping paper, table cloths, linens, even glassware and dishes that I don't use everyday. They ARE deep, though, so be sure you have the depth. 24"
July 1, 2012
Rated

5

out of

5
 by
KARENALEXIS
Underbed Storage
Great for my home with little storage space. Provides easy access & keep bugs & dirt out.
April 1, 2012
Rated

5

out of

5
 by
bmpoquette
Awesome storage
Fits my shoes perfectly! I recommend adding sticky-backed Velcro to the bottoms if you have hard wood floors, or else the whole container gets pulled out instead of just the drawer.
March 31, 2012
Rated

5

out of

5
 by
Shiva
Love this product. It has solved a major place of disorganization in our business and has systemized & cleaned up a chaotic haphazard approach to handling our equipment.
February 29, 2012