Rated

5

out of

5
 by
LydM
Great for storage in the closet
I have purchased these before, and find that the covers are especially helpful for storing out-of-season clothing. Good job preventing settling dust on the shoulders.
May 13, 2014
Rated

5

out of

5
 by
Louloular
Keeps the dust off
These covers are great. They can cover 5-7 hangers and will keep your clothes from getting the dust on the top of them. I use them on the out of season clothes that I am not using everyday.
April 23, 2014
Rated

5

out of

5
 by
Zeeselah
Should covers
Used these over leather jackets rather than plastic covers.
April 17, 2014
Rated

5

out of

5
 by
Hard
Have them on every jacket
They are breathable and save my jackets from the inevitable dust -- very reasonable priced
April 14, 2014
Rated

5

out of

5
 by
Minnehaha
Dust Bunny Apocalypse
Life in a 1924 bungalow is dusty. These cotton shoulder covers protect my dresses and coats from dreaded dust deposits. The tiny slit for the hanger keeps dust bunnies from hopping in.They are much nicer than the plastic variety. I would love it if you also made them in a larger size. We need one for my husband's winter wool coat.
July 17, 2013
Rated

5

out of

5
 by
annipianni
Really great product.
I bought some of these covers several years ago - they do a great job of protecting clothing from dust. Also, they are washable and, unlike plastic, 'breathe'. I just purchased more, and once I've done a survey of how many more I need will probably buy even more. I'd highly recommend them. Dust can become ingrained into clothing that isn't worn very often - these help safe a fortune at the dry cleaners!!
June 18, 2013
Rated

5

out of

5
 by
Betsy44
Just perfect
I really like these cotton shoulder covers. I wear a lot of black and the shoulders get dusty on things I don't wear very often. These protect the shoulders and still make it easy to see what's in your closet. Plus there's no plastic. I don't like my clothes in plastic-bad for the environment and doesn't breathe. I've even had my dry cleaner stop delivering in plastic and use a reusable clothing bag. These have been great!!
May 8, 2013
Rated

5

out of

5
 by
42nut1
Works For Me
My 60⿿s ranch style home did not come equipped with walk-ins with built-in drawers, racks, hampers, etc. But until I can do an add-on or convert a bedroom into a closet or inherit Mariah Carey⿿s, I do the best I can with what I have⿦a couple of shelves and a pole. TheContainerStore offers some great solutions to make the task easier, and these cotton shoulder covers are one of my favorites. (Things do get dusty hanging in closets, you know.) And I really like the clean, crisp, natural look that coordinates with other items in their line of closet storage products. Anyhow, it works for me⿦for now.
February 28, 2013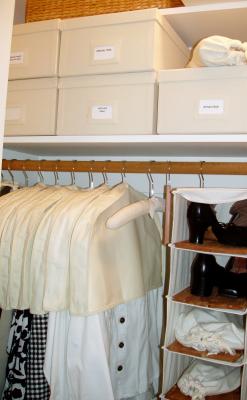 Rated

3

out of

5
 by
BLD55
Good, but not great
These really need to be 1: wider. I have bought them for years and figured SOMEONE would have figured that out by now. When I put them on a suit or sport coat with a wide end hanger, the sleeves get all bunched up. And this is on a 42" jacket, not some huge size.
January 24, 2013
Rated

5

out of

5
 by
TylerRose
Great closet solution
My husband's growing wardrobe necessitated a vacation for his winter suits in a hall closet. These natural cotton shoulder covers keep the suits dust-free, and since they breathe, they don't damage or discolor the suits. And when winter arrives, the summer suits get the same treatment.
April 22, 2012
Rated

5

out of

5
 by
RedHott
Best Investment Ever
I purchased 10 packs of these shoulder covers for my husbands suits. A small price to pay for such a huge investment on men's suits. Now our dressing area looks so neat and organized.
March 20, 2012
Rated

5

out of

5
 by
Abbey
The Best Protection For Furs, Leathers & Wool
I have purchased about 20 of these shoulder covers for my furs, leathers and wool coats and jackets. I love the natural fabric which breaths unlike the plastic covers. My only criticism is the price; they are rather expensive, but should last a lifetime.
January 22, 2012
Rated

5

out of

5
 by
BostonBoi
Nice, sturdy
A nice sturdy clean look to keep the dust off those coats or suits you do not wear often. I will buy more for sure. Wish they little cheaper but they do a nice job, I like better than plastic, stronger look to them.
September 8, 2011
Rated

5

out of

5
 by
SheriS1
Great for protecting clothing
This really helps protect items not worn often and/or special items.
April 22, 2011
Rated

5

out of

5
 by
Firebird
Best Dustcover ever!
Perfect to keep the dust off and, if you live in a humid climate (I once did), you can use them without fear of trapping moisture underneath plastic and growing a crop of mildew. These are cotton and they breathe, plastic doesn't allow air to flow through..
August 8, 2010
Rated

5

out of

5
 by
kl83
Great Product
Work just as they should. The only improvment I might make would be different sizes, so they could be used over more than one hanger or over bulky coats.
May 17, 2010
Rated

5

out of

5
 by
pao290
Love them! Exactly what I wanted. Keeps dust off clothes, keeps clothes fresh.
April 17, 2010
Rated

5

out of

5
 by
skerry
Green Option for Shoulder Covers
These cotton shoulder covers are really nice. I really like that the hangar opening is lapped so no dust will get in from the hole around the hangar. They are a great size and will fit clothing for men and women. Since they are cotton they are breathable and can be used with leather and suede, too.
April 8, 2010