Rated

5

out of

5
 by
OrganizedOli
Just what I was looking for!
I have been searching for months for the perfect boot rack for my laundry room! After looking at all of the competitors, this was by far the best deal with a more sturdy rack and an extra shoe rack compared to all of the competitors! I have been using it for weeks and I have absolutely no complaints! It is easy to setup, looks nice, and fits my 4 most used boots! I definitely recommend and for a $19.99 price you cannot go wrong! P.S. Also used the in-store pick up and highly recommend that as well! I was in and out in less than 5 minutes!
November 23, 2015
Rated

5

out of

5
 by
Love4joy
Perfect Boot Storage
Every woman should have one of these in her closet! A great way to store the boots. Easy to place on the posts and remove. Sets against the wall and out of the way. No more tripping over boots which do not stand up on their own. Great price!
January 25, 2014
Rated

5

out of

5
 by
tflan
Great boot storage
I have 4 pairs of boots on this rack and it holds them perfectly. It was easy to put together and looks better in my closet than boots laying on the floor.
January 18, 2014
Rated

1

out of

5
 by
SacRetiree
Extremely disappointed--Don't buy it
Material too flimsy & unstable to really hold boots. It broke on the 1st day. Didn't see other reviews until I registered online to review other products & happen to see product reviews.
January 30, 2017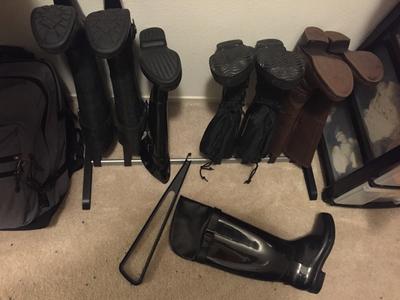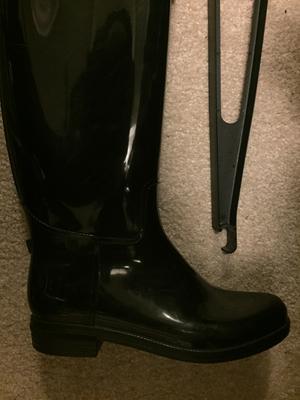 Rated

5

out of

5
 by
averagecollegestudent
Best Christmas Gift
This product was easy to put together. It is not too big. It is perfect size for boots. The product was so useful, I went back and bought another one. Great for college to put in a closet or under a bed. I love this boot rack!
January 9, 2017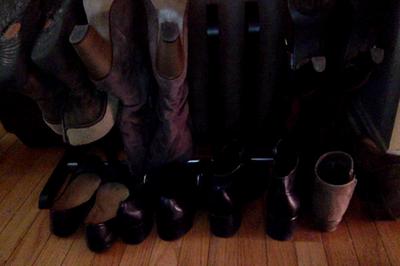 Rated

2

out of

5
 by
Dedenyc
I returned these
I had one of these for a while and it worked fine but then bought another and it kept tipping over. My boots were scuffing up my walls b/c it kept tipping. I tried putting some in backwards to balance the weight but that didn't work. Some of the holders even broke from the weight of the boots. I've returned all of them and am still searching for a good boot holder.
December 31, 2016
Rated

1

out of

5
 by
rachel8888
Not sturdy
Do not purchase this product unless you are using it for light weight or ankle length boots. I use this boot rack for my Hunter rain boots, Uggs, knee high leather boots, and mid calf leather boots. I'm placing the boots as the product picture shows, but the rack keeps falling over. The plastic fixture the boot rests on has also started to bend forward from the weight of my Hunters. This product is a great idea, but executed very poorly. I'm disappointed in the Container Store as I'm used to better quality products from them.
December 20, 2016
Rated

4

out of

5
 by
lnkc
I love this item! It makes organizing my boots so easy and doesn't take up much space! My one complaint is that it only holds 4 pairs when it could easily hold more. I wish I could buy more of the boot holders so that I could add more.
September 26, 2016
Rated

5

out of

5
 by
Keneke
a 'must have'
After the season, I store all my tall boots in their original boxes. Got 3 racks and now I just take them out of the closet and they're ready to go!!! An absolute 'must have' #assembly tip: it will seem impossible to slide the bar through the loops, but all you need is to tap it with a mallet to the desired position#
March 21, 2016
Rated

5

out of

5
 by
LyndaDam
What a find!
Perfect! This purchased helped my closet organization so much. Now my boots are not all flopped over and messy. I may buy a second one.
December 6, 2015
Rated

5

out of

5
 by
jennyblove
Love this
I bought this for our small shared closet. I love boots and own many pairs. this keeps them organized and out of the way in the back of my closet, I can move it forward during boot season and push it back during summer. I wish it came in a six pair option.
November 14, 2015
Rated

4

out of

5
 by
Dguzman
Awesome
I have western boots collection & I love having this product. The only down fall is that my boots are heavy so it causes it to fall unless you put against the wall. I will buy another one because I have more pair of boots now.
September 24, 2015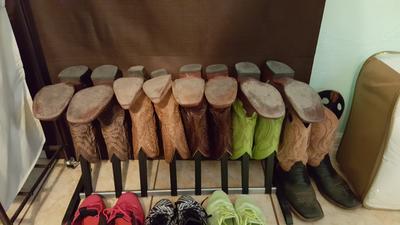 Rated

2

out of

5
 by
Gmbd
Not sturdy
This appeared to be a space saving way to store my boots. I am very disappointed. The base is made of a light weight plastic and easily tips over from the weight of the boots. I have to stagger the boots to balance the rack, but that doesn't always prevent it from tipping over. I would not recommend this product.
March 27, 2015
Rated

5

out of

5
 by
Lauren731
Great shoe storage solution
I love this boot rack. I always got frustrated trying to put my boots up on shelves, they would always fall over. But this floor rack solves my problem. I'll be going back for a second rack.
March 16, 2015
Rated

1

out of

5
 by
Claremont
Don't Buy This Product
This is the worst product I have ever seen. The plastic boot holders have to slide on to the metal bar during installation and they almost all broke. I'm so disappointed with this purchase as I really wanted a neat way to store my boots.
February 16, 2015
Rated

2

out of

5
 by
MeBr
Tipsy at Best
I have 3 rooms of Elfa and love Container Store, but I have to concur with the other reviews. I have positioned boots every which way to try to add stability, but unless your boots are made of paper this rack can't stand up to the job - literally. The floor supports a) need to be made of metal, and b) need to be wider and longer. The entire unit wobbles and then topples no matter how you hang your boots. Also, it only holds 4 pair of women's boots. There is not enough room for men's.
January 15, 2015
Rated

1

out of

5
 by
MRosa
Keeps tipping over
I thought this would be a perfect way to my boots, but I was wrong. Once you get your boots on it it stays upright a couple of days. Next time you look at it , it has fallen over. It always falls over! Don't buy it.
December 14, 2014
Rated

1

out of

5
 by
Mqwales
Tipsy
I wanted this to be the one rack I need for my biggest, most clumsy boots. Not. It was very easy to put together, the packaging perfect and minimal. But it wouldn't hold anything but lightweight rain boots. It was very tipsy and not at all sturdy.
November 30, 2014
Rated

1

out of

5
 by
LC319
Love My Boots
I was so disappointed! This product is not worth your time buying! It does not stay standing. It tips over and is flimsy. Definitely not the best quality product that this store is known for!
November 24, 2014
Rated

2

out of

5
 by
Apb216
Good concept
Good idea, not so great in real life. It is very unstable, the bottom bar should be made a lot heavier to prevent it from falling over. Every time I brush against it or try to remove a pair, it just tumbles everywhere. Not worth the price.
October 9, 2014
Rated

1

out of

5
 by
67Evans
Poor design
I purchased this item and putting it together one of the side stands broke...it's poorly made and after trying to use it...I trashed it..not worth the money!
August 13, 2014
Rated

1

out of

5
 by
Unlisted
Good idea; bad execution
I wear many types of boots year 'round: rain boots, cowgirl boots, fashion boots, etc. They are all high quality and are not flimsy. I was hoping this organizer would help me keep my closet neat. This is an "assembly-required" product, and it is made of very cheap materials, so it doesn't hold together. In addition, with the way it's designed, it takes up much more space than four pairs of boots alone do. I don't have time to keep re-assembling this rack each time it falls apart, so I took it back to the store.
July 18, 2014
Rated

4

out of

5
 by
OregonOrganizer
Just what I needed
I bought two of these to organize my boots. I installed them with the each pair alternating facing front and back, based on reading reviews saying the boot rack would tip over. I have not had an issue with the boot rack tipping. I am able to take boots on and off to wear them without any problems. These were the perfect size with four across, and I can fit two racks deep, so I get eight pair of boots in a small closet space. I did not give five stars because it is a tad flimsy.
June 30, 2014
Rated

4

out of

5
 by
SassySuz
Great product
great way to get your boots organized and in one place.
June 24, 2014
Rated

1

out of

5
 by
cappiab
Top heavy
This is a such a great idea! However, the boot rack is top heavy and does not stand up. Had to return it.
June 16, 2014
Rated

4

out of

5
 by
Birdnerd
Good for the price
This product solved my issue as to how and where to store my boots in the off-season. The frame is sturdy but the individual rungs are a little wobbly so boots could topple over if bumped. Nonetheless the overall quality and function is fine.
May 12, 2014
Rated

5

out of

5
 by
ktorres
Exantly what I wanted
I needed something to help organize all my boots in my closet and this works perfectly. I would definitely recommend this product.
May 2, 2014
Rated

4

out of

5
 by
NeatFreak789
Space Saver!
Rack was easy to put together and comfortably fits 4 pairs of boots, great space saver and solution to dealing with my boot addiction! Not super sturdy, but I'm not using it as a coffee table, and you can't beat the price!
April 16, 2014
Rated

5

out of

5
 by
Kat26
Really Helpful
I bought this boot rack and really like it. It holds my boots nicely without taking up too much space. I had read reviews before I purchased it that the rack can tip over. I have not had that problem at all. The rack is great and I highly recommend it!
April 12, 2014
Rated

3

out of

5
 by
Buller
handy but not sturdy
I like this for organization in my closet, but it isn't very strong for holding up the boots. It tends to fall over, but I have it balanced so it is working. It is a good way to store the boots to help keep them in good shape, but it will need a little bit of extra support to hold them up. My boots are average in size and weight (size 7, mostly leather no lining).
April 7, 2014