Rated

5

out of

5
 by
Amberb
Perfect Fit!!!!
I have an awkward space in my closet and entirely too many shoes. I searched high and low for a shoe rack that would fit the space to no avail. That is until I went to the Container Store and found this one. It is small and light weight and fits just right! I am so excited and my closet is so much more organized!
April 8, 2014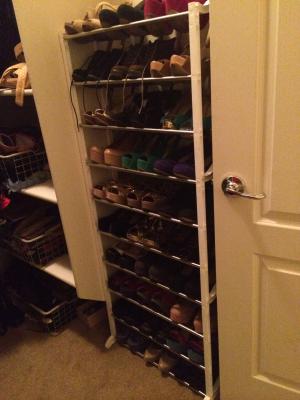 Rated

4

out of

5
 by
SweetieePea
Best Shoe Rack
I have been utilizing shoe racks for ages and always struggle to find a sturdy rack that also holds a lot of shoes. I now have to look no further. The rack was relatively easy to put together. It is loaded with my shoes and has given me no problems. I am thinking of adding another one to complete my "walk-in shoe closet"
March 28, 2014
Rated

4

out of

5
 by
downtowndweller
Simple, sleek & stylish
This was super easy to put together and works great in my closet. I've moved several times, had closets of all sizes and used just about every type of shoe storage there is on the market. This rack is by far my favorite. As a matter of fact, I went back and bought two more racks. I can see all my shoes, access them easily and don't have to worry about them being damaged or scuffed from rubbing against each other--like in those cubbies I've used before. I was hesitant that the racks wouldn't hold my wedges properly and securely, but they do. Also, this rack doesn't take up as much space as you would expect. I highly recommend it to anyone looking for easy, convenient shoe display & storage.
January 24, 2014
Rated

5

out of

5
 by
Natjmo
Great product
Perfect! Kind of annoying to put together, but I've had this for a year now and it has held up well. I did not use the top tier, so its a little shorter to fit under my window.
January 11, 2017
Rated

1

out of

5
 by
lisbailey
Useless after 18 months
I bought this shoe rack because it was the right size, style, and cost. It worked for a bit. I filled it with about 30 pairs of shoes, primarily high heels. The heels would get caught on other pairs and would frequently knock down shoes on other levels, but that was tolerable. After a bit, it started leaning a little so I propped it against a wall. That solved the issue for over a year. Then last week I had to move it in order a few inches away from the wall. The bottom shelf disconnected from the vertical piece and the whole thing collapsed. I tried reconnecting it a couple times, but it would not stay together. Essentially, the product could not sustain actually holding 30 pairs of shoes. Hence, I'm in the market for a new method to store my shoes. Don't waste your money on this. It won't last.
January 8, 2017
Rated

2

out of

5
 by
DIGATES
LYNK 30 PAIR SHOE RACK
WAS NOT THE EASIEST THING TO PUT TOGETHER. I HAVE HAD IT FOR ABOUT A YEAR AND ½ AND NOT TO LONG AGO NOTICED THAT IT STARTED LEANING TO ONE SIDE. A COUPLE OF THE RUNGS STARTED TO COME APART SO HAD TO TAKE SHOES OFF AND RE-HAMMER IT TOGETHER AGAIN. WHAT A PAIN JUST WAITING FOR IT TO HAPPEN AGAIN SO I'M LOOKING FOR ANOTHER ONE.
December 29, 2016
Rated

4

out of

5
 by
JennyH
Nice
It's great for the price. Fits in small space in my closet. Seems pretty sturdy. Doesn't hold 30 pairs though. I can only get 2-1/2 pairs on each rack. But it's plenty of space for me. Easy to put together.
September 22, 2016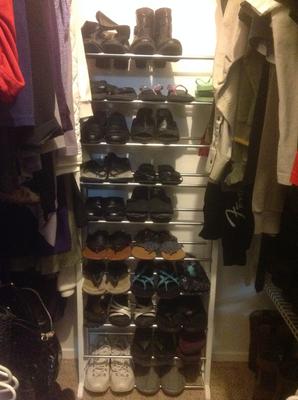 Rated

1

out of

5
 by
Jess910
Flimsy
I bought two. One will not stay together as several of the metal bars keep dropping out, and the other is leaning significantly to the side. Also, there is no way these shelves store 30 pairs of shoes each.
September 20, 2016
Rated

1

out of

5
 by
EllenCF
awful
I am on my second one of these. I store women's shoes and not heavy ones and this is the second one to collapse after just a few years. I wish I had a door so I could purchase one of the over the door models. Instead I'll try to the metal one on wheels next. Something has to work and last longer than 5 years.
September 2, 2016
Rated

2

out of

5
 by
NYReorganizing513
Product does not match site listed measurements
I bought this product to fit in my closet that has a depth of 21.75". I thought, given that the product is listed at 21.5" wide, this would fit perfectly. The site's listed measurements are wrong!! I assembled this (very easy, especially with a hammer!) and went to put it in my closet. It didn't fit! I kept trying - remeasured my closet. I remeasured the rack: 21 7/8". The box even says so. I didn't think to double check the box because I trusted the information on this site. I am extremely frustrated that I took the time to assemble this - I never anticipated having to double check the specs provided by the container store. I now have to disassemble the whole rack and return.
June 14, 2016
Rated

1

out of

5
 by
ColeCoop
Disappointing
I bought this about a year ago and have fought with it off and on ever since. I took it out of my closet today to "reassemble" it since so many of the metal rods had come loose. It wasn't happening. Just as soon as I would get two in place another would pop out. I understand getting a deal but this isn't even functional for me at this point and will be retired. I'm confident it is too late to get a refund on my purchase so I just want to save others from making the same mistake! Spend a few extra dollars and get something with a higher likelihood of actually serving your needs (without the frustration).
April 23, 2016
Rated

1

out of

5
 by
SueSF
toppling shoe rack
I bought the shoe rack and it was a pain to assemble. The metal bars kept falling out of place. Once I got is assembled and filled with shoes it toppled over in the closet. This shoe rack is not sturdy or well made. I am going to try to return it.
April 10, 2016
Rated

4

out of

5
 by
JBON
Basic and works just fine
People! This is not a difficult product to assemble! It is by no means a nightmare. I can't believe the crying and complaining over such a simple task. You are Americans, for heaven's sake. Buck up! Take a look at the instructions, follow them, and it should go together in about 10 minutes. Then you will have a servicible, plain shoe rack that will fit nicely into a small space and hold about 25-30 pairs of shoes.
January 25, 2016
Rated

4

out of

5
 by
HRMCART
guse as a drying rack
use this as a drying rack! ok put together pretty light weight and sturdy
January 18, 2016
Rated

1

out of

5
 by
CourtneyL
Terrible Waste of Money and Time
I wouldn't even give this product one star. Not only was it a pain to put together, but a pain to take apart minutes later. The material is a cheap plastic. The pieces do not go together well, and just when I thought the piece was complete, yet another rod would fall off. When I tried to put shoes on it, it would lean to the left or lean to the right, and before I knew it, yet another rod would fall off. For only $30, I thought I was getting a deal, but I now know it was worth spending a few extra dollars to get a product that would last. Taking this back today, to get a different shoe rack.
January 5, 2016
Rated

1

out of

5
 by
rcastj
Huge regret
I bought this shoe rack a few months ago. It was a pain to put together but it stored my shoes how I wanted it to. I only have 15 pairs of shoes stored on a rack for 30 pairs. Unfortunately it constantly falls apart and/or makes it hard to close the door. It is very frustrating having to re-install or reinforce 1-3 metals bars everyday. I am planning to return it even though I recycled the box after purchasing the item. I hope I get a refund or credit to buy another shoe storage system.
October 15, 2015
Rated

3

out of

5
 by
KittyKatDee
Meh.
I'm giving this 3 stars because it has lasted me a long time, about 2 years. Well, that isn't super long. If you are using this for light shoes like flip flops, or not a lot of pairs, you should be ok. But it collapsed the second I started to use it for heavier shoes like my running shoes or hiking shoes. Its pretty wobbly as well. I'll opt for a different model this time.
June 10, 2015
Rated

1

out of

5
 by
stellar
Never buy
This shoe rack fell in one swoop. I should've just bought the heavier, more expensive rack in the first place! What a waste of money. Very poor construction with flimsy plastic sides and ill fitting metal rods, will not stay stable for long. Do not buy this!
May 27, 2015
Rated

2

out of

5
 by
StephM
Not a good buy!
I had this exact shoe rack & the lower left rod broke & shoes went all over my closet. Ordered this one online not knowing it was the same one. Started putting the new one together & it was crooked. Returned it to the store!
May 5, 2015
Rated

1

out of

5
 by
Queenoid
Don't know why they even sell this
This is a terrible product. Last time I was in the store I noticed that the rungs had even fallen out there! They fall out all. the. time. I used to arrive home to a pile of shoes on the floor. I eventually gave up and I use something else. I tried to repurpose this for ribbon, but then I arrived home to a pile of ribbon on the floor. Into the trash
May 2, 2015
Rated

4

out of

5
 by
Liana44
Practical
I had a relatively easy time assembling this by myself so I not sure what other people who had trouble are talking about. It's lightweight and thin so works well in my small apartment and does the job.
May 1, 2015
Rated

1

out of

5
 by
ShortGirl26
strength of Samson,patience of Job
This is a NIGHTMARE to put together. Maybe if I were a bodybuilder and also a saint it would be easier. The pieces are hard to put together. As soon as one pops in, another pops out. It is like the worst game of whack-a-mole ever. I LOVE the container store, but this thing stinks!!!!
April 2, 2015
Rated

1

out of

5
 by
AUTX
Not a good product
I have been buying things from the Container Store for years, but this is by far the most inferior product I've ever purchased. It doesn't stay together even if assembled per the Instructions. I would not recommend purchasing this product.
November 17, 2014
Rated

1

out of

5
 by
ContainerStoreFan714
I wish I could give 0 stars.
This shoe rack has fallen apart a dozen and a half times. The rack is constantly tilting to one side or the other. It's like the leaning tower of Pisa. It looks terrible after all of the attempts to reassemble. And now, I just have it taking up space because every time I attempt to remove shoes from this device it's like a terrible game of Jenga - one wrong move and the whole thing collapses into rubble. So my solution has been to have my shoes all over the floor which is the opposite of why I spent so much on a shoe rack in the first place. It was a TOTAL WASTE of money. So bummed out. I usually have an AMAZING experience with Container Store Products. I would march in the Container Store parade. :) But this product was simply not up to the standards I've come to know and expect.
August 1, 2014
Rated

5

out of

5
 by
Dodo
30 Pair Shoe Rack
Love the rack. All my shoes in one - easy-to-find location. Fairly easy to put together. Well worth the $30
May 26, 2014
Rated

4

out of

5
 by
AChris007
very useful
easy to put together, fits in small area and is sturdy. ideal space saver for the shoe lover. i will be purchasing another soon
April 24, 2014
Rated

1

out of

5
 by
MelanisS459
Collapsed
I had a hard time putting this together - the rods don't 'snap' into place or anything, they just shove in and are only a just long enough to fit through to both sides, so within an hour of putting my shoes in the rods started to fall out. They are just not long enough. After 3 days the whole thing was pretty much collapsed. Will be returning this and do not recommend.
April 20, 2014
Rated

3

out of

5
 by
RosebudTX
It's okay, could be better but not bad.
While it is kind of wobbly and you really do need to have it up against the wall to stabilize it a bit, it has never fallen over in the years I've owned it and I've gotten used to the wobble knowing that it's not going to fall. It's served it's purpose just fine but I would be surprised to find anyone who could fit 30 pairs of shoes on it. I can fit two pairs plus one single shoe on each shelf (women's shoes).
February 3, 2014
Rated

4

out of

5
 by
Shopper37
Really good buy
This shoe rack is great,yes it is plastic and not super sturdy but it is only 30.00.It is high in a closet and takes very little space ,works just great for us.It would not hold 30 pair of men's shoes ,but would women's shoes and most men wouldn't have 30 pair of shoes.If you are looking for a rack for shoes in the closet ,it is the best,and easy to clean under it.
January 9, 2014
Rated

2

out of

5
 by
NewinFrisco
Now worth much
It Doesn't hold the Number of shoes it states. Very unsteady. Needs to be on corner wall to add stability. Very poor quality.
October 31, 2013