Rated

5

out of

5
 by
MississippiGirl
THANK YOU
Thank you for listening and not applying price tags to case sold shoe boxes. I show off my closet to everyone because I am so happy and proud of my shoe organization, thanks to these containers. I also switched to the sweater boxes which I LOVE. I can't wait for the Delaware store to open.
January 30, 2015
Rated

5

out of

5
 by
Organized365
They're not just for shoes!
I love these shoe boxes! I have very limited kitchen cabinet storage, so I use the boxes to store items I don't use on a daily basis (i.e., cookie cutters, sprinkles and bulky kitchen gadgets). I love that I can see in the boxes to quickly spot what I need. I highly recommend them.
January 19, 2017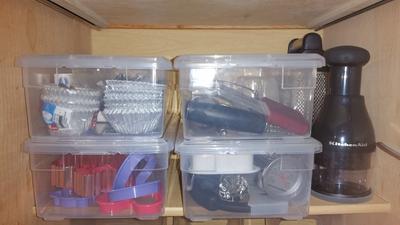 Rated

5

out of

5
 by
DianeF
Shoe boxes are great in my sewing room!
We have purchased 3 cases of shoeboxes. My hubby took one case, and I have (and still am) using them in my sewing room. I have lots of smaller pieces of fabric, and needed a way to store them, but still see what I have. I am folding the pieces to fit, and am sorting them by color family. I can see enough of each piece to know if what I'm looking for is in that box or not. It's making my room much more organized, and saving me lots of time!
January 18, 2017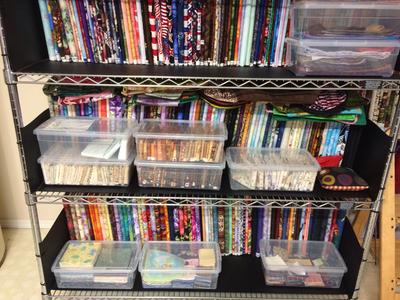 Rated

4

out of

5
 by
sepuglen
Almost perfect!
If these were 1/2 inch taller, they would be perfect. (I'm well aware of the men's shoe box, but those are way too big). I purchase the 20 CT box. Would recommend these for anybody looking into organizing heels and wedges (depending on height), short booties and flats. I am a 6 1/2 - 7 size, sizes over a 7 1/2 or 8 should definitely look into the men's boxes. Boxes are sturdy enough for stacking. Easy to close and open. Clear all the way around, so you can easily see shoes from any angle.
January 15, 2017
Rated

5

out of

5
 by
OrgGuru
Amazing Space Saving Idea
These boxes are excellent for those of us with lots of shoes but average size closets. The boxes fit almost all of my shoes with 4"-5" heels and stack very well allowing for more space. They are also clear so it makes it easy to see the shoes when you need to pull them from the stack. Bonus: they keep shoes dust free as well. Buying them in bulk version is a great way to go.
January 13, 2017
Rated

5

out of

5
 by
PLS424
CLOSET MAKEOVER!!
I bought two cases (40 boxes) of these and now I can see my shoes!! I got rid of all the boxes they came in and now it's so easy for me to go in my closet and find the shoes I want to wear! The boxes also stack nicely so I stack some that are the same shoes but different colors! Love your shoe boxes!!
January 9, 2017
Rated

5

out of

5
 by
Cardcrafter
Card-maker's Heaven
I've been making cards for years, and my supplies have grown and grown. It was all getting a bit too difficult to lay my hands on specific papers or stamps or ribbons because everything was crammed into a few drawers. Accidental duplication abounded! Then I visited the Container Store. See the photo for a happier arrangement, tho still a work in progress.
January 8, 2017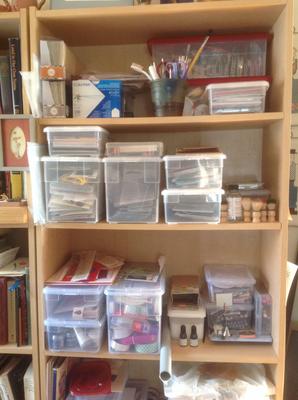 Rated

5

out of

5
 by
akathi
Perfect
I ordered about 50 of these and they fit my size 10 shoe perfectly. Easy to open while still securing your shoes tightly. I have used them for other type of storage as well. Works good for videos and makeup travels well too.
January 8, 2017
Rated

5

out of

5
 by
autumnsangel
Useful way to store shoes and protect them
You would think shoe boxes take much more space than shoe shelves. But I put away shoes out of season away in these boxes and it saved me tons of space for other stuff. I love that I can see through the shoes from the transparent plastic and shoes are actually protected from dust and moisture when stored outside. I'm never disappointed by the quality of products from the Container Store.
December 21, 2016
Rated

5

out of

5
 by
ArtistInProgress
Sturdy and useful
I'm using these boxed to store art materials in my art room, which has shelves on 3 sides just for all the materials. These boxes stack well, and stack well in conjunction with larger size boxes too. The lids stay put until you want them off, then they come of without a fight. The boxes are clear enough to be able to see into and know what is stored within. I work in polymer clay, and they are also raw polymer clay safe. This is the second batch of these boxes I have purchased, the extra money is well worth the sturdiness compared to most plastic shoeboxes that you can purchase in your local store.
December 16, 2016
Rated

4

out of

5
 by
Sunrise
Shoe Box - Case of 20
I love that these shoe boxes are clear, and stack nicely for consistency. I have ordered 2 cases, and have filled them all. However, I think they need to be a bit taller, and wider. For the price, I am pleased. I am a female, size 7.
December 9, 2016
Rated

4

out of

5
 by
Pochs
Great but...
My husband and I recently had to throw out over 10 pairs of shoes because of some mold in the basement closet so I was looking for sealed boxes for our remaining shoes. These boxes are great for my shoes but they do not fit most of my husbands size 10 shoes. The difference is only a few inches but it is significant enough that the boxes will not close for his shoes. I wish there was a longer option (but not quite boot long).
November 25, 2016
Rated

5

out of

5
 by
RedheadedTxTornado
Sheer Awesomeness!!!
LOL, I have new addiction! The Container Store is going to be my ruination. Love these shoes boxes. Now I don't have to search under all of my clothes in my closet to find my shoes. These clear boxes are just the right size. The only downside is my husband now knows how many pairs of shoes I have! Seriously, The Container Store has THE best employees. Very friendly & helpful. My order was all packages and ready to go. Thanks to Kristen for all of her help.
November 14, 2016
Rated

5

out of

5
 by
Mitzig
Love these boxes that can fit anywhere and hide in a closet
October 14, 2016
Rated

5

out of

5
 by
krbaker
The BEST shoe box ever!
I recently remodeled by closet and was looking for perfect shoe storage and this product does that and more. It's clear so you can see the contents and stacks neatly and perfectly .
September 30, 2016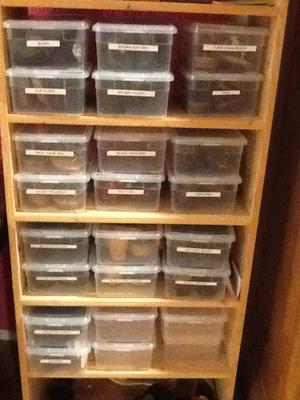 Rated

5

out of

5
 by
CRRR
Shoes
Very durable and holds more than one pair of shoes depending on size. Able to see all shoes through the clear containers. Making it able to organize sandals heels and tennis shoes separately.
September 26, 2016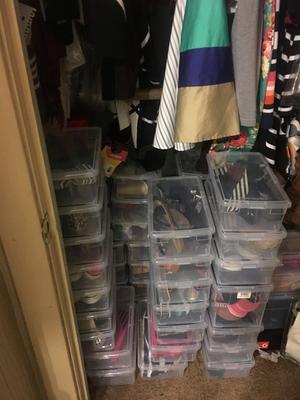 Rated

5

out of

5
 by
Cookiegirl
Perfect shoe box!
I love these shoe boxes! I have looked all over for the perfect she box. In the past I have purchased many different shoe boxes. They were too bulky, not transparent , flimsy, etc. These shoe boxes are well made , transparent and the perfect width, and height. It allows me to stack boxes 3 high on my closet shelf enabling me to have 36 pairs of shoes at my fingertips.
September 19, 2016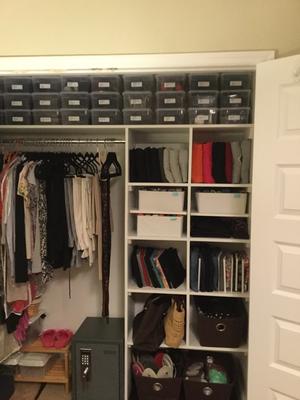 Rated

5

out of

5
 by
C5Mor
Perfect 'Shoe Box Gift' Boxes
These shoe boxes are PERFECT for filling with gifts to send to Samaritan's Purse: "Operation Christmas Child" an international relief ministry. Millions of shoe box gifts have reached needy children aged 2 to 14, all around the world. We pack in school supplies; toys; hygiene products such as tooth paste & toothbrushes, combs, hair accessories, soap and washcloths; socks, shirts, sunglasses, flip-flops, backpacks or tote bags; sewing kits for older girls; and a few sweets like Lifesavers & gum. We want to pack in as much as we can! The straight (not tapered) sides, flat bottoms of these boxes allows for 6" x 9" tablets & notebooks. There are stories of children being able to go to school upon receipt of school supplies their families could not afford to buy. Average sized shoe boxes must be used; they become part of the gift, and this is the second year I have used these from The Container Store. I hope to use these again every year.
August 9, 2016
Rated

5

out of

5
 by
OrganizerPlus
Great quality and excellent price!
These have made my life SO much easier! I don't have to open up fiberboard shoe boxes to see what's in them any more, they fit perfectly on closet shelves, and they look so much better. Should have bought them a long time ago!
August 7, 2016
Rated

4

out of

5
 by
OKRay
Great!
The boxes are nice quality and take up little space. I order them to replace all my shoes original boxes. They fit most of my shoes. Only some of my larger platform wedges and booties do not fit. I wear a size 7.5 to 8. Will order more when I need for sure.
July 28, 2016
Rated

5

out of

5
 by
ILoveGettingOrganized
Awesome boxes!
We recently had our closet redesigned and I was so happy with it that I just kept standing in it and looking around. I couldn't just put all of my clothes and shoes back in, I really wanted it to be functional, stay neat and look nice. Our closet designer recommended these boxes and I absolutely LOVE them!! I tried the hard, clear lucite boxes with lids and the drop-front boxes. None were as easy to handle, securely stackable or the right size: they were either too small for anything other than a flat, or too big so I felt like I was wasting space. These boxes stack nicely, are still see-through and the lid snaps on just tight enough that it doesn't come off when I grab a box to take it down, yet I can take it off with one hand without having to hold the box in my other hand. They look nice on my shelves and I have been able to fit almost all of my shoes in them perfectly. I am VERY happy with these boxes, and the price is right, too.
July 26, 2016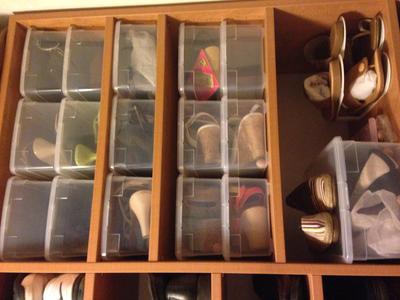 Rated

5

out of

5
 by
JodyDee
Fits most heels...trust me
I was worried that most of my heels (and I almost only exclusively wear heels) wouldn't fit, so I ended up buying 20 of these and a few tall boxes. Let me say I wear a size 8 heels and most of my heels range from 3" to 5." When heels come in a shoe box they are placed on their side and thats just what I did with these. I was even able to fit two pairs of my flats in one box. So so so happy. The only shoes I ended up needing the tall box for were some taller ankle booties, some chunky nike sneakers, over the knee boots, and some spice girl platform sneakers (yes I own a pair for nostalgia reasons). The price was fantastic too. I am a virgo so the Container Store is one of my go to places.
May 22, 2016
Rated

5

out of

5
 by
jethro
More useful than I expected
I bought the box of twenty shoe boxes and filled them up and was pleasantly surprised by how well they stacked solid even in a stack of six. And you can see your shoes without having to open all kinds of boxes. So wonderful I bought more. My closet looks so organized and shoes will stay clean.
May 9, 2016
Rated

5

out of

5
 by
CoryU
These containers are great! They fit most shoes. I only had a bit of difficulty with very tall pumps. Makes you closet look clean and organized!!
May 7, 2016
Rated

5

out of

5
 by
LWNY
Very Handy
I used to have a bunch of rigid plastic draw type of shoe containers. But they are so easy to break. I decide to switch to this type of shoe box. They are quite nice and easy to use. I don't need to worry about break shoe boxes again when moving.
April 30, 2016
Rated

1

out of

5
 by
JerseyVivian
Not good for average size 8.5/9 sneakers
I bought a case of the women's shoe box and most of my 8.5 barely fit. And my nine are just to big. I have to put them in a Men's shoe box which are far too big. I wouldn't recommend these boxes if you wear a size 8.5 or average 9 sneaker or a higher heel shoe.
April 30, 2016
Rated

4

out of

5
 by
KarlaR
Nice shoe box
I purchased four of these to put my pumps/heels. The only complain I have is that the top comes off easily. Wish it had a more secure top.
April 27, 2016
Rated

5

out of

5
 by
abbys
love them!
What a great idea! Instead of hanging my shoes off a door (which then won't close properly) or trying to line them up on my closet shelf (hello,stepladder), my shoes are now neatly arranged in clear boxes. It's easy to see which shoes are where, and I am now able to find/wear shoes that used to be lost in the back of my closet. I love that you can buy these by the case at a great price! Now, what to put in those four extra boxes.....
March 27, 2016
Rated

5

out of

5
 by
TammyA1
Perfect size boxes
These boxes are the perfect accent to my craft room. They stack so nicely together and I can fit 2 of them on my bookshelves (stacked). I like that they are clear, so I can see what is in them and I can easily add labels to the ends. I would recommend these boxes to anyone who wants to organize their craft supplies, or kids toys, or even ... shoes.
March 16, 2016
Rated

5

out of

5
 by
Katrina33
Yesssssssssssss
This is the best product I've bought thus far! Purchasing these shoe boxes saved me extra space in my closet and also helped with being able to store more items in my closet. I didn't have any issues making my shoes fit or closing the lids. It's a good price and excellent product. I would recommend anyone who loves shoes to purchase this product. I'm super happy. Thanks the container store, you guys have saved my life.....
March 16, 2016