Rated

4

out of

5
 by
cpie
Great, but the hooks are too big...
This is a great shoe organizer, however the hooks were too bulky. Once I replaced with flat metal hooks, it's perfect!
August 9, 2015
Rated

5

out of

5
 by
Kale
Great organizer
I really enjoy using this as a bathroom organizer. It makes it easier to bathroom extra supplies like tooth paste, shavers, perfumes, tooth brushes, hair brushes etc. It is a great way to add extra storage space without clutter under the sink. I do want to buy a few more, for my scarfs, belts, socks.
March 21, 2015
Rated

5

out of

5
 by
NeatBlossome
Very Versatile Organizer
The 24-Pocket PEVA Overdoor Shoe Bag is one of the most versatile organizers ever. Whatever items - that would fit in the pockets - needed to group and organize - this will do the job! A big plus - items are within visual reach and access! Love it!
March 16, 2015
Rated

5

out of

5
 by
DebbieSG
Not just for shoes
I use this over my bathroom door for my makeup. I can now group items and can see exactly where everything is. I have another one over my laundry room door for cleaning supplies.
February 7, 2015
Rated

5

out of

5
 by
Vtphd
Saved a marriage
Hubby had shoes all over the floor where he could "see" them rather than out of site in closet. This is perfect, hangs on back of door, fits men's 11+ shoes and he can see all of them at once!
October 8, 2014
Rated

5

out of

5
 by
Shamille
So versatile!
Love the clear pockets. Not only can you see through them easily, but they can be wiped down. We bought one of these for our storage closet to store all of our household cleaning products. Not only was our maid thrilled to easily see the products, Our space under the sink was no longer a mess!
June 14, 2014
Rated

5

out of

5
 by
Corc
Awesome space saving organizer!
I bought three of these! One I brought to the office for our tiny supply closet to hold pens, pencils, markers etc. and it cleared off two shelves that I could use for other things. The second one I hung in my mud room to put all our pool toys, sunscreen etc. to have ready right when we go out the door and the third one I gave to my sister in law to put in her twins nursery to hold socks, lotions etc. I love the durability and the clear pockets to use over doors - they make awesome space saving organizers!!!
June 2, 2014
Rated

5

out of

5
 by
doingmydharma
versatile and inexpensive!
This was the perfect solution to my need! Instead of a junk drawer, I put this baby on the inside of our utility closet door and store cleaning supplies and other random items that are used throughout the house (one slot even holds an entire large clorox wipes' container!!). Everything is easily accessible and in a central location. I have always heard about others using these to store home products and cleaning supplies but had never tried before. What a genius idea! I have included: wood furniture cleaner, wipes, spray bottles, scrubbers, tools, light bulbs, and much much more!
May 30, 2014
Rated

5

out of

5
 by
Britt019
shoe organizer!
I live in a studio apartment so this shoe bag saves me a lot of room! Just make sure you have a door to hang it on and that the hooks will fit the top of the door. I like that it doesn't have to screw on to anything so it leaves no holes or messes! :) 1
May 28, 2014
Rated

5

out of

5
 by
Jette
Assorize Your Closet Door!
Backside... inside... otherside of any closet door is the perfect place to hang this shoe bag. Come spring and summer I fill it with flip flops! Then when winter rolls around, I fill it with gloves, hats, and scarves, Holds so much for so little.
April 27, 2014
Rated

5

out of

5
 by
Hezakiya
Like the others, not used for shoes
I use my clear shoe bag on my bathroom door to hold toothpaste, razors, spare toothbrushes/toothbrush heads, hair products, deodorant, cleansers, moisturizers, brushes, nail files/clippers/polish, etc. It's AWESOME because when you're late and need stuff fast, it's easy to find in clear pockets, and when you want to put stuff away, same thing ... easy. But the best is when you're having company ... you pick it up, move it to a spare room door, and suddenly your bathroom just cleaned itself! :-) It's well made and took about 10 seconds to remove from the bag and hang to begin using. I also use one on my office door to organize small electronics and the wires that belong to them. I also store additional wires that I have and need but don't use all the time. I would love to see a narrower version of the same length made for smaller doors (like the pantry door and linen closets in old apartment buildings w/18" doors.) Again, well made and the clear plastic is high quality ... it doesn't collect residue and dry out leaving a dry whitish film from being in the bathroom like others have, but cleans up rather well and remains truly clear instead. Excellent organizational product!
April 26, 2014
Rated

4

out of

5
 by
Abby04
Really Useful
I use these for organizers in the bathrooms...it's great to store hairbrushes, makeup, hair clips, etc. and have everything easy to access and you never have to go hunting for anything!
April 25, 2014
Rated

4

out of

5
 by
Gnome7
Gets the job done
This is perfect for organizing small snacks in the pantry like granola bars, leftover crackers, nuts, etc... Its way better than leaving a few crackers in a big box and you can see what you have so you know when to buy more
April 18, 2014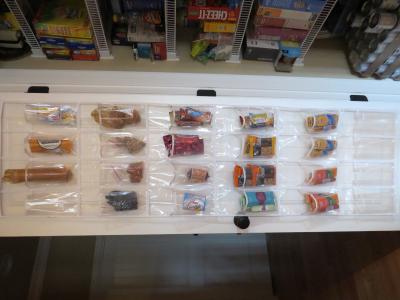 Rated

4

out of

5
 by
Kams0209
Fits Everything Needed
I love this product! Fits all my flip flops (and I have a ton of flip flops!!!!!) and also my flats!!! Great way to keep everything at reach and nice and organized.
April 18, 2014
Rated

5

out of

5
 by
Sch1969
Perfect fit!
fits perfectly inside my linen closet door. Very sturdy.I wear a large size flats/sneakers and each pocket holds one shoe.
April 3, 2014
Rated

5

out of

5
 by
DebbieKP
Great for the scrapbooker!
I bought this to organize my scrapbooking punches. It works wonderful. I love that has three support over the door hooks. And that it's clear so you can see what in each pouch. You should market it for scrapbookers!
April 1, 2014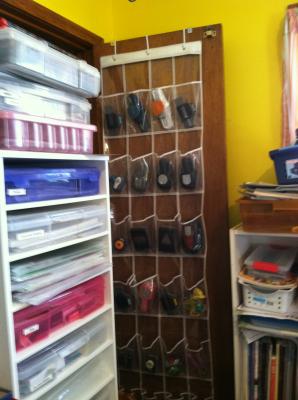 Rated

5

out of

5
 by
Newlywed2014
Out of the ordinary use
Having to be creative with storage space, my husband suggested that we use this product for cleaning supplies, etc. in our utility closet. It was a great idea!
March 8, 2014
Rated

5

out of

5
 by
HappyHousewife
Thinking Outside The (Shoe) Box
My bathroom counter was getting very cluttered with many of my frequently used products. My linen closet is very small. My husband didn't want me to connect anything directly to the door so the over door shoe bag was the perfect solution. Due to the narrow door I had to cut one column of pockets off. The clear pockets allow me to easily find what I am looking for. And they are deep enough to hold some of my bigger items.
February 22, 2014
Rated

5

out of

5
 by
GGonzy
This has helped my office organization greatly. I would love to have one for every door.
February 21, 2014
Rated

5

out of

5
 by
mojomo
Great Idea
I purchased the over the door shoe hanger and use it for my bathroom items. I also will purchase a few more for my child's school supplies, cleaning supplies and pantry - spices. It is heavy enough to support the weight of the items placed in the pockets. I was able to remove many of the items normally placed under the sink.
January 16, 2014
Rated

4

out of

5
 by
looking2organize
Tricky display misleads
This product works well. I bought it after reading on a life hack website that this can be used to store cleaning products so that they are always visible and in one place. This new system has worked out for me, and I recommend it to anyone who has stashes of cleaners under various sinks, and in other places, and would like to consolidate those items to avoid lengthy searches or unnecessary duplicate product purchases. I am sure that this product would work nicely for its intended purpose (shoes) also. My only complaint is that under this product were packages of hooks, and nowhere on the overdoor shoe bag did I see that hooks were included, so I bought the separate package of hooks only to find hooks inside the shoe bag package. That said, I ended up using the hooks I bought separately because they were thinner than the ones that came with the shoe bag and I wanted my door to be able to close properly, which it does. So, I guess I should be happy that I bought the separate package, but still feel that the packaging on the shoe bag and the placement of the alternate hooks misleads the customer a bit.
January 5, 2014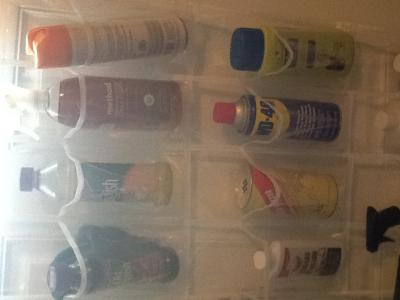 Rated

5

out of

5
 by
CowboyMom
Perfect for Daughter's College House
These organizers have so many uses!! My college-age daughter missed her childhood Christmas Advent calendar. We couldn't find anything big enough to accomodate her and her four housemates. This organizer is the perfect size - 24 pockets for Dec 1-24 and they are big enough to hold 5 small treats/gifts.
December 6, 2013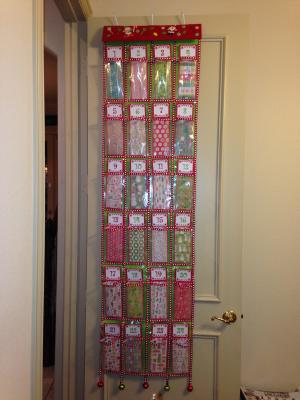 Rated

5

out of

5
 by
kitzkamp
Great organizer for roving
As a felter, I was looking for a way to store my roving so that I can easily see what's in my stash. Ordered 3 of these. Perfect solution!
September 29, 2013
Rated

4

out of

5
 by
DianaCinDC
Clears up floorspace right quick
Seeing this at the Container Store was one of those great forehead-slapping, "well duh!" moments in life. My fiance and I, in our studio apartment, had been trying to think of how to organize our two closets, one for outdoor gear and household supplies, and the other for our clothes. Our shoes fit in both categories, though we tend to take them off right away upon walking in the house. Originally, we'd just been leaving our shoes lined up along the wall in the foyer, but I kept thinking that that took up too much floorspace. So I thought I wanted some shelves for the closets to store shoes. And then I walked by a display of these overdoor shoe bags, and a lightbulb came on over my head. Why this was such a 'well, duh!" thing for me was that I had an overdoor shoe bag in my room as a kid, so it should have occurred to me to do the same here. I bought two shoe bags, and we filled up one--over the foyer closet door--right away with the shoes we wear most frequently. The other one, for the clothes closet, is for shoes we wear less often. I have a feeling some pairs of shoes will change places as the seasons change. There are no downsides to buying this shoe bag. That's why I bought two of them.
September 24, 2013
Rated

5

out of

5
 by
Ruthps
Great for action figures
And cars and all those little toys my six year old loves. Now he can easily see, find, play, and put away those toys
September 23, 2013
Rated

4

out of

5
 by
slcoleman99
Used for Necklace Storage
Saw a tip on Pinterest to organize bigger necklaces into a clear show organizer. This fit the bill! My only complaint is that the hooks that hold it over the door are a little different in size. So to close my door, I have to make sure to hold the middle one down in place.
July 8, 2013
Rated

5

out of

5
 by
Cheryln106
Great Product
I bought two shoe bags for my closet doors. Love how they fit close to the door not taking up extra room, and I don't have to worry about them falling apart like my metal ones did.
May 5, 2013
Rated

5

out of

5
 by
Ophelia33
Great For Re-Purposing
I love this product! I threw one over the back of my bedroom door and relocated all the items from my desk into organized pockets. It looks great and it freed up lots of space for writing and working. Not to mention, that everything is super organized and easy to find. Would recommend this to anyone looking to free up some space.
May 3, 2013
Rated

5

out of

5
 by
Howdy
Organizing the laundry room
I am using the over door shoe bag in my laundry room to store all my cleaning products in one place. It makes everything easily accessible and visible AND off the counter! The bag is very well made, durable with plenty of pockets.
May 3, 2013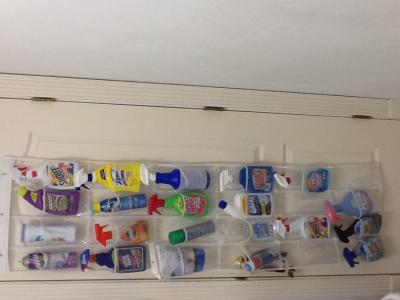 Rated

5

out of

5
 by
Emeltee
Not just for shoes
I used this in my daughters' room to store all the knick-knacks they have floating around the room - from dolls and toys to flashlights to lip balm. Helps keep clutter off the flat surfaces of the room. Once they outgrow this stage, we can move it easily to the bathroom for beauty supplies or even to the closet for its intended purpose - shoes! The possibilities are endless!
April 26, 2013