*Place order online, by phone, or in store. Spend $75 or more on merchandise (excluding tax, Gift Cards, eGift Cards, POP! Perks, installation and services, and elfa Sliding Doors) in a single transaction and receive free standard shipping to a single address in the contiguous United States. The offer will be automatically applied and cannot be used toward a TCS Closets® or Business To Business Solutions purchase. Due to size and weight restrictions, some items cannot be shipped or may have additional shipping fees that will still apply.
Overview
Product Information
Our 16-Section Shoe Cubby just might inspire you to add to your footwear collection since it so easily adds storage space. Designed to be stacked, it's the ideal storage solution for shoes, handbags and accessories. Optional Natural Canvas Cover is available (sold separately, listed below)
Made from poly-cotton canvas
Sturdy steel frame
No-tools assembly
Each compartment is 5-1/2" h
Related Items
Reviews
Rated

4.8

out of

5

 by

12

reviewers.
Rated

5

out of

5
 by
havecamera
Perfect for my needs
This shoe cubby was exactly what I was looking for. My new place has a walk-in closet, but there was no place for shoes like I'd had in my old closet. I bought one of those racks made up of poles (One holds the front of the shoe, one holds the back) but realized once I had it home that most of my shoes don't have actual heels anymore, so they were all slipping off the rack and onto the floor. This cubby fits right under one of the shelves in the close (with barely an inch to spare) and is just the right depth. It actually has enough room to hold 16 pairs of shoes with one pair of shoes in each cubby (even my chunky running shoes and thick-soled work shoes). I could probably fit multiple pairs of flip-flops if I needed to. It's also very, very solid and sturdy, even the canvas portion. No problems with the quality. The *only* issue I had (and it's my problem as much as anything) is that the little curved washers you needed to put this together had a tendency to go flying, and were very, very easy to lose. But I managed to find them all, and got this together in less than half an hour. All in all, a great buy. I wish they made one about half the height, because I'd definitely buy one to put on the other side of the closet and hold things like dance shoes and water shoes that only get used occasionally.
February 12, 2016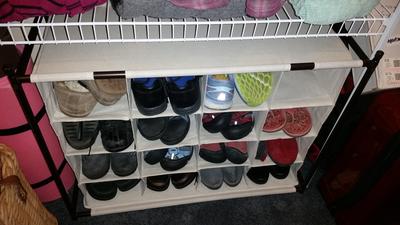 Rated

5

out of

5
 by
beachgoer1972
Holds lot of shoes!
This was easy and quick to assemble. Read the directions through to the end before you start. It holds more than 16 pair of my shoes. I have 2 pair in most slots. (Women's size 7 1/2) Some slots I have 3 pair of summer sandals. Just what my closet needed!
March 1, 2015
Rated

5

out of

5
 by
VJ07601
Handbag heaven
Well made and easy to assemble. Now all my favorite bags are organized and the cover keeps dust off. If I had more closets I'd get more for boots. Great product!
July 29, 2016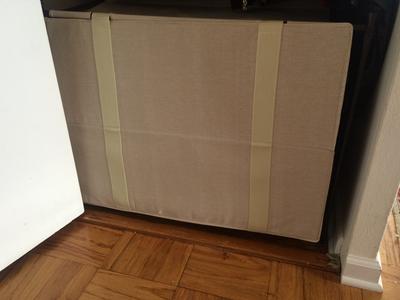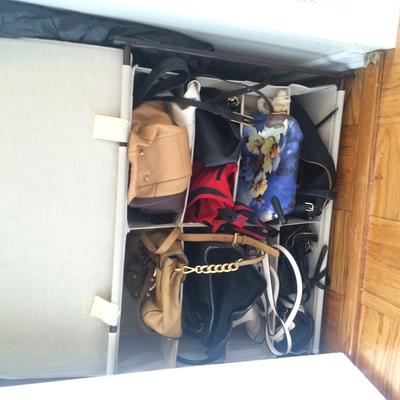 Rated

5

out of

5
 by
VJ07601
Shoe sanity
Turned it sideways to fit 2 in my closet. All the black ones are in the tower (which I can no longer find). Well made and easy to assemble. Got 2 pair in most slots - nirvana...
July 29, 2016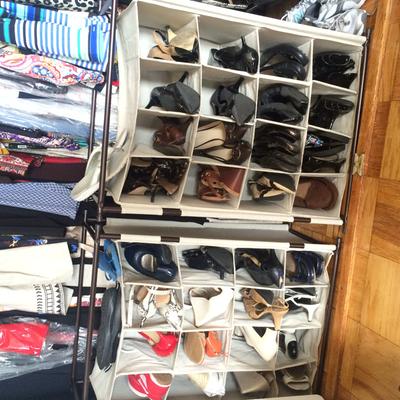 Rated

5

out of

5
 by
oldgran
Great Purchase
Took me a little over 45 minutes to assemble. Not difficult, but bulky for one person. My closet has clothes rods on each side its entire length and they are always full. I stood the cubby on its side at the back of the closet, and the fabric is of such very good quality, it does not sag when loaded with shoes.
January 22, 2016
Rated

5

out of

5
 by
Kiasah
great storage
Really great product. Easy to assemble, sturdy when put together, material is thick and strong. Perfect for storing handbags of all sizes, even larger ones, and they don't crush each other. Definitely worth the money, as will last forever!
November 12, 2015
Rated

5

out of

5
 by
JenniferP
Great shoe storage solution. It arrived missing one of the plastic washers and in spite of this it is still very sturdy.
August 18, 2015
Rated

5

out of

5
 by
CMR01
Life Changing Organizer!
Buy this item! It is excellent quality, easy to put together and perfect size for any closet. I saw this product online, ordered 2, went to the store to pick them up and put them together in no time. I used one cubby for shoes and one for clothes, purses, weights and other smallish items. My entire closet is now orderly and I can find anything I need in seconds. I think I may purchase one with larger compartments and place it at the top of my closet. I am totally impressed with the quality and instant benefit this product has given me. Yeah!
January 11, 2015
Rated

5

out of

5
 by
francais
16 section shoe cubby
A great and chic looking addition to our closet and very easy to assemble.....I've never found anything with a required assembly with all of the parts that actually fit very solidly!! My husband liked my shoe cubbies so well that he wanted one!! And Voila, nw we have three!!
August 15, 2014
Rated

3

out of

5
 by
IHTNNP
Nice Material
Canvas cubbies are nice quality. Description indicates it is "no tool assembly", which is incorrect. It requires a hex wrench for the screws to assemble, but it was easy to assemble with the hex wrench provided.
February 11, 2014
Rated

5

out of

5
 by
twinmom13
Perfect fit
This is a great storage unit - I am currently using it for a variey of shoes - for example one "square" holds 4 pairs a flip flops and a pair of flats. It's great. And the height of the unit is great.
January 23, 2014
Rated

5

out of

5
 by
creativeladybug
Great Storage Solution, Easy Assembly
I purchased this shoe cubby to use in my closet for the shoes that I wear most often. The assembly was easy- the only tool required was an allen wrench that was included. Love the cover for the front as well- keeps your shoes from getting dusty. The cubby fits perfectly in my closet and keeps my shoes neat and orderly. I highly recommend this cubby for it's efficiency, cost and looks.
January 20, 2014
Community Q&A
Is it stackable?
The description says "Designed to be stacked..."...can more than one unit be stacked on top of one another?
Yes. The top of the upright corner supports are narrowed so that they could fit into the bottom of the upright corner supports of another unit. Normally, when you have one unit, there are plastic caps that you'd put over the ends of the supports. But if you leave the caps off, they should easily stack. I can't speak to the stability of 2 stacked together (i.e. tipping) since I only have one, but since they are very sturdy, you *can* physically do it.
Date published: 2016-03-19
What the dimensions of each cubby?
7 1/4 inches wide by 5 1/2 inches high by 11 inches deep.
Date published: 2016-03-19
Is it sturdy enough to hold men's shoes which tend to be heavier?
Yes. I have really bad feet, and have to wear very solid, flat-soled shoes that are built a lot like men's shoes, and this is definitely sturdy enough to hold those. So I think you'd be fine with men's shoes.
Date published: 2016-09-25
Would a pair of women's booties (ankle height boots) fit in one slot standing upright?
Depends on how high they are. The cubbies are about 5 1/2 inches high, so if your booties aren't taller than that, they should be fine. I find them plenty wide enough for 2 shoes standing upright side by side - the cubbies are about 7 1/4 inches wide. The only ones that won't go side by side are really chunky soles, like my running shoes.
Date published: 2016-09-25
Is the cover included?
The text never mentions that there is a cover. The picture shows either a cover or the backside of the cubby. I see that the cover is sold separately. But you can also buy the shoe cubby canvas separately. I am confused. Does a cover come with the handbag cubby and the 16-hole shoe cubby?
Yes, the cover comes in the box!
Date published: 2017-04-19
Can the cross bars (top & bottom parallel bars) be cut with a saw? I need the shoe cubby to be about 1 inch narrower.
The product cannot be cut down.
Date published: 2016-06-12
Is the canvas part machine washable?
I am worried that dirt from the shoes will accumulate in the cubbies and want to know how you are supposed to keep the bottom of each cubby clean.
To clean the 16-Section Shoe Cubby, it is best to spot clean the poly-cotton fabric. To remove loose dirt, a vacuum with a gentle brush head attachment can be used.
Date published: 2016-12-03
© 2017 The Container Store. Prices and availability are subject to change from the time and date you print this page 04/28/2017.