Rated

5

out of

5
 by
Izfa
Perfect for hat storage!
Fits a fitted new era hat perfect! Been looking forever for a storage that was the right size!! Just ordered 6 more!!
January 4, 2017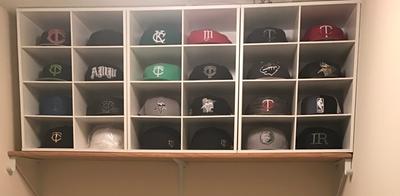 Rated

5

out of

5
 by
Savvysmom
Great Shoe Organization
I love these cubbies! I have both the 8 and 12-pair organizers and they're great. Assembly was easy and stacking was a breeze as well. I keep purchasing more! #shopaholic #shoefanatic
May 12, 2015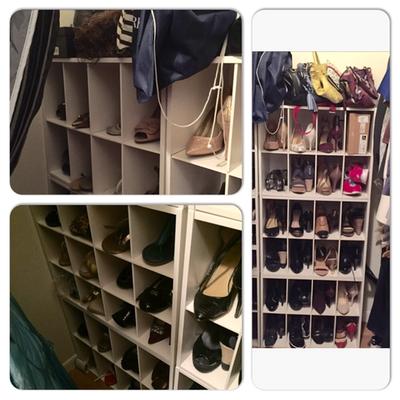 Rated

5

out of

5
 by
Woolseybear
Perfect for men's shoes!
My husband's shoe collection was out of control, shoes spilling out this way and that. I tried to select an organizer that was large enough for men's shoes, relying on measurements because I was buying online. This is perfect! I bought two and we put one on top of the other, and now his shoes are neatly stacked. A success story! The units were also fairly easy to put together, always a challenge at our house.
April 12, 2014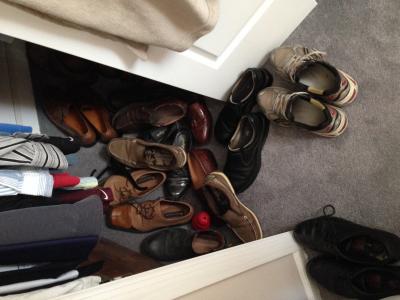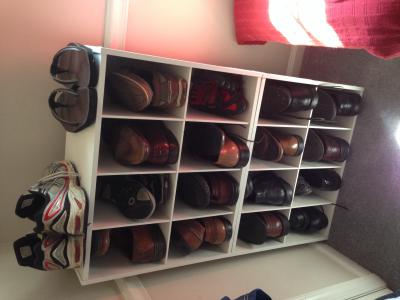 Rated

4

out of

5
 by
Vdot8306
Mission accomplished
My closet did not have shelves, so I had to Improvise on organizing my plethora of heels. The shelves are a perfect size for your 5/6 inch heels, and stack nicely on top of each other.. You are dealing with partial board so please be careful when assembling and transporting. The product met my expectations. Mission accomplished!
August 24, 2016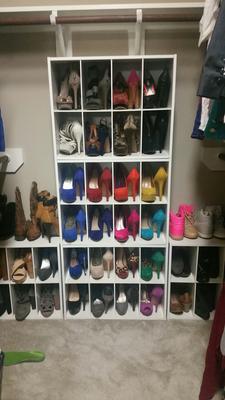 Rated

5

out of

5
 by
DocM
Amazing Space Saver
This is the greatest closet organizer I have ever purchased. So easy to put together. I bought the 8 & 12 cube plus the boot rack. My closet looks so much better. Also, I have this 8 pair one sitting out in my room w purses and my most often used shoes. Sat a few pictures on top of it and it looks fabulous while keeping things off the floor!
February 18, 2016
Rated

5

out of

5
 by
Spendthrift
Good customer service
The package I purchased in store was missing a key piece (3-slot shelf) that made the product impossible to use -- junk. I made a single phone call to the store and spoke with a salesperson who made it good, no questions asked. She shipped a new package -- not just the missing part -- free of charge and it arrived within three days. Still a great inconvenience not having the shoe organizer when I needed it to complete my closet rebuild, but a more than satisfactory response from the store. Good job, and thanks for helping to restore my faith in retail!
January 27, 2016
Rated

4

out of

5
 by
TXnCutie82
just what my closet needed!
my condo has a tiny closet and I didn't have enough floor space for all of my shoes (I have maybe 30 pairs of shoes... it's a tiny closet). I got this and have been able to easily locate the pair of shoes I'm looking for which saves me time (and sanity) every morning. I paired it with the plastic shoe boxes and labels so everything is up to my OCD needs. It is slightly flimsy (rocks a bit), but once I used the little sticks that were included, I was able to attach it to a second one which handled the problem.
December 7, 2015
Rated

4

out of

5
 by
sophiegirl
Space saver
Bought 2 of these and stacked them in the wasted space behind my bedroom door. I use them for the shoes I wear often so they're accessible without being all over the floor. I was unhappy that, according to the instructions, if I wanted to stack them they were supposed to be turned on they're side. I didn't do that, but kept the screw caps off and stacked them as pictured. Otherwise, they were exactly what I needed.
June 21, 2015
Rated

5

out of

5
 by
Obie
A home for my shoes
We have downsized from a large house to a 2 bedroom apartment and we were overrun by shoes. I bought 3 of these for my shoes...2 are the 8 pair shoe organizers and one is the 12 pair. My heels, my sneakers, my flats, my Ugg slippers all fit beautifully. They stack, they look reasonably attractive and fit well in the designated corner. Putting them together was more of a geometric exercise than anything difficult. Once we got the rhythm of putting the pieces together it was not hard. It was helpful to use a battery operated screwdriver.
May 19, 2015
Rated

4

out of

5
 by
cindy100
very difficult to put together
i bought 7 of these and 5 of these needed an electric drill to drill the screw holes deeper in order to put together. If you have one, great - i did not. the backs are sometimes to small to fit over the opening and try to put in the nails that are too short for most people to hold and nail in. i needed the shoe storage so kept going but they could really use some quality assurance in making these.
May 14, 2015
Rated

5

out of

5
 by
Christin7777
Great shoe organizer
I have 2 of these in my closet and they make my shoes so organized. These are very well made and easy to put together.
August 15, 2014
Rated

1

out of

5
 by
bendy08
Low quality and impossible assembly
When I took it out of the box I was immediately worried, as the pieces looked to be of shoddy quality. I suppose I shouldn't have been surprised given the price. Even worse, when I tried to assemble it, the screws did not fit all the way in, which left assembly impossible. The instructions say you need only a screwdriver but I would not attempt this without a power drill. And even then, I'm not sure that the screws would fit. I'll be returning this after much frustration trying to assemble. Pay for something nicer.
August 3, 2014
Rated

4

out of

5
 by
1trutexan
Nice organizer
I bought this one and turned it horizontal to store all of my Miche purses and shells. It works great to keep them organized and within easy reach.
June 9, 2014
Rated

5

out of

5
 by
script89
Perfect for mens shoes
When sitting vertically, mens shoes fit perfectly. Purchased 8-Pair organizer. Note that the Parts and hardware part of the Assembly Instructions say that you should have two, 3-slot dividers. It comes with one, but that is all you need so don't be alarmed that you are missing a piece.
June 7, 2014
Rated

1

out of

5
 by
B657
Disappointing
This organizer is horrible. Expected so much more!
May 19, 2014
Rated

5

out of

5
 by
haveitall
Great for the craft room
I use this shoe organizer as a paper organizer -- 8 1/2 by 11" paper fits perfect in the slots! very sturdy and easy to assemble!
May 4, 2014
Rated

5

out of

5
 by
JennaL
Space saver!
I've been wanting something like this and finally found one I can afford! Great space saver and looks stylish too! It's a perfect fit for my heels and tennis shoes. Bought 3 of these!
May 3, 2014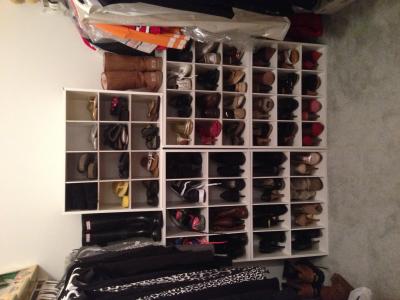 Rated

5

out of

5
 by
Blasianbosslady
Lovely addition to my closet!
I LOVE how easy they are to put together and how it is so much easier to see my shoes displayed beautifully! I have 4-5 pairs of shoes that I have NEVER worn because I've been storing them in their boxes and forgetting they were there. Good Job Container Store!!
April 25, 2014
Rated

5

out of

5
 by
syvgirl
A Great Purchase!
Feel so much better now that I can actually see what I have in my closet! It no longer is a dark hole of piles of shoes, but organized beauty. Thank you!!
April 24, 2014
Rated

5

out of

5
 by
melialaba
excellent addition to my closet
This item is just $29.99 and upgraded my closet for hundredths!!!
April 21, 2014
Rated

4

out of

5
 by
ChrisD
Shoe Organizer
I can see my closet floor now! My shoes were out of control. I have big feet and wear lots of Crocs - so I needed something that could handle big shoes. The organizer unit is awfully heavy - but easy to put together and corrals my shoes beautifully!
April 19, 2014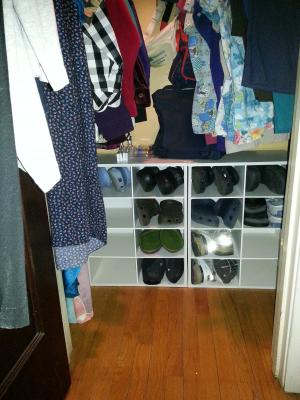 Rated

5

out of

5
 by
kerriepate
Perfect Shoe Organizing Option
Perfect shoe organizer option - its sleak, compact and made of durable quality.
April 8, 2014
Rated

5

out of

5
 by
dfwinorder157
Going Vertical in the Shoe World
Everyone has more shoes than space. I purchased one 8 and one 12 shoe organizer last sunday! Assembly took minutes. This instantly took my shoes, which were lined up like soldiers on the top shelf, gave me more space and utilized the vertical space efficiently. I would have liked to see the price point lower on this product but for instant results, I gave it the five stars.
March 5, 2014
Rated

4

out of

5
 by
MrTemplate
8-Pair Shoe Organizer is Ubiquitous!
This unit swings both ways! It's built to hold weight, so you can store stuff in it sitting horizontally or vertically. Constructed of fibre-board, it's pretty butch, but don't drop it during assembly. It's also deceivingly heavy - dragging this sucker to the subway could easily become an Olympic event.
March 3, 2014
Rated

3

out of

5
 by
CMin07
Good, but needs improvement
A sturdy organizer. Recommendation: please devise a way for the back panel to be attached other than it being nailed on. There's barely any overlap of the back onto the frame, plus the finishing nails are ridiculously tiny and hard to manage. In 2 spots the nails broke through and damaged the interior finish, which is visible when looking into the compartment. With the way the particleboard splintered it wasn't possible to glue the pieces back on without showing it had been damaged, which now looks terrible. Brand new, yet already broken.
February 2, 2014
Rated

4

out of

5
 by
Bigdwf
Good design, easy to assemble but missing hardware
Overall the 8 slot organizer is a good product as well as the other similar components. It can be assembled quickly and used for either horizontal or vertical storage needs. I have purchased 3 of the 8 slot, 1 of the 6 slot, and 3 of the 2 shelf units over the past 9 months. I would give the products a 5 star rating if the hardware packages consistently contained all of the required items for assembly. The Container Store charges top dollar for these units so they need to improve their quality control on the hardware as missing items is not acceptable.
November 16, 2013
Rated

5

out of

5
 by
Organistamanda
Best shoe organizer ever...
I purchased four of these shoe organizers and LOVE them. They fit perfectly in our closet and all our shoes fit in them. They make putting shoes away fast and easy and leave our closet looking great! The tops make a great place to put other totes and such for more organization!
November 15, 2013
Rated

4

out of

5
 by
Thriving
Put it together myself
I bought this organizer to hold my shoes beside the toilet (I have to dress in the bathroom). I forgot to measure the deepness of the shoe slots and the organizer fits in the space, but I didn't count on actually putting the shoes in. So... I have moved this to my closet. There is plenty of floor space and it will be easier to coordinate. The putting together was quite doable. It's the first furniture I've put together ALL by myself and I did it!! I did assemble the main frame on a table as I don't like to bend over or sit on the floor. The only challenge was nailing the back on. The cardboard is cut to the minimum dimensions. I had to glue a few chips back on as I missed,. I looks great!
May 19, 2013
Rated

5

out of

5
 by
Edith
Shoe organizer.
It is an excellent product. Easy to put together and very useful It has made a good closet the perfect one
May 17, 2013
Rated

5

out of

5
 by
spenser600
Eat your heart out, Imelda
Superb for a shoe fanatic! Will get more and more!
May 6, 2013