Rated

5

out of

5
 by
Nikkikitty
Does what you need them to do
While these are plastic and a bit hard to handle at first, once you figure them out they do exactly what you need them to do. Keep your boots upright and in shape. Glad I found them!
March 1, 2012
Rated

5

out of

5
 by
jmc1st
A good purchase
Finally I found something other than paper towel rollers to put inside my boots. These shapers do their job perfectly, keeping the leg portion from falling over and creasing the leather.
June 27, 2011
Rated

5

out of

5
 by
Turbo
Good deal
The boot shapers fit perfectly into my boots, while also picking them up off my closet floor. They slide easily into place and keep my boots from flopping over while not in use.
May 25, 2011
Rated

1

out of

5
 by
shelleyanne
Returned this item
I bought the boot shapers hoping for a way to organize boots in my closet. Boot shapers actually take up quite a bit of space...which I should have realized. But that's not why I returned them. These boot shapers didn't work for me because the boots kept sliding off of the shaper. Not sure if my boots were too heavy or shaper not strong enough, but product didn't work as shown.
September 18, 2016
Rated

5

out of

5
 by
OrganizeAllTheThings
Great Purchase
Exactly what I was looking for. They seem like they could fit virtually any boot and they get the job done. No more folded boot ankles!
July 16, 2016
Rated

4

out of

5
 by
DeltaZeta1989
Good, Could be Greater
I bought a bunch of these when they were on sale for $6.99. I found they worked lovely except that you may want to be cautious of materials that may overstretch with leaving them in the boots. It would be better if they had an expand feature where you choose the expansion. I use them daily but I have not used them to hang although if I had a hanging boot level, I would definitely try that too. Great purchase.
January 13, 2016
Rated

5

out of

5
 by
CrashNewby
Boot shapers work
Works great to keep the shape and leather nice on my tall boots. I use them for all my boots. :)
November 15, 2015
Rated

5

out of

5
 by
BabaWawa
boots have a life
No more wrinkled and creased boots. These boot trees keep my boots in tip top condition. They adjust to boot shaft width. You can also hang your boots with the provided hood that swings down when not in use. Well worth the price. If you want your expensive boots to last use these boot trees.
May 20, 2015
Rated

4

out of

5
 by
LoDo
Almost Perfect
Great product once you get the hang of handling the shapers and fitting them in your boots. The only draw back is the the hooks face he wrong direction. They should face front to back so the boots hang facing front. Instead the hook is oriented to the side so the boots hang sideways.
April 28, 2015
Rated

5

out of

5
 by
Containingme
These are awesome!!
These hold the boots well and keep the shape. The best part is that they hang. I added a rack below my blouses and they fit perfectly. I've tried the inflatable boot shapers but they deflate and don't hang. The boot hangers with clips leave marks. These are the best! I need to buy more!
April 27, 2015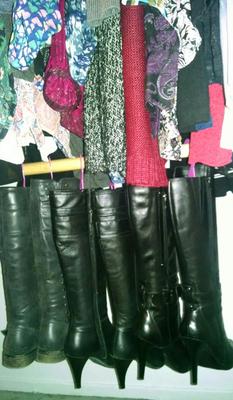 Rated

4

out of

5
 by
renochicken
Boot shapers are great
Great product to keep your boots in shape. Wish they cam in other colors, but no one is going to see them inside my boots inside my closet.
February 10, 2015
Rated

4

out of

5
 by
MsMaggie
Great boot support
I have the container store boot boxes but I also wanted my boots to retain their shapes since I have skinny ankles. My boots look like new and I like that I have the option to stand up right or even hang. I like the white ones. I'm only giving it 4 stars because I'm hoping the stretch factor doesn't stretch out my leather boots in the calf area since I have thinner calves and it's already hard to find boots to fit them.
July 18, 2014
Rated

5

out of

5
 by
Audfar
Good product
to keep the shape fo your boots and to place them properly
May 8, 2014
Rated

3

out of

5
 by
SailingMum
Works ok
These worked great for 2 pairs of boots. They are hanging up perfectly. The third pair are some soft suede boots and if I hang them up, the hangers slide out of them. The shapers work great if I leave them on the floor, just not for hanging. Overall, still a great purchase.
May 7, 2014
Rated

5

out of

5
 by
biscuit228
Why did I wait so long
I've seen these boot shapers soooo many times and walked by finally bought them and love love love them. Especially because I can store the boots for the season and not worry about them being crushed or damaged.
May 6, 2014
Rated

5

out of

5
 by
Peacharc
I love these!
I love these things! They not only help to hold the shape of the boot, I can hang them so all my boots aren't gathering on the floor.
May 2, 2014
Rated

5

out of

5
 by
ktorres
Perfect for all circumference-size boots
These worked perfectly to hold up and shape my boots. I have some that are thinner around the calf than others, so the "expanding" feature is super helpful.
May 2, 2014
Rated

5

out of

5
 by
trekkievet
great helper
These fit perfectly in the boots and keep them in good condition, and I love that they can hang in the closet.
April 26, 2014
Rated

4

out of

5
 by
SLEO
Hanging Boots - Who knew!
Really like having my boots hanging in my closet - lined up so I can see them.
April 26, 2014
Rated

5

out of

5
 by
Rohroh
Love!
When I first saw the boot shapers I thought they would be great to buy but wasn't sure if I wanted to spend money on them. But when I saw that they came in pink I just had to have them and to my surprise they were on sale! They are perfect for my closet since all my hangers are pink! I especially love the option to hang them because it gives me more floor room for other items!
April 25, 2014
Rated

5

out of

5
 by
JoyceO
GReat Boot shapers
They help extend the life of the boots and keep them in shape and in order in a closet. Inexpensive!
April 25, 2014
Rated

3

out of

5
 by
snowflak03
Not quite...
I have a lot of shoes and the boxes are getting flattened because I have them all stacked on top of each other. The boots however being the heaviest I thought it would be great to hang them up using the boot shapers. Unfortunately the shapers are plastic and my boots kept slipping off them when I tried to hang them. I tried to hang them every which way but could not get them hung. I ended up using them to hold the shape of my boots but not hang them.
April 23, 2014
Rated

4

out of

5
 by
ThaiRED1
Insurance for your investment
Spent a fortune on your boots like I did? Nothing will help your boots stay looking great longer.
April 21, 2014
Rated

5

out of

5
 by
LaLa6277
Must have
I was skeptical when I bought my first pair but now I return every year to grab a pair for each new pair of boots I have acquired during the winter. Great at keeping your boots organized and easy to find. Great space saver too.
April 20, 2014
Rated

5

out of

5
 by
Flowers15
Best things ever
I decided since I spent so much on my Frye boots that I needed to keep them safe while there were stored. These worked perfectly!
April 19, 2014
Rated

5

out of

5
 by
MEERAN
These boot shapers really helped improve the look of my closet organization. They fit perfectly in cowboy boots to tall rider boots a definite must have!
April 17, 2014
Rated

5

out of

5
 by
thinkinsideboxx
LOVE THIS ITEM!
If you have enough "hanging" space in your closet, this product is amazing! I am a professional organizer that shops at The Container Store often. This is one of my favorite products! Good job!
April 16, 2014
Rated

4

out of

5
 by
gmail
Love these
I'm not sure why I waited so long to purchase these. I have two pairs of tall boots that were always flopped over or laying on their sides. Now they are standing straight up and not getting creases in them. I couldn't figure out how to hang them, as the shapers kept falling out when I tried, but that might have been more related to my boots than to the shaper itself.
April 15, 2014
Rated

5

out of

5
 by
lovejlove
GREAT BOOT SHAPER
I love this boot shaper. This is a great shaper for the price. My boots look great. I plan to use the shaper in my boots to store them in boxes over the summer. A+ Container Store for such a great product.
April 15, 2014
Rated

5

out of

5
 by
SandytoesMcGee
Boots up off the floor
I used these to get my boots off the closet floor and hanging up. They worked very well for the different sizes and style of boot - I have tall, medium, soft suede and sturdier leather and it worked very well for all of them. If I had not hung them up, they would have been able to stand sturdy on the closet floor but I wanted to clear up floor space.
April 15, 2014