Rated

5

out of

5
 by
nycvic
Shoe Business
Living in Manhattan present many "space saving" challenges, but if you love shoes as much as I do finding room for them is also a challenge. I went to The Container Store looking for a solution to my Shoe-Biz problem. There were many choices. I was about to buy one of those hanging shoe racks when I spotted the 4-Tier revolving Shoe Tree. The shoe tree is only 12 " in diameter and holds up to 24 pairs of shoes. This not only solved my space saving challenge, but there was almost enough room for my wife's shoes. We are now a 2 shoe tree family. I highly recommend this for those in small apartments or large homes. No more digging through a closet to find a pair of shoes. All you have to do in spin and select from the shoe tree.
January 5, 2016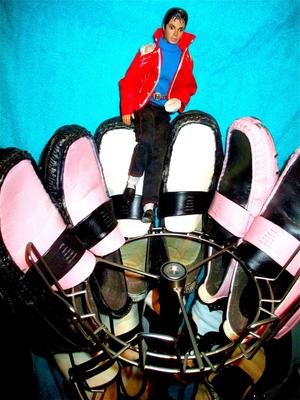 Rated

5

out of

5
 by
Vanece
Great price, excellent construction.
I would highly recommend this product. I purchased one at the store and had it shipped directly to my home since I was on vacation. I was amazed when it almost beat me home. Some assembly is required but is very simple. As soon as I used it for a couple days, I ended up ordering 2 more. Just love it. The shoes fit snugly on the rack. Each level spins 360 degrees to make it easier to get to the pair you want. This would be a great item for kids in college that don't have much floor space.
November 24, 2012
Rated

1

out of

5
 by
FearOfSpyders
Only if all your shoes are exactly the same
I should have paid more attention to the shoes in the picture. I intended these for Crocs, sneakers, flip flops and a variety of shoes. The problem is the weighted base doesn't allow this. You have to spend a crazy amount of time trying to counterweight the shoes to make it straight, and then the moment you wear a pair it tilts. It ruins flip flops, it's too narrow for crocs, and all you see is the dirty part of the shoe. I have a lot of beautiful, sparkly, dressy flip flops. None of that shows. I tried using it as the mud room shoe tree to keep the dirt and sand out of the house. It started rusting and chipping immediately. IF you live in the city, IF you dry & clean your shoes before mounting them, IF all your shoes are the same type/weight and IF they are traditionally shaped with a full top and narrow sides, this would work well for you. IF even one of those isn't true, this will not. At this point I'm past the return point and have lost my receipt. I just think it's a steep price to pay for not having paid close attention to the pictures. I probably should have waited until after I unpacked to purchase it, but when you rent a new place you get inspired to start over - even before you actually move in!
July 1, 2016
Rated

1

out of

5
 by
ryder
poor quality
the 4 tier shoe rack is not stable because the base is too small for the number of shoe pairs the spinning racks can hold. Not only that, but the plastic on the underside of the base of my unit cracked in many places and whatever was used as ballast, not only cracked but disintegrated into powder, small and large chunksible mess to clean up creating a terr.
October 14, 2015
Rated

1

out of

5
 by
RayTM
Very Unstable
The shoe tree has fallen over several times. The weight in the base is not heavy enough to keep the tree upright when you try to adjust the tiers so that they are spaced enough to allow shoes on every level. I suppose if you have nothing but slippers it would work.
November 6, 2014
Rated

1

out of

5
 by
silly
can't see shoes
the 4-tier rack seems like a good idea but all you see are the soles of the shoes and they rub against the clothes in my closet.
October 8, 2014
Rated

5

out of

5
 by
Trevmom
Tree for Shoes
Assuming the usual in Container Store durability, this is a neat and inexpensive way to store shoes. As advertised, it was easy to put together and assembled without tools except the included hex wrench.
July 4, 2014
Rated

5

out of

5
 by
dlks84
Perfect shoe rack
This rack took only moments to put together and has lasted for months already. The shoes are easily accessible. I really like its ability to.hold so many.pairs of shoes and it doesn't take up a lot of room!
April 25, 2014
Rated

5

out of

5
 by
Rakorok77
Brilliant Storage Design!
I am very happy I purchased shoe tree. It was easy to assemble and by forcing myself to actually USE it and hang all my shoes on it, well, it cleared a TON of space from my closet floor. Bonus: Having this in my line-of-sight has allowed me to discover forgotten favorites and I feel like it's helping me rotate what shoes I wear instead of just defaulting to two or three pairs. I like that you can space out the placings of each tier rack. It holds flats, sneakers, pumps and even short boots really well.
April 24, 2014
Rated

5

out of

5
 by
aawong91
Love it!
Love this shoe tree, it keeps everything tidy and leaves more space in our closet for other things, like the bins we bought from the container store to keep everything neat, tidy and organized. I love the fact that the shoe tree tiers spin so you're able to get the pair you want easily. It's very sturdy, unlike the ones we've previously purchased from other places and have had to throw out. I definitely recommend purchasing this show tree for easy, accessibility to your shoes! It's also great because it holds a ton of shoes!
April 22, 2014
Rated

4

out of

5
 by
earthlyhome
Compact, if not Pretty
We purchased the shoe rack and the vertical wooden shoe rack as well. The shoes look better in the wooden divider boxes although more shoes are stored on the spinning rack.
April 13, 2014
Rated

5

out of

5
 by
LanaA
Great Product
This is the best product I have bought in a long time. It was very easy to assemble, very study, and a nice design. I like how you can adjust the height of each shoe rack. I cannot think of a con for this product.
February 16, 2014
Rated

4

out of

5
 by
IrishFan
Great Purchase!
I have a ton of shoes and not a lot of closet space. This shoe tree is perfect for my apartment because it doesn't take up a lot of space, is really sturdy, and keeps my shoes organized and off the floor. I would definitely recommend this to anyone!
April 26, 2013
Rated

5

out of

5
 by
Cluny
I love this shoe rack
Works well with all size and styles of shoes. Easy to put together and very sturdy. So happy to have my shoes off my closet floor.
April 22, 2013
Rated

5

out of

5
 by
Verified Reviewer
Awesome purchase
I have tons and tons and tons of shoes and this really helped me clean up my closet space. It's nice because it doesn't take up a ton of room, but nicely sits in a corner of our closet and keeps everything much more organized. If I could talk my hubby into it would definitely purchase another!
April 7, 2013
Rated

3

out of

5
 by
springfever
Shoe storage
The bigger the shoe, the less pairs it fits. You can't really see the shoe very well because you are looking at the soles when they are hung up. It was easy to assemble and makes the entry in the garage look much more tidy.
April 6, 2013
Rated

5

out of

5
 by
Mias
4-Tier Shoe Tree
We purchased the Nickel 4-Tier Shoe Tree and love it! It's vertical design means it takes up little space while maximizing the number of shoes it can hold. It works great right inside our basement mud room door as dirty or wet shoes can be directly placed on the shoe tree. Also, the convenient rack design allows gloves or balls to be stored inside the tiers and also allows dog leashes to hang from the tiers for easy retrieval. Great function and design. We highly recommend this product!
March 18, 2013
Rated

2

out of

5
 by
MKruse
Not worth the money
This seems like a great way to maximize floor space, however, it fails to deliver. First, I couldn't use the entire bottom row of storage. I tried to adjust the height of the tiers, and they just kept slipping down. Second, it keeps tipping over. I have shoes on the top 3 tiers, and never leave it half full. However every time I go to take something it starts to tip. Would be perfect if it worked.
November 1, 2012
Rated

4

out of

5
 by
RadarLove
I like this a lot; seems sturdy and takes up a lot less space than the shoe boxes I had everything stored in before. Only problem is, my feet are big... well, big for a woman, anyway - 9 1/2 - so I can't use every slot available; I have to leave one free in between in each pair, or they rub together. Still, I have plenty of shoes on there. I would definitely recommend this.
September 22, 2012
Rated

1

out of

5
 by
Florence
This shoe tree was not as it appeared. The shoes are so close together and some shoes did not fit. The rack does not turn easy because of this. I would have returned this item but I thew the box out and I do not live close to the store. Also because the shoes are so tight you can't really see the pair you are looking for. I would not reccomend this rack. I was looking for a shoe rack that did not take up much space in the closet. It doesn't take much space but is too tight with all 24 pairs of shoes are on. In a large walk in closet this might work better.
September 5, 2012
Rated

4

out of

5
 by
goldenmom
Good Purchase
The product was very easy to put together and not too heavy to move around. Shoes fit nicely on it - they're no longer covering the bottom of my closet! The only drawback is that the shoe tree is slightly wobblier than I had anticipated.
May 9, 2012
Rated

5

out of

5
 by
etorres446
Nickel 4-Tier Shoe Tree, a must-buy
The 4-tier shoe tree is great if you want to save some space, especially if you have more than ten pairs of shoes. The product is quick to assemble and is organized. I didn't realize each tier actually spins so you have even easier access to your shoes. Would definitely recommend!!
April 30, 2012
Rated

5

out of

5
 by
Sandra66
Just I needed!
This product is great! It got my shoes off the closet floor, and it hid in the corner of the closet. It is also easy to put together.
April 29, 2012
Rated

5

out of

5
 by
DisorganizedMomof2
Could not live without!
This shoe tree is awesome! All of the tiers spin, which make getting to all of your shoes super easy. My entrance area looks so much better now that shoes are not all over the place. I would buy again.
April 27, 2012
Rated

5

out of

5
 by
Roxy12
Perfect for a child with many pairs of sneakers
My son was thrilled to receive this shoe tree and was able to put it together himself at the age of 11 (shoe size 8).
March 30, 2012
Rated

5

out of

5
 by
JimW
Solid and well-designed
This rack is solidly built and is well designed. I am used to cheaply built and pliable racks. This is not one of those.
March 24, 2012
Rated

4

out of

5
 by
ambularc22
Great! Own multiple
I own a few of these, and the only downfall I've found is that the first one I bought, no matter how tightened I have it, it won't stand up all the way straight. There are heavier shoes on it, though. Didn't stop me from buying a second, and that one I have no problems whatsoever with. I'd buy another (and probably will need to!)
March 19, 2012
Rated

5

out of

5
 by
syyee18
shoe tree
this is a very sturdy shoe rack and it was very easy to assemble; no tools needed everything is included in the box for assembly. also, it does not consume much space. i would recommend to others.
March 19, 2012
Rated

4

out of

5
 by
Verified Reviewer
great buy
I love my shoe tree it holds a ton of shoes and keeps my shoes organized and of the floor. It was easy to put together.
March 19, 2012
Rated

5

out of

5
 by
MsPick
great product!
This shoe rack is far better than the shelf style rack I replaced. It uses less space, is sturdier, and can be easily moved. Each tier can be adjusted for height, allowing for different shoe types, and the tiers can be rotated for easy access. I could not be happier with this product.
March 9, 2012