Rated

5

out of

5
 by
Ken1211
Great Product
Easy to assemble and very sturdy product. Easy to organize shoes.
March 24, 2015
Rated

1

out of

5
 by
nekrachael
This is a wonky product
It was not rigid enough. After calling for customer support, because I figured I did something wrong, one of the joining points, which are just plastic, broke. We've made do, but a year later, it has completely given up the ghost. This was a total waste of money. It was junk from the second it came out of the box, despite it looking like such a great idea.
September 14, 2014
Rated

5

out of

5
 by
MissyLV
Nice product
It took me awhile to decide what kind of shoe storage I wanted. I finally decided on this because we moved from a third-floor condo to a house, so we're actually getting some bugs now. This will keep all my shoes up and off bugs' radar. This was easy to put together and looks nice. (Looks better WITHOUT my shoes, but alas.) I'm very happy with it.
April 27, 2014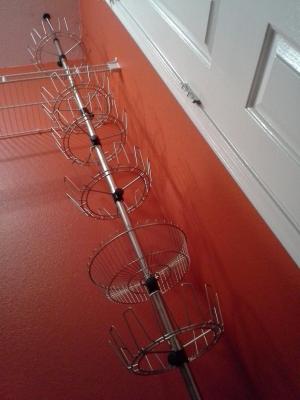 Rated

5

out of

5
 by
TinaK
Best shoe rack ever
I love this product! It fit every shoe in my wardrobe with space left over. The only problem I encountered was my ceiling height is not as tall as intended so I had to cut some of the poles down to fit. The trouble was more than worth it! Fits lots of shoes in a small space and I never have to worry about carefully positioning the shoes so they don't fall off some rack. And the basket is great too!
April 25, 2014
Rated

5

out of

5
 by
Bgsaxon
Tall shoe tree
Love it! Fairly easy to assemble. Holds all my shoes in a very small footprint. Amazingly sturdy. No regrets on this purchase.
April 9, 2014
Rated

5

out of

5
 by
LMFH
Free Floor Space!
The best thing is that we were able to free up floor space because this rack fit in a small space and compliments the already installed Elfa Closer!
March 22, 2014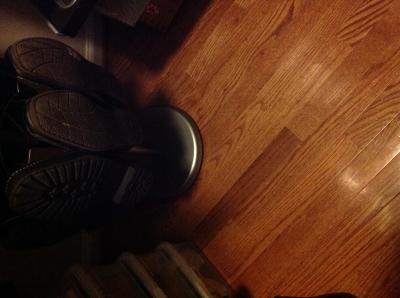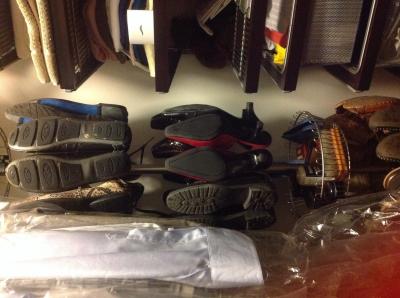 Rated

4

out of

5
 by
Chuck2
Great for Closet Corners
Helps get those dozen or so casual shoes out from under foot! Easy to use.
February 26, 2014
Rated

2

out of

5
 by
Idonthaveanickname
User unfriendly
At a glance it seems to solve a space issue. However, this product is not extremely sturdy...which is not the main issue. The main issue is that once the tree is completely full, you can only see/access the soles of the shoes on the mid to upper shelves. This makes it very difficult to remove a pair of shoes without actually touching the bottom of the shoes. Also, this tree is unusable for sandals, including sandals with heels/ladies dress shoes.
February 16, 2014
Rated

5

out of

5
 by
ISay
Shoe In!
I love the Floor-to-Ceiling Shoe Tree in Nickel finish. It holds the shoes my husband and I wear most frequently. His shoes are near the top of the tree because he is taller, and my shoes are near the bottom of the tree. The basket for socks is convenient for my husband. I am glad shoes are no longer on the floor! The tree is sturdy and stylish and adds flair to the corner it occupies.
October 2, 2013
Rated

4

out of

5
 by
SavageMom
Great shoe rack
I have 5 members in my family with adult shoes sizes between an 8 and 13 and this shoes rack works great for our shoes. I also like the top basket rack to store extra items. I love how it saves us so much space in our small laundry room/storage area. The only down side I have to it, is that the pole seems to be semi-crooked at the top and I can't seem to fix this, so it's not completely straight.
May 1, 2013
Rated

4

out of

5
 by
witt
smart purchase
This shoe rack really saves space and is well made. It holds a lot of shoes and was a smart purchase for me.
April 29, 2013
Rated

5

out of

5
 by
CreativeDee
Best Tree I Ever Had!
Love, love, LOVE this shoe tree. It doesn't take up a lot of space and holds a lot of shoes. You can even use the basket for you flipflops! If you have a lot of shoes and not a lot of real estate to display them in, this is the organizer for you!
April 26, 2013
Rated

5

out of

5
 by
Scout1
Awesome storage
This shoe tree is really compact and saves a ton of closet space. I would highly recommend it if you are short in space but have lots of shoes. It was relatively easy to assemble but the pictures on the instructions were a bit confusing.
April 19, 2013
Rated

5

out of

5
 by
eggleskm
unique shoe storage for small space
As a young adult female living in a studio apartment in a big city, I was in search for an efficient way to store my "collection" of footwear. I've tried the stackable plastic racks (which collapsed under the weight of my shoes), and under-bed storage (which makes pulling out a coordinating pair every day a pain). I tried this piece as a desperate last attempt to organize, and I LOVE IT. Only took me >20minutes to put it together, by myself, with no tools necessary. It's held all my shoes, including the purses, scarfs, and accessories I loaded into the baskets, with no problem, for more than 6 months so far. I can pull on it and it doesn't move. Also, I have pretty high ceilings, and it works fine, because the height is spring-loaded and adjustable. An excellent investment.
April 1, 2013
Rated

5

out of

5
 by
kries
Shoe Tree of Life
I love my shoe tree! I have tried all kinds of shoe storage - from boxes to shelves but they always seem to just end up cluttered throughout my closet floor. The Shoe Tree has solved that problem for all time. I love being able to sort my different types of shoes, casual to dressy on each tier so it's easier to find exactly what I'm looking for at just a simple spin of the tier. The basket is a great added touch for belts and scarves. The tree takes up very little floor space and it also keeps my shoes looking better as they don't get all scuffed up when they are in their proper place on the tree. One of the best storage purchases I ever made! I highly recommend it!
March 18, 2013
Rated

4

out of

5
 by
Nivho
Just what I needed
A decent shoe tree is difficult to find but this one was worth getting even though the assembly directions were terrible.
November 26, 2012
Rated

5

out of

5
 by
sarmey
Shoe tree
This product is a real space saver! Gets a little wobbly when loaded with shoes, but seems sturdy and is great for people with limited space!
November 5, 2012
Rated

5

out of

5
 by
MJBush
Way BETTER than I Expected
I moved from a home where I had a closet just for shoes (not bragging - just love shoes!) to a home where I share the closet with my husband. Did I mention he has a fair amount of shoes too? We needed shoe storage and we found it in the shoe tree. Fits perfectly - not to bulky and so far, operates smoothly.
August 13, 2012
Rated

5

out of

5
 by
nattymofo
Great rack!
Six free-spinning racks hold six pairs of shoes each, plus an accessories basket. Heavy base plus strong spring to mount floor-to-ceiling. Easy assembly, one allen-wrench needed to assemble (included). Wife's only complaint is that the soles face out. You'll need shelving if you want your shoes "displayed."
April 29, 2012
Rated

3

out of

5
 by
lucy1
hard to see shoes
also a minimum ceiling height should be specified in the description.
April 7, 2012
Rated

5

out of

5
 by
BrowseQueen
Nickel Floor-to-Ceiling Shoe Tree
My shoe tree really cleared up my problems for my walk-in closet. It is a dream come true. Holds purses as well as 39 pairs of shoes. Set up on the side and can still move around freely to all four hanging rods and shelves. Adjustable tiers means if you have large feet your still in luck. Basket holds purses, scarves and belts. Great product and very sturdy. Thanks for solving my problem. BrowseQueen
March 27, 2012