Rated

5

out of

5
 by
dkc4
Love it
I do like the hanging handbag file. It doesn't take up too much room in my closet which is a good thing. I am hoping that it saves my purses from getting dusty.
June 19, 2014
Rated

4

out of

5
 by
ktorres
Great for small/medium-sized purses
This is a great way to organize small to medium-size purses. The only ones that are tough to squeeze into the slots are the few really big purses I have.
May 2, 2014
Rated

4

out of

5
 by
javaqyeeny
Get Purses off Your Door!
I'm going to be putting my house on the market, so I'm going through my closets organizing and purging. For years I have stacked by purces on an elastic hanger with clips to my door, which makes it heavy and generally not pretty. I have 16 bags, so this is a big issue! I bought 2 of these in order to hang them in a closet down the hall; it works well, but I only gave it 4 stars because I am afraid that the weight of the bags may rip it, fully loaded (I have big bags). I do like the clear pockets so identifying bags is easy. So far, so good though.
April 28, 2014
Rated

5

out of

5
 by
PurseLover
PEVA 8 Pocket Handbag File
I love my pocket purse organizer! I have large purses and small purses. I placed my larger purses in the Handbag Pockets and placed my smaller purses in the PEVA pocket file designed for shoes. My purses are so much easier to find now. Thank you!
April 2, 2014

Rated

5

out of

5
 by
Frazier206
Wish I would have purchased this LONG ago!
This is a fantastic organizer. Good quality and easy to use. The price was perfect too. I would definitely recommend this product!
March 3, 2014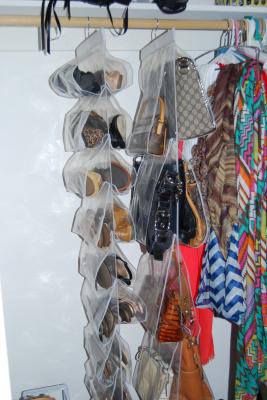 Rated

5

out of

5
 by
Mamameg
Great handbag organizer
I had been storing my purses in bins but this hanging pocket file is much more convenient. The clear plastic allows visibility & also protects from dust.
September 22, 2013
Rated

5

out of

5
 by
Scunch1
Just what I needed!
I have been looking for a handbag organizer for long time now. I went to several stores including specialty stores. I was not able to find what I had in mind until I went to the Container store to look for a plate cover for use in the microwave which, by the way, I found so I bought three. I asked the store assistant if they carried some sort of handbag organizer she led me to the perfect organizer. It holds about eight purses of all sizes. I simply love it. I purchased two and I am going back to get two more with a friend who has also been looking for an organizer to hold her handbags. We are two happy campers!
September 11, 2013
Rated

4

out of

5
 by
Verified Reviewer
Purse-onal Canopy
I have a very small closet in a New England-style home. Keeping things orderly is very difficult. This 8-pocket handbag holder is amazing! It's flexible, durable and keeps my handbags in great shape!
June 16, 2013
Rated

5

out of

5
 by
LoneArRanger
A Must for Closets
Being a Prof. Home Organizer in Dallas I have found this product helpful to store a variety of items in addition to purses. I like visibility for storage in most spaces. This hangs vertically so takes up minimal space especially in tight closets. The complimentary shoe organizer works equally as well. Last, the price is very affordable.
April 26, 2013
Rated

5

out of

5
 by
hedoc
Excellent handbag organizer!
Love the clear handbag file! Easily stores purses!
March 18, 2013
Rated

5

out of

5
 by
Taxes95
Great product!
This is a great product. I used it on an "over the door hook" on the inside of my closet door.
January 1, 2013
Rated

4

out of

5
 by
lindsay242
Like, not Love
I like this, but I'm not in love with it. It seemed a little clunky to me, but it did work for the purpose. Would also work for items like stuffed animals.
May 5, 2012
Rated

4

out of

5
 by
Monica735
Great space spaving tool
Great since it doesnt take much space and it being clear lets you see everything
May 1, 2012
Rated

4

out of

5
 by
DeclutterChicago
Good organizer, but slots too small
I love that this is made of recycled material. It's a great way to organize and see all your handbags, but the slots are too small. When I try to put two small clutches in one slot, one slides out the back. But it's good for the larger handbags. It's better than the big box I had them in that I had to tear through to find the right purse.
April 27, 2012
Rated

5

out of

5
 by
Diamond
Great Idea For Small bags and wallets!
I am now able to store and view all of my small wallets and evening bags in a glance and keep them organize!
April 27, 2012
Rated

3

out of

5
 by
Elephant1
Small Closet - Average amount of purses
The "see-through" vinyl is not as clear as is pictured on the web-site, but it really helped. I purchased this product along with two other purse organizers and chose to use all three.
April 15, 2012
Rated

5

out of

5
 by
Jaime514
Saves space and time!
I have had this purse holder for a few years now and it has held up 4 moves!! It's the easiest way to store handbags, large and small. You can see what you are looking for and it doesn't take up too much space in your closet.
March 21, 2012
Rated

4

out of

5
 by
BiancanKamsMom
Great for organization!
I have had this for about a year now, and I really like it! It helps keep all of the purses off of the floor and out of the way. I believe mine was a 12 pocket, but it is this design. The only issue I had is the plastic tears if, for instance, a small child was going to be repeatedly getting your purses down for their own personal use:). They have some with a thicker material that I'm looking into, but all in all it's great!
March 19, 2012
Rated

5

out of

5
 by
LoVo
Great Buy
I would definitely recommend this to a friend. The pockets were good enough size to hold any size bag from a clutch to a big bag for a laptop. I also store space hangers in the pockets that won't fit in my closet. Hangs very close to the door so I can hang coats and such on my over-the-door-hanger this doesn't get in the way at all!
March 19, 2012
Rated

5

out of

5
 by
amygb
Does what I expected
I really love this organizer. It holds all my medium sized bags perfectly and even some larger ones that I don't mind folding. Very easy to see and reach everything. So glad I bought it, it's really a steal for $10.
February 1, 2012
Rated

5

out of

5
 by
KaseyCPA
I can see you now!
It's so nice to see what my choices are in my handbag holder!!
January 26, 2012
Rated

5

out of

5
 by
EMarieP
Not Just for Purses!
I bought one of these with the intentions of putting my purses in. However, I had just had a major cleaning of my closet and sold most of my bags that I didn't use. So then I thought, "hey, I can put other things in!" and so it holds baseball hats, extra tank tops, etc. I would highly recommend these for someone who wants to get organized.
September 28, 2011
Rated

5

out of

5
 by
Irinac33
Great little product
I love this thing. I had all my bags laying around on top in the closet and they were a mess. I put them all in to this handy file and my problems went away. I can fit more than one bag in to the pouch, especially if they are foldable, then I can fit three bags in to one. It's an excellent tool for organizing bags. Highly recommend.
June 23, 2011
Rated

5

out of

5
 by
OrderYourLife
My "go to" handbag organizer
I have recommended this to almost every single one of my organizing clients and they all love it! It takes up so much less room in a closet than you would expect it to, and can also be used in a front hall closet for storing beach towels, back packs, etc. Purses and other items are clearly visible and can be easily accessed. One of my favorite Container Store items.
March 28, 2011
Rated

4

out of

5
 by
listlover
Perfect for handbags and clutches! Be careful though because it is longer than you might expect; make sure that you measure your closet rod to floor length. I wish it had more of a protective quality though.
February 22, 2011
Rated

3

out of

5
 by
OtherMary
Gets the job done
This products is ok. It gets the job done, which is to get the handbags off my floor. It's not like a wow product though. The "pockets" are more sleeves than pockets - both sides are open so you just sort or slip the bags in. I was expecting pockets so you could drop the bags in. It is definitely only for medium to large bags. Small clutches and evening bags would probably fall out. Overall, I'm happy with it though, and the price is good.
June 27, 2010
Rated

5

out of

5
 by
speedie
Love It!
Attractive and saves space. Like the fact my purses can breathe in this; I found 2 leather purses were dried out (destroyed) from being sealed in Zip bags.
May 29, 2010
Rated

5

out of

5
 by
SweetTea
Perfect size!
This file holds 8 large bags in an organized, easy to see storage system. So much easier than reaching up high for boxes to find the right one. And because they are visible, you are less likely to forget what you have.
May 19, 2010
Rated

5

out of

5
 by
sugarpeaches
Purse Organizer Saved my Sanity
Best thing I have purchased in ages.......holds more purses than it says, all in one spot, clearly visible.......what a lifesaver......freed up tons of space in my closet & saved my sanity so I can now find a purse in a flash.
April 13, 2010
Rated

5

out of

5
 by
LondonNYC
Perfect way to organize purses!
I saw a similar product in this months issue of Real Simple and immediately noted that I HAD to get it as my purses were beginning to take over my closet! I was excited when I found it at the Container Store, and immediately put it to use. It is working great so far, and holds much larger purses than I originally thought it would. Although one suggestion I'd make is to add a pouch on top (with closed sides but open on top) to hold smaller clutch purses as I think they are more likely to fall out of the large pockets.
March 25, 2010