Overview
Product Information
Organize while you accessorize! Available only at The Container Store, our exclusive Elfa Utility Door & Wall System decked out with Boards, Hooks and Baskets provides chic storage for wardrobe accessories like handbags, scarves, jewelry - even hats. An Elfa Utility Board is a sophisticated, functional update on the classic pegboard system. It makes the most of often-wasted vertical space on a door or wall and is totally customizable. The Baskets and Hooks can be easily repositioned to fit your changing fashion needs. And it's easy to remove a Basket if you need to take your accessories to another area. Build your own customized solution with our Elfa Utility Door & Wall Rack Planner.

Elfa Door & Wall Rack Assembly Guide
Exceptionally durable epoxy-bonded steel construction
Mesh provides visibility of the contents while preventing small items from falling through
Utility Board Hooks are made from durable ABS plastic
Easy, no-tools assembly; designed for a standard 7' door; residential overdoor hooks included, wall-mounting hardware sold separately
What's Included
1

Elfa Utility Residential Overdoor Hooks Platinum Set of 2

(#10022011)

2

Elfa Utility Short Board Box Translucent

(#10060391)

1

Elfa Curve Board Hook Platinum Pkg/3

(#10060401)

1

18" x 15" h Elfa Utility Door & Wall Rack Board Platinum

(#10065345)

1

Elfa Utility Large Mesh Basket Platinum

(#10065349)
1

Elfa 77-3/4" Mounted Standard Platinum

(#10022061)

1

Elfa Utility Basic Hook Platinum Pkg/3

(#10060399)

2

Elfa Utility Long Board Hook Platinum Pkg/3

(#10060405)

1

18" x 2-1/2" h Elfa Utility Door & Wall Rack Board Platinum

(#10065347)

2

Elfa Utility Medium Mesh Basket Platinum

(#10065351)
Community Q&A
On the Door Racks : What's the maximum recommended total weight supported by the bar? What is the maximum number of baskets allowed (if any)?
The reason for my questions were due to the fact that since the bar (80" long) felt loose against the door (primarily in the middle part), I tried tightening the screw at the top - & the entire top bracket got bent out of shape, causing everything to come down crashing. There were no restrictions provided (at least none we could find), we had 7 baskets (13.5" narrow; our door is18" wide) with the bottom 2 reserved for heaviest items (such as 3x 32oz Soup/Broth boxes, or a 2 liter Olive Oil plastic bottle). The rest were Rx Pills, small spice btls or even lighter fare. It just got somewhat annoying that the bar would rattle against the door when opening or closing. You may need to test the strength of the top metal bar that holds everything together, or even recommend screwing the middle section of the bar into the door to add more resistance (something we were tryong to avoid, since we're temporarily leasing this place). I look forward to your reply! Thanks, R
Date published: 2019-04-13
Approximately how much can each hook on the utility board hold?
Would the hooks be able to hold a child's coat and/or backpack? Is there a max weight for the over the door setup for the door& wall rack solution?
There is not a weight limit listed for this utility hook. However, it should hold a winter coat just fine provided it's one per hook. A back pack would depend on the contents in the pack.
Date published: 2015-04-01
How much does this Elfa door system weigh in total?
When empty of its contents, our Elfa Utility Mesh Closet Door & Wall Rack Solution as shown weighs approximately 14 pounds.
Date published: 2019-03-30
Can this or any of the elf door racks fit a slightly smaller door that is 79" high?
I am looking to add this or a variation of this to a closet door that is 79"high.
Yes, these will fit on a 79" tall door.
Date published: 2018-08-31
Will this Fit a 6.5' door
Is it adjustable to fit a door slightly smaller than 7'
Yes, this will fit an 80" tall door.
Date published: 2020-07-24
Can this fit a 95" high door?
Our elfa utility Closet Door & Wall Rack can be redesigned to accommodate a 95" (or 8') door. You can either contact us at 1-888-CONTAIN (266-8246) and one of our elfa Space Planner swill assist you with a customized plan free of charge or you can design it yourself using our elfa utility Door & Wall Rack Planner: https://www.containerstore.com/elfa/rackplanner/index.htm
Date published: 2020-04-07
Will this fit a 77" door?
Hello Can I use a saw to cut down the top and bottom of the mount to make it fit a 77" door? Thanks!
Our Elfa Utility Door & Wall Rack includes a 77-3/4" long Mounted Standard that can be custom cut to fit your door. Please contact us at 1-888-CONTAIN (266-8246) to speak to one of our expert space planners.
Date published: 2020-03-27
I don't want to put any sorts of hole on my doors as I m renting this Place. So my question is can attached to the door without screwing it in.
Renting dont want to screw things in.
Yes, this solution includes over the door hooks, so there is no need to drill into your door.
Date published: 2020-05-14
Resources & Tips
Elfa Resources & Videos
---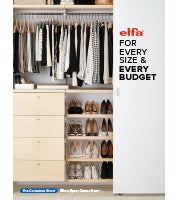 Shop directly from the virtual pages of our current catalogs by clicking on the images.
View catalog online
© 2021 The Container Store. Prices and availability are subject to change from the time and date you print this page 03/09/2021.