Rated

5

out of

5
 by
Kdub
Great in the kitchen too
I needed a solution for efficiently storing our family's water bottles & these fit the bill!
January 14, 2017
Rated

5

out of

5
 by
jaymarie
Great purchase!
I purchased these organizers to help organize my purses. I am extremely happy with this product. It is easy to install and works very well. It took me a long time to decide on a way to organize my purses and I am very happy that I selected this product. Highly recommend.
May 31, 2016
Rated

4

out of

5
 by
ElleRhoSr
Affordable solution!
These simple dividers made my closet a much more organized place! My only warning is that the packaging is tough to remove. Four thick plastic rings hold the two dividers very close together. It's hard to snip them off with scissors. I tried using a small pocket knife and cut myself trying to get it under the rings. Once I got them open, they were great.
January 21, 2015
Rated

5

out of

5
 by
Fluffy1
Very Useful Closet Accessory
I purchased two sets of these shelf dividers in two heights. They proved to be very sturdy and can support several purses and large tote bags easily. They were easy to slip over my closet shelves and look nice. I'm very happy with this purchase.
June 4, 2014
Rated

5

out of

5
 by
BayleeK
Perfection
I love these. I use them to divide my bags so they don't fall over. They are also easy to move around if the bags I'm storing are different sizes.
April 4, 2014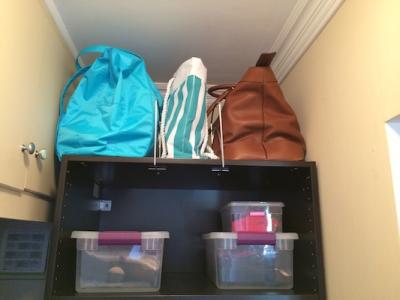 Rated

5

out of

5
 by
Skinny64
Great Purchase
Great to help organize purses&sweaters....Love it.
April 1, 2014
Rated

5

out of

5
 by
TylerTxGirl
Love my shelf dividers!
I bought these to organize my purses so they weren't piled on top of each other. They work perfectly!! I'm very happy with how my closet looks and how quickly I can find my purses.
March 24, 2014
Rated

4

out of

5
 by
Allison422
Fabulous idea
I saw these and had to have them! My solution to help keep my purses straight. Came home and was so disappointed because they don't fit my shelves, please make these adjustable!!!
March 23, 2014
Rated

5

out of

5
 by
bargainhunter
Sturdy
I used a pair of these shelf dividers on the top shelf of my linen closet to corral bulky items. It does the trick beautifully, and now I can get one thing down without everything else falling out, too.
January 2, 2014
Rated

4

out of

5
 by
Shazzer
Purse Organization Life Saver
I love purses! But how do you keep them from falling over on the shelf? With these solid shelf dividers, of course! I saw it on Pinterest, then went out and bought them. I tried a couple packages first, and when they worked, went out and bought more. Love it!
November 19, 2013
Rated

5

out of

5
 by
TheTeacher
Good for organization
My sweater shelf never looked neater! Also using in my linen closet. Love these.
July 9, 2013
Rated

5

out of

5
 by
123organize
Gets the job done neatley
These dividers worked great in the linen closet. You can separate the washcloths from the towels and sheets from extra pillowcases. Looks so neat.
May 25, 2013
Rated

5

out of

5
 by
winnieb
Great Purchase
Reorganizing my closet, but was left with the purse dilema. I have about 40 purses and impossible to keep them in some order. My closet is large with shelving so I looked online at the Container Store and what I found was a shelf storage unit that has organized my purses when I thought I'd have to look at messy shelves. It truly is the best option I could find and I love them!
May 7, 2013
Rated

4

out of

5
 by
JMG1
I used these to organize handbags and folded t-shirts.
May 5, 2013
Rated

4

out of

5
 by
AmberS
Great purchase
These shelf dividers (and the tall ones) are wonderful for keeping stacks of clothes organized on shelves. Would highly recommend.
April 26, 2013
Rated

5

out of

5
 by
mamacitasarah
Great organizer
Bought this for both my clothes closet and my linen closet. Fits well on my wood shelves, does not shift around, keeps the piles neat and tidy.
March 22, 2013
Rated

5

out of

5
 by
Dmartin
Handy closet addition
Organizing my teenage son's closet--hopefully these dividers will encourage him to put the clothes between the dividers so he can find them.
February 16, 2013
Rated

5

out of

5
 by
dadedudette
Great find!!!
These nifty little items have corraled my purse collection which, believe me, was a daunting task. I am a lady that changes her purse almost daily and now I can see and grab the one I want easily. I chose the white to match my wooden closet shelving and they fit snugly and hold up even the floppy purses perfectly. I feel fortunate to have found these and will be back for more soon.
February 11, 2013
Rated

5

out of

5
 by
Verified Reviewer
My casserole dishes are easy to reach now!
I bought these shelf dividers hoping they would be strong enough to use as dividers in my kitchen cabinets. I put all of my casserole dishes on their sides and can now just reach in and grab the one I want without a hassle. They fit perfectly on my shelves - they stay in place, they don't wobble, and they hold the weight of my casserole dishes perfectly. I bought 7 sets and used them ALL.
February 7, 2013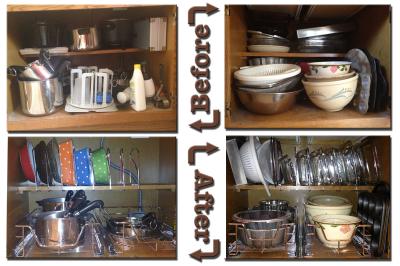 Rated

5

out of

5
 by
Poco
Great addition to my new closet
These really helped me organize my top shelf of sweaters, keeping them neatly in place.
July 13, 2012
Rated

5

out of

5
 by
Sooze
perfect for purses!
It was easy to assemble and perfect as a purse organizer! I just hate when purses fall over onto other items, it makes the whole closet look like a mess. This is the answer!
April 27, 2012
Rated

4

out of

5
 by
Allie12
A great way to make the most of limited space
I recently moved to a new place and even though I have a bigger closet, I wanna avoid cluttering it up. And these shelf dividers blend in and look sleek and make the most of my closet shelving by helping me keep my shirts, and purses from falling all over the place. I would recommend this product and it's really simple to set up.
April 5, 2012
Rated

5

out of

5
 by
KarenInCambridge
Worked for me!
I was a little afraid of these, based on other reviews. I took the chance and bought them, and I'm very glad I did. I used them on a closet shelf to keep handbags in place. The shelf is slightly wider than what is recommended, but I had no problem at all getting them to fit on the shelf. They're very study, but they have just enough flexibility to slide them on to the shelf. The snug fit means that they stay upright, even with significant weight pressed against them. They solved my problem and work very well.
March 20, 2012
Rated

5

out of

5
 by
Dali
Best Organizational Purchase Ever
I recently purchased a home and had all my purses on the top part of my closet falling over each other. I purchased several shelf dividers and they are all easy to access and see. Most importantly my closet looks so organized. I highly recommend it.
March 19, 2012
Rated

4

out of

5
 by
Abby8
Very useful.
These shelf-dividers really do the job! I have used them to help keep piles of sweaters, t-shirts, and towels stay neatly stacked. Have also used them to keep handbags standing neatly on a closet shelf. Good purchase!
March 19, 2012
Rated

5

out of

5
 by
DecadentCactus
Functional and attractive
These are very graceful, but still keep your towels from falling onto your handbags. Perfect!
March 15, 2012
Rated

4

out of

5
 by
KimV
Great product for organizing purses!
I have a shelf over my closet that I was using to store purses and accessories like winter hats, gloves, etc. Needless to say, it became a huge mess before long and I ended up just having a pile of assorted things that took me forever to sort through. These shelves helped me organize my things and maximize the space I had. Since I share a studio apartment, anything that helps me maximize space and storage is a plus!
March 13, 2012
Rated

5

out of

5
 by
Abbey
Great Closet Organizer for Handbags
I purchased several of these to organize my handbags on the shelf in my closet and they work beautifully.
January 22, 2012
Rated

4

out of

5
 by
kelpen
does the job
These work well where support is needed but I don't have a standard where I can place an Elfa Clip Bookend. I like to put these on from the wall side so that they are not seen on the front of the shelf. However this requires that the shelf not be in place at the time - that's a bit of a pain which is the only reason I didn't give 5 stars. I do prefer the Clip Bookends but you can't use them everywhere.
July 13, 2011
Rated

5

out of

5
 by
mountainviewmom
awesome for organizing kid clothes
These are great! I order 5 pairs to divide my 4 year old's clothes. they work great! super product
June 26, 2011