Rated

4

out of

5
 by
NicknameIsTaken
10-Compartment Hanging Shoe Bag
The height of the compartments is tight for those of us with big feet. Great size for kid's shoes. Boots will never fit. Would be nice to have one with about 50% more height. Or a few larger compartments at the bottom for boots.,
September 26, 2016
Rated

5

out of

5
 by
MrsRob
Thrilled with my purchase!
We recently downsized houses. Most importantly, we went from a walk-in closet complete with built in shoe shelves to sharing a small closet with no shelving & no room for same. Ordered two of the hanging shoe bags. Husband hung them at either end of the closet today. Problem solved!
August 11, 2016
Rated

5

out of

5
 by
Texas2Lady
Perfect!
I recently moved and I just don't have the closet space I used to have. This shoe bag is perfect. I can put 2 pairs of shoes in each slot.
July 15, 2016
Rated

5

out of

5
 by
FutureMRS
So Excited!!
I love my new shoe organizer that hangs in the closet! It is so efficient and saves me so much space. I do not own very many shoes, so I was able to put some other things in it as well. I fit two pairs of shoes in each slot, so it could essentially fit 20 pairs of shoes. I wear a size 7-8 women's. If you have a lot of shoes I would probably recommend getting shoe racks or shelves - or you could get multiple of these if you have the closet space :) I also like that it is very portable - it just folds up into a nice size and isn't very heavy :)
March 24, 2016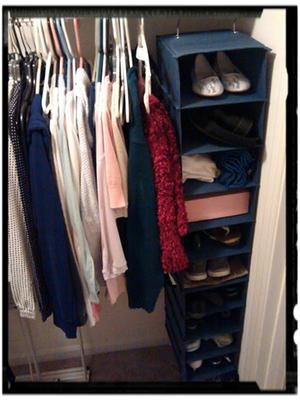 Rated

5

out of

5
 by
LemonTree
Good middle of the line option
I bought this for my husband and we are both very pleased with it. It's large enough to accommodate a pair of men's shoes in each slot, but not TOO big. It's also sturdy without being over-the-top expensive. I looked at a similar product with cedar shelves for $80+ and I believe this one to be superior. The green color is also very nice.
December 25, 2015
Rated

5

out of

5
 by
Patski44
The BEST shoe bag ever!
I am thrilled with this shoe bag. I could rarely fit both shoes into a single slot on the more narrow shoebags I've had in the past. They work fine for hats, gloves, mittens, scarves, but not shoes. I might almost be tempted to get another of these to store other things such as purses or rolled up fleece tops or turtlenecks..
May 29, 2015
Rated

5

out of

5
 by
justmovedin
makes my closet look great
Great color, easy to hang and makes my closet look expensive and organized! I use it to hold jeans, sweaters, t-shirts and shoes. Very nice.
May 1, 2014
Rated

5

out of

5
 by
wendmil
Love this organizer
I had been looking for an organizer to fit in a spot in my RV closet so that I would have room for folded T-shirts and shorts. The standard 12x12 inch organizer was too big and the 6x12 inch was too small. Finally I found this organizer. It's well made, nice color and quality. I was so ecstatic when I found that the dividers were rigid and not flimsy cardboard.
April 27, 2014
Rated

5

out of

5
 by
AColeman
Room Saver
I love this hanging shoe storage option. It holds more than 10 shoes and is perfect for storing an abundance of flats or flip flops!
April 26, 2014
Rated

5

out of

5
 by
xraymd
Excellent hanging storage, billed as shoe bag
This is a really great, well-sized hanging canvas storage container, billed as for shoes but I like it for other types of storage. Presently it is housing my knitted works-in-progress with skeins of yarns and partially completed projects. I like its vertical construction that takes up only a small footprint but allows ready access to each of the 10 compartments in the unit. This works very well for what I have been using it for - in fact, I prefer NOT to use it for shoes so that it won't run the risk of getting dirty (my yarn does not walk on the ground!)
April 26, 2014
Rated

5

out of

5
 by
klm99
Great shoe organizer
I purchased this shoe organizer to free up floor space in order to keep my closet clean and tidy. I liked it so much I went back for a second one. The fabric is sturdy, and I like that it has hanger hooks rather than fabric Velcro to hold it in place.
April 25, 2014
Rated

4

out of

5
 by
unibolt
closet shoe bag
Love that this gets my shoes organized and in sight making selection easy. Tight, compact and perfect for that little space in the corner of my closet.
April 11, 2014
Rated

5

out of

5
 by
foxhall24
great
I love reaching for my shoes instead of digging for them
April 7, 2014
Rated

5

out of

5
 by
aworkinprogress99
Great purchase!
This is great. Sturdy construction, fits nicely in my daughter's small closet and easily holds all her shoes. She's delighted and so am I.
November 7, 2013
Rated

4

out of

5
 by
flashlightbuff
Great simple but effective closet organizer
My roommate and i purchased one of these for a very small sized closet, and it greatly increased and organized the limited storage we had.
April 16, 2013
Rated

5

out of

5
 by
NewyorkNewMom
Sleek, gets us to remove shoes at entry way
I bought two to hang side by side in coat closet, serves also to divide my coats from my husbands coats. We can fit several flip flops in one cell, husbands heavy dress shoes fit nicely. I was worried about flimsiness, but very strong. We leave a couple empty for guests shoes. It's lifestyle changing. (we also have a shoe chewing dog)
April 3, 2013
Rated

5

out of

5
 by
kate10
AWSOME!!
I love this hanging organizer i have used them for so long, and they have so many uses. I use mine for clothes and shoes i have one for each they hold so much stuff !!
April 3, 2013
Rated

5

out of

5
 by
jojomama
Great product
I like the way these hang on a hanger bar. Keeps my shoes off the floor so my dog won't eat them!
March 23, 2013
Rated

4

out of

5
 by
LauraO
happy with this. gets the job done and looks good.
March 18, 2013
Rated

5

out of

5
 by
jrr33
Excellent quality
This has proved to be a great addition to my closet. It is highly durable and takes up minimal space. I am able to fit so much in each compartment.
March 18, 2013
Rated

5

out of

5
 by
DormKidsMom
Perfect!!
NO --not every hanging shoe bag is the same!. Great quality and perfect color to match with other storage purchased for my baby's dorm room!!
March 18, 2013
Rated

5

out of

5
 by
Ssebas9563
Sturdy
Great closet organizer. Very sturdy. Would definitely recommend.
March 9, 2013
Rated

5

out of

5
 by
Simplify
Great product hat, scarves, gloves
I use the Como 10-Compartment Hanging Shoe Bag to organize my hats, scarves, and gloves in my hall closet. Best organizing product I have bought in 10 years. It would work great to have had this idea when my kids were young. They could have each had their own color and put hats, gloves, scarves, shoes, baseball gloves, etc would have been so organized in the back door closet. Love it!
March 8, 2013
Rated

5

out of

5
 by
VivSavage
Great quality for the price! The color is really nice as well.
February 20, 2013
Rated

5

out of

5
 by
Robroy
Great Storage Option
Bought this item yesterday and love it. I thought it might be too long for my closet, but it fit perfectly with room underneath to spare! The pockets for the shoes are deep, so the shoes aren't hanging out and both shoes fit in one pocket. How wonderful to get the dust clutterers off the floor of the closet! Am extremely happy with this purchase. And these pockets could be used to store other items in your closet - purses, scarves, belts.
February 18, 2013
Rated

5

out of

5
 by
casea
Sturdy!
I highly recommend this shoe organizer. It is very sturdy and doesn't sag when all 10 pairs of shoes are in it. The boxes fit my size 11 shoes and fit my high heels without spilling over. Great product! If I can fit another one in my closet I will.
December 28, 2012
Rated

5

out of

5
 by
LizzyP
Great sturdy space saver
when re-organizing my boyfriends room we needed to a solution for his size 11 shoes which were pouring out of his closet. They definitely took up too much room. After putting up the shoe bag we noticed not only did it free up some cluttered space but it was also not giving in to the weight of the large heavy shoes. We will be back to buy more.
November 3, 2012
Rated

5

out of

5
 by
Jobe
Perfect slim organizer
I needed something to organize all of my handbags, totes, small purses so they weren't piled on top of each other and I could see them easily to choose one when I go out. This long slim shoe organizer is perfect in my closet and I now have more shelf space for other things. All of my bags fit perfectly!
April 23, 2012
Rated

5

out of

5
 by
organizerSC
great product
Material seems to be durable and high quality. Color is nice, sort of a muted sage green, not too bright.
March 22, 2012
Rated

5

out of

5
 by
lmack
Fits so many shoes!
I have too many shoes and this was such a great addition in my closet. It houses many more pairs than I expected it to and is a great space saver with a nice pop of color!
March 19, 2012