Rated

5

out of

5
 by
JudithG
Great hanger!
Work great! Nothing is slipping off these things!!
January 28, 2017
Rated

5

out of

5
 by
GirlinSF
They Work!
I only used huggable hangers but they stopped being awesome. My knits and t-shirts were being tortured out of shape. I am a size 2 and wasn't asking much of my hangers - no heavy lifting. After searching for replacements, I reluctantly picked up the Grippy ones. I didnt want to lose hanging space, the necks didn't swivel and I would never use those nasty hooks. Well, I am not yet a hook convert but dang, I love, love, love these hangers! They do take up a bit more space but I love a little air between my garments. They are all supported properly, from blazers and cashmere, to the sheerest of t-shirts. Everything really looks beautiful and I barely miss a swivel neck. *Pro tip: you can bend them, gently, to get the angle you need. :-)
June 18, 2016
Rated

4

out of

5
 by
CABaglady
Pretty Good
I have used these for a few years; have invested a lot to fill my closet with them. I bought a lot of the less expensive hangers with the layering hooks even hough i do not layer my clothes. I do not like the way those layering hooks catch on other hangers when i pull something off the closet pole. It is so annoying, i am now replacing all my almost new grippy hangers. Do not want to pay for the more expensive grippy ones with no hook, so i will try velvet next.
May 18, 2016
Rated

5

out of

5
 by
Antqcrzy99
Well worth the price!
Not only are these hangers beautiful, but they keep even the largest items on the hanger with the grippy foam. The nice curve of the ends keep your garments from getting that funky "shoulder point", and the small hook allows you to keep coordinating accessories together.
February 5, 2016
Rated

5

out of

5
 by
KatherineInCalifornia
Best hangers ever
For years I had been buying plastic hangers. Never again. Whether it's a silky shirt, a strappy dress, a jacket, a cotton shirt -- it doesn't matter, these hold EVERYTHING. No more watching my clothes fall to the floor! No more buttoning blouses. I can just toss them over and they always stay put. I love these "Black Grippy Hangers," and am never going back to wire or plastic hangers again.
January 16, 2016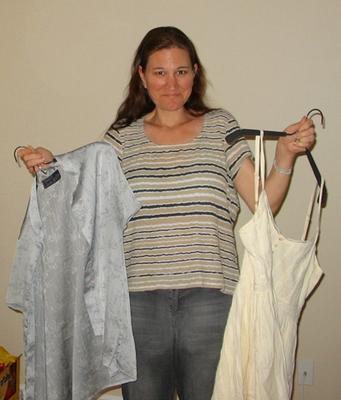 Rated

5

out of

5
 by
550ew
Black Grippy Hangers
Best hangers that are slim with non-slip features. Reasonable and closets look really organized.
May 24, 2015
Rated

5

out of

5
 by
Lorelei69
Went back for more!
He really liked these hangers. So much so, we got a dozen more. :)
November 19, 2014
Rated

5

out of

5
 by
Muffaletta
Padded AND grippyâ¿¿the perfect hanger!
They prevent hanger marks on the shoulders. They keep your wide-necked shirts from slipping off. Yet they're slimmer and more affordable than a traditional padded hanger. They are perfection and the only hangers I buy anymore!
April 24, 2014
Rated

5

out of

5
 by
ItsAlwaysSomething99
Life Saver
Searching for hangers that don't leave pointy lumps of stretched out fabric on the shoulders of soft garments? Stop right here - buy these hangers. I can damp-dry laundry and hang them to dry without worry now. The spongy, rubber covering is soft and will stop slick fabrics from falling off the hanger. I also love the pants hangers in this line. You never have to take the hanger off the rod to get the pants off the hanger or put them back on the hanger.
October 21, 2013
Rated

5

out of

5
 by
MaggieK
I love these hangers!
These are the best hangers ever. They don't leave hanger marks at the shoulder on knits and nothing slips off of them.
May 25, 2012
Rated

5

out of

5
 by
sheil
Sturdy & Practical
coat/blouse hanger keeps clothing well shaped. Closet clothing is easily accessible and organized with multiple same hangers
April 30, 2012
Rated

5

out of

5
 by
Lucy52
Good for sweaters too
I love these hangers for my sweaters. They keep them from getting those ugly hanger marks in the fabric. Ok some of them still get the marks a LITTLE but you can't completely prevent them.
March 19, 2012
Rated

4

out of

5
 by
Sunshine18
Great travel hangers
I have two sets of these hangers with the flat part for pants and the top for a jacket or dress. I have taken theses on trips in the car in a garment bag for a wedding several hours away and everything stays on the hanger! The two pair I just bought are holiday gifts for people who travel to second homes.
December 24, 2011
Rated

5

out of

5
 by
Anomar
Very Nice
I haven't had a chance to use these much yet, but for years I have been searching for these sorts of hangers. I had one which appeared from somewhere, I know not where, inside my closet and quickly learned how useful these thingies were for hanging pants. Yeah, Container Store for having ones with grippy surface which will keep pants and scarves from slipping off.
September 23, 2011
Rated

5

out of

5
 by
mamk
GREAT
Love these for all fabrics. Saves lots of space in the closet.
June 23, 2011
Rated

5

out of

5
 by
susiQ
Very Nice hangers!
I purchased a couple first to test and was back for more! The shoulder length and curve are perfect for everything from Sweaters to shirts. Silky, sleeveless tops and Men's shirts don't slide off and keep their shape. The hanger hook allows for adding multiple hangers in small closets.
October 26, 2010
Rated

5

out of

5
 by
BizzyLizzy
Space Saver
Lots of hangers grip these days, but these have the added bonus of adding-on, and I usually add on up to six, which is a great space saver in my closet. They are more expensive than in the store where I used to buy them (and where I can no longer find them), but worth it.
October 22, 2010
Rated

5

out of

5
 by
Muffaletta
The best hangers!
They're grippy, so your shirts don't slide off; they're padded, so you don't get hanger marks on the shoulders. And compared to fancy padded hangers, they are reasonably priced. They are, for most garments, all the hanger you need.
October 1, 2010
Rated

5

out of

5
 by
ralbertmv
Look great and clothes stay on hanger
No more worry about clothes slipping off the hanger. Extra hook a nice feature for coupling hangers. Clean design looks good.
August 20, 2010
Rated

3

out of

5
 by
Sativa
Bulky
they take up too much room I've ordered better hanger for 1/3 of the price in the past that are much skinnier They do the job though and if you have the room then they are nice but they did not meet my expectations
June 17, 2010
Rated

5

out of

5
 by
orderly1
great hanger
Good tight grip for skirts or slacks. No slipping like other hangerclips I have had in the past. The green color is really fresh.
May 23, 2010
Rated

5

out of

5
 by
Calamity
Great product
The black grippy hanger for trousers and pants are wonderful. Nothing slips off these hangers and they are elegant looking besides.
May 17, 2010
Rated

4

out of

5
 by
DannieB
Great product
This group of "grippy" hangers does a great job of organizing the closet, eliminating shoulder bumps and keeping everything where it belongs
May 17, 2010
Rated

4

out of

5
 by
2manual
Black grippy hangers
Clips work well and clothes won't slip off. The length from the hook to the "shoulder" could be longer to allow hanger to slide past shelving supports.
April 19, 2010
Rated

5

out of

5
 by
Mustang
Knits Love this
The soft green hangars are the best knit and sweater shape savers ever.
March 4, 2010
Rated

4

out of

5
 by
VeryOrganized
Depends on the type of item youre hanging.
Obviously the grip material works great. The moment the clothes go on the hanger they are not going to fall off on their own. BUT, if you are the type of person that likes to grab and go, you will have to spend a little extra time pulling the clothes off this hanger. I originally had these in the front closet with all of the coats but took them out since it took a little extra work to place the coat on the hanger nicely and pull it out. You really need to take the hanger out of the closet to hang and remove the garment since it won't slip off when just pulling on the clothes when the hangers still on the pole.
March 3, 2010