Rated

3

out of

5
 by
ByTheSea
Ok
Wish I had ordered the round, these tip over! (I guess there is a reason stores use the round ones?!)
July 24, 2015
Rated

5

out of

5
 by
JanaNana
Great for Baby clothes
I give these as gifts for baby showers -- making custom labels for baby clothes sizes. Saves time looking for certain sizes as babies grow.
April 6, 2015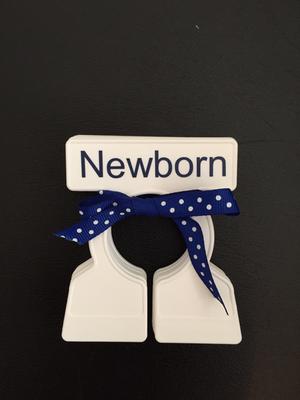 Rated

4

out of

5
 by
Arietta
Good And Could Be Great
This review is from the perspective of an older person. These are much less expensive than at the big online store, so I was very happy to find them. I wish they would make some with label sections that are side attached to the rod clips, so the labels would be clearly visible for rods that are horizontal to the door, as they all are in my closet. They would take up a bit of space, but would be so much easier to read. I purchased an inexpensive Brother label maker and use a 3/4 -1" tape and print in all caps, because I can't see the letters on the supplied labels unless I'm wearing my reading glasses. Also, as another reviewer noted, I need more variety: V-Neck, Scoop Neck, etc. Since I can only see the clothes from the side, I can't tell about the neck without a rod tag or looking at each one. I can't hand print easily, so using a label maker is very helpful. I almost have labeled my electric toothbrush! I tried the round rod dividers and they weren't helpful at all for me.. turned around on the rod.. so these are much better. They are recommended on the clutterdiet website and I enjoy that too.
September 1, 2014
Rated

5

out of

5
 by
ILannie
Closet Organization
This is exactly what I was looking for to help me organize all my clothes in all my closets. Easy to use and just what I needed.
August 8, 2014
Rated

5

out of

5
 by
elviragb
Great Organization Tool
I recommend this organizers since they are the best system I have seen. They are easily visible in your closet even if its large and packed. I like that it includes a very wide assortment of labels, and both in english and spanish. Very convenient.
July 21, 2014
Rated

5

out of

5
 by
bk49ER
Perfect for any closet!
I use these to divide my khaki scrubs by brand name so I can easily find a matching set. It also makes putting away clean laundry go much quicker! They are great!!
April 25, 2014
Rated

5

out of

5
 by
Sandyland
I must have it organized
Love these little labels. I must have my closets neat and organized and these do the trick. every closet is ready for anyone to come and find what was needed. Love them.
April 1, 2014
Rated

5

out of

5
 by
GothamOrganizer
Easiest way to organize your closets
I'm a professional organizer and I use these with every client closet (and my own!). In minutes, you can be super-organized, no matter how disorganized you think you are. Makes it so easy to remember what goes where, so you can quickly find - and put back - items. Genius for kids. Get creative with the labels "Wear these soon - or toss!" "Date nights" "Emergency wear only". There are other similar products, but the large, clear tabs on these make them my favorite.
March 29, 2014
Rated

5

out of

5
 by
FWIN
very helpful
I used these for our business to separate the different sizes of monogramed coats our employees wear. It makes the job finding the correct size quick and easy. I also use them at home to separate different size table clothes I have hanging. Very easy to use. I use a Brothers Labeler to mark each hanging "tag"
March 28, 2014
Rated

4

out of

5
 by
blou67
Works Great!
Just organized my closet recently and ordered these to keep it neat. I like them just fine. Wish there were more labels, such as 3/4 sleeve. Otherwise, they are what I needed!
June 4, 2013
Rated

3

out of

5
 by
jessica19
great for OCD minded individuals
I bought these with the intention of using them as described but realized that color coding my hangers was just as effective as using closet rod dividers. I ended up returning this purchase.
February 28, 2013
Rated

1

out of

5
 by
sunshine34771
Wobbly Closet Rod Organizer
The Closet Rod Organizer does not "sit" straight on the closet rod #like in the picture#. It is difficult to write-on with a marker of any type. The labels are lame plus you can't really write on the labels with a marker. I wanted to color-code the clothes dividers #i.e. the word PINK written with a pink marker#. The color-coding helps with color-blink people and/or when a young person is learning their colors. I had to use my label maker instead of a marker.
November 26, 2012
Rated

5

out of

5
 by
Volunteer
Get for getting the uniforms organized
The Closet Rod Organizers are great for organizing the clothes by size for our school uniform exchange.
July 18, 2012
Rated

4

out of

5
 by
iguana
Great w a closet rod...
not so great with wire shelves. If there was something like this made for closets with wire shelves, that would be awesome. These do work very well in closets w rods though
March 20, 2012
Rated

5

out of

5
 by
LyndaPoo
Fabulous!!
These have come in handy so many times - I'm a costumer and I take them to different theatres on use them to label costumes. They are perfect for this as they dry erase and I have used them over and over again. My only problem is making sure to remember to take them with me - they are so great I'd hate to lose them.
March 1, 2012
Rated

5

out of

5
 by
princesschickapea
Love these
I love these. As I look at my wardrobe (which is now categorized) I see where I need to do some shopping. Very handy. My husband's wardrobe is next.
March 22, 2011
Rated

5

out of

5
 by
Dianep
Great idea!
I love the closet rod organizers. Perfect for helping to keep the closet rods organized and keeping all like items together. It makes getting ready in the morning much easier :)
November 29, 2010
Rated

4

out of

5
 by
Pheebers
Do what you expect
I am glad I purchased these, and they do make things easier in my baby's closet. I just wish they were lined in rubber or something to keep them from tipping on the closet bar - I like for things to be lined up and they often fall to one side.
November 3, 2010
Rated

5

out of

5
 by
vball4all
Handy dividers
I'm not the most organized person, but I needed these for my Toddlers' closet (since we've accumulated so many clothes). <See my "pros" listed separately> You can create your own labels as well, or if you don't have a label maker, just write it on some masking tape, or, write it on paper and use clear tape. You could also use your own labels/paper to do your own color coding (if necessary). I'd like to see them offered in other colors.
May 17, 2010
Rated

5

out of

5
 by
Verified Reviewer
Simplet Division Closet Dividers are GREAT!
I used these dividers to organize my clothing by jeans, long sleeve, short sleeve, skirts, casual, etc. The package came with premade labels that I used, but I also used my Dymo labeler for some custom labels I needed. This was the perfect solution to organize my closet and I highly recommend.
May 4, 2010
Rated

4

out of

5
 by
MuddleSam
Many reasons to label a closet rod
I have used this product for many of my professional organizing clients for projects such as: children's rooms to designate clothing sizes as children grow into clothes already purchased or passed down, to label in another language besides English for house keepers to hang clothes in designated sections, to designate colors in a dark-ish closet, and so much more!
April 11, 2010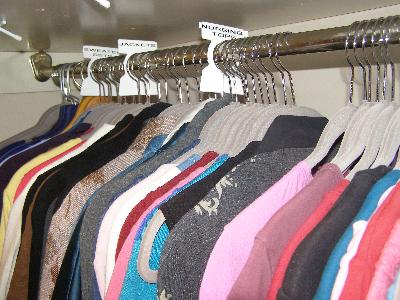 Rated

4

out of

5
 by
Nicole
Go for these over the circular ones!
I first bought the circular ones from the Container Store - and then 2 packages of these - I like these better because 1. they're easier to move on the rod. 2. they're easier to label and keep the labels visible and 3. they look better than the bulkier circular ones. The only drawback is that on my closet rod they sometimes spin onto their side. But these are definitely the best I've used. Good addition to an organized closet. (And don't worry - they don't come pre-labeled like the picture suggests - they have label stickers or you can use your label maker to custom make them).
March 7, 2010