*Place order online, by phone, or in store. Spend $75 or more on merchandise (excluding tax, Gift Cards, eGift Cards, POP! Perks, installation and services, and elfa Sliding Doors) in a single transaction and receive free standard shipping to a single address in the contiguous United States. The offer will be automatically applied and cannot be used toward a TCS Closets® or Business To Business Solutions purchase. Due to size and weight restrictions, some items cannot be shipped or may have additional shipping fees that will still apply.
Overview
Product Information
Turn virtually any tubular or plastic hanger into a pant hanger with our Easy Snap Pant Hanger Mate. The softly textured ribs hold garments securely in place and are safe for even the most delicate fabrics. The large rounded surface area offers increased holding power, which prevents garments from slipping off or sliding from side to side.
Held securely on the hanger with an interior grip
Reviews
Rated

4.8

out of

5

 by

13

reviewers.
Rated

5

out of

5
 by
BeverlyAnn
Retro Fit for Thick Chrome Hangers
These ⿿Easy Snap⿝ hanger accessories have held up great for 4 years in my closet. What I didn⿿t like about them was that they clipped onto unattractive plastic hangers. We have a large custom closet and I wanted my husband⿿s pant hangers to match all the rest of the chrome hangers. I decided to retro fit ⿿Easy Snap⿝ to my nice 3/16⿝ chrome wire hangers ⿿sold at Container Store and other places. See Instruction Photos that I uploaded...sorry, it appears the App here turned the photo upside down. The ⿿Easy Snap⿝ will NOT fit chrome hangers without retro fitting it. I tried MANY things but what worked perfectly was non-sterile latex rubber tubing, sometimes used to make sling-shots. You can get the tubing almost anywhere including the big box stores or if you are a amazn prime member try there. You will need per hanger, approximately 5⿝ of tubing (cut in half the short way, then cut in half the long way to wrap it over the hanger). My tubing was a size 40 which measured: 3/16⿝ I.D. x 11/32⿝ O.D. x 5/64⿝ wall thickness. In actuality, it was too big so I suggest you buy a smaller size. Try 1/4⿝ Inside Diameter. If your tubing is too large some of it could show from underneath. Although mine showed, it didn⿿t matter to me because my husband⿿s pants hang on the lower clothes rail, plus you can⿿t see the rubber with pants on the hanger. Again, get the smaller 1/4⿝ rubber and you will not have the hanging tubing problem I had. The rubber makes the ⿿Easy Snap⿝ hanger VERY snug and absolutely will not twirl or twist when pulling the pants off the hanger. Fyi, like I said earlier, I've used these everyday for over 4 years; those who have said they dont work on their plastic hangers is because they had the more slimline plastic hangers. These work great on normal to medium to thick plastic hangers....And works to perfection, with a retro fit, on chrome clothes hangers. I hope all my time figuring this out and writing this review will make this an "Easy Snap" of a project for you :-)
July 11, 2016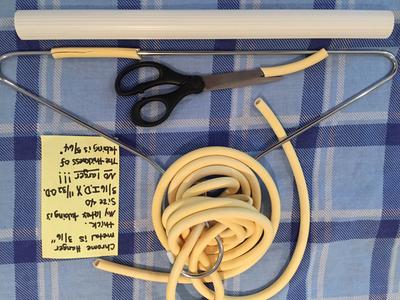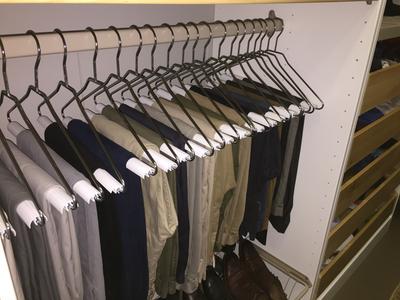 Rated

5

out of

5
 by
Janiselllen
Terrific product!
These snap-on sleeves are a terrific solution to keep pants from slipping off hangers! They make regular plastic hangers into pants hangers in a flash, yet the sleeve doesn't have to remain permenantly. Very useful!
March 10, 2016
Rated

5

out of

5
 by
Aikenlady
Best $1.29 I ever spent!
I originally bought a few of these to try and they were great. Just purchased a dozen more because we are going on a 3 week road trip with another couple in the same van. To minimize hanger space on the hanging bar, I wanted something I could put a pair of jeans and another pair of twill pants, then a shirt, then a sweatshirt or sweater...all on one hanger. These change the dynamics of how you can minimize hanging space, wow! They really make the tubular hanger sturdier and there is no slippage just like they are advertised. Had not seen them anywhere else but at The Container Store!
April 26, 2014
Rated

5

out of

5
 by
kaellis495
Perfect solution
Plastic hangers are great, but they do not work well for slacks. They leave an ugly crease, and the hangers often bend. These hanger mates are the perfect solution. Your slacks stay in place, and do not slip off of the hanger. No more ugly creases either. Fantastic product.
October 13, 2013
Rated

4

out of

5
 by
pafb
Hanger Mate
These do a great job keeping slacks/jeans/ etc. on the hanger without any slipping. A great plus is that they seem to prevent that fold crease you get from regular hangers.
August 26, 2013
Rated

5

out of

5
 by
suzyk
easy snap pants hanger
i actually bought this item to hang my tablecloths on...it works great...i will definitely purchase more of these the next time i am in the store!!!
August 18, 2013
Rated

5

out of

5
 by
Alamedakid
No more hanger marks on your pants
I love these Hanger Mates. Now when we get dressed there are NO wrinkle marks on our pants from the hangers. They save us from those last minute iron touchups on pants that have been hanging in the closet. Nothing else works this well. I had been looking for these all over. I just happened to think of the Container Store and I thought if they didn't have them, then no one would. Couldn't find them anywhere else.
July 15, 2013
Rated

5

out of

5
 by
BadMom
great idea
I like how easy these are to snap on the hangers, and they don't pop off unexpectedly. Keep my pants in place; no more sliding to the floor.
March 18, 2013
Rated

5

out of

5
 by
Cinderella64
Great product
These are great for pants, especially paired with the huggable suit hangers. But what is with the sticky label? Impossible to get the residue off! This product is no longer available at my local store (even for pick-up of an online order), but I had purchased some there last year. Would like to be able to get them locally and avoid shipping charges.
May 5, 2012
Rated

5

out of

5
 by
Collegefashionista
Cheap and effective
The easy snap pants hanger mate, aside from being a mouthful, is a wonderful product. They easy attach onto tubular hangers for extra support when trying to hang up your beloved pants. I recommend for anyone whether young or old!
April 2, 2012
Rated

5

out of

5
 by
CarolinaGirl
Great for pants
Nice to be able to turn a regular hanger into a pants hanger that won't leave a crease in the pants. Also stabilizes hanger so it holds the weight of the pants without collapsing. Snaps on securely so it won't come off unexpectedly.
March 26, 2012
Rated

4

out of

5
 by
Spider
Minimizes the wrinkles
Makes plastic hangers "pant friendly". Great idea.
June 10, 2011
Rated

5

out of

5
 by
shopper2
Easy Snap Pants Hanger Mate
This is the best solution to crease free pants. Also works on multi pant hangers.
March 14, 2011
Community Q&A
Can you tell me what material these are made of? They are a bit long for my hangers and I may need to cut them to fit. Would that be possible?
These are made of heavy plastic. They fit a variety of size plastic hangers except for childrens hangers. I would not recommend cutting them down.
Date published: 2016-04-23
© 2017 The Container Store. Prices and availability are subject to change from the time and date you print this page 03/29/2017.