Rated

5

out of

5
 by
Rhonalds
We Love Them!
We got (3) of these and the adjustability made them more functional.
January 29, 2015
Rated

5

out of

5
 by
LJMAZ
Life Saver!!!
These closet shelves are a life saver in my master closet! We have a shelf above our hanging clothes where my husband and I keep our sweatshirts/hoodies, sweatpants, shorts, workout jackets, etc and they pile so high that they topple over all the time when we try to get one down. It makes a huge mess! These shelves allow us to have an additional shelf, which means, no more toppling!! I used two of these and they expanded the whole length of the shelf. My only gripe is I wish they were 2-3 inches taller, but it wasn't too big of a deal for me. They look and work great, and are easy to expand too!
January 24, 2015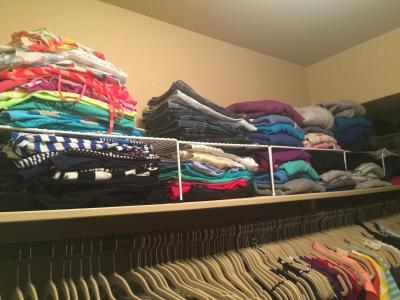 Rated

5

out of

5
 by
DJLisette
Super helpful re: add'l shelves!
I bought these for my husband and I to use in the awesome built-in cabinets/shelves/pantry in our new apartment, but wanted to maximize shelving space especially to categorize our clothing. Thanks to these, we can use our built-in shelving/cabinets and don't have to buy separate/external drawers or cabinets! Also, they are pretty sturdy and easy to set up. I asked an employee at the store upon picking up my online order and he explained the proper way to easily set it up so one doesn't have to bend the product and risk it not being sturdy.
December 15, 2014
Rated

5

out of

5
 by
Deepika
Great product
Great product for maximizing the space.The product has decent amount of room under the shelf.
July 31, 2014
Rated

5

out of

5
 by
Stashiu
Great Product!
Bought one of these for the kitchen 4 years ago and liked it! Bought another one for more space under my bathroom vanity.
May 16, 2014
Rated

5

out of

5
 by
Kristine1428
Adds another shelving layer to your closet
Ever get tired of stacking folding clothes only to have them tip over? This product is the solution for you and adds another shelving layer to your current closet. Is it a little pricey? Yes but what is the cost to having someone come into you home and adding a built in shelf?
April 15, 2014
Rated

5

out of

5
 by
annajo
Super space saver!
I just moved into a condo and needed to find a way to fit all of my sweaters and t-shirts into my walk-in closet. I thought that I would order these expandable shelves from the Container Store, not really knowing what to expect. Well, they surpassed my expectations! What a great way to save on space AND look really good in my closets.
March 29, 2014
Rated

4

out of

5
 by
Songseeress
Got a odd shaped closet? Try this!
I think my closet was intended for coats and linens...I has very little hanging space but a lot of unusual sized compartments, very small and large. This shelf, virtually unexpanded, fit into one of those compartments just right, and I had enough room to put a second in front of the first. I added 10 Shoe Space Savers (also sold here) above and below it and viola... I had a custom shoe rack. No more piles of shoes in a milk crate!
March 6, 2014
Rated

5

out of

5
 by
Louie2
Lou S
This is a great shelf for closets - perfect fit and doubles your top shelf space. I also use it in cabinets to increase the space inside. You can adjust it to any length you need.
February 16, 2014
Rated

5

out of

5
 by
reesibits
Great for Glasses
Used in bar cabinet to store a supply of the same glasses. One problem is the feet of this cannot be adjusted. So if you notice in the picture - some of the same type of glasses are sitting on the shelf. Some wire shelves have little rubber feet and the metal can be adjusted. this is a fixed leg height.
July 23, 2013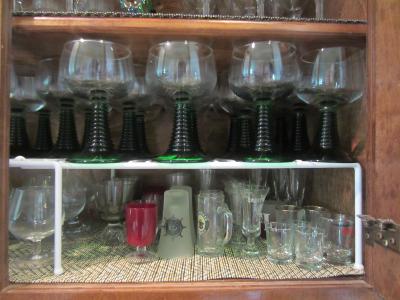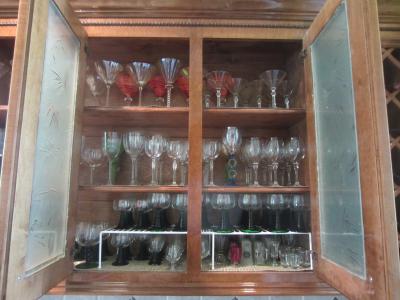 Rated

4

out of

5
 by
kbreezi
OK Purchase
It does what its meant to do but i definitely could of found another way to organize my shelves especially because there isn't much space between where the stand meets the shelf I situated it on. I feel like i am stacking my clothes on top of one another, just like I was doing without this expanding shelf.
October 27, 2012
Rated

4

out of

5
 by
Havenmcc
Easy to use closet organizer
Works exactly like it says it does. Easy to adjust, but very sturdy when set in place. I love it, and I'll probably buy more for other closets in my house!
July 1, 2012
Rated

5

out of

5
 by
Murray
Extra Shelf
Purchased product for a teenager's older closet. She set it up herself on top of a wood shelf. It gave her an extra shelf instantly.
June 24, 2012
Rated

5

out of

5
 by
Tallktome
Tripled my storage
I stacked 3 of these in my storage closet by putting cardboard where the feet stacked. You could also put a piece of wood cut to the size of the shelf. I went from a wobbly tower to perfectly organized. So happy with these shelves!!
April 15, 2012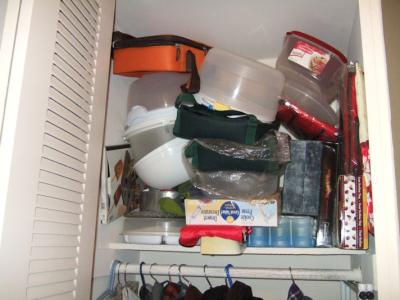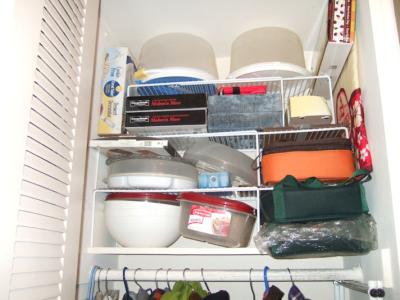 Rated

5

out of

5
 by
Sidd
Just what I needed!
I purchased these shelf dividers to use in an armoire. They are perfect for stacking tees and tank tops! They make the stacks more visible and accessible than would an extra shelf, and are working great for what I needed. I would definitely purchase these again.
April 7, 2012
Rated

5

out of

5
 by
iguana
Bought a 2nd One!
I love these shelves - I use them in my kitchen to create more space for pots and pans. This is the 2nd one I bought since I was so happy w the first
March 20, 2012
Rated

5

out of

5
 by
Saradvt9
Great way to improve shelves!
Great - exactly what I was looking. Our shelving unit was really disorganized, and now that I can divide in two, is so much better. Also never thought I would find something the right size, but this one is adjustable, which is perfect.
February 29, 2012
Rated

5

out of

5
 by
Cher2
Making the most of space.
I have used this in my dish pantries along with the stacking shelves. It works for having my dinner plates underneath and platters on top. Also, for cups on top of other dishes.
February 5, 2012
Rated

5

out of

5
 by
MimiE
Terrific!
These shelves doubled the capacity of my inefficient, too high, too deep closet shelves. No more cursing while trying to find just the T shirt am looking for!
October 9, 2011
Rated

4

out of

5
 by
Brnnsgr
Great Way to Expand your Closet Space
I used 2 to add another level of storage for shoes.
September 6, 2011
Rated

4

out of

5
 by
drgtr
expand your shelf space easily adapts
Very flexible wire expanding shelf. Simple concept of one smaller shelf sliding out from under the larger one to create a flexible shelf. Only con would be a lack of adjustable height.
January 2, 2011
Rated

5

out of

5
 by
Contained
Perfect solution
We used this in our kitchen cabinet to create extra storage space for bowls. No more stacks toppling over! The expandable feature ensures a perfect fit and no wasted space. Smart, smart product.
April 18, 2010