Rated

5

out of

5
 by
DaisyPup
Wonderful
It is sturdy and easy to install. It is a great space saver in the laundry room! I use two of them in the laundry room.
January 14, 2016
Rated

5

out of

5
 by
Jenn69
Handy
While I haven't yet installed my hanger holder in my small laundry room, it's going in this weekend. It will be perfect for my household of one to hang clothes right out of the dryer or those that need to drip dry. An over the door option would not have worked in my space and this will meet my needs perfectly. It is strong and solid and will flip up out of the way when not needed. No more wrinkly clothes, yay!
February 11, 2015
Rated

5

out of

5
 by
Fandj
This truly is my best purchase ever!
I have looked high and low in many stores for a product like this. My first visit to The Conainer Store ever, and the employee took me right to it. So easy to install, only 2 screws and done. Holds up to 5 hangers. When not in use, it folds up flat on the wall. This product will be included in every Christmas gift this year.
March 3, 2014
Rated

5

out of

5
 by
FHD2402
Suits our needs perfectly!
We were a little concerned about the durability of the hangers for our needs, but this product works perfectly. We were at a loss of how to store unused company uniforms without buying a big, bulky cabinet. These hangers have solved our problem perfectly. It keeps the uniforms out of the way and still organized. I would definitely recommend this for anyone looking to free up some space.
February 25, 2014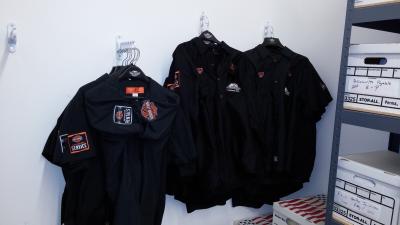 Rated

4

out of

5
 by
Multimom4
Good but small
There was one of these already installed in the laundry room of the house I just bought and it's very handy and very strong, but if you look closely at the online picture with the hooded winter jacket you will appreciate that if you hang a couple of bulky things on it - it's full! I am here today buying two of the InstaHangers with 12 inch hanging rods to supplement it, because for our family of 6 this is nowhere near enough hanging space for the finished laundry. Just put a couple of my teens' size L hoodies on it, and that's all will fit.
November 18, 2013
Rated

5

out of

5
 by
skirk
great space saver
The wall-mount hanger holder was very easy to install. When folded, it takes up no space at all. It's a very convenient addition to my closet.
November 8, 2013
Rated

5

out of

5
 by
Rozi
I have very little room between my dryer and freezer and a standing rack took up too much room. This product works great and takes up no space. I love it!
September 9, 2013
Rated

5

out of

5
 by
Falala
Discreet and Purposeful
Takes up a very small footprint and has been so useful! Mount on a stud and it is very sturdy. I use mine in the laundry room to hang dry clothes and where space is at a premium.
September 5, 2013
Rated

5

out of

5
 by
JNitas
Neat!
I bought 3 of these. I hung one on the side wall of my small closet. It fits perfectly. The others are going in the laundry room for clothes I don't put in the dryer.
September 4, 2013
Rated

5

out of

5
 by
fornim
Ingenious Product
This Wall-Mount Hanger Holder is an ingenious product. I bought two of them and I am using one in the laundry room and the other in my closet. I especially like this because my laundry room is very small and this product literally does not use any wall space. I hang my formal shirts instantly from the dryer to these hanger holders so that they don't wrinkle.
May 5, 2013
Rated

5

out of

5
 by
SparkleBunny
Maximize space
As its named, it should be mounted to the wall. I tried to hang it on my closet door and the small included screws went straight through. :p
April 19, 2013
Rated

5

out of

5
 by
wheelchairgirl
Durable, Great for Laundry
I wasn't sure this product would hold up, as I've had flimsy things like this in the past. But it's survived very well. Its primary use is for hanging things up right out of the dryer, but it also gets pressed into use as an emergency coat rack, and handled heavy coats just fine.
March 28, 2013
Rated

5

out of

5
 by
InsatiableOrganizer
Saved me $100
The nice salesclerk showed me how to use this wall-mount hanger system instead of a $100 small wardrobe that I was going to install in our bathroom for my husband's weekly shirts. He can pick out his Mon-Fri wardrobe and get dressed in the bathroom without waking me up! Makes me happy!
March 18, 2013
Rated

5

out of

5
 by
Milly
Excellent Product
With limited space I needed to go up and this was the perfect solution for the laundy area. We had them placed near the ceiling in the hallway next to the laundry area so we can hang up the cloths during laundry time. Then when not needed we lock them up in place so they were out of the way. Wonderful problem solver.
March 18, 2013
Rated

5

out of

5
 by
Verified Reviewer
Neat little contraptions.
I bought 4 of these because I have no closet in my room, and they're really helpful! I aligned them on my (ugly) wall and now my room is decorated with my pretty dresses and such! It's like my own personal store in my room. And also you can store a lot of clothes in minimum space. They're very sturdy as well. And easy to install in the wall.
March 8, 2013
Rated

5

out of

5
 by
GInging
Folds out of the way!
Another great product that folds away when not in use. I used to have a bulking bar above my dryer but now this has replaced it. Slim and sturdy and can't beat the price!
February 14, 2013
Rated

5

out of

5
 by
MamaNik
Excellent use of space
Love that this item folds back easily against the wall when not in use. Perfect for any laundry room but particularly for smaller spaces. Could also be a great addition to any guest room, perhaps ones without available closet space.
April 26, 2012
Rated

5

out of

5
 by
kyard
This is a great product. I would purchase it again.
April 16, 2012
Rated

4

out of

5
 by
TeeMac
Love it!
This was a good choice for my closet. Before I go to sleep, I put out my clothes each night and this is a place for me to put my clothes so they don't get wrinkles after ironing.
March 20, 2012
Rated

5

out of

5
 by
Lovestocontain
space saver
I hung 3 of these in my laundry room as a space saver for my drip dry clothes. They keep the clothes separated enough to allow drying. They were perfect with their fold flat against the wall ability. They are a very sturdy plastic!
March 2, 2012
Rated

5

out of

5
 by
JennB5
Better than I hoped...
I mounted this in the laundry area & I use it to hold my shirts & hanging items while I get the rest of the stuff out of the dryer. I also use it to hang things that don't go in the dryer i.e. drip dry shirts or crinkle shirts. Once I am done it folds up out of the way & doesn't fall down again.
July 4, 2011
Rated

4

out of

5
 by
stacey22
great organization piece
simple to install and very convenient to use. folds up and is out of the way when done. what a great find !
March 6, 2010