Rated

5

out of

5
 by
bfloppity
Way better than cheaper ones and versatile!
I bought this organizer as a replacement for a cheaper one I bought online that just wasn't strong enough to support the weight, the hanger part is probably 1/4 as thick as this one from TCS. Another really good thing about this one is that the material is a thick sturdy feeling canvas and it's also a light color which makes the jewelry easier to see than my old one that had a black material. One concern I did have about this one is that there no hanging straps/velcro to hanging more bulky jewelry or necklaces that tangle but I found a solution! I had bought in the same trip some of the Elfa Utility hooks which will also slip right onto the pockets of the organizer b/c they're made to hook on something thin so my hanging jewelry problem is solved (click on picture)!
January 18, 2017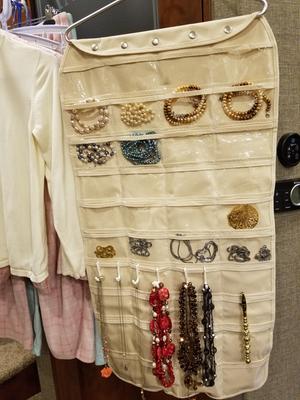 Rated

4

out of

5
 by
51puns
Works fine
I moved into a small apartment and needed a way to easily store my jewelry. This takes up little room and keeps everything visible. The pockets are a bit small for long and/or bulky necklaces, and a little too big and tight for small earrings, but it is what it looks like and is working for me.
July 31, 2016
Rated

4

out of

5
 by
Cherim
Jewelry Storage Triumph
Love this item. It would get 5 stars except like other reviewers I wish the pouches had a tiny bit of Velcro so if it falls the jewelry doesn't slip out. (I could add it I guess)
May 23, 2016
Rated

4

out of

5
 by
Annna
Jewelry Storage
Very good quality product - much sturdier than the "cutsie" equivalents at department stores. The only thing I would change is that the individual pockets don't have zippers which can cause chaos in case the hanger falls to the floor.
June 29, 2015
Rated

5

out of

5
 by
1881j
Jewelry storage
I make my own jewelry and have 2 of the large hangers and planning on replacing 2 small ones with the large hanger. It is so nice to see what I have organized by color and know what I need to make. Also, I love the heavy duty metal hanger that comes with it.
December 28, 2014
Rated

5

out of

5
 by
cr62
Great quality and more capacity than expected
I actually bought one more than needed once I saw how roomy the slots were. I have one for ear-rings and the other for bracelets and necklaces. Because they are in their own pouch and I can easily SEE them, I'm much more apt to mix up my jewelry every day than grabbing what's easiest to find.
December 24, 2014
Rated

5

out of

5
 by
12345678910111213
Tidy Hair Clips & Bows
This is the perfect solution to organize kid's hair accessories in matching pairs. We've tried clipping them together and storing in a basket, clipping them to ribbons, but this is by far the easiest solution. Makes it so much easier to get ready in the morning. Larger hair bows fit snugly into large pockets at the bottom, spring-clips just clip on to pocket tops, and the bows that snap closed go inside the small pockets towards the top. SO TIDY. Thank you, Container Store! We hang it on a hook on a closet door so that it's easily accessible.
September 2, 2014
Rated

5

out of

5
 by
connery
Helpful Hanging Jewelry Organizer
I love this product. It makes it so easy to choose the jewelry that I will wear for the day or pack for a vacation. I don't have to reach in and dig out of a drawer or a jewelry box. It holds plenty of earring sets, and necklaces, rings, etc. It doesn't take up much space either. I've purchased it for people I love!
May 14, 2014
Rated

5

out of

5
 by
LauraJB
Rings on Display
I have a number of rings and earrings and they are hard to keep up with and organize. When I was walking through the store and saw this item I had to have it. I got home filled one up, returned to the story the following week and got another one. It is great for rings and earrings, but if you have larger items you need to get the other organizer that was not on sale. Great product, and is also great for crafters like me to hold and organize small items.
May 3, 2014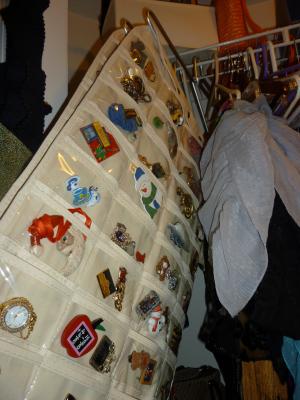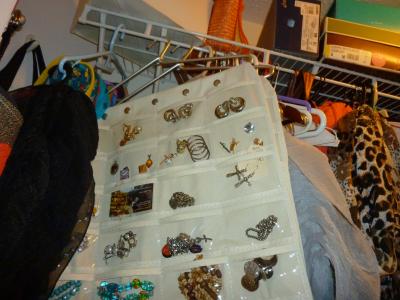 Rated

5

out of

5
 by
alfalfa
jewelry organizer is the best!
So i needed to organize my jewelry, they are in boxes.Whats a lady to do? I want to wear jewelry that matches my clothes but i need to coordinate my outfits. I got this lovely organizer and wallahhh. It is the best I even put my hair accessories and concealer in it so I'm ready to go to work. I love it and can't live without it.
April 28, 2014
Rated

4

out of

5
 by
eyewonit
Jewelry at a Glance
I love the Hanging Jewelry Organizer. It has plenty of room to hold so many earrings, bracelets and necklaces. Since I arranged my jewelry in the organizer, I find that I wear it more often. It makes it so easy to find pieces and arrange them by color or size. I plan on adding the necklace organizer too.
April 27, 2014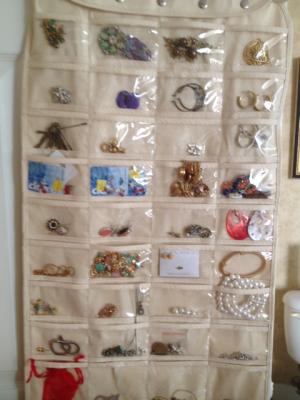 Rated

5

out of

5
 by
Dari
Hanging Jewelry Organizer
I just came across the Hanging Jewelry Organizer while looking for something else in the Container Store. I am so pleased that I bought it. I love putting my many pins, rings and earring in the pockets. This also frees space in the drawers of the cabinet where they had been. Dari
April 25, 2014
Rated

5

out of

5
 by
ERTuggie
Perfect!
I have this to a friend as a gift and she loved it! It helped her organize all of her costume jewelry and really cleaned up her counters and drawers!
April 25, 2014
Rated

5

out of

5
 by
krbs1986
Life-saver!
My jewelry was an absolute mess. All over everything. Falling on the floor getting damaged. I'll be moving twice in the next couple of months so this was perfect... Didn't take up much space and held A LOT of stuff. My jewelry is beautiful now. :)
April 25, 2014
Rated

5

out of

5
 by
pozelaki
Best ever jewelery case!
Such a useful and easy to use product! It makes it so easy to be creative and... a coquette!
April 25, 2014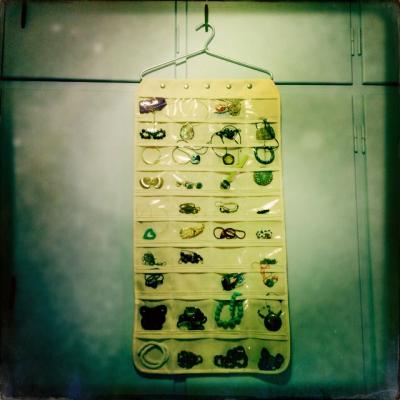 Rated

5

out of

5
 by
CassieR
Perfect Solution!
This hanging organizer is a perfect space saving solution to jewelry organizing. The trick is knowing what and how many pieces of jewelry you need to store. I found that I needed 2 to make this really serve me as larger/bulkier pieces do not double up well in the slots. Also, be careful retrieving tiny post earrings from the smaller slots. They tend to fall to the corners when you try to get them out. NEITHER of these are negatives. Just notes!
April 25, 2014
Rated

3

out of

5
 by
jess3578
Nice holder but pockets too small
Overall I like the concept of this holder but the pockets could stand to be just a little bigger and easier to get into.
April 25, 2014
Rated

5

out of

5
 by
Emmy37
Best purchase
This is a must have!!!! It keeps all my jewelry neatly organized.
April 22, 2014
Rated

3

out of

5
 by
lucydog
great idea, but...
I love the concept of this. You can keep your jewelry readily available, easy to see and in a small space. However, the pockets are small. Too small to accommodate a clunky bracelet or large pair of earrings. And if you have larger items in the pockets on one side, the pockets on the back side are virtually unusable. So I like it, but would make changes if I could.
April 18, 2014
Rated

5

out of

5
 by
Lorenacch05
love it!!
This organizer is great! I love it!! everything fits in the pockets! Just Love it!!
April 15, 2014
Rated

5

out of

5
 by
tjsf
Great product
Very sturdy and well made, not flimsy like many others.
April 10, 2014
Rated

5

out of

5
 by
Provogirl
Best storage ever!
This storage method allows you to see each piece piece of jewelry so easily....not to mention keeping earrings in pairs!...and then allows you to store the entire collection in a compact way by hanging the slim, compact system in your closet. This beats any other way I've ever found to store my jewelry. Easier to see than stacking in jewelry boxes or drawers and takes up far less space as well! Now I can not only find my things, but actually find it so easily to replace them after wearing them, that I really do!!!!
March 20, 2014
Rated

4

out of

5
 by
RaleighNC
Overall, useful
Far better than having it all boxed away. Three issues: 1. Hard to retrieve small items 2. Front-to-back issues with large items filling up a pocket 3. Hard to view both sides if it's actually hanging in your closet 1. Agree with those who said it's hard to get smaller items out of pockets. I resolved this for some pieces by storing sets of earrings inside small plastic bags (think tiny - like the ones that a spare button might come in). Then it's easier to pull out the little plastic bag, plus that keeps the jewelry away from the air/dust, which is good given that the pockets don't close. 2. If you put larger items in the bigger pockets, it's really difficult to put something in the pocket on the other side. There's a reason they only model this with small jewelry in it, and I was a little disappointed in that. But with some strategic matching up of smaller items to bigger ones, it worked out. 3. Final problem is that if you actually leave it in the closet, it's hard to flip from one side to the other to see things, especially those on the far side away from you. (Too bad the hanger doesn't swivel.) I handle this by hanging it from the ledge over the closet door - easier to flip back and forth. But it does make me nervous that if someone broke in to my home, it would be a very easy target - easy to see, and they could easily just grab the bag and run off with nearly all of my jewelry. I try to remember to tuck it away in the closet when I'm out of town, but I don't want to do that every day when I leave for work. So not an ideal situation. Overall, it's useful and I'm glad I bought it and took the time to organize everything in it.
November 10, 2013
Rated

5

out of

5
 by
SimplyTy
Very Good Product
This jewelry holder is sturdy. Although the pockets do not zip, they are not loose, so items won't fall out easily (unless you turn it upside down). Although I awarded 5 stars, the product is not perfect. I agree with another reviewer that said that it would be awesome if the hanger swiveled. The good thing is that you can change the hanger.
September 24, 2013
Rated

5

out of

5
 by
Tommy1743
Great Organizer
This allows you, at a glance, to see everything you have.
September 23, 2013
Rated

5

out of

5
 by
Honeybear77
Canvas 80-Pocket Hanging Jewelry Organizer
It is so easy getting ready in the morning. I organized my earrings, bracelets and necklaces by color. I can quickly see my jewelry and match to my outfit. I plan on buying more for Christmas gifts.Realy large necklaces do not fit but I knew that when I bought it. There is another one with loops I want to get to add my larger necklaces.
August 1, 2013
Rated

5

out of

5
 by
jeba714
Excellent Jewelry Organizer
I've had my first jewelry organizer for 8 years now when I started collecting jewelry from my grandmother and mother. All of my jewelry have kept in good condition due to this organizer. I have 3 now and soon I will be purchasing my 4th! I also have my travel jewelry organizer which is very durable as well.
May 16, 2013
Rated

5

out of

5
 by
75Neat
Fantastic Organizer
Love this item--all my trinkets fit great. I feel so organized.
May 3, 2013
Rated

3

out of

5
 by
kell123
hanging jewelry organizer
Love the product. It's perfect. I do wish it had a few more big pockets but, maybe I just have too much costume jewelry!
May 2, 2013
Rated

2

out of

5
 by
HeatherD
Wouldn't work for my Jewerly
The actually product seemed to be of good quality and I bought it on sale, but I ended up taking it back. I wanted to place each of my jewelry sets (necklace and earrings) in each pouch, but the pouches were too small. The color stuck out like a sore thumb in my closet- I think black would be better. I also think it would be better if the pouches zipped shut so things wouldn't fall out. I have another organizer that zips and I think that's much better. It didn't work out for my purposes, but others might like it for theirs.
May 1, 2013