Rated

1

out of

5
 by
ShoeVixen
If you have a commercial size door, don't purchase
Unfortunately, the organizer came crashing to the floor. The width of the clasps are too small for the doors in my apartment. Even though the instructions state that two sizes of clasps are included for this very reason, it's not accurate. Four of the exact same (small) clasps were included. I'm very disappointed!
January 8, 2017
Rated

5

out of

5
 by
Joy93
Perfect size for my small closet door
My closet doors are smaller than standard size. So when i found this i was so happy. It fits great on my door!! The quality for the price can be a little better but overall is okay. I'm a shoe size 7.5 and when i put all my booties in (it's a little snug) then the front mesh got some small holes, just hoping the holes don't grow. My heels and wedges don't fit in them but it's great for flat shoes, flip flops, sandals... Booties should fit if your shoe size is 7 women or smaller.
November 22, 2016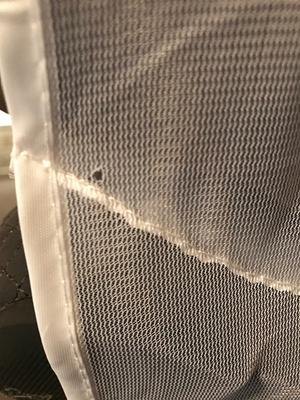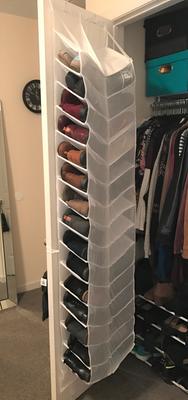 Rated

5

out of

5
 by
CBear
Perfection
I never knew I could be so excited about a shoe organizer. Not only secures easily and capably but holds SO MANY SHOES. I've never before found one that can fit a pair of shoes in a single pouch - rather than splitting them up so you only get half as many shoes as you have pouches. It fits my narrow doors perfectly. LOVE this thing.
May 31, 2016
Rated

5

out of

5
 by
dkamac
Great Shoe Storage
I have owned many over door Shoe bags, metal Shoe storage racks and other shoe storage solutions over the years...this product is the best so far... Holding 30 pairs of women's shoes is such a feat ( no pun intended!) I wish it came in a darker more practical color as I think the white will get dirty pretty quickly...
May 9, 2016
Rated

5

out of

5
 by
Wings686
Finall6!
This is the last shoe organizer I'll need to purchase! Comfortable holds 30 pairs of shoe! Great design!
March 11, 2016
Rated

5

out of

5
 by
KB14
Just Perfect!
I wanted a way to store my shoes in one location, and this fit the bill! It easily holds as many pairs as advertised, and is narrow enough to hang on our older (& somewhat narrower) doors. It was also very easy to install.
May 21, 2015
Rated

5

out of

5
 by
katymomof2
LOVE THIS SHOE ORGANIZER!
My daughter had the old plastic 20-24 shoe (over the door) organizer, but had a few too many pairs of shoes so needed more room. This shoe organizer is deeper so both SHOES will fit in each compartment (except for a pair of high-top tennis shoes which were a bit crowded). But ALL other tennis shoes, sandles, flats, etc fit PERFECTLY. It helped her put TONS more shoes into this, and stay much more organized. Only her boots remain in her closet now (but they didn't fit in the old style shoe organizer either#. I absolutely LOVE this one...looks great and is WAY more functional than the previous one. I would absolutely recommend it!!! #She wears an adult size 5 in most shoes, but I'm confident that most adult shoes would also fit nicely in here too.)
January 19, 2015
Rated

5

out of

5
 by
Goldycat
Perfect for my needs!
This shoe organizer is perfect for those who live in small spaces & for women. I think men's shoes would likely be too big to fit in these slots. I live in a condo & my hall closet has smaller than average doors (only 21" wide). This organizer fits perfectly for all my shoes! I also ordered on line & used the service where they text you when it's ready for pick up & they bring it right out to your car. Love it!!!!!!
October 25, 2014
Rated

4

out of

5
 by
unorganizedNY
Tidy Storage
It fits nicely on my door, easy to install (my door is just under 1.5 inches thick) I wear 6.5-7 size shoes, so they mostly fit in the pockets without sticking out at all, makes it look real neat! but not anything fancy so best to keep it somewhere out of site
June 6, 2014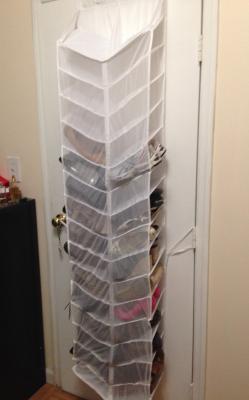 Rated

5

out of

5
 by
Minicotton
Great door shoe rack!
This fits all my pairs of shoes! It was nice to finally get everything up off the floor. Love the hooks on the bottom of the door and the hooks at the top don't interfere with the door closing. Overall great product.
April 28, 2014
Rated

5

out of

5
 by
shoecollector
amazing purchase
I bought this shoe rack many years ago and I keep it LOADED all the time. It holds a ton of shoes and is still in perfect condition. It keeps your shoes super organized is a great, durable product. Thanks!
April 27, 2014
Rated

5

out of

5
 by
Madcrazypants
Believe the hype!
I decided to purchase this shoe organizer based on the positive reviews - and boy am I glad I did! It has performed well so far (4 months) and keeps my shoes neatly out of sight behind the door. If you're in the market for a shoe organizer like this, don't think twice - this one is seriously great!
April 25, 2014
Rated

5

out of

5
 by
ceemonyc
does the job
Very sturdy and does not interfere with the opening and closing of the door
April 25, 2014
Rated

5

out of

5
 by
dreny
Just the right size
My closet has 2 doors, both 15.5 inches wide. This shoe organizer was the perfect size to fit on one door. Love that the hooks come in different sizes since my door is thicker than most.
April 7, 2014
Rated

5

out of

5
 by
mjl228
Best Shoe Rack I've Ever Used
I loved this shoe rack so much I bought a second one! This is by far the best shoe storage solution I've ever found. It hangs securely on the door and does not bang around when you open and close the door, it even fit on my smaller closet door (less than 32") The best part is that it even accommodates big heels, wedges and booties (Women's size 10) I've never found another product like this where I can fit both the left and right wedge heel in one compartment. This one does! Plus it holds at least 30 pair.
April 2, 2014
Rated

5

out of

5
 by
runmamamt
Best shoe rack ever!
After many failed attempts to find a shoe rack for my girls I can finally stop searching! Amazing!
March 21, 2014
Rated

5

out of

5
 by
MissDavis
Amazing Product!
Amazing space saver! Not only does it hold 30 pairs of shoes comfortably, but it also has additional hooks to fit over commercial size doors as well as ties to keep it from moving when opening and closing the door... The container store thinks of everything. Their customer service is impeccable. I love this company!
February 13, 2014
Rated

3

out of

5
 by
eeb2014
Couldn't close the closet door with this holder
I bought this shoe holder because it's only 14" w and my closet has two doors that are only 17 3/4" w. I was not able to close the closet door with the shoe holder on the door because the shoe holder bumped into the shelf above the clothes rail in the closet. No fault of the product, just be sure to double check the depth of the interior fittings in your closet, and where they fall relative to your closet door before purchasing this shoe holder. I explained my issue to The Container Store when I went to return the shoe holder, and she kindly issued me a refund.
February 13, 2014
Rated

5

out of

5
 by
AlexaD
Great shoe storage
This holds all my heels and my boyfriend's dress shoes as well! You can usually put both shoes in one slot.
February 8, 2014
Rated

5

out of

5
 by
mart55
Great storage for over the door!
This worked perfectly for what I needed it for. It store shoes easily... and also I have been using it to store small purses and clutches. The only downside is that some of my taller heels do not fit in one pocket together, so it does not necessarily hold quite as many pairs as I was hoping. But going along with that, some of my sandals I can easily fit two pairs in one pocket.
January 7, 2014
Rated

5

out of

5
 by
morgie
Wonderful rack, holds a lot!
This is a GREAT shoe rack! I bought a different one at first, returned it, and got this instead. This fits really well on the door and holds lots of shoes. I appreciated that it had 2 different size door hooks, as my door is a bit thick. Shoes do not fall out when opening/closing the door, either! A great way to organize and save space!
December 31, 2013
Rated

5

out of

5
 by
vicrob
love this!
i have tried many shoe rack/holders and always end up dissappointed. i get mad at myself as i throw the crazy thing out (along with my money) after trying to keep it from falling apart or trying to keep my shoes on it, when i saw this on the web site, i thought it looked like it could do the trick. Where has this been all my life? works great, shoes DO NOT fall out. stays in place and no fighting to open and close the door!!!!!! if it should ever wear out i'll be getting another one of these'
December 23, 2013
Rated

5

out of

5
 by
CindeW
Best Organizing Product Ever!
This shoe organizer is really amazing. I'm not a shoe person like so many women, but over the years I end up with shoes I rarely use because I hadn't been able to see them and realize what I had. This immediately cleaned up my closet and gave me so much space, and keeps the shoes visible. Well made - extremely easy to get up and running. Just what I expect from The Container Store!!!
December 21, 2013
Rated

4

out of

5
 by
els1812
works wonderfully!
This attached so easily and the tie for the door knob secured it even more. There was an extra set of hanging hardware included. I guess if the weight of my shoes stresses out the first set, there is a backup. Now all I have to do is rebuild my house to accommodate for the depth of the shoes. If you do not have a foot of clearance behind your door, your door may be perpetually ajar.Since my door only has a few inches between the door frame and the corner, the door does not open fully with the shoes hanging on it. I considered the other side of the door, but don't want my shoes exposed to the open hallway.
October 29, 2013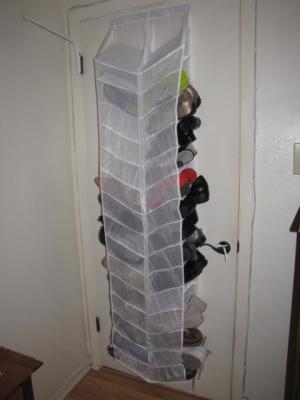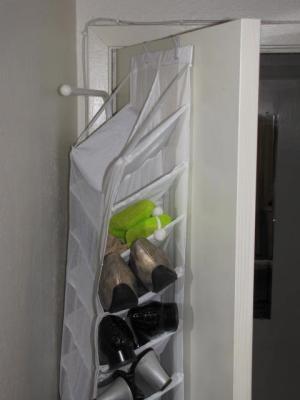 Rated

5

out of

5
 by
kitzkamp
Best Overdoor Shoe Organizer Yet!
This shoe organizer holds more shoes than the standard type overdoor organizer and keeps the shoes neatly contained (they don't flop over the pockets).
September 29, 2013
Rated

5

out of

5
 by
Momqui
Amazing for Baby Nursery
Completely retrofitted for a baby nursery. Cloth diapers down one side, changing table covers, extra crib sheets and swaddle blankets down the other side. Fantastic organizer and space saver. LOVE!
September 14, 2013
Rated

5

out of

5
 by
Irritatedtryingtogetanick
Great purchase
Love how this attaches to top and bottom of the door! Just bought this for my teenager. We needed more room in her closet, but she was hesitant to hang shoes on the door. It works great! You can put two pairs of flats or sandals in one slot if you need the room. She wears a size 10, and the shoes don't stick out a lot. Sheer fabric makes it easy to find what you want. Great product
August 31, 2013
Rated

5

out of

5
 by
piper10
perfect
Although I do not own 30 pairs of shoes (and do not expect to) I ordered this shoe organizer because it fastens both at the top AND the bottom -- no swinging when you open the door. It was easy to hang, well made, and quickly delivered. Perfect.
August 9, 2013
Rated

5

out of

5
 by
Annapk
Love it
I purchased this shoe rack trying to see if I can fit all of my shoes and have them organized and save some space in my closed it was one of the best things I have done lately a little expensive but worth it i love ie now I can see all my shoes and chose witch one I need love it
July 5, 2013
Rated

5

out of

5
 by
Pittsburgh
Really GREAT Shoe Rack
VERY easy to install. Holds many more shoes than other racks I have. Shoes slide into the pockets so they are protected from dust.
May 31, 2013