Rated

5

out of

5
 by
Irrisistable
A Beautiful Container
I purchased two of these, one for each bathroom in my home. I located them in cabinets but they are so beautiful I would not hesitate to have them sitting on a counter. They have one larger section and two smaller sections. I put our Q-tips in one of the smaller sections, which can be stood up straight on end, cotton balls in another section and other sundries in the third. They hold a convenient amount of each item. They are durable (heavy weight plastic) so you are not purchasing something flimsy. The lids fit just right on top so you know they were constructed with care. These would be useful in other rooms in your home also; i.e. craft room, kitchen-tea, toothpicks. I can think of so many uses. I will not hesitate to purchase them again.
January 20, 2017
Rated

5

out of

5
 by
CalebsGrandma
Perfect for the medicine cabinet
My guest bathroom has a pedestal sink with zero counter space. I've been trying to find an attractive way to store q-tips and cotton balls, and this is perfect. It fits inside the medicine cabinet perfectly. I like that it's clear, so guests can see the contents easily.
November 3, 2016
Rated

5

out of

5
 by
RetiredDinker2
I Love Acrylic.
Great box for cosmetics. Deep enough to put brushes in but the best part is that you can see exactly what you are "fishing" for before you open the box.
August 28, 2016
Rated

5

out of

5
 by
Mue1
Love this
I love the acrylic storage things from the container store. I usually use them for office supplies but you can really use them for anything. Durable and sleek!
March 16, 2015
Rated

5

out of

5
 by
frun
Simplifying my life..........
I ordered this for our motor home. No more clunky packages that fall out when the medicine cabinet door is opened! It fits in the cabinet perfectly. So glad I got it!
October 14, 2014
Rated

5

out of

5
 by
ewei319
Great for my vanity
This acrylic hinged-lid box is perfect for Q-Tips, cotton balls, cotton pads, or anything else! I like that there is a lid to keep the dust out, but it is see-through so you know what's in there and how much is left.
April 27, 2014
Rated

5

out of

5
 by
Rotomom
3-section acrylic hinged box
Great product. Takes up a lot less room on a small counter than regular round q-tip and cottonball holders. Looks nice.
March 17, 2014
Rated

5

out of

5
 by
LovesOrg
Perfect for bathroom organization
This product fits easily into my bathroom vanity drawer. I love how the lid is attached, and allows for items in the box to be a little higher than the top edge of the box. The lid neatly closes every time I need to get something out, and is helping to keep the items in the box clean. Great product!
February 21, 2014
Rated

5

out of

5
 by
PinataParty
Great for in the medicine cabinet
I got this to fit in my medicine cabinet. I wanted something with a hinged lid. This works perfectly. You will need to leave extra space above so the lid can open easily. It has 3 compartments. I put cotton swabs in the 2 smaller ones (also handy if you have 2 types of cotton swabs). The large compartment is for cotton balls and cotton pads. The balls and pads are too large to fit in the smaller compartments. My only suggestion would be for an additional medium sized compartment for cotton pads.
May 1, 2013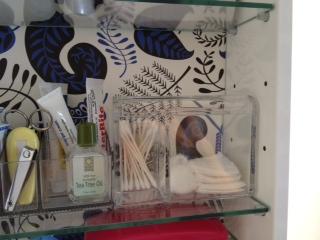 Rated

5

out of

5
 by
mchernandez
Love it...
Love this product definitely recommend this to anyone that likes to be organized.
April 2, 2013
Rated

5

out of

5
 by
jessica19
great product!
I wish this was a little bit wider so I could put more q-tips and various items into it. I have this placed in my bathroom and actually made me eliminate various containers i used to place my cotton swabs, q-tips, and travel samples.
February 28, 2013
Rated

5

out of

5
 by
sunnyinsocal
Nice acrylic box with variety of uses
I purchased this box to store pricey skin products in the fridge. Everything is contained in one spot and the divided sections keep bottles from tipping over. The hinged lid keeps products seperate from food yet easy to access daily.
January 16, 2013
Rated

5

out of

5
 by
Antgail
Good curler holder
Yes, I still do the old fashioned foam curler thing; but use only a few curlers. This box holds them when thet are not in use. I really like the hinged lid.
March 1, 2012
Rated

3

out of

5
 by
pootbear
could be improved on if lid was EZ to remove
It was perfect for what I needed except I needed to remove the hindged lid.and that was almost impossible to do without breaking the box. Make the hinge easier to remove and the product will have more uses!
February 26, 2012
Rated

5

out of

5
 by
otto
It fits!
This actually fits in my medicine chest which is a huge improvement over the thingy I had for cotton balls and swabs before.
August 5, 2011