Rated

5

out of

5
 by
cynthialeigh
Awesome Storage Jars
My pantry is much more organized and I no longer have a ton of bags from all the bulk items I buy every week. I love it!
March 14, 2016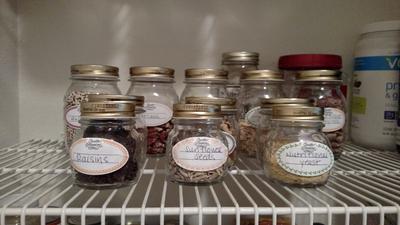 Rated

5

out of

5
 by
Teeaychay
Great little jars
I bought these to use as more of a display storage product. My new pantry has no doors, so everything is in view. I wanted to get some nice jars for my spices to replace all the various sizes and shapes that spices come packaged in and these fit the bill perfectly! The opening is big enough to use measuring spoons, or just reach in and grab a pinch. I can't wait to get them filled and labeled and on display!!
June 7, 2015
Rated

5

out of

5
 by
justwondering
great jars
Mostly posting these for the photo since everyone knows these are great spice jars. Other TCS products shown: Round EZ Labels, Plast-O-Mat ribbed shelf liner 24", QS 34oz canning jars, QS Labels, and Long Mesh Stacking shelf.
March 28, 2015
Rated

5

out of

5
 by
Kaykays
Spice Jars
I purchased the darling jars so I could make Jello or pudding in them for my Grandchildren and myself. The ones at the store are expensive and have stuff in them I do not want to consume. These are a healthy solution and cute at the same time!
September 6, 2014
Rated

5

out of

5
 by
bmmohr60
spice jars
Love the look of these jars. I can have them out for convenience and they look great. The only thing is that the labels I bought to use with them are actually too big for the jars. So I put in spices that are easily identifiable.
July 21, 2014
Rated

5

out of

5
 by
minky
love all staggioni jars
These tiny little jars are perfect for spices, vitamins or babyfood. They are cute and unique looking.
June 2, 2014
Rated

5

out of

5
 by
singinlady19
Awesome Jar
Comes in lots of sizes! I like to use it for baking soda so I don't have an open box in my small kitchen cupboards. I'm going to get another one for cupcake liners too. Customization with small labels.
April 15, 2014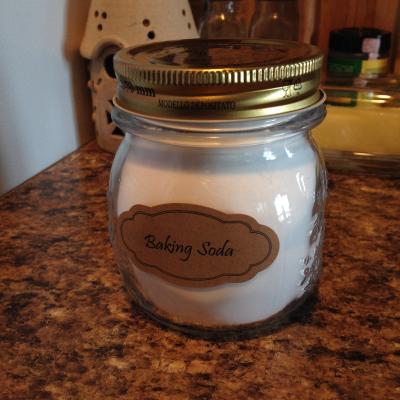 Rated

5

out of

5
 by
Spenceract
5 oz Quattro Stagioni: Just the right size
I've been buying these jars from the Container Store for a few years. I use these to jar my home made hot sauce to give to friends and family. I love the size and shape of the 5 oz jars. The diameter of the opening makes for easy spooning out of the jar. The only thing I don't like is that the price jumped from $1.49 to $1.99 from one season to the next.
March 6, 2014
Rated

5

out of

5
 by
Russ
quality and shipping
Bought 10 of these jars on a previous occasion. They exceeded my expectations, so purchased 24 more via internet. They arrived before estimated date. The packaging was awesome. I think the packages could have been dropped from a 6 story building and not been damaged. I highly recommend the Container Store and their shippers.t5
February 22, 2014
Rated

5

out of

5
 by
Loriap
Just what I was looking for!
Really made my spice cabinet look neat! They are perfect size to get measuring spoons in and can shake a bit out if i need to.
September 27, 2013
Rated

5

out of

5
 by
BlueBird
Classy looking jars
I love these jars and i have a lot of them in different sizes. Some of the tops fit in different sizes, which is super convenient. For example, the tops of the small jars fit into the bottle size. I use the bottles for juice and for water in the fridge. Since these jars have been a standard item at CS, i never have to worry about being able to find replacement tops or jars. They are really inexpensive, especially considering how attractive they are.
May 3, 2013
Rated

5

out of

5
 by
Gr8Ant
Spice Jars
Great looking way to store and organize my spices. Keeps them fresh.
April 26, 2013
Rated

4

out of

5
 by
CompuHorse
Great little jar
This is a great little jar and will be the perfect size for individual yogurts!
April 17, 2013
Rated

5

out of

5
 by
Riversedge
Spice Jars
I love these little jars!! They are really beautiful and are perfect for my Homemade Spice Blends.The design on the side is really cute. I'm really excited about using them this summer when the herbs in my garden are ready to dry. I definitely will be ordering more of them.
April 16, 2013
Rated

5

out of

5
 by
brat
Awesome Spice Jar
These spice jars are great and they also look nice if you leave them out on the counter
April 11, 2013
Rated

5

out of

5
 by
rick2001flhtc
spice jar
This is an attractive alternative to regular Mason type jars. I actually used it to bottle my home made maple syrup as gifts. THe design on the jar makes it a little better looking.
March 30, 2013
Rated

5

out of

5
 by
SDSavvy
Cute and Quaint
These little jars are perfect for storing spices. Especially if you like to display your spices in all matching jars.
March 17, 2013
Rated

5

out of

5
 by
SillyK
I really love these Jars!
Very versatile and sturdy when specifically storing dry goods like my insulin syringes,cotton balls,paper clips,oil,etc . These jars will make a pantry or counter look very attractive and can also be used for gift giving and should last for many years. I plan to add more of these to my collection!
March 1, 2013
Rated

4

out of

5
 by
Maxer
Good product. I bought this to organize my spices.
February 19, 2013
Rated

3

out of

5
 by
coloradocamper
Cute jars but not for canning
I bought these to make my annual Christmas jelly. The lids never sealed even though I put them through a water-bath canning process. For the next batch, I used Ball canning jars without a problem.
December 16, 2012
Rated

5

out of

5
 by
zazzle
Perfect spice jar
Love the size, shape, easy remove top, and the ability to remove the desired amount of spice.
November 25, 2012
Rated

4

out of

5
 by
vnissern
Spice jars
Going to use to pack my home dried and grown spices, Basil, oregano, tarragon, thyme and give them as Christmas gifts.
August 7, 2012
Rated

5

out of

5
 by
ShellBelle
ShellBelle
These jars are fantastic - i have them in all different sizes - they keep produce very fresh - don't put the lids in the dishwasher though as they tarnish.
June 4, 2012
Rated

5

out of

5
 by
healedbyfaith
Worth it.
These are great! I have recently changed my eating lifestyle by removing all processed foods, this means spices too. I am thrilled to have these spice jars in my kitchen. These allow me to keep the fresh herbs longer.
June 2, 2012
Rated

5

out of

5
 by
MJKL
Great spice jars!
I know there are jars designed specifically to store spices out there, but these are my choices. These are airtight, glass jars and fit a whole tablespoon through its opening (which is huge for me). It added a huge convenience factor for me with that. Also it fits in my shallow drawer standing up, and I just put the spice names on the top (like the reviewr below). It is great!
April 27, 2012
Rated

5

out of

5
 by
OrganizaedKnitter
Awesome spice storage!
I purchased 24 of these fabulous jars (and 2 of the larger 8-oz version) to store spices. These are just the right size to hold a good quantity and still fit in my spice drawer. I made labels for the lids, and now my spice drawer looks gorgeous! I can put my hand on exactly what I want in a matter of seconds instead of having to rummage through the drawer to find what I need.
April 9, 2012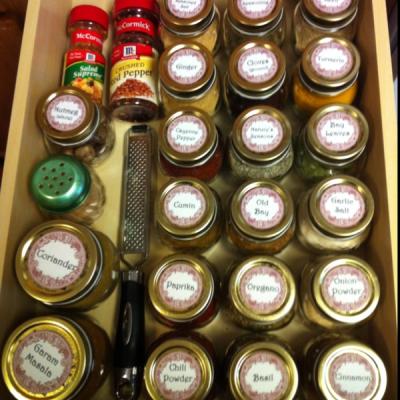 Rated

5

out of

5
 by
plee
good choice for spices
loved the look of the jars they were just the right size for my shelving.
March 26, 2012
Rated

5

out of

5
 by
maconmom
Great Jars!
I love these jars-they are a little more "gourmet" looking than mason jars, and are perfect for packaging gifts.
March 19, 2012
Rated

5

out of

5
 by
derl
Great Little Jar
Very cute little jar, seems to be well made. The lids seem to seal well also. No problems at all with them.
March 10, 2012
Rated

5

out of

5
 by
PeggyS
These jars are great for storing my spices, I love that they seal tight to keep everything fresh. They look good on the shelf too!
March 10, 2012