Rated

5

out of

5
 by
shwarma
Sweet honey!
We purchase honey in large containers. I have been searching for a container that would provide a dispenser that would not drip...here it is! The honey comes out slowly but that is perfect for tea and coffee.
August 20, 2015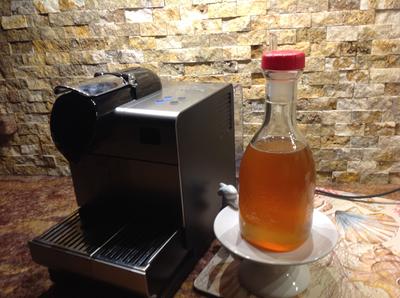 Rated

3

out of

5
 by
Spartan
Faulty cap
I love the style of this bottle. It worked well for a short time, but then the metal cap broke. I've been trying to find a replacement cap, but the mouth of the bottle is larger than most pourers I've found. I'd love it if the bottle manufacturer could recommend or create a new cap that works, and sell it separately. I hate to not use the bottle.
September 20, 2016
Rated

3

out of

5
 by
SJBob
Good concept but cap fails
It's hard to find a good glass salad dressing container that allows you to shake and serve the dressing. This container does that. However I believe the cap has a design flaw. There is a gap of around 1/4" from the top of the cap to the inside part of the cap which is not possible to clean. After a few uses whatever dressing you put inside the bottle collects inside this gap. Unfortunately there is no apparent way to open up the cap to clean it which means the old dressing remains there. Also the cap has difficult to read markings indicating close and open positions - So it is easy to mistakenly shake it in the open position. It's too bad because otherwise we like the bottle. But I think we will choose another for regular use - and will keep our eyes out for a redesigned cap.
January 4, 2016
Rated

1

out of

5
 by
KayLeo
Bring back the old design!
I went to my local Container Store a couple weeks ago with the specific intention of buying this Quattro Stagioni Cruet because I loved my other one. I wanted more for various oil/vinegar/vinaigrette. I was mortified when I found my coveted item and discovered that they changed the design of the cap! This new design for the Quattro Stagioni Cruet is cheap and ugly. It used to have a metal top that had a rustic Provençal look to it, but now it has this disgusting red plastic top that looks totally cheap! They didn't even lower the price to compensate for lowering the quality of this item! I am so disappointed with this new change and wish I bought more of these bottles while they still had the metal caps...
May 28, 2014
Rated

5

out of

5
 by
cmdh
Counter-Worthy
This is a wonderful bottle you'll want on your countertop (which is saying a lot since I put very little on mine). It's simple without a lot of decoration and clutter on it. The open/close feature to keep your oil fresh longer sets this apart from other cruets. I haven't had any problems with dripping or leaking.
March 26, 2014
Rated

4

out of

5
 by
elinmn
Oil in the cupboard no more
Great for the extra large bottles of oil at Costco. Now it isn't an eyesore to keep oil out on the counter. The plastic top isn't the best, but it works.
March 8, 2014
Rated

3

out of

5
 by
KBusenitz
Okay but leaks
The bottle does leak when in the closed position and does leak around the spout
February 20, 2014
Rated

5

out of

5
 by
jam36a
Cruet
I had an Emile Henry curet and this works just as good or maybe better. No leaks. Easy to hold. Easy to dispense.
January 22, 2014
Rated

5

out of

5
 by
Raggdoll
Love the Size
I love the size because if fits in my shelf space for oil. I also like the open and close lid which keeps the oil fresh,
May 19, 2013
Rated

3

out of

5
 by
Mandi1979
I want to love it . . .
I recently made my own Vanilla Extract and I bought this bottle because I hoped it would function as nicely as it looked. It is very attractive for display purposes. Unfortunately, I have repeated issues of it not closing well and the extract leaking when I go to put it away (I have to tilt it to fit it behind some other items in my cabinet). I really wanted to like this product because it would've been perfect.
April 26, 2013
Rated

5

out of

5
 by
missyrae
Best cruet I have tried
These beautiful cruets look even better in person. I bought 8 to store a variety of regularly used oils and vinegars. They do not leak, unlike many I have tried in the past. Just make sure you use a funnel so you don't get oil all over the area where the lid pushes in. They produce a thin but steady stream so it is ideal for drizzling over salads and other foods without drenching or losing control of the amount. It also comes out fast enough that if I need to measure a significant amount into a measuring cup, I'm not waiting for a long time for enough to come out. I use these every day. They are one of my favorite container store purchases.
April 20, 2013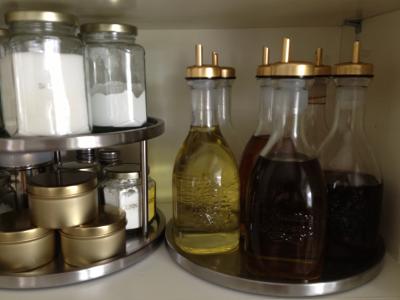 Rated

3

out of

5
 by
Summer6
I love the concept!
I love the look of the bottle, and it really does look nice when you leave it out, but the cover is another matter and needs to be revamped. I use mine for olive oil and have been unable to get the cover to close as the oil has some how made it slippery. I think that what I was doing before was better, I bought a small bottle of olive oil, a funnel from the dollar store, and a large can of olive oil and would refill the smaller bottle as needed. There is no leaking from the bottle, it does what it states except for my being unable to close the cap/cover. I recommend with reservation.
October 18, 2012
Rated

5

out of

5
 by
DickCDavis
This is just what I have been looking for.
I make special oil and vinegar dressing with a number of other spices that is very popular at get togethers. This container has solved the problem of dispensing at the serving table. It can be shaken and opened many times without leakage. Many have asked me for the receipt. This year for the Christmas get together they will all receive this Quattro Stagioni Cruet with the receipt enclosed. As is evident I love this container.
October 16, 2012
Rated

3

out of

5
 by
myalkalik
Not bad
This bottle looks great and pours great. My biggest complaint is the open/close feature.. Once you put the oil in it it's hard to turn it from open to close because it's all slippery inside.. Is there a trick for this?
September 5, 2012
Rated

5

out of

5
 by
SUNG
Best cruet ever!
I bought four of these to store oil and other liquid sauces. These work so great!!! I can pour the sauce without any mess. The airtight feature is also a plus point. Moreover, they look so fantastic. love love love them!
April 27, 2012
Rated

5

out of

5
 by
HelpMeOrganize
cooking mama
I always bought big bottles of olive oil and it was always a pain pouring olive oil from a big bottle. this makes it so much easier and i LOVE the close and open spout. Also, it convenient being able to leave it on the counter top next to the stove.
March 20, 2012
Rated

5

out of

5
 by
smileyjay
great cruet
Pours well and easy to store olive oil in. The small funnel sold on the site is helpful to pour oil into this product. Goes well from refrigerator to table.
March 6, 2012
Rated

4

out of

5
 by
Kasia
Great Garlic Olive Oil
I used the recipe accompanied for making garlic olive oil. Simply delicious. However, if the oil gets on the outside of the spout, it is quite difficult to use the open/close valve.
December 14, 2011
Rated

4

out of

5
 by
Nutrilisa
Great space saver for olive oi
When I buy olive oil I buy a large bottle of my favorite brand. The bottle never fits in my cabinet and I must portion it out, and store the container. This bottle gives the right size for a months use before refills are necessary, as well as ease of use without spills and drips.
January 28, 2011
Rated

4

out of

5
 by
Cooker
Love it!
Love my cruet. Looks great on my counter and easy to use!
December 29, 2010
Rated

3

out of

5
 by
Sophia
Good Buy
This is a good oil cruet. However, the open and closing function isn't great. Once you put oil in it the stopper gets slippery from the oil which makes it difficult to open and close. But still good for having oil at your reach.
October 28, 2010