Rated

5

out of

5
 by
InformativeReviewer
Great for smaller breed dogs
Seals well. Size is great for storing food for smaller dogs.
January 11, 2017
Rated

4

out of

5
 by
MavisJ
okay
This holds the dog food. My only complaint would be that it's difficult to pour from. Also, it doesn't fit underneath the bottom shelf in the pantry but the second complaint is my own fault for not taking time to read the measurements.
March 22, 2015
Rated

4

out of

5
 by
LKLTX
Good for the price
We use these to hold our pet food. They don't pour as easily as others we have had because the flap tends to get in the way, but good for the price.
May 27, 2014
Rated

4

out of

5
 by
LadyLiza
Simply Practical
We use this for it's exact intention - dog food. It keeps food fresh in 5 pound increments just as needed. Easy to pour or scoop from. Easy to store and easy to see how much is left while keeping it fairly air tight.
May 12, 2014
Rated

5

out of

5
 by
kathrynl94
Awesome product!
After about a month of searching for a container to store my pups food in, a friend referred me to the Container Store. I was absolutely blown away by their huge selection of literally everything and the extensive knowledge of the staff helping me. They directed me towards the pet section and gave me the pros and cons of each product. I decided on this one, and 4 months later I'm still just as happy as I was when I originally purchased it. The container has an airtight seal that keeps the good fresh, which is great for my spoiled pup who loses interest when the bag is running low. I absolutely love it! I recommend it to anyone looking to store their pets food.
April 25, 2014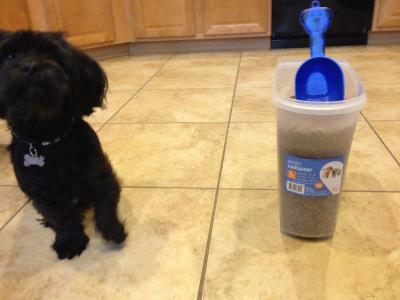 Rated

5

out of

5
 by
JennyPenny
Great Container
I actually use this for all purpose flour. My roommate is an avid baker, so we normally have 3-4 lbs on hand, and this container is easy to handle, light weight, and air tight. Just make sure to rinse and dry before filling to get rid of the factory smell.
March 27, 2014
Rated

5

out of

5
 by
Dominique5513
5 LB Petfood Container
I use this container for my cat's 4LB bag of dry food. It keeps it fresh and in one container. When it starts getting empty, that's my signal to go out & buy another bag of dry food.
February 15, 2014
Rated

5

out of

5
 by
missemmm
Perfect For Cat's Food
I had been looking for a container for my cat's dry food after a mouse got in to the bag. I was a little skeptical this might be too small but it's just the right size for one of the small bags of cat food. I also like that it's small enough to pour with one hand and is ergonomic. I think this would also work well for families that go through a lot of cereal too. The container is constructed well and I'm very pleased with it.
October 23, 2013
Rated

5

out of

5
 by
SheilaWeila
Wonderful container
I have two, one for my cat and one for the dog. I love these as it keeps the food fresh, stacks on top of each other to save space, and keeps ants out of the food. Very reasonably priced and made well.
April 24, 2013
Rated

5

out of

5
 by
May24
This container is great! Keeps our dry cat food in a neat place.
April 13, 2013
Rated

5

out of

5
 by
Mijeka
Love these containers!
We love these containers! They keep the food fresh & are easy enough to open/grip that our 4 year old can feed the dogs!
March 25, 2013
Rated

5

out of

5
 by
Jeannier
I loved this container. It is sturdy and lightweight at the same time. The narrow part in the back makes it easy to grip and poor.
June 28, 2012
Rated

4

out of

5
 by
VCat
Sleek Storage
Perfect for my 3 small dogs to store dogfood in to prevent from going stale. Nice sleek design, and lid seals well! Good sale price!!
April 28, 2012
Rated

5

out of

5
 by
twlightz
Perfect for smaller spaces
We purchased the giant rolling ones to keep food in the garage, but use this smaller one inside the house to make it easier for refilling bowls. The small size is perfect for us and this system works well with our two tiny dogs. The only thing is that it smelled really terribly when I bought it. I washed it thorughly, which I would have done even if it didn't smell, and the scent seems to have gone away.
April 27, 2012
Rated

5

out of

5
 by
pharmacygirl88
Perfect for small dogs
I have a small dog and always buy big bags of food to save money. This is perfect because I can fill it up and keep it by the dishes and put the big bag away in the closet. It is easy to pour from (has a little flap that opens on the top) and keeps the food fresh.
March 27, 2012
Rated

3

out of

5
 by
Kelly0117
Great capacity bad lid
The capacity is great and the opening for the lid is a good size but the lid doesnt stay closed tight so the food doesn't stay fresh
March 19, 2012
Rated

3

out of

5
 by
Ewiss
Good size, Poor lid
Good size container, but the lid doesn't stay closed.
November 6, 2011
Rated

5

out of

5
 by
txteacher
great product!
This is the perfect little container for a 5-lb. bag of dog food! Just one issue: it took 5 minutes to get all of the manufacturer's label off. But other than that, no complaints: great size, secure lid, easy to use. Yay!
July 25, 2011