Rated

5

out of

5
 by
JennBen
Under the bathroom sink; organized!
After measuring around the pipes under my bathroom sink I found these at the container store and they were the perfect size to fit around the pipes. The drawers fit all "a girls" bathroom essentials! Flat iron, curling iron, hair ties, makeup, and more. Awesome product and smooth sliding drawers.
September 24, 2016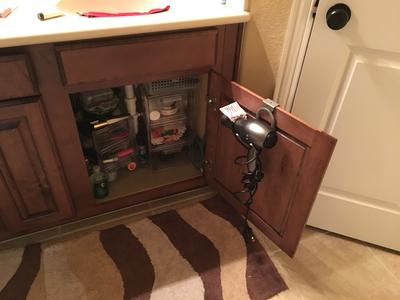 Rated

5

out of

5
 by
MzKWatkins
The Great Wall of Shoes
I had a client with tons of shoe boxes that just drove me crazy! I scoured the internet looked for exactly the right shoe bins, and luckily found them here! I was so excited to get these shoes organized...they look so beautiful now and are totally easy to find!
March 25, 2015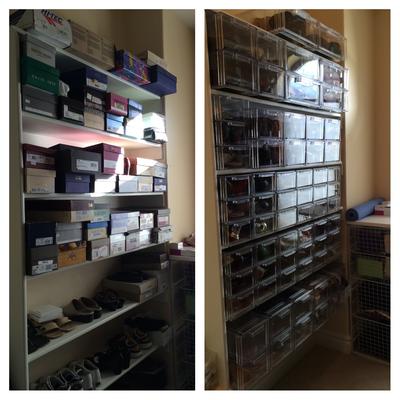 Rated

5

out of

5
 by
lynnmu
a must for closet rehab
I bought both the regular and the men's athletic shoe drawers to organize all of my shoes during a recent closet overhaul. I really wanted to do major closet organization for a long time, and then the Container Store had a great 20% off sale, so I went for it and never looked back. I wear size 9 shoes, and I needed the men's shoe drawers for high heels and pumps. Flats and low heels fit in the regular drawers. The website offers very useful information on how the other clear acrylic drawers fit together: When stacking the drawers side-by-side, 4 Shoe Drawers = 3 Men's & Athletic Shoe Drawers = 3 Shirt & Accessory Drawers = 2 Sweaters Drawers. I couldn't be more pleased with the clean, organized results--looks like the closets I see in magazines!
April 15, 2013
Rated

4

out of

5
 by
KHall89
Perfect shoe drawers!
I love these shoe drawers! It's great to be able to see through the drawers. It's even better that these slide out. Most shoe organizers have tops on the boxes, like a regular shoe box, which makes it difficult to stack them. These are just great!
January 21, 2017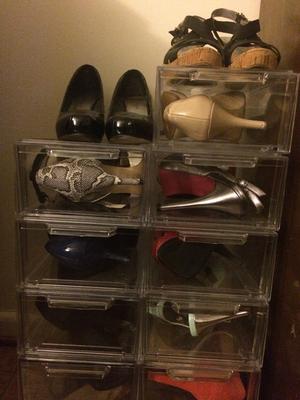 Rated

1

out of

5
 by
Kim925
Sizing is off for average size adult women shoes
I wear a size 8, either narrow or medium. None of my ballet flats will fit, either on their sides and nested or side by side inverted (like shown in the product photo), let alone a small heeled pump. The heel of the shoe on a flat (heel height 1/2 inch or lower) sticks above the drawer when side by side. When nested on their sides, the side of the shoe sticks above the drawer. The only shoes that work are flipflops stacked on top of each other. Maybe a women's size 6 or smaller, or a child's shoe, would fit. I now have to return 30 boxes. The measurements in the product description are for the outer box, so there is no way to check sizing before ordering. The product description should state very small women's shoe or child's shoe only.
December 1, 2016
Rated

5

out of

5
 by
BritF
Amazing!
I am a complete genius. Just moved, redoing spaces/storage/etc. I have a large makeup and other product collection and was looking for a new way to store them. Bought 6 of these to go into one of my fave end/rolling tables and they are so perfect. Beautiful and strong, with lots of space. They stack perfectly. I wanted to 3m strip attach the bottom ones to the storage unit - they are a bit uneven so do not attach with velcro properly, although I only spent about 5 minutes on it. HOWEVER they do not need the strips! I have 2 on the bottom and stacked 3 high and they stay perfectly in place! Holy moly I love these things. They look really, really good and are obviously manufactured well as they fit together perfectly.
September 30, 2016
Rated

1

out of

5
 by
Epic
These are for doll's shoes
These drawers don't fit even one of my shoes. I wear a common size. I have average feet. They are too narrow and too low to fit even one of my shoes. Every time I buy things from this store it never works out and I waste money. I am never shopping here again!
August 17, 2016
Rated

4

out of

5
 by
Grandma2
Not for my shoe size
I thought these shoe drawers would be the answer for the shoes in my closet but they are too small for my shoes. I am a female that wears a size 11 and the drawers are too small for even my flat sandals. I was disappointed and think that the description for this item should include a shoe size range. However I did find another use for the drawers so I kept them.
July 28, 2016
Rated

2

out of

5
 by
cfm123
Too small for most shoes
The drawer is too low. I was able to put ballet flats in it, in the way pictured (they had to be a little squished to fit in the width that way), but couldn't fit any kind of shoe that needs to lie on its side, like heels â¿¿ the height of the drawer is smaller than the width of the shoe. I expected a drawer "sized for shoes" to fit more than one kind of shoe (and to accommodate all women's shoes sizes â¿¿ I wear 8.5 and my shoes already don't fit in these).
July 20, 2016
Rated

4

out of

5
 by
bayadere
Stops shoe hide and seek games
Not only are they great for storing shoes, I found them ideal for organizing such items as bars of soap, tubes of shaving cream and toothpaste and similar items in the cupboards under my bathroom sink. They don't stack as securely as I would wish and the carpeted floor in my clothes closet prevents the bottom boxes from sliding open. I live in an apartment, so had no say over the carpet.
June 20, 2016
Rated

3

out of

5
 by
Gmalala
Good Quality, Bad Design
Like many others I had problems with the size of these drawers although it had nothing to do with the size (10) of my shoes. The length of these shoe drawers is fine - the problem is with the height. Even if I lay many of my heels, sandals, and flats on their side, the soles are too wide to clear the top. Frustrating! I order a dozen of these and eight (8) of the large size. I won't order more of these but I will order more large shoe drawers because the quality is good.
May 20, 2016
Rated

4

out of

5
 by
Momjac
Love these shoe drawers!
I have tried lots of products for my shoes and these are definitely my favorite. You can see the shoe, get to them without having to unstack other boxes, and they stack nicely and securely on top of each other. Problem solved! If only they were free, they'd be perfect : )
January 29, 2016
Rated

1

out of

5
 by
CodyMom
Way Too Small
I was shocked that the majority of my shoes, including flip flops, didn't fit in these drawers. I thought perhaps I had made a mistake and there were 2 sizes to order. These are so disappointing, especially when I order 14! Really way too small for regular women's size 8 shoes. I just now noticed reviews mentioning the same thing. Lesson learned. Read the product review!
December 2, 2015
Rated

4

out of

5
 by
Chozabeth
Good, but smaller than expected
Be sure to measure your shoes!!! I didn't and just assumed they would fit most of my size 8 shoes (flats). They were useful for some of my flats and shoes of less material. I will be ordering the larger men's sizes for my other shoes. I doubt even the men's size will fit my husband's size 11 shoes!!!
July 27, 2015
Rated

5

out of

5
 by
RoyalPhotoBoothNYC
Best Purchase Ever
I bought these not for shoes but to organize the stuff below the sink of my bathroom. These boxes were perfect to organizing my stuff by use (travel, feminine, hair products etc) I can see everything in the box and it looks good for presentation as well. I bought 8 of them but need more to organize my linen closet! I wish they were cheaper if you bought in bulk though!
July 6, 2015
Rated

5

out of

5
 by
EdsE
Great Shoe Storage!
Such a clean way to store shoes! The boxes aren't so big so they work for flats and sandals but not heels but they work for a large amount of my shoes and the drawers work well to get your shoes out quickly.
March 16, 2015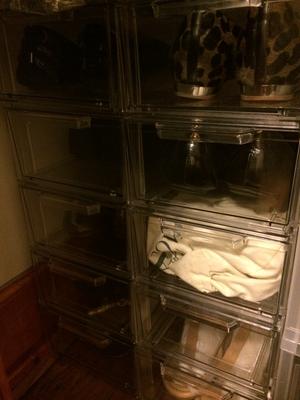 Rated

4

out of

5
 by
chasity
Perfect organization
I purchased the larger drawers for my baby nursery! I love keeping her clothes organized and still being able to see what's inside.
March 16, 2015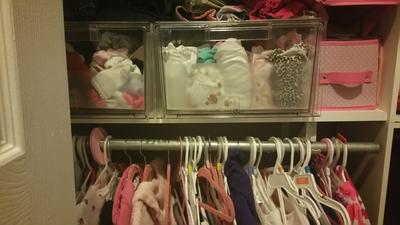 Rated

4

out of

5
 by
badmammajamma
Exactly what I was needing!
These shoe boxes are perfect for keeping my closet organized, but still be able to see every pair of shoes I have. They also work great for non-shoe items; scarves, bags, gloves, etc.
March 16, 2015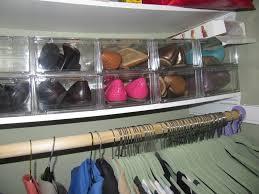 Rated

1

out of

5
 by
Gracia
Way too small, very disappointed
I was kind of wary about ordering this product based on the reviews that said they were too small. However, they were rated really well and I only wear a size 7 - since they had such a high rating I thought they would fit. Well, they don't! I could only fit flat sandals, and even then, they have to sit on top of each other, they do not fit in side by side. I returned them. Buyers beware...the people that are rating these so high are using them for smaller items, not for shoes!
February 9, 2015
Rated

5

out of

5
 by
FinallyGettingOrganized
Great Purchase
I was looking for an attractive useful way to organize my cleaning / trash closet in the kitchen. I used 2 grey rectangular neo bins and 4 large men's athletic shoe drawers with dividers to organize cleaning supplies, towels, lightbulbs, and miscellaneous items. So much more organized. Looks great! Feels great!
October 29, 2014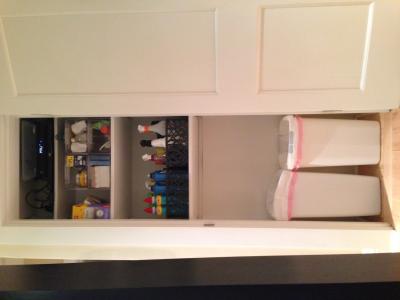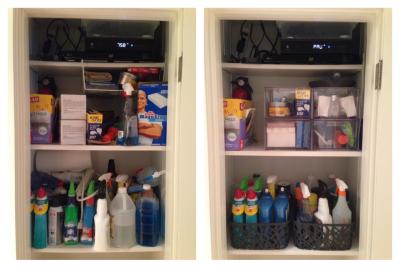 Rated

3

out of

5
 by
Yane
pretty good
I bought them to organize a shelf in my closet. They are not as strong as I thought they would be, but the drawer slides easily. For now at least, they are doing what I need. And I am not using them for their specified purpose.
October 20, 2014
Rated

5

out of

5
 by
ruthac
Awesome organizer for tees
These are so perfect for the solution we needed for storing our tees at our printer. These are being used for business purposes and we've looked high and low for the perfect solution to keep organized and enormous inventory with size and style variations at our print vendor without damage or become dirty (all white tees). The dividers work wonderfully. There is ample rooms for over 10 kids tees ranging from size 3-6M to size 8 youth. The stacking of these are awesome. The area they take up is minimal compared to others drawers I've evaluated. We used a combination of the tee drawers and the men's/athletic shoe box drawers!
July 20, 2014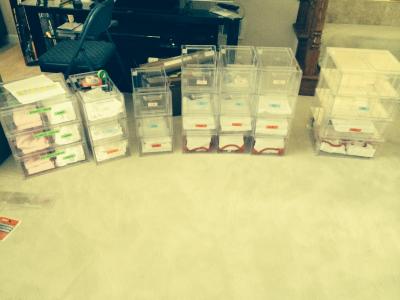 Rated

1

out of

5
 by
kajmu
measurements not right
I bought several of these to fit in a very tight space and the measurements listed are NOT Correct ....I needed it to be 12 inches deep/long which is what the description says ....it is actually 13 inches deep/long (including the handle) which means it does not fit in my cabinet. VERY disappointed!!!
July 7, 2014
Rated

5

out of

5
 by
Sandy17
Love these!
I think these drawer boxes are fabulous! You can see exactly what's in each box & slide the drawer out no matter how it is stacked!
June 9, 2014
Rated

4

out of

5
 by
storeall
Compact and easy to use
I just love this slide out storage container, I have many of them. They stack easily and the draw pulls out. However, the plastic can crack if dropped or crowded into a shelf and the casing is delicate. It's best if the draw is filled otherwise it will tip off the shelf. I like that you can see what is stored in the unit and they stack as well.
May 12, 2014
Rated

5

out of

5
 by
DixieC93
Use these for everything but shoes.
I love these drawers! They are a great size to fit in to closet space, I have them in my closet and I use them for my smaller clothes, like my socks, swimwear, undergarments, etc. I will note that these drawers are best use stack on top of each other and/or in tighter spaces, otherwise they do fall if you pull the drawer out too far. I would recommend these to anyone limit space to work with.
May 3, 2014
Rated

4

out of

5
 by
jmo4osu
sturdy shoe box
This drawer keeps my shoes organized and is sturdy. I did think it was a tad too expensive though.
May 2, 2014
Rated

4

out of

5
 by
rwrw
love these
Just bought 6 of these in the store to try them out. Love them!! I own many shoes and I like how they keep the dust off them and love how clear the plastic is to see them.. They are a little on the expensive side but will keep adding them...
April 25, 2014
Rated

5

out of

5
 by
JoanDC
TERRIFIC!
I've bought the clear shoe drawers, both the small (for women# and the larger #for men). These look great and allow me to see what's in each. Also, the pull-out function always is smooth. Lastly, these stack on each other and don't slip, yet can be separated easily and quickly. I've purchased these clear, stackable shoe boxes many times over the years, as needed. And I will buy more in the future!
April 25, 2014
Rated

5

out of

5
 by
OverTheTopOrganizer
Awesome Shoe Storage
I have about 100+ pair of shoes. It was very frustrating trying to keep them organized even though I had shelves in my closet. Sometimes the wrong shoes would be placed in the wrong box and I had several boxes on top of each other. The clear shoe drawers are wonderful because they keep the dust off of your shoes, give you access without having to pull everything out because it is a drawer. The larger drawers are great for all the really high heels that are so popular right now - might be costly on the front end but well worth the cost over time
April 25, 2014