Rated

5

out of

5
 by
Mom720
Stacking organizer
I bought two of these to organize beading supplies and will be getting more! I attend jewelry workshops and these travel very well - these screw shut so they do not accidently pop open! It is easy to organize by color or type and you can see the contents at a glance! Love these!
May 18, 2015
Rated

5

out of

5
 by
Meladybug
Love This!!
I needed something to put small items in and this organizer fit the purpose perfectly!!
December 1, 2013
Rated

5

out of

5
 by
wrestler
Great product!
I love these containers.they work well with my sewing and other craft supplies.also with my sons little legos.
May 4, 2013
Rated

4

out of

5
 by
HoseaK
Great For Desk
We use this product to organize our paper clips, staples, and push pins
April 28, 2013
Rated

5

out of

5
 by
megNmidge
Great for travel
I use the wider version of the stacking organizer as a travel vitamin holder-- it's ideal for carting my many vitamins around for a weekend trip, or to work.
April 26, 2013
Rated

5

out of

5
 by
runkimmyrun
Great Organizer for tiny items
Love this! I bought 2 and use them for my daughters little stud earrings (so we always know where to find them) and also for her tiny elastic hair ties.
April 18, 2013
Rated

5

out of

5
 by
october
Best for daily vitamins
This stackable clear container is awesome for traveling with daily amounts of vitamins. I take many supplements each day and before I travel I fill each container up with my daily supplements. Clean, neat, organized. A perfect companion for traveling instead of those clumsy pill organizers.
March 18, 2013
Rated

5

out of

5
 by
debq
Great product
The little storage containers are the best organizers. See through and do not have to open tops. Stackable-what else could you want if you l ike to have your things organized.. Great price.
February 15, 2013
Rated

5

out of

5
 by
jeanmarie
love these
have purchased various sizes, great for organizing my smallest craft items to keeping my travel needs compact and easy to pack
April 29, 2012
Rated

4

out of

5
 by
Chrysanthemum
Versatile product
You would be surprised at how much is at the bottom of that bottle if you took the time to cut it open. I use this product to store the remainder of all my liquid lotions. It's certainly saves me some money.
March 24, 2012
Rated

5

out of

5
 by
MauraB
Excellent product
I'm a beader and use this to keep the beads separated and orgazined by color and size. Sad to say I bought similar product at other stores but didn't like the quality. I stop at store in Frisco everytime I go to TX. Love it, thank you.
March 19, 2012
Rated

5

out of

5
 by
CharleyB
Perfect Pill Problem Solver
I have to take a handful of meds three times a day, and I have to carry them with me on trips and to work and for travel. I bought enough of these to store my pills for the week for three times daily. I sort them out on the weekend, and I am good to go. Friends see these, and next thing I know, I am driving them to the Container Store to get theirs!
March 19, 2012
Rated

5

out of

5
 by
TCB1
Great find!
I was searching for a way to organize my 5-yr old daughter's hair accessories. Her hair is on the thin side so most of her hair things are small. I found these containers and LOVE them. The small ones are perfect for her smaller clips and elastics and the large ones are great for the larger elastic bands, bows, etc.
March 19, 2012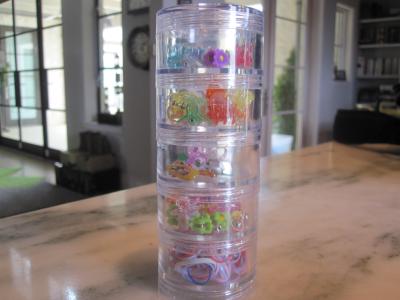 Rated

5

out of

5
 by
Mmm3
Great for the little things
I use these to sort/store my beads. The fact that each container secures itself to the other ensures I don't lose or misplace any and they are easy to find.
March 12, 2012
Rated

3

out of

5
 by
LosGatosJeweler
Give more options
These are great containers when you want to stack your stuff. However, I would love to be able to use these containers separately, which means that I would want lids available so I can do this. Right now I am stuck with stacking only. Please Container Store, offer lids for these containers so that I can really use them in many more places.
December 14, 2011
Rated

5

out of

5
 by
MargoS
Handy Item
I just purchased the mid size stacking container & I really like it. It is great storage for all the brads I use in scrapbooking. It keeps them separated & easily visible. Now, I want the bigger size. There are dozens of items you can use these for. Good value for the price!
December 29, 2010