Rated

5

out of

5
 by
DeeCee3
Clear 3-Drawer Box Great for Makeup
I had all my makeup stored in two quart sized Ziploc bags. Now it's all in these 3 drawers with room to spare, and it looks much more organized and neat on my dresser.
December 11, 2016
Rated

5

out of

5
 by
amg93
Love it!
Love that i made this purchase, i use this for my makeup definitely recommend it price is good also going to buy another!
March 12, 2016
Rated

4

out of

5
 by
Msro
Ok Item
I thought the cubes were larger. They work for me though, because I dont have a lot of makeup. If you are buying these to store makeup, just know they are not huge but they hold a fair amount of products. Side note: It took a long time to get this package in the mail.
March 18, 2015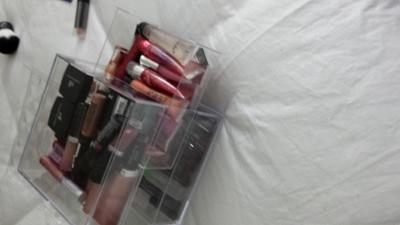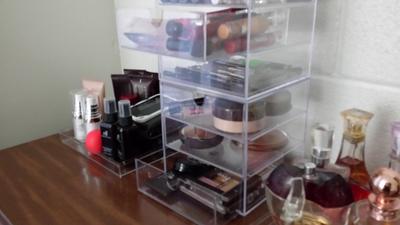 Rated

5

out of

5
 by
RainbowKissessss
In love
These storage drawers are amazing! I purchased 5 and I am definitely purchasing 5 more. They are made of great quality. Not sure if the are acrylic but either way it's probably hard plastic but sturdy! This hold my makeup very well!
April 24, 2014
Rated

4

out of

5
 by
Holiday009
Great for Storing
I bought 2 (3-drawer) boxes so that I could place it on top of my bookshelf. I needed a little storage for my nick-nacks. These were good! The one star was removed because one of the bottom's are a bit uneven. I can't identify what makes it uneven because it looks identical to the other one, so I put something underneath both - problem solved!
March 26, 2014
Rated

5

out of

5
 by
EbonyEyez
Not Just for Office Supplies
I absolutely love these. I bought 4 when the office sale was on a couple of weeks ago. I use these drawers for make-up storage on my Vanity top. This was a very inexpensive solution to organization. This was my first time purchasing from the Container Store and I am in love. I am so glad i purchased online and picked up in the store. I got the opportunity to see what they offer.
March 24, 2014
Rated

4

out of

5
 by
beyc
Useful desktop organizer
Easy to use, great way to organize loose binder clips, erasers, pens and rubber bands. However, edges of product should be sanded off for a smoother finish.
March 18, 2014
Rated

5

out of

5
 by
cakemom
Best Make-Up Accessory
I wanted something to store my make up and saw a sale on office products. I loved this because it was perfect on the bathroom counter. It gave me more counter space and I could see what I needed in a hurry. I also store those items on top that don't fit in the drawers. My make-up brushes are in a sanitary place. I liked that it was made in Finland. Very modern. Easy to clean.
March 14, 2014
Rated

5

out of

5
 by
LBC1204
Good Purchase
Bought several of these at the sale price. Planned on using them to organize & store several things, including make-up, supplements, letters, & bills. I've since found they are not large enough to hold my supplement bottles or some of the other things I planned on using them for. I'm currently using 2 of them to hold the small prescription size bottles that I fill with the day's supply of vitamins & supplements. I lay them on their side & fit 6 in each drawer. They will also be very good for make-up storage, although tubes/bottles of foundation will not be able to stand upright. Another possible use may be to organize stamps, pens, address labels, smaller sized envelopes & smaller sized greeting cards, such as thank-you note cards. I find that having things in 1 place, being able to see & have easy access to them saves time & decreases stress. These clear drawers are one way to do that.
March 13, 2014
Rated

5

out of

5
 by
Shesfab01
Great for Vanity!!
Purchased 3 of these drawers to go on my makeup vanity and they fit perfectly! I also have 4 of the muji drawers and these work just as amazing!! Very happy with my purchase and would recommend these to anyone looking to add a clean look to your makeup vanity area!!
March 3, 2014
Rated

4

out of

5
 by
HelloEvelina
Perfect for Cosmetics
I went to my Container Store specifically looking for an acrylic chest of drawers to hold my makeup. Initially, I had the $16 chest of drawers that looks exactly like this one but with knobs. I saw this one on sale and bought it instead. They're the exact same size. It looks great! I was getting tired of forgetting I had other makeup in a solid-colored Caboodles case so it was time to upgrade. Now everything is easily accessible, I can see everything at a glance, and this little chest of drawers holds a ton! It also looks so much better than my old Caboodles case sitting on my vanity/ I'm going to buy another. The only reason it doesn't have 5 stars is these little drawers are stacked on top of each other in the store and they come with inevitable scratches.
February 24, 2014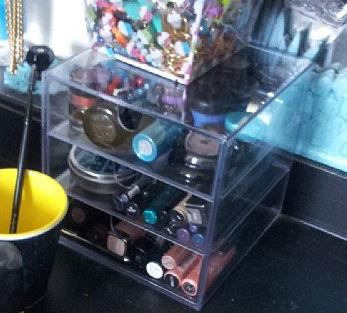 Rated

5

out of

5
 by
KPeoria
It is as great as everyone says!! SO versatile!!
I bought this because it received great reviews!! I use it to organize my tea bags. I also have the acrylic tea bag organizer from the Container Store. I use that for the smaller tea bags. I also think it would be ideal for office supplies, hair accessories and any other small accessory
August 7, 2013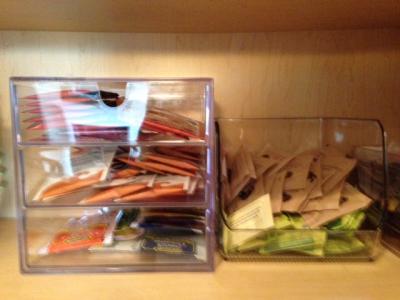 Rated

5

out of

5
 by
JoiLT
The 3-Drawer Box is must have
I purchased The 3-Drawer Box for my growing vanity. I subscribe to a few subscription boxes that include makeup items and I needed a better storage solution for these items. I was sick of not seeing what I had in stock so I use The 3-Drawer Box to keep everything in place and in plane view.
July 18, 2013
Rated

5

out of

5
 by
Dawnbol
Love the 3 drawer Box!
needed some additonal storage for misc. make-up items and picked up this 3 drawer box. I like the fact that it mimicked my Muji drawers that I originally purchased in both clarity and the shape of the handles on the drawers. Its also just the right dimensions and does not take up a lot of space on my make-up table.
April 26, 2013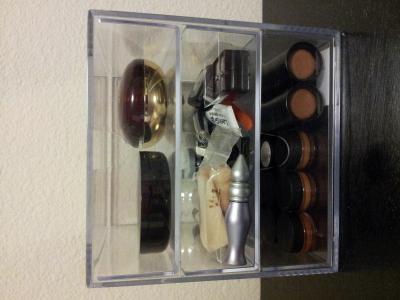 Rated

5

out of

5
 by
FosMommy
Very Handy
I use several of the small three-drawer boxes in my bathroom. They do a great job of making all of the "little" things accessible. I use them for cotton swaps, nail clippers, dental floss, band-aids, you name it. All of those things that are so easily lost when stuffed into a vanity drawer are simple to find in these clear containers. Also, they stack nicely and keep my linen closet neat and tidy.
April 26, 2013
Rated

5

out of

5
 by
amg93
Great Product!
I purchased the 3 drawer and I love it! I use this for my makeup products and it works great all my makeup fits perfectly! I would definitely purchase this product again once my makeup collection gets bigger.
April 6, 2013
Rated

5

out of

5
 by
achilds
great
simple, easy, perfect. i keep all my small pieces in the drawers, its perfect
March 21, 2013
Rated

5

out of

5
 by
Organizeher
Great as a Makeup Drawer
I purchased 2 of the drawers to use for makeup. I had previously considered buying the popular clear cube makeup storage but could not justify spending over $275. I use these drawers stacked on top of each other. All of my makeup fits in them just fine. My makeup collection is not as extensive as some others that I have seen online so others may find that 4 or more drawers may work better for them.
March 25, 2012
Rated

5

out of

5
 by
Lynnnnnn
Great For Jewelry!
I used the clear 3 drawer box to organize all my costume jewelry. Because the entire box is made of a nice, hard, clear plastic, my jewelry looks great! I wish it was sold in a bigger size. The only thing I'm worried about is scratches turning it into a cheap looking plastic box... but so far so good!
March 7, 2012
Rated

5

out of

5
 by
organizelove
pens/make-up/hair tie keeper
This product is clear to easy see what is in what drawer and has a simply elegant look to it. I have it out on the counter and use a drawer for pens, second drawer for lipgloss/Chapstick and touch up make-up and the third drawer is hair ties, bobby pins (that usually end up on the counter). We love this new accessory to our kitchen counter!
March 4, 2012
Rated

5

out of

5
 by
AAnderson479
Great for desktop and Vanity!
I wanted something that would look great ontop of my Home desk/Vanity.I loved the fact that its clear and I can see everything i could possibky use/need. I debated between this one and the one with actual knobs. They are both the exact same size, only difference is the knobs and the prices. I ended up going with this model and it even happened to be on sale! I couldn't wait to get it set up, and as soon as I did, I realized I should have gotten two! I ordered another online and Picked it up in store two days later. My desk/vanity looks amazing. Thanks Container Store for having amazing products to keep us organized!
February 29, 2012
Rated

5

out of

5
 by
makeupNdesign
Makes for great makeup organization/storage!
I've been on the hunt for practical makeup storage and found it in these drawers. They house my cosmetics amazingly well and are of great quality. Customer service was fantastic and even though these were originally on backorder, they arrived sooner than I expected. Highly recommend!
March 29, 2011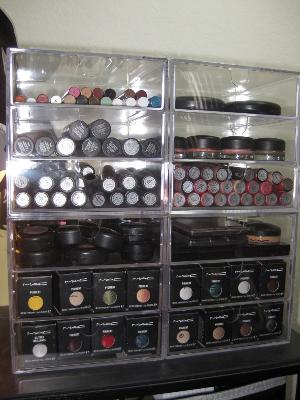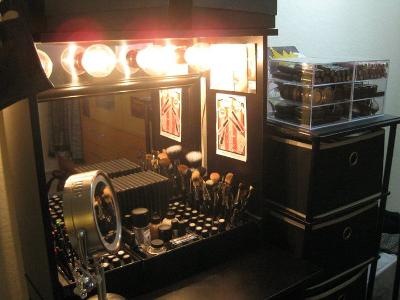 Rated

5

out of

5
 by
CKart
I use the 3 drawer box for my office space for supplies and have one for my earrings. They are great quality and durable. I really like the look of them.
January 13, 2011