Rated

5

out of

5
 by
KAH522
Must have for High Ceilings
I have cathedral ceilings, 2 story foyer and almost 10 ft ceiling in most of our new house. This is a must have to keep cobwebs away and change light bulbs.
January 19, 2017
Rated

4

out of

5
 by
katies
great idea
This is great for me because I am very small and this really helps me to clean things up high
April 23, 2016
Rated

5

out of

5
 by
RC62
No Ladders Needed!
I've had this tool for a few years now and with 10 foot ceilings and fans, it's come in quite handy. But best of all, it's been great to unclog gutters during heavy downpours. I just removed the microfiber sleeve for ceiling fans and bent the metal sheet, which the sleeve covered, into a hook. Then with some maneuvering, I was able to push the leaves down the downspout , allowing the water to flush it out and into the street. This isn't intended for this purpose, but it beat getting up on a ladder in the rain,to clear the gutter enough to keep the water from spilling over or from detaching from the house. Hopefully, they'll make an attachment for this purpose.
March 12, 2016
Rated

5

out of

5
 by
CapeGirl
Sturdy & Strong
I was hesitant to purchase this item, fearing that it wouldn't be strong enough to bear pressure to do a good job cleaning. I couldn't have been more wrong. This is an extremely strong and sturdy pole, with a nice heft to it. Definitely not a cheap piece of junk that so many items like this are these days. It could easily be used to mop a very dirty floor that needed a good scrubbing. In fact, I'd like to see a floor mop attachment added to the Connect-and-Clean system. I know it will be sufficiently strong for household dusting and "cobwebbing" which I need it most for.
June 5, 2014
Rated

5

out of

5
 by
ctwctw
Better than the rest
I bought this extension pole and cleaning attachments after trying two other brands from a couple of my local stores. The poles were always flimsy and didn't have good attachments. This pole is sturdy and I had no trouble cleaning my window that's up high in my two story entry. Great product!!!!
March 16, 2014
Rated

5

out of

5
 by
Phillip
well constructed, easy to use
I have high ceilings in the house and the dreaded cobwebs have appeared this winter. I needed a pole to get to them and this filled the bill and it has other uses as well
March 3, 2014
Rated

5

out of

5
 by
paynest
Just What I Was Looking For
Great quality and exactly what I was looking for. Love the flexibility with the multiple attachments that are available, as well.
January 15, 2014
Rated

5

out of

5
 by
gmaw4gg
Connect & Clean Extension pole
This is the best product Ive purchased in a long time.. The best part is all the attachments can fit easily in a basket in the pantry with only 1 pole.. I have room for the steam mop now and all clutter with so many extra cleaning instruments gone, gone , gone... Yea!!!!
September 7, 2013
Rated

5

out of

5
 by
MavisJ
Great Produt!
I have the extension pole and the Cob Web Duster. I purchased these items mainly for use on the outside of my house. I get tons of cobwebs and spider webs on the outside of the house and just spraying with a water hose doesn't always seem to bring them down. This tool allows me to reach the higher parts of the house without creating a safety hazard for myself. Loved it so well that I am now coming back for the washer / squeegee attachment to help in cleaning / washing the outside of my windows. I'm even thinking of getting this and the CFL bulb changer attachment for my 84 year old mother for mother's day.
April 7, 2013
Rated

5

out of

5
 by
Roberta
So Great.....
...for the high celiling. I have the wool duster for my attchement. It's light weight and when I choose which length I need, it stays at that length; it stays tightened. I highly recommend this. One of the best buys for house cleaning.
August 27, 2012
Rated

5

out of

5
 by
g91761
You can stop looking for a pole now
I looked and looked at poles and brushes to clean the cobwebs off the very high front door area of my son's home. On this site I finally found a brush AND pole that promised to get the job done. The brush is as one would expect. Could be more durable but the POLE is very good quality. When one is going to work with an extension pole that is jacked to it's highest length one doesn't want the pole to suddenly fall over like spaghetti. This pole looks worth the price and it is.
April 29, 2012
Rated

5

out of

5
 by
Texaspenny
WOW!!!
All I can say is-where have you been all my life? With this High-Reach Extension Pole along with the Microfiber Ceiling Fan Duster and the Microfiber Wool Duster, I can dust my fans ,walls ,crown-molding and ceilings without pulling out a small and a taller ladder > They work great,love them.
March 20, 2012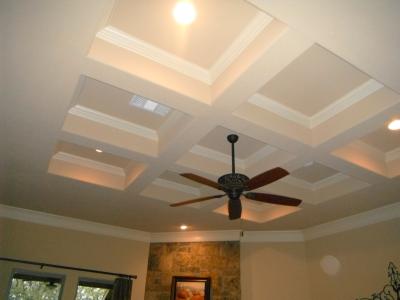 Rated

5

out of

5
 by
WooHoo
Solid and Fabulous
This was exactly what I needed. The pole is lightweight yet very solid, the segments don't tend to untwist during use. It is much longer that other products so was able to reach hard to reach places.
September 18, 2011