Rated

4

out of

5
 by
twogirlsmom
Good Product - Great Customer Service
This rack was easy to put together and fit all my shoes - closer to 4 pair per row rather than 5, but that was plenty of room for me. I like the fact that the whole thing was very easy to put together and that the horizontal bars that hold up the shoes are coated in a material that keeps the shoes - even flats - from slipping. It rocked and swayed a bit as I rolled it, fully loaded, over the carpet, but it didn't break or bend or anything and it was fine once I put it in place. No more shoes cluttering up my closet floor! It was also super easy to order online and to pick up at the store. Once I arrived, and while I was waiting in my car outside the store, I got a note on my cell phone with the name and picture of the employee was that bringing my order out. That's helpful and thoughtful - especially because it was evening when I was picking up.
January 8, 2016
Rated

5

out of

5
 by
Skky
Solved all my closet needs
I purchased this rack after reading the many reviews online and am 100% satisfied. It was very easy to put together about 15 minutes total. You just need to screw in the bars. I was debating putting the wheels on as my walk in closet has carpet, but I realized the unit is sturdier with the wheels on in the lock position. I wear a size 71/2 / 8 woman's shoe. Regular width, and I am able to neatly store 50 pairs of shoes without issues. Wedges were tricky at first, but if you move the shoe slightly forward then there is no problem. I also purchased 2 of the boot holders and now my closet is neat and organized. I can find everything without flipping through all my boxes even though they were labeled with what shoe was in there. The unit is narrow and fits perfectly. I was afraid the height would not work but I am including a picture which shows how great it worked out for my closet. You will not be disappointed if you purchase this product and screw in the rods tightly.
October 10, 2014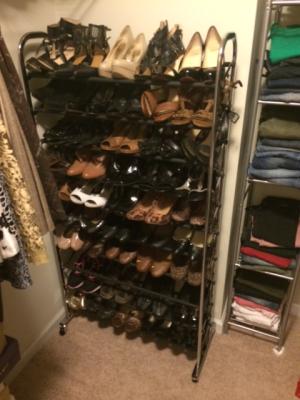 Rated

5

out of

5
 by
Organized752
Fantastic Storage Solution
I love shoes, so it came as no surprise that I needed an organization solution for my *ahem* problem. I read the reviews for this rack (and third party racks) and decided on this one since it had such great reviews and seemed sturdy. I ordered online as there is no CS near me (hint, hint CS). The racks arrived quickly and were easy (for my husband) to assemble. I easily fit 50 pairs of women's shoes on each rack by alternating one shoe facing front and the other facing back to conserve room. I also alternated heels and flats by row when able so the heels are easier to remove and put short booties and wedges on the top row. The racks seem sturdy and are much neater than haphazard boxes all over the closet and bedroom floor. I am very happy with my purchase. The only downside is that now my husband can actually see how many shoes I own.
November 8, 2013
Rated

5

out of

5
 by
KerryRae
Good shoe rack
Very sturdy and easy to put together. Nice addition to my closet.
January 14, 2017
Rated

5

out of

5
 by
TrishB
10-tier rolling show rack
This item was the easiest ever to put together. Paperwork that comes with it explains clearly steps to take to assemble it and says it will take approximately 30 minutes to set up. It took me no time to put it together including the rollers that come with it. I purchased it for my husband and he loves it! Great purchase. Would highly recommend it.
August 8, 2016
Rated

5

out of

5
 by
Veer
Best shoe rack I've ever bought
Holds more than 50 pairs of shoes and its so sturdy. It has lasted for more than a year now and it still looks new. Loved the value for money and the durability aspect of this product.
May 15, 2016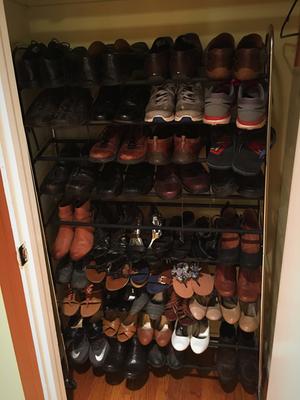 Rated

5

out of

5
 by
Hot01Topic
Chrome 10 Tier Rolling Shoe Rack
Best thing next to sliced bread! Holds 40 pairs of shoes and is quite sturdy! Very portable, does not take up mush space.
February 11, 2016
Rated

5

out of

5
 by
hotsauce569
Great Purchase
I love this shoe rack. So easy to put together and although it only holds about 40 pairs of shoes instead of the 50 it advertises, it's a great buy. It's sturdy, has wheels (2 which lock) and the size is perfect. I would recommend this to everyone. In facet, I may have to purchase another one for the rest of my shoes.
February 2, 2016
Rated

5

out of

5
 by
favorgirl
Mission Accomplished- shoes organized!
Have lots of shoes. Love that I can see all of the ones I wear the most at a glance. No more digging to find the pair I want on any particular day. It is just deep enough for the shoes to fit. So it takes up little space for the amount of shoes it holds. Wonderful purchase!
December 14, 2015
Rated

5

out of

5
 by
DeltaDiva
Great for shoe storage. Wedges fit nicely on rack because of gripping groove. Great buy!
December 9, 2015
Rated

5

out of

5
 by
Shirley400
Great for Athletic Shoes
Young adults are collecting athletic shoes, this is a great rack where access to each and every one is immediate. No looking for the ones you want.
December 4, 2015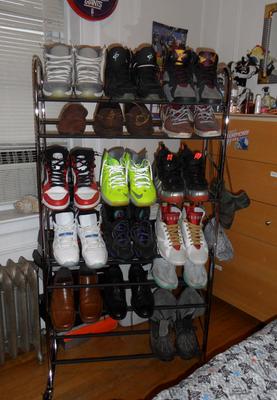 Rated

3

out of

5
 by
SleeplessinChciago
Works to a Point!
I have mixed feelings about this product. On my hand, it does store between 40 to 50 pairs of shoes and it does not take plenty of space. I am happy that I can finally go over the hundreds of pairs of shoes stored in the boxes or alone in multiple locations throughout the house. On the other hand, this construction is not technically sound. It is pretty stable WITHOUT shoes; however, it is VERY UNSTABLE with the shoes in place. What seems to be missing is the back diagonal bar that would give the construction the needed stability. This is normally done for the bookcases and similar structures. I feel that stability of this construction was sacrificed in favor of extra space. The wheels work fine but one need to be extremely careful moving it. To improve the stability, I propped mine on the side against the wall. BOTTOM LINE: good idea, poorely executed.
November 17, 2015
Rated

2

out of

5
 by
ThatGirl1
Not for Girls with High Heels
I bought this rack to supplement my over-the-door rack, and make in-season shoes viewable and accessible. The pluses are its shallow foot print, and the fact that it can store four pairs of average shoes across each level. If you wear standard/classic pumps with low heels and flats, this rack may be for you. But if you have any on-trend platform heels or booties, I'd look elsewhere. To save space, this rack is very narrowly spaced, such that you'll see the toes of a pair of shoes, at best. But platforms and higher heels are simply too tall for this vertically-challenged rack and its shallow shelves. One is forced to wedge shoes in by turning them on their sides, then right-siding them to sit on the rack. This can cause scratching to softer leathers and again, squash the backs of the shoes due to a lack of vertical space. You can't re-sit a pair of shoes without squeezing the others already on the shelf. Do yourself a favor and find a rack where you can see the whole shoe, and that provides better clearance to remove them. This rack may save space, but it's not for everyone. I regret not returning this.
July 24, 2015
Rated

4

out of

5
 by
shalmarshall
shoe rack
its cool but i bought it thinking it was wide enough for all my sneakers but i guess it was designed for more female shoes,i think y'all can design a rack more geared to accommodate sneakers. cool product tho
June 30, 2015
Rated

5

out of

5
 by
Lovelife2015
perfect!
I love my new shoe rack. I'm ordering another today.
May 8, 2015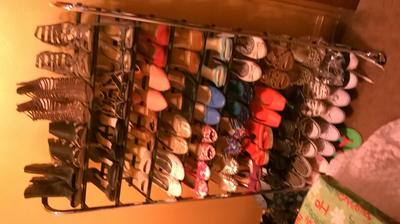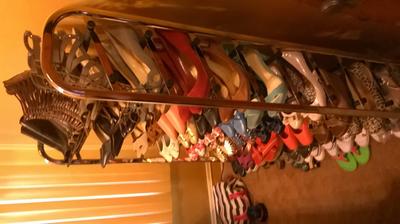 Rated

5

out of

5
 by
Jclay
Great shoe rack
Very easy to assemble. Holds a lot of shoes and takes up very little space.
March 21, 2015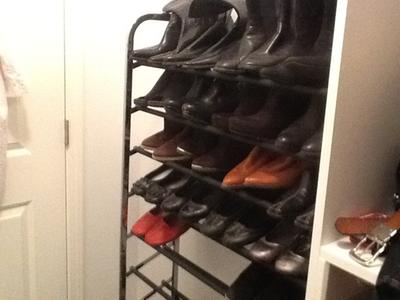 Rated

5

out of

5
 by
SuperK
Fantastic
I love this rack. My new rule is, my shoes need to all fit on this rack. It's a great way for me to keep my shoe purchases in check, and also get rid of shoes I don't wear. This is a sturdy rack, and fits perfectly in my closet!
March 17, 2015
Rated

5

out of

5
 by
pinkchef
Loving my Shoes!
I love this shoe rack! It allows me to see all of my (many) shoes. It makes it so easy to see what shoes I have and put them away. Even though it is very large, it is worth the space it takes up
March 16, 2015
Rated

5

out of

5
 by
NeedOrganization15
Top Notch Shoe Rack
This is the best shoe rack I've ever purchased. I'm not a big fan of assembling things but this is definitely worth it. For someone who's never done this before, I was able to finish it in about 1hr. My shoes look great and I can find them easily now!
March 2, 2015
Rated

5

out of

5
 by
snickers1739
Great buy
This shoe rack is super easy to put together (although it does take a good bit of time). It holds a ton of shoes and is very sturdy. The wheels roll easily and fits into a pretty small space thanks to its thin profile. I need another one of these!
February 23, 2015
Rated

2

out of

5
 by
Rexifer
Needs Updating/Redesign
This shoe rack does not work for flat soled shoes. They slide off the rack and fall off. Many shoes are now being made without heels. It will not work for sneakers, sandals, and many casual shoes. If the front and rear bars were the same height it would be perfect for everyday use of most men's and women's shoes. Otherwise, it is well constructed, reasonably easy to put together and rolls well.
January 22, 2015
Rated

4

out of

5
 by
diego80
Love this shoe rack
It does hold a lot of shoes, without taking up a lot of space. I would have given it 5 stars but it is a bit wobbly toward the top of the tier.
January 7, 2015
Rated

4

out of

5
 by
sbbg
not for heels, booties, or wedges
I love the quality of this shoe rack and it was very easy to assemble. However, the tiers are too shallow. Booties only fit on the top row, heels hang into the space below so you are really unable use that tier for additional shoes, and it does not accommodate wedges at all. If you wear mostly flats and kitten heels I would recommend this. Wish it would have worked for me...
October 15, 2014
Rated

5

out of

5
 by
Twin
Great product
I purchased the rolling shoe rack for our new home as I was losing a shoe closet. It was easy to assemble and holds lots of shoes. The description said it holds up to 50 pairs of shoes. It only holds 40 pairs of thongs or sandals. However, I do like how it looks and its mobility. Would recommend this product - definitely worth the money.
September 8, 2014
Rated

5

out of

5
 by
ginnf
love this shoe rack
this is the second one I have bought. holds alot of shoes. very organized. can move it to a different location, very sturdy. can put tennis shoes or sandals.
August 31, 2014
Rated

5

out of

5
 by
SoCalMom23
Great for organization!
I was so excited to finally get all of my shoes off of the floor of my closet. This piece is sturdy and fits nicely in my walk in closet. I chose to keep the wheels off of it since it's in my closet. This gave me more room above it to hang my purses on the bar above it.
August 27, 2014
Rated

5

out of

5
 by
lhfashionista
Best shoe organizer I have ever used
This is the best shoe organizer I have ever used. It is sturdy, visually appealing, holds a ton of shoes and rolls making it convenient to put anywhere. I have recommended it to my friends and family. Worth the money!
August 17, 2014
Rated

5

out of

5
 by
AbbyD
Solid purchase for price
Nice shoe rack. Easy to assemble. Perfect for smaller walk-in closets. Best part, holds lots of shoes!
August 12, 2014
Rated

5

out of

5
 by
iteachk
Just What I Needed
Easy to assemble. Durable. Doesn't take up that much space. It has wheels so it's easy to move around.
July 24, 2014
Rated

5

out of

5
 by
Shopper77
Great shoe rack!
After some pretty extensive online & in-store searching for a shoe rack, this one fit the bill. It fits a lot of shoes (what woman needs a shoe rack that could fit "only" 20 or so pairs of shoes?!), at least for the space I have to keep it, and is pretty versatile-- can use with or without the wheels, and it's slim enough to fit in most spaces. That being said, if you're trying to fit in a closet, make sure you measure the distance between the trim at the bottom of your closet walls & not midway up the wall! Learned that one the hard way. The nonslip coated bars are a real plus, and it feels pretty sturdy so far. Also very easy to put together. Highly recommend for lots of shoes in a pretty small space.
July 15, 2014