Rated

5

out of

5
 by
KateW
Worth Every Penny
Installed this in my new kitchen cabinet last night. I've used other under the sink storage options: plastic covered wire shelves; 2 different mesh basket glide out drawers. This beats everything. Worked around my garbage disposal perfectly. What a treat for my aging knees not to have to kneel on the floor and try to find something at the back of the cabinet.
October 20, 2016
Rated

4

out of

5
 by
Jacque
Great under Kitchen Sink!
I LOVE this sliding shelf and have it in two condo kitchens under the sink. It really helps to reach all the cleaning supplies, sponges, brushes, polish, etc. you need to store under the sink. I ONLY wish CS stocked it in several widths, as I'd love to use under my bathroom vanity, but this one is too wide!
September 21, 2016
Rated

2

out of

5
 by
David35
Metal is warped
The pros are that this is easy to install, despite a sparse and poorly written instruction sheet. The shelves seem sturdy. The cons are that there is no attention paid to quality control. The metal bars on my organizer are bent and the top shelf is not parallel to the bottom shelf. Rather it is crooked and bent slightly forward. The instructions are also wanting as the part where they mention how to move it from a right to left leaning organizer is poorly pictured and not well explained.
December 16, 2015
Rated

4

out of

5
 by
Portugal
Small home
This is a nice, sturdy and helpful product for under sink organization but I wish the top or bottom rack slide out separately. The whole thing glides out nicely but it is a little difficult getting to taller items on the lower rack.
November 22, 2015
Rated

5

out of

5
 by
ContainMeTN
Best purchase ever!
The two tiered pullout drawer is excellent in cabinets with pipes that get in the way. I used these in my kitchen and bathroom cabinets. It is very sturdy and easy to install. It glides smoothly and holds a lot of weight. Definitely worth the money!
January 29, 2015
Rated

4

out of

5
 by
SFMan
Very functional
I was not expecting it to be so heavy and sturdy or to hold so many cleaning supplies. For the first time I took stock of the cleaning supplies I have, and I have way too many! I've bought things I didn't realize I already had. Now it will be easier to take stock before I go shopping. Installation wasn't too bad. As heavy as this is, I don't really think it needs twelve screws to hold it down. I'd bet eight screws would have been plenty, and the screws could have been smaller. As far as appearance, face it, cleaning supplies are not attractive, nor is the cabinet under the kitchen sink. This organizer does the best job it can of making sense of the mess under my sink. But am I going to post a photo of what it looks like? No way.
July 4, 2014
Rated

5

out of

5
 by
Belle
Best use of vertical space in a cabinet!
I am able to easily access things stored in the back of the cabinet because of the sturdy and full-extension glides. No more getting down on my knees to reach stored times.
April 3, 2014
Rated

5

out of

5
 by
oscar22
this is one of the very best products I have ever purchased of this kind of use[under kitchen sinkslide out two tier storage[ the quality of the material used to manufacture this unot was far beyond what I expected, more like military grade. the thought that went ito the design and then the engineering of the sheleve proved to me that there people out there who take pride in what they design,manufacture and sell. the shelf could be considered pricy compaired to some of the other I have purched over the years but ther is no way that you could ever find this product and higher qualty and lower price than what the container store sells it for. I am five star happy with this product and would challange anyone to find a serious flaw in desisign!!!!! and production
March 31, 2014
Rated

5

out of

5
 by
sueb1
Chromeb2 tier sliding organizer
This is not the first time I have purchased this item. I have several and I love them. Very high quality.
July 25, 2013
Rated

5

out of

5
 by
Witmoat
Best thing EVER
I got these sliding organizers for my small NYC kitchen and they are wonderful. I can now reach everything in the cabinets without getting down on my hands and knees!
June 17, 2013
Rated

5

out of

5
 by
samincalif
"OH YEA,I love it!!!!"
This slider is great, it has saved me lots of getting down on my knees to retrive cleaners from under the sink. I will buy another one for my bathroom. "OH YEA!"
April 26, 2013
Rated

4

out of

5
 by
NCHookEm
2-Tier Under Sink
Installs easily and works nicely to get around under sink drain pipes (provided they go into the wall and not the floor).
April 16, 2013
Rated

5

out of

5
 by
JaneenS
Excellent quality!
Seemed a bit pricey but well worth the money - would definitely recommend
March 18, 2013
Rated

5

out of

5
 by
VerySmartLady
Does Double Duty for Trays
I totally agree with another reviewer that metal spacers should be included to raise the top shelf for storage of spray bottles on the lower shelf! I purchased some metal tubing from the hardware store and made my spacers (rather than plastic) so they are very sturdy and should last forever. I had enough room to place my unit farther away from the cabinet wall, leaving approx. 4 inches in which to store trays and cookie sheets. I never have to pull this out so far that the trays unbalance and fall over behind it, so it is doing great double duty as a separater for these tall thin items and I didn't have to buy a 7 1/4 inch wide pot lid holder and take up space in another cabinet.
February 20, 2013
Rated

5

out of

5
 by
JoleneS
High Quality Product
The disorganization under my kitchen sink had bothered me for years, but I could never find the perfect organizational tool that fit my needs. A friend recommended The Container Store, so when I found this item, I was thrilled. Not only did it fit under my sink, but it was heavy duty and well made. It's fairly expensive, but worth every penny. Since the organizer is screwed into place, it doesn't move, or tip forward when the slider is pulled out. The heavy-duty metal allows for heavier items, and allows for items to dry. Cleaning up spills under the rack is easy since the slider pulls almost completely out. I love this item!
January 21, 2013
Rated

5

out of

5
 by
MtTime2
Awesome organizer
Installed this 2 tier sliding organizer and will order another one. Sturdy and easy to installed. Works well for holding things I want to store and dry. Thanks
August 24, 2012
Rated

1

out of

5
 by
wrightrelaxation
Not tall enough for spray bottles
Yes, this is a very smart product but it really needs to come with metal spacers so the top, narrow rack, can sit higher if needed. None of the spray bottles that I keep under the kitchen sink (Windex, Clorox spray, Fantastic etc .. STANDARD spray bottles) fit under the top shelf, and I couldn't put them in the space to the right because that's where the pipes hang low. I created spacers out of plastic tubing (from a spare pump from my shampoo bottle) and am hoping that the weight of the top shelf doesn't break them. Standard aerosol cans (Pledge) fit under the top shelf .. to give you an idea of the height.
August 1, 2012
Rated

5

out of

5
 by
Greenwave
Just what I wanted!!
I am so pleased with the organizer; it helps keep my sink area clean and uncluttered and keeps everything at my fingertips. I looked and looked for something like this and found it only at the Container Store. Thanks for a great product.
March 19, 2012
Rated

5

out of

5
 by
IThinkIHaveOCD
AMAZING!
GREAT GREAT space saver! I feel so organized now :)
March 4, 2012
Rated

5

out of

5
 by
Molmol
Love! Love! Love!
We moved and this is the thing I miss most about my last kitchen... So I'm ordering a new one to go under the kitchen sink. Perfect for organizing aluminum foil, plastic wrap, sponges, etc.
February 26, 2012
Rated

5

out of

5
 by
CDesign
Brilliant
use of under the sink space. It is so nice not to get down on my hands and knees to reach back for mid- and rear-cabinet items! Love it. It is also very solid and well made. A little pricey but worth it.
August 28, 2011
Rated

5

out of

5
 by
seebabsrun
Solid!
This organizer is solidly built, and very easy to install. I'm a "handymom" with above average mechanical skills, but this would have been easy for just about anyone to install, using a cordless drill. It glides smoothly. The depth is perfect for a lower cabinet.
August 3, 2011
Rated

5

out of

5
 by
Verified Reviewer
Very easy to install and sturdy, great job organizing my cleaning supplies and making everything easy to access.
June 7, 2011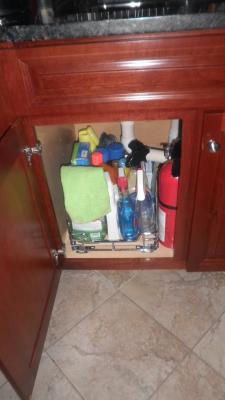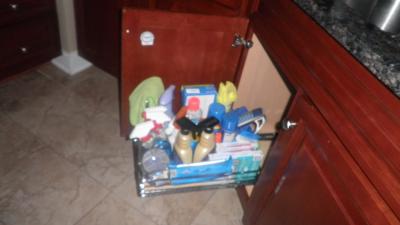 Rated

5

out of

5
 by
containergal
Will improve your quality of life!
We have a 91 year-old home with shallow cabinets and counters. We purchased one of these 6 years ago and I'm still thrilled with it. It fits perfectly in our 21 inch-deep cabinets and around our under-sink pipes.It's super-sturdy and all our under-sink stuff stays organized and much cleaner. We had also got the 2-container under-sink organizer for trash & recycling (we became a zero-waste family 4 months ago, and have converted the black "trash bin" to recycling, and the smaller blue "recycling bin" to kitchen compost which we empty once a week. We had to build a lid for it, but not hard to do at all). These are great, durable products and I really couldn't be more pleased with them.
May 7, 2011
Rated

4

out of

5
 by
jen6712
Great product
I installed these in 2 of my bathrooms' cabinets. They were a little tricky to install, but worth it. Keeps the cabinets neat and organized, and it's easy to reach items in the back.
February 14, 2011
Rated

5

out of

5
 by
VillageOrganizer
Worth the Dough
The sliding organizer has brought order to our messy kitchen sink cabinet. It works really well, is high quality and relatively easy to install.
January 31, 2011
Rated

5

out of

5
 by
grascha
Chrome 2-Tier Sliding Organizer
since i installed my under sink cabinet is much easier to clean and fill
January 14, 2011
Rated

5

out of

5
 by
KimH
I installed it myself
It can be done by a handywoman who can use an electric drill. It is very nice to have this under the sink, holding all of those strong soaps and bleaches so securely.
December 31, 2010
Rated

5

out of

5
 by
tjkcpa
great, but expensive
Easy to assemble and install. Smooth operation. Well-made. Very pricey, though.
August 23, 2010
Rated

5

out of

5
 by
HerbieFan
Under sink storage plus!
This fits beautifully under my sink where the drain pipes take up space and so often make the area difficult to get that much use from. It is very well made and rolls smoothly in and out bringing cleaning supplies right out to you. It is costly, but when you consider the benefits over the years, it really is very reasonable.
May 17, 2010