Rated

5

out of

5
 by
TXnCutie82
The Pocket Makes It!
I have so many microfiber cloths (I'm an event planner and it seems like EVERY vendor and hotel gives these away now), but this one was worth buying. The selling point is the pocket it folds into. I hate tossing a cloth in my bag not knowing what small particle may get stuck on it then later scratch my screen. This prevents it.
December 6, 2016
Rated

5

out of

5
 by
Bug777
Love
I absolutely love these cloths. I didn't read the description well enough and was pleasantly surprised when I opened the box and found two. I tried these first on my laptop and it quickly removed smudges and marks. It made my computer look brand new!
April 3, 2013
Rated

5

out of

5
 by
Lcook
This little cloth works really well. I have an iPhone that I just took out of it's case & needed somewhere it keep it for a while so I just stuck it in the little pouch and folded the flap over, works great & keeps it clean in my purse. Great value too because it comes 2 to a package.
January 26, 2012
Rated

5

out of

5
 by
Rpcool
New use for a great product
Have used these cloths for awhile for their intended purpose (screen, eyeglass cleaning). They work very well! But I have discovered a new use for all fly fishers. When fishing with "dry, artificial flies", they can become waterlogged after some use. The objective is to keep these artificial flies dry and floating on the surface of the water. This is where the Casabella cloths come in. Though you may buy more expensive cloths at specialty fishing shops, these cloths will blot the excess water from the flies - fast - and at a reasonable price. An added plus is that the cloths may be cut into smaller squares for additional portability. Many thanks to Barbara at the Chestnut Hills store for encouraging me to pass along this suggestion.
August 21, 2015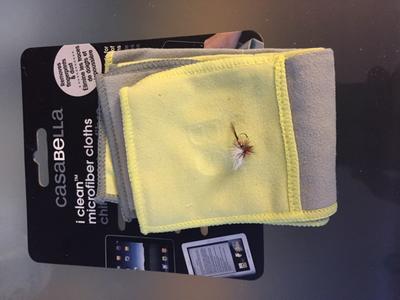 Rated

5

out of

5
 by
gmkenz
At last!!!
I am a fanatic about having clean glasses & have tried many microfiber cloths in the past. None compare to this one! I have bought a number of them so I will always have one wherever & whenever I need it. I also get inquiries from others when they see me using it & I can't help but share mine. I wish they made this cloth bigger as there are many uses for it around the house ... computer screens, television screens, iPhone screens, iPad screens etc.
July 12, 2014
Rated

4

out of

5
 by
larryk
Sort of works welol
Bought it to clean my glasses. All it did was to smear what was there. Others have been pleased, so I guess I'll wash it to see if that helps. Almost impossible to stuff into the little pocket. Works very well on phone/tablet/other screens. That's the best part of it!
May 12, 2014
Rated

5

out of

5
 by
Jastwins
great for electronics
This was another online clearance deal and it was the perfect gift for my neighbor who just got a new computer for Christmas. Can also be used on other electronics. It was just too good a deal to pass up...so glad I bought it.
January 6, 2014
Rated

5

out of

5
 by
UsefulThings
FABULOUS
Cleans eyeglasses, my son from college very dirty computer screens. Worth it. Works on tv's.
December 26, 2013
Rated

5

out of

5
 by
yorkies22
i-clothsâ¿¢
These are wonderful. Bought for kids and they loved them.
March 18, 2013
Rated

4

out of

5
 by
SpiffyCalGal
Great, but linty
The i-cloth is a great product overall. Mine came with some lint/small remnants of fabric on it, so it got all over my iPad. I expect it to be fine once the loose pieces disappear. But it seems like such a product shouldn't have this issue to begin with.
March 5, 2013
Rated

5

out of

5
 by
VeryContained
Clean Screens!
Works well to clean screens. Great holiday gift. Everyone I gave them to loved them.
January 2, 2013
Rated

5

out of

5
 by
KBinPA
Compact Cloth
This is great becuase it is small enough to carry and use with all of our devices, My son recieved a tablet and now he can clean the screen wherever he goes.
December 29, 2012
Rated

5

out of

5
 by
PEENTJE
CLEANS UP WELL
These cleaning cloths work very well in removing grime, fingerprints, etc. from tablets and screens. Yes they are a bit difficult to stuff back into the pouch but I did not buy them for stuffing (got a turkey for that) but to clean up and that they do excellently!
November 22, 2012
Rated

5

out of

5
 by
Frau
Works great!
This tiny little cloth works so much better than anything else that I have tried -- such as the individually packaged wipes.
November 22, 2012
Rated

4

out of

5
 by
Sophia
Portable and Cleans Well
I purchased this to clean my tablet's screen and it does a really good job considering how dirty my tablet gets during a typical day. The package contains two cloths and I was able to give one to my mother. I like that it folds up so that I can easily contain it.
May 6, 2012
Rated

3

out of

5
 by
MichiganGirl
Works Great, but Hard to Stuff into Pouch
This cloth works great on cleaning my iPhone screen, but folding it into the pouch is really difficult. I have a different type of cleaning cloth that you fold up and then store in a plastic pouch, and I was hoping that this cloth would be easier to use. Not so. It is more difficult to fold this cloth and squeeze it into the tiny pouch. I will continue using this cloth because I think that it may clean a little faster than my other cloth.
December 12, 2011