Rated

5

out of

5
 by
ashidome
Bought for the kids to grow into
My 4 year old twins (boy/girl) have been amassing a bunch of play clothes. I decided to get them this rack to store their costumes and to make it a lot easier for play dates, I do have an ulterior motive in that, as a city dweller, I am hoping to move to a house one day. When that happens, we will wind up using the rack in a laundry room for things that need air drying. That being said, this rack is sturdy and perfect for little kids since it is height adjustable. We especially love the rack at the bottom which lets us place storage baskets with helmets, accessories, etc. on them. I hung about 5 of my (plus-size) suits on the rack prior to giving it over to the kids and was impressed with the weight load and balance. I highly recommend.
January 14, 2012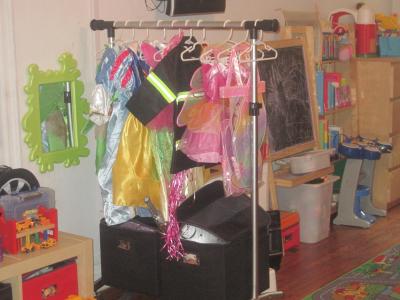 Rated

5

out of

5
 by
DFWJR
Great Rack for the Price
I was surprised at how easy this was to set-up and how durable it is. The adjustable height was what caught my eye but the easy set-up and secure design made me a happy customer. I have about two dozen shirts and a couple of sweatshirts and sweatpants hanging on it now and I have no concerns that the unit is anything but stable. Good value.
June 13, 2011
Rated

1

out of

5
 by
Racked
Disappointed
I'm a big fan of the Container Store and I have used these racks in the past. But mine became useless after the plastic pieces connecting the rack to the upright poles basically disintegrated. Had I been rolling the rack around a bunch, I might have understood. But I use it only for seasonal clothes storage so it is rolled a short distance out of my storage closet perhaps three times a year. Maddeningly, I have another one that we roll around weekly to clean in our laundry room and it is fine. What's more, if Container Store simply would sell the parts independently, I could replace them and have years more use from my rack. And I want to, so much so that I bought another new one today. It has some changes, but the dang plastic mount is still there. If the store could just let us buy the parts, I would raise my rating!! Please do this, so I can restore my beloved rack!!!!
January 2, 2017
Rated

4

out of

5
 by
ADLWAHI
Useful cost effective rack
I purchased this rack to use to store all my clothes while our apartment renovation prevented me from using my closet. I assembled it to full height and loaded it with very heavy dresses, sweaters, and multi-pair pants hangers. I also had items hanging on the extensions. It served its purpose well although I did not feel that I could move it while loaded and if I didn't pay attention to the weight distribution it would lean slightly to one side. But the instructions do make you aware of this possibility which was good. As others have commented it was very easy to assemble.
December 4, 2016
Rated

1

out of

5
 by
conpanna
not recommended
This item contains plastic parts that break easily. It is wobbly and the pieces disconnect. I returned the item because one of the wheels broke within a week.
September 13, 2016
Rated

5

out of

5
 by
Lioness
Comes in Handy
A quick put together and sits nicely in a bedroom without a lot of closet space.
May 5, 2015
Rated

5

out of

5
 by
Aerbear
Simple Assembly
Very easy to assemble and sturdy. I use this in my laundry room and am very pleased.
September 1, 2014
Rated

5

out of

5
 by
Danksie
Quality Product
This item looks a lot more expensive when put together....and it was easy to put together.
June 6, 2014
Rated

1

out of

5
 by
BellaJaySammom
Awful, cheaply made
Wobbles and poorly made. Spend the extra money and get a better rack. Connectors cracked. Fell over. Buy the $69 rack. I have two of those and they are great. This was a total waste of money.
May 18, 2014
Rated

1

out of

5
 by
DanceMom7
Not happy with purchase.
I purchased this rack to use for my daughter's dance costumes. The quality is very poor. The plastic pieces cracked very soon after purchase, and it is not stabile I am going to toss this in the trash after just a few short months.
May 14, 2014
Rated

5

out of

5
 by
Needer
Bought for school lost & found
We needed something to hang clothes on so the students could see the clothes. Someone bought a garment rack at another store and it last one day and broke. I had just been to the container store the day before and I volunteered to go back and check out the garment racks. I bought two of them and they are perfect. There is no plastic on the legs and they roll. Easy to put together as well.
April 19, 2014
Rated

5

out of

5
 by
CobraJet
Great Purchase!
Needed these for clothes while renovating closets & master bath.
April 5, 2014
Rated

3

out of

5
 by
Oceanfevr
Great value
The rack was simple to put together. It seemed wobbly at first but after tightening it, we had no troubles at all! I do trunk shows and sell clothes as an independent stylist, and would recommend this to anyone doing the same! Great value for the price!
March 24, 2014
Rated

4

out of

5
 by
Babydc
Good for my light weight purpose
I needed a storage solution for my children's many dress-up costumes, and this fit the bill perfectly. True, you would not be able to hand heavy coats (at least not many), but it is perfect for children's clothing, drying rack, and light weight storage. It moves easily and was easy to assemble. I love the fact that the height can be adjusted as well.
February 10, 2014
Rated

1

out of

5
 by
suri94
It wobbles - can't hang too much... it will fall
Can't hang too much ... hang 10 pieces and when you start moving the rack, it tilted and sway to one side. Hang more, the entire thing collapsed !
December 15, 2013
Rated

1

out of

5
 by
stephmichelle
Falls down and wobbles! DO NOT RECOMMEND!
This product is great⿦.if you only plan to hang about 5 items on it. I bought this for extra storage since my closet is so incredibly small. Once I filled up the rack (not including using the extensions on the end), it fell down. I tried to adjust it back up and it won't stay at the height I set. Also, if I want to roll it around, it's VERY unsteady. It wobbles side to side and I feel like it's about to fall apart and break. After trying to make it work for a few months, I'm already searching for a better quality garment rack to replace it. Then I'll move this one to my laundry room for a drying rack instead. Hopefully it can handle that small task!!!!!
November 26, 2013
Rated

2

out of

5
 by
MELCAM0110
Can't handle heavy items
I purchased this rack to store my coats in the off season. Also, living in a small apartment, this doubled as extra storage space. Despite the adjustable height of the bar, it will slide down unevenly once you start to load clothes on it.
October 28, 2013
Rated

5

out of

5
 by
TomN2Life
A daily work staple
I need a place to 'lay out' my clothes for the week and a place to put them once I come home and change. This keeps everything neatly on a hanger and off the dresser (or the floor!) It's not overly large, is expandable, and easy to move quickly.
August 20, 2013
Rated

5

out of

5
 by
Easypeasy
Easy peasy
I'm living in a room over the summer which was furnished but without a closet or wardrobe. I got tired of storing my clothing all in my suitcases, and this clothing rack works amazingly well, especially for the price, I mean seriously! I dont have any tools, didnt need any. Im not especially handy but put it together in probably half an hour. And also importantly, I managed to carry the box home on the subway on my own as I don't have a car. Basically, it's super easy to set up and does its job. I use it with a hanging shelving unit to save space though fully expanded I'd be able to put all the clothes I have with me on hangers. I just don't have that many hangers. Anyway, it's sturdy enough for my medium to large sized clothing collection, would recommend!!
July 8, 2013
Rated

5

out of

5
 by
MeggieS
Great!
We bought this to use in our yard sale and it worked great.Durable, nice and easy to move on the rolling wheels.
April 7, 2013
Rated

1

out of

5
 by
Macaron
Not durable
I've owned 3 of these racks and 2 of them broke. The one still standing leans/sways to one side, even though I hardly have anything on it. This rack is not sturdy or durable. Get the commercial garment rack - it is worth the extra money and it looks a lot nicer too.
March 24, 2013
Rated

5

out of

5
 by
DMasters
Extra Hanging Space
This rack is easy to put together with the tools included. Do not hang too many heavy items on this though as the poles tend to slide down.
March 20, 2013
Rated

5

out of

5
 by
Pleased
Better than a closet
I just moved into a one-bedroom with no closets, so I got this rack and couldn't be happier. I can hang many more items than I ever used to in a closet! I'm also using it to hang my coats, and it can take the weight and is very sturdy. I chose not to attach the wheels so it will just stay in one place, and it was very easy to assemble.
March 19, 2013
Rated

4

out of

5
 by
TexasAg
Works for Me
I know that the last couple of reviews on her have been bad, but my experience has been fine. I bought this because the house that I moved into has the laundry in the basement with no shelves. I hang 75% of my laundry up. The caps were a little hard to ge on, the curved washers were not a perfect fit, and when you lock the vertical bars in, it does make a slight dent in the bar. I can see how if someone tried to move the vertical bars around too much that enough dents could weaken the structure. I'm not sure I like the wheels, but that's b/c mine will be stationary and I have no need to move the wardrobe. So the wheels do make it seem a little filmsy. But all in all, when I hung laundry up: a wet coat & 1/2 dozen wet shirts there was no problem.
March 18, 2013
Rated

1

out of

5
 by
Verified Reviewer
Broke within 2 DAYS!
I bought this rack in preparation for a garage sale and it broke the day after I put clothes on it (not including the caster wheel that was messed up during assembly). The night I put it together it randomly collapsed twice so I removed some of the heavier coats. One of the rods was also slightly bent at this point. On day 2, one of the vertical poles snapped as I was rolling the rack. The rack was never sturdy and seemed to be made very cheaply. TERRIBLE product, and I expected so much more from Container Store in terms of quality.
March 14, 2013
Rated

1

out of

5
 by
Inspace
Flimsy
Was very disappointed. I placed garments on the rack in one room and tried moving it to another room and the rack fell apart with the rods bending. Once they bend they will not straighten or have any strength which it already lacks
January 10, 2013
Rated

1

out of

5
 by
digifork
Looks great but broke too easily
The first time we loaded it up with clothes and tried to roll it twisted and fell apart. This product looks great and with the thick chrome bars it looks like it could hold a lot of weight. However, the welded threaded washer at the bottom of the poles that holds the poles to the base is made of thin pot metal. That is the part that bent, which rendered the entire rack useless. If the manufacturer would have just used steel or two threaded washers spaced slightly apart and this thing would have lasted forever. The $0.02 the company saved in that design decision just cost me $35 and I'm not happy about it.
May 27, 2012
Rated

1

out of

5
 by
Novanglus
Not close to being as durable as advertised
This might be good for hanging up a few shirts as you pull them out of the dryer. But I bought it for storing clothes while our closets were renovated. The description above says "The exceptional construction of heavy steel pipe and molded black plastic fittings assures this rack will handle the stress and strain of everyday use. It can hold up to 75 pounds..." I loaded it up with about 50 pounds of winter clothes to roll them to a storage area. Halfway across the house, the plastic fittings cracked and dumped the clothes all over the sawdust-covered floor. What a mess!
May 26, 2012
Rated

1

out of

5
 by
shopper99
worst item in the store
as soon as I put clothes on the rack it twisted and fell down - the screws were all in tight but doesn't hold items worth a diddly. The plastic connectors have all split - you have to prop it up between something to get it to stay up - bought a cheaper one somewhere else and it is 100% better - of all the things I have bought at the Container Store this is the only one they should take off of their shelves and quite selling
April 29, 2012
Rated

5

out of

5
 by
Amoose
garmet rack
For the person who doesn't enjoy ironing...just take your shirt or pants out of the dryer and hang it on the rack and next time you need it, it's "ironed" and ready to wear.
April 16, 2012