Rated

5

out of

5
 by
Oboemom
Great for kids!
I love these and have all three sizes! I use them for cotton balls, swabs, and cough drops. They are pretty and have the look of glass canisters but, in a house with three small children, I am much more comfortable with acrylic than glass.
April 24, 2012
Rated

5

out of

5
 by
OrganizedMLady
For baby's bathroom
We wanted something that looked nice and clean that would fit the baby's bath toys. The bath squirt toys fit perfectly in here and look fun on the sink counter.
January 9, 2017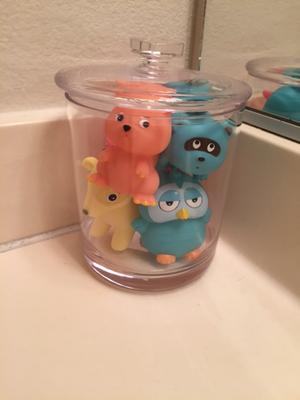 Rated

5

out of

5
 by
PrincessStephanie
So nice
I love these containers - make my bathroom look modern and sleek!
December 23, 2016
Rated

5

out of

5
 by
AnastasiaS
Perfect canisters for cotton swabs and pads. Lightweight and I'm not afraid to break them if accidentally drop on stone bathroom floor.
September 2, 2016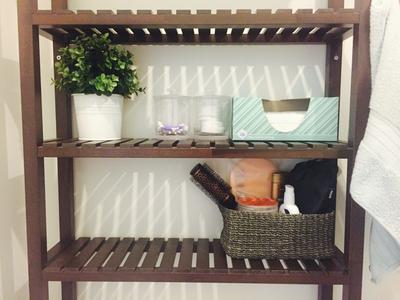 Rated

5

out of

5
 by
RetiredDinker2
Much Better Than Glass
I spent twice as much for some glass canisters to store items such as cotton balls and Q-tips. When I got these I put the other glass ones away. These are so clear and clean looking, they really made the glass ones look bad. Glad I saw these.
August 28, 2016
Rated

5

out of

5
 by
agp24
Perfect in every way!
The canisters are great! Perfect sizes, stylish, and finish is glossy and looks like glass. I highly recommend them.
June 25, 2015
Rated

5

out of

5
 by
Burp
Perfect size
Both containers are the perfect size for my disposable razors and my cotton squares.
May 25, 2014
Rated

5

out of

5
 by
HappyCustomer
Excellent Choice
This is a lovely canister. I purchased it as a gift and it displayed the soaps I gave very nicely. I'm thinking about buying one for myself!
April 28, 2014
Rated

4

out of

5
 by
AP12
For the Nursery
I didn't want glass canisters for the nursery, so I decided for this acrylic option.
April 13, 2014
Rated

5

out of

5
 by
LaurenD
Great Space Savers
I purchased two different sizes of these canisters and was not disappointed! I used them to contain my q-tips in my bathroom storage shelf and they are lightweight, clean looking and very versatile! I plan to purchase more and at the price, who wouldn't?! They are multipurpose and very functional. Depending on the size you get they fit in most bathroom wall storage units.
February 25, 2014
Rated

5

out of

5
 by
Msanchez
Perfect Storage Size
These are the perfect sizing for "bathroom littles" (q-tips, loose change, etc.). Use them anywhere in the house for that fact.
February 22, 2014
Rated

4

out of

5
 by
Aa1999
Great item
Bought this set for my daughter so that she could organize small items she wanted to keep on a shelf, they are perfect.
February 19, 2014
Rated

5

out of

5
 by
berly
just what I was looking for
great storage for toiletries and looks great in my bathroom
January 6, 2014
Rated

5

out of

5
 by
GPNU
Very nice canister
I bought this to display shells. It looks as good as many of the glass jars I looked at, but is not breakable and a whole lot cheaper. Very happy with this item.
December 30, 2013
Rated

5

out of

5
 by
19635
Bliss Acrylic Canister
Outstanding product and I would recommend the product
December 29, 2013
Rated

5

out of

5
 by
FloridaRenee
LOOK GREAT !
They look great and they have a good weight to them. Not made out of flimsy plastic. You would think that I paid twice as much for a product like this. I am going to order more for in my Guest Bedroom.
June 20, 2013
Rated

5

out of

5
 by
OrangeZing
Excellent Investment
The clear and clean design makes these canisters pleasing to live with. I also appreciate the easy-to-grasp handle on the lid.
April 16, 2013
Rated

5

out of

5
 by
LoveToBeOrganized24
Great Containers!
Love these!! They are the perfect sizes for on your bathroom counter. They hold my cotton balls and Q-tips stylishly! They look expensive, but you can't beat the price. Highly recommended for anyone looking to keep their bathroom products out in the open, in a neat and organized way.
April 10, 2013
Rated

5

out of

5
 by
ConSha
Cute containers!
I like the look of these containers they are very clear and lightweight. Great for storing cotton balls and Q-tips. Would purchase again!
March 4, 2013
Rated

5

out of

5
 by
rawittek
Great Canisters
These are great looking. I needed something cute to hold my daughters things in her room and didn't want to use glass containers in her room. These are much safer. I love them.
February 22, 2013
Rated

5

out of

5
 by
Otisol
looks remarkably like glass...
But made of sturdy acrylic. Looks great and is functional.
July 9, 2012
Rated

5

out of

5
 by
Jenn30
Fits My Needs Exactly
I recently began a new skin care regiment, and I purchased this to hold my cotton balls. I wanted something with the appearance of glass, but that wouldn't be heavy or break easily like glass. It's the perfect size, and it looks nice on my bathroom counter.
April 10, 2012
Rated

5

out of

5
 by
2rrs
Great product!
Wonderful for dog treats! Easy to handle, clean, see the fresh contents, never have to worry about breaking the lid on another large cookie jar! Have several sets for other uses as well! Keep this one in stock, it's going to be very popular!
January 21, 2011