Rated

5

out of

5
 by
ViennaMom
ViennaMom
I needed a new sorting hamper for my laundry room. I originally purchased a hamper that would not fit in the space I had. I returned to the Container Store and brought three of these home. They work perfectly. I saw them on my first trip and thought they would be too flimsy. They are stand up strong -- even with my two boys tossing their dirty clothes into them.
May 1, 2012
Rated

5

out of

5
 by
KikiDC
Perfection in a laundry tote
I've had two of these totes for my laundry for the past 5 years. Durable, strong and useful. Best part, you can collapse the bottom section and use the top section for small loads until you need to move the cube. Perfect for stashing in small spaces until you need to do the laundry. These are strong. I want to emphasis their strength as I'm always amazed by how much I can carry to the basement laundry and back!
April 3, 2012
Rated

5

out of

5
 by
Snacker
10 years and going
My boyfriend orignally bought the double folding mesh cube hamper 10 years ago for his college dorm room. We still use it today for our laundry. Needless to say itâ¿¿s lightweight, portable and durable. And it doubles as a fort for our kitten.
May 17, 2010
Rated

1

out of

5
 by
morelifewithlessstuff
Falls apart
I use this as a clothes hamper, so it doesn't see any abuse. I just put my clothes in, and take them out again... but if you try to use the handle, the whole thing falls apart and frays. I have even exchanged it for a new one and the new one did the same thing, within 2 weeks. Don't buy this if you ever plan on touching it.
January 29, 2017
Rated

5

out of

5
 by
deeebrah
Love this!
OK, I'm a little weird but this is so pretty in my grey, white and red kitchen! But, more importantly, to the sane world, it is sturdy, has the perfect footprint for what I use it for: plastic, glass and can recyclables. It's easy to carry to my local recycle center and it holds a lot. I buy my water and milk in gallon jugs, so I need a container large enough. I fit about a week's worth of plastic, glass and cans. I live alone, so that's the accumulation of one person. For a family, I suggest purchasing more of these; they are certainly worth the price which is amazing. Thank you Container Store!
December 31, 2016
Rated

5

out of

5
 by
Bargainshopper7
Perfect Hamper
This hamper fits perfectly on the floor of my closet. It holds a good amount of clothes. I purchased 2, one for my dirty clothes and 1 for the clean clothes once they are finished in the dryer.
September 18, 2016
Rated

5

out of

5
 by
macnight
Great Product
This basket is perfect for a lot of things. I use it as a laundry basket. I like the rigidity without wires.
April 12, 2015
Rated

5

out of

5
 by
butterflylover
laundry bin
I have wasted money on a lot of other "styles"of this. The only one I will buy now is this one!!!! It is worth the money. I have 23 to 24 lbs of my cloths each time I wash. Mind you there not jeans but it is heavy and FULL!! I am looking for a different color. LOVE THIS PRODUCT!!!!!!!!!!!!
March 24, 2015
Rated

4

out of

5
 by
SwedishShopperGirl
Handy
Great but the fabric is a little rough and could snag clothes (sweaters, silk, etc)
December 11, 2014
Rated

5

out of

5
 by
Yogimom
Holds up well
Had my double cube for 9 years now to store my older kid's clothes that are for another season or for my younger children. I like that the mesh allows the clothes to breathe, unlike a plastic tote (which is not good for storing clothes). The tall cube keeps its shape and the handles make it easy to carry
July 15, 2014
Rated

5

out of

5
 by
PrincessC
Best Laundry Sorting Baskets Ever
I absolutely love these bins. Storing is a breeze and they hold just the right amount for a full washer load. Only problem is there are not enough colors. I wish I had seven or eight different colors as it would make sorting laundry even easier. As it is I have pinned a label on each one so I know which load is in which bin. Carrying one to the laundry room is a breeze. I use the larger single bins for sorting for the dryer. For the OCD Laundry Queen these have been a dream come true.
May 25, 2014
Rated

5

out of

5
 by
KateB
Have bought multiples
I've had a double height mesh cube and two of the single ones. They're great not only for laundry but also for storage. They also brilliantly collapse when you don't need them.
April 27, 2014
Rated

5

out of

5
 by
LeGalenRose
Perfect fit in my linen closet!
We were needing several laundry bins to pre-sort our laundry, but only had a 26-inch square space to use. After scouring the internet, I found these gems! I bought one of each color, and combined with an old black bin from my college days, we created the perfect laundry organization for our new home! These bins are made of very sturdy material. The handles are wide and well-sewn. You can carry a whole bin-full of clothes to the laundry room (or laundromat) with ease and not wince at the fabric digging into your hand under the weight of a week's worth of laundry. These bins would have been perfect when we lived in a small apartment. If we'd had 4 of these back then it would have saved a ton of space instead of having a bunch of random sized plastic bins. The different colors allow us to "color-code" our loads for white, colors, darks, an delicates or towels. The mesh bins very easily fold down into their stow-away size. In fact, the way they fold down it almost seems like they prefer to be that way. A small child could do it. Or a full grown idiot. Each mesh cube holds a full large load of laundry for our machine, your average top loading washer. I'm sure a full one of these would easily fill a side-loading washer as well. Five months after moving into our home and this is still my most proud organization project in the whole house. I call it my "pride and joy" during the "welcome to our new home show-off and tour" spectacular.
April 25, 2014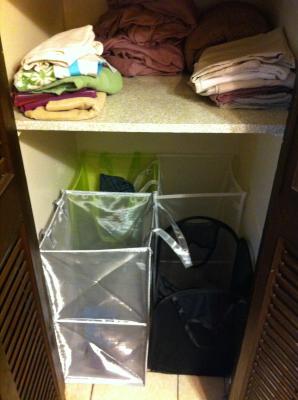 Rated

5

out of

5
 by
fsdcc
excellent & versatile
This travels at least weekly to dry cleaner & has held up over time. Folds conveniently.
April 25, 2014
Rated

5

out of

5
 by
KayV
Satisfied
Purchased all 3 colors for college. Larger than expected, breathable for damp towels, handles stitched on well for transporting. Liked that they are individual vs. attached to use for sorting and taking separately to the laundry room. Great colors.
April 25, 2014
Rated

5

out of

5
 by
momof3loboys
Great for laundry baskets
These mesh cubes are perfect for laundry baskets for my kids. They are plenty big and easy to carry with the handles on the sides. The compress for smaller storage.
April 23, 2014
Rated

5

out of

5
 by
kissysue
Great for dorm rooms and more
I purchased this product because my son is in a dorm and he needed a laundry basket that was durable yet compact in size for the amount of space he has in his room. You can get a ton of dirty clothes in this plus once the clothes are clean you can use it to transport from the laundry room or from home. We can fold it up and store it over the summer too!
April 17, 2014
Rated

5

out of

5
 by
kayemyou
GREAT for college, sturdy
I've had this folding mesh cube for over 6 years. I use it for laundry, storage, moving, anything and it is amazing. It has yet to get a tear or any type of real wear. It stretches to accomodate more items. The handles are large enough to sling the bag over my shoulder making it easier to carry longer distances (like to my laundry room in the basement!) Definitely a fantastic purchase!!
April 15, 2014
Rated

5

out of

5
 by
midnightdragonfly
animal control
We purchased 2 of these cubes for my 13 year-old daughter's plush character collection. They are sturdy, yet compact enough to stash in her room. The mess is contained and updated for her age - and as she continues to grow :-( , they will continue to be useful for other applications.
March 25, 2014
Rated

5

out of

5
 by
cystoqueen
laundry bliss
Takes up little room because it's mostly vertical, holds its shape unaided, holds TONS of stuff (especially when neatly folded!) and comes in cool colors: I got the white for college daughter at Oklahoma City University and the silver for son at Texas A&M!
March 14, 2014
Rated

5

out of

5
 by
NellyBakes
Perfect for Seperating Dirty Clothes
I purchased two Double Folding Mesh Cubes - one for laundry and one for dry-cleaning. The cubes are much sturdier compared to what I thought they would be - even holding their shape and durability when we fall behind on laundry end up stuffing them with towels, jeans and more. The cubes sit side-by-side in our walk-in and don't take up a big footprint. They are perfect for small walk-in closets and make even dirty laundry look cool. Plus - you can see through the mesh so you can find what you're looking for the next time you're rummaging around looking for something you forgot you put in the laundry.
February 3, 2014
Rated

5

out of

5
 by
allbb
Double Mesh Folding Cube
Great little little laundry basket. Excellent quality materials and easy to fold for storage. I plan to get more!
January 10, 2014
Rated

3

out of

5
 by
DebDeb
lightweight, easy to fold
I'm using these to sort clothes in my laundry room instead of using the floor. They're good enough but not great. They're tall and narrower than I'd prefer and I don't think they'll last too long. I like that they fold which is the main reason I got them. I can hide them between cabinets when not used instead of bulkier baskets.
November 16, 2013
Rated

3

out of

5
 by
499VT
Quality is Slipping
I have purchased three of this same product in white over the past five years. They stand up and don't collapse when empty. This new one collapses even when it is half full of clothes. When it empty, it fall into a little square. Cutting corners to save a few tenth of cent on component parts-I guess.
November 1, 2013
Rated

5

out of

5
 by
AttilatheMom
Love, love, love
I use these to sort my laundry. Easily folds away when task is done. Love them
October 4, 2013
Rated

5

out of

5
 by
NANCHZ
Best cubes ever!
I bought these for my son's college dorm room to save space when not in use and to hold extra items like towels and blankets, in order to keep them organized. They are fantastic!!
September 5, 2013
Rated

5

out of

5
 by
Kolt
Love It !
A great purchase for college or of at home. I fits in small places and looks great and you have great colors to choose from.
August 26, 2013
Rated

5

out of

5
 by
Phorg
Just perfect
This is just perfect for our daughter's upstairs bath. Holds the just right amount and is easy to carry down stairs when full.
May 28, 2013
Rated

5

out of

5
 by
BlueBird
Super convenient fold-up
I bring this folded up into my big-city laundry room and carry it out full of clean, folded clothes in my shopping cart. With a shortage of space in a city apartment, it's great to have a light-weight hamper that folds. Although it has handles, it's not a heavy, sturdy item, so you cannot carry a heavy load in it.
May 3, 2013
Rated

5

out of

5
 by
AprilMom
Makes sorting laundry easy!
This is my very favorite laundry "basket" and I only wished I had discovered them sooner! On laundry day, I hated managing piles of clothes on the floor and these collapsible hampers were my solution! I have 3 of these: white for whites, blue for lights, and black for darks. When the laundry is done, they collapse flat, so I can store them away on the shelf above my washer & dryer. I'm so thankful they store so easily! They're lightweight, yet sturdy, and I love that they have handles on them for easy toting. I also appreciate that they're made of breathable mesh because sometimes the clothes need airing out. They also make a great hamper for kids! Even my toddler can put her dirty clothes in it!
April 29, 2013