Rated

5

out of

5
 by
indiestar
Best International Charger Hands Down!
I travel a lot for work and this is the only charger I travel with. It weighs nothing and can be configured to fit in any plug system in any country in the world. I have traveled through Asia and Europe and have been able to use this everywhere. I am about to buy a second one (just in case)!
May 4, 2016
Rated

5

out of

5
 by
ExChicagoan
Fantastic Adaptor (not a converter!)
I bought my first one of these several years ago when I noticed it while waiting in the checkout line. I used it on my next trip abroad and ever since have always kept a couple in my suitcase. It's also become a favorite stocking stuffer for family members who travel. I love not having to carry bulky UK/Hong Kong adaptors! I do keep the instructions with the adaptor though, since even after using it for years I have a hard time remembering exactly how to configure it for the UK and Hong Kong. As someone else noted, this is an adaptor, not a converter, so it will only work with items that are dual voltage.
April 4, 2015
Rated

5

out of

5
 by
Archko
Best Univiersal Travel Adapter
If you travel internationally regularly, carrying a pouch of adaptors for every outlet configuration is bulky and uses an excessive amout of precious suitcase real estate for something you may not even need. This is especially true, if like me, you strive to fly with only carry-on luggage. This clever travel adaptor is the perfect solution. It's also less expensive than any of the clunky sets of adaptors that I have purchased over the years. These two pieces can be configured within a few seconds fit any outlet. For many countries, you use one piece or the other, but other countries you'll need to slide the two pieces slide together to make the adaptor. Study the instruction card for a few minutes and you will easily master make all the configurations. This review is written for the 3 I just purchased as gifts for my friends and family who travel internationally.
July 15, 2015
Rated

1

out of

5
 by
SanDiegan
Don't buy this!
I read all the shining reviews for this adapter and went out of my way to drive to the San Diego store (45") to buy this. As soon as I plugged in (in Holland) both of my small appliances (blow dryer & make-up mirror) got fried, never to work again. Very disappointing to say the least. Leads me to question the entire online review system. Buy a chunky, more expensive adapter.
November 8, 2014
Rated

5

out of

5
 by
GT3T
Works very well
I just came back from a trip to Europe. This adapter worked in Italy, Belgium, the Netherlands and France. We charged iPad and phones with it. If you have several devices, it might be a good idea to take two of these.
June 28, 2014
Rated

5

out of

5
 by
MzPearl
Smart Pak Adapter
Yes, this is a Smart thing to Pack! We have traveled all over and this is the smallest adapter and easiest to use. It converts the 220 circular holes to our 120 plugs. Great for computer, cell phone, camcorder or DVD player. THIS IS NOT A CONVERTER. Most laptops, cell phones and DVD players today are adapted or switchable to 220, so this is all you need. (Older models (VHS) might need a converter.)
April 28, 2014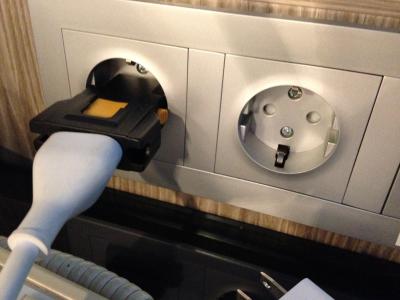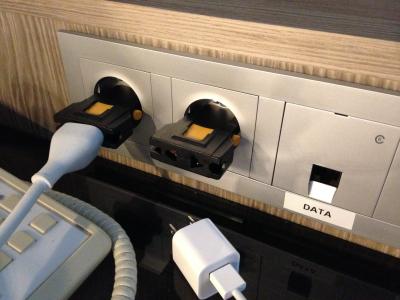 Rated

5

out of

5
 by
LeeF
Most useful travel adapter ever!!
I cannot tell you how many adapters I've been through, and these are hands down way better than the rest. The spring-loaded prongs make them useable in cases where fixed-width prongs simply aren't effective. The fact that it packs so flat is also amazing.
April 25, 2014
Rated

2

out of

5
 by
Mediaempress
Go for the standard instead
I ended up not being able to use this in the Middle East. Luckily the hotel provided a standard one. I'd go for that and also ask Container Store to stock the standard one found in hardware stores, etc. This one doesn't seem to cut it.
March 17, 2014
Rated

5

out of

5
 by
Frannie
Worked.
I travelled to Italy and used the smaller unit for our charger. I was with a group and they came to see me to use the charger for their purpose. I was in use every day of the vacation. A great purchase.
June 17, 2013
Rated

2

out of

5
 by
Queenoid
Don't buy this for travel to Britain or Ireland
Lame converter. Sorry, but the 150 countries should include England, Ireland, Scotland and Wales.
June 8, 2013
Rated

5

out of

5
 by
Deannawt
Great, easy to pack adapter
We live abroad and bought several of these adapters to use in our travels. It is lightweight, the size is great and compact, and it is easy to use. The only issue we've had is the small tabs in the square yellow part shown in the photo have broken off a bit with use. We can still manage, but this is something to note about the product. Even with this small flaw, I give this item 5 stars as we use it constantly and more than our other adapters.
May 3, 2013
Rated

5

out of

5
 by
Mandi1979
Worked perfectly!
I bought this for traveling to Ireland and it was a life saver! Both my mother and my aunt used it too.
April 26, 2013
Rated

5

out of

5
 by
Traveller3
must have
Very compact, easy to pack. Worked great in Asia. Wouldn't leave the country without it.
April 26, 2013
Rated

5

out of

5
 by
laiba
best travel adapter
Compact, multi-functional and I just love it! easy to use and I always take it with me while traveling abroad.
March 29, 2013
Rated

5

out of

5
 by
Clin
Works well in Italy
My daughter brought it to Italy on her school trip. Works! What more can I ask for? Inexpensive, compact, easy to store. The parts are now in a sandwich bag together with the instruction ready for traveling next time. I have not had a chance to try it in other country. But just this one trip has already made the purchase worth it.
April 27, 2012
Rated

5

out of

5
 by
spaghetti
Very handy
This is very compact. Used on trip to Europe and worked great!
March 20, 2012
Rated

5

out of

5
 by
bestgrandma
Great purchase
Great item for traveling abroad. Compact adapters are great.
August 25, 2011
Rated

4

out of

5
 by
ps2011
Good purchse but one con
Purchased for my recent trip to Rome, Paris and London. The adaptor worked perfectly in Rome and Paris but London was a different story. In London, we had to borrow an adaptor from the hotel. Overall, I don't regret the purchase but wish it worked in London.
June 26, 2011
Rated

5

out of

5
 by
OurPassportStamps
The Perfect Power Adapter
We have used these on our last couple of trips to Europe and they have worked perfectly. Many of the plugs in Europe are now making it more difficult to use those all in one type adapters that operate like a swiss army knife depending on the country you are in. This style is PERFECT. We bring 3 with us, that way both cameras and a netbook can be charging overnight. I also recommend bringing these if you are traveling by cruise ship. Many cruise ships have 2 North America plugs and 2 European style plugs. If you pack these adapters with you (no matter where you are cruising to) you will double your electrical options while you are on the cruise ship.
June 1, 2011
Rated

4

out of

5
 by
SquareBear
Works Like A Charm
I have one of these in my travel case at all times.
January 24, 2011
Rated

5

out of

5
 by
LinaR
Best Adapter I have
We have several adapters and this is the best one. It is very adaptable.
August 1, 2010
Rated

5

out of

5
 by
Alem
Great buy
I bought this adapter before a trip to Italy, and it was a great buy. It worked with my digital camera charger, hair dryer and iron. The price was also a plus. It's a little investment because it has an additional attachment for other countries.
March 8, 2010