Rated

5

out of

5
 by
ckmcg112
Great pants storage
This is easy to install and gorgeous in the closet. It is not the most economical use of space, so if you have a lot of pants, it may not work for you.
June 3, 2015
Rated

5

out of

5
 by
kalex
Sophisticated and stylish
Let me start by saying that I debated over the gliding pant rack, as it only stores 10 pairs of pants, while I probably could have fit 20 pairs of pants on hangers in the same amount of space. I didn't even include it in my original closet design, but rather purchased it later. And boy am I glad I did!! The pants look beautiful and ultra-organized on the gliding rack, and they are a breeze to slip on and off the poles. Everything is perfectly lined up and expertly spaced, and it brings a smile to my face every time I walk in the closet. And because the pants have their own dedicated section now, I was able to add another shelf above them (see picture).
March 30, 2015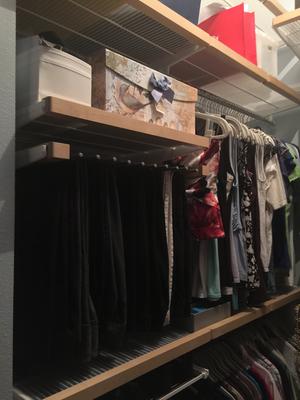 Rated

5

out of

5
 by
AndrewG
Great for Slacks
This Pant Rack is great for Dress Pants / Slacks. I have a few Jeans hanging from it as well but I don't think I could fill the entire rack with Jeans. They are well spaced for Slacks, not so much for jeans. Saves so much room. I use to hang them from a hanger but that takes up an extra 5+ inches vertically and does not look as nice.
April 25, 2014
Rated

5

out of

5
 by
Bonbabe
May be the best part of our closet make over!
My husband and I knew that these gliding pant racks would be a good purchase but how amazing we had no idea! hanging up pants, jeans, and shorts is such a breeze and we can see everything so easily which makes rushed mornings even better! I don't have to wrestle with hangers and worry about the pants falling off, or the pant hangers with clips that were okay but again were a bit of a pain to work with. If you are planning a closet makeover make the gliding pant rack a must have - you will NOT regret it!
April 12, 2014
Rated

4

out of

5
 by
CookingMama
Not as sturdy as we thought
We own two pant racks for 4 months now. It was a little bit shaky. However it is still doing its job well and it is not broken yet. One of the rack came with the rods slightly bended, so make sure you check with that.
March 14, 2014
Rated

5

out of

5
 by
FlyBird
Best thing that ever happened to pants!!!
I bought two of these and I really LOVE them. It allows you to see your pants all at once and no more frustration!! Wonderful item and worth the money.And with this you get more closet space as you no longer have all those hangers with pants on them or those stacked pant hangers with extended arms that come apart after awhile.
March 6, 2014
Rated

5

out of

5
 by
JoeS
High Quality
Lovely sturdy product, looks and works well, fitted easily
February 24, 2014
Rated

5

out of

5
 by
ChrisintheD
Very happy with purchase
Purchased this along side a full customized closet system. I am very happy with both purchases enough to add an additional order that will be arriving soon. Slides/rolls perfectly, was easy to add to the current system and am very happy. See 1 little con.
February 12, 2014
Rated

5

out of

5
 by
TanTan
Love Elfa
I have two elfa closet system in my house, one in the master bedroom closet and one in the kids closet. The closet system overall is wonderful and all the components work well, but I have to admit, this little pant rack is probably my favorite piece of the whole collection. The gliding mechanism is very smooth, and the brackets are adequately spaced making choosing the right pair of pants a breeze? Unfortunately the wife liked it so much she decided to take mine, now I have to get myself another one of these racks (or maybe 2).
March 28, 2013
Rated

5

out of

5
 by
Texorado
Love this gliding rack
Loved it so much I ordered a second one. Keeps pants from wrinkling and getting lost in the closet. I can pick them out easily. I originally was going to share with my significant other, but he'll have to wait for the next order.
March 18, 2013
Rated

5

out of

5
 by
ClosetHappy1
Love it!!!
The only thing better would be room for another one in my closet! I got mine for jeans storage. It's terrific! I can store 10+ pairs of jeans (you can actually double up on each rod, so I could potentially store up to 20 pairs--if only I could find 20 pairs that fit!). It glides in and out easily, and is very easy to use.
March 18, 2013
Rated

5

out of

5
 by
DMcM
Pants Rack
The slacks I wear the most are so organized. It is easy to get dressed. I was a novice but I was able to assemble it effortlessly. The unit was reasonably priced for a do-it-yourself project.
March 15, 2013
Rated

4

out of

5
 by
JAH7
Pant Rack -- Falcon
I love the connivence of this product & it's functionality.
March 13, 2013
Rated

4

out of

5
 by
Ladorada
Glides great, narrowly spaced
I used this to hang jeans, khakis, corduroy pants, and dress pants. I like how many pairs fit on there, but yet the poles are closely spaced enough that the pants rub together and so are a little hard to put back in. Perhaps if all I had were slick, heavy dress pants, it would be different, but my jeans all catch on each other. However, the rack does glide smoothly and easily, as do all Elfa materials.
March 3, 2013
Rated

5

out of

5
 by
OrganizingGuru1983
Great pants rack.
This is a great product. Keeps pants wrinkle free. My clients love it.
July 24, 2012
Rated

3

out of

5
 by
L777
I used this in a pantry for tablecloths, while nice for display, there is a lot of waisted space in which stacking items would store much more.
July 20, 2012
Rated

5

out of

5
 by
jopritch
Great Way to Organize Pants
My husband installed a gliding pant rack on his side of the closet, and it works so much better for him than hangers. It easily displays his options, and makes fast work of putting laundry away, since his pants don't have to be fed through a hanger-- they just slip on the rod.
April 25, 2012
Rated

5

out of

5
 by
Derricka
Fabulous
Love how it slides out....can also get more than one pair of pants on one spoke. It is a novel idea. Buy one today.
April 5, 2012
Rated

3

out of

5
 by
Petushkova
Returned it
This pant rack does glide out, but the individual bars are immobile. Ultimately the pants rack is very limiting in the amount of pants you can fit onto it. Better off to get pants hangers and another closet rod, or just a ventilated shelf where you can fold the pants.
March 27, 2012
Rated

5

out of

5
 by
jmc12
very nice
I stacked 2 of these on top of each other and have to say this takes us less space then any other option I've used.
March 26, 2012
Rated

5

out of

5
 by
LadyKay
Elfa shelving is wonderful!
I recently had my bedroom closet re-organized with Elfa shelving and racks and I absolutely love it! I highly-recommend Elfa to anyone. It is so nice to have all of my shoes off the floor.
September 14, 2011
Rated

5

out of

5
 by
Wonder6541
Birch elfa décor Gliding Pant Rack
The gliding pant racks look SO great. It just adds a nice touch and the quality of the product is very good. The only bad thing is that you are limited to the ten pairs of pants the rack holds. To hold more pants, we actually installed two of the gliding pant racks, and then also installed two regular rods. So that's a consideration that must be made before purchasing; but now we have ALL of our pants hanging in our newly organized closet, and they look fantastic.
September 9, 2011
Rated

4

out of

5
 by
annes
Pretty good
This is a handy device that will keep pants looking nice & organized while adding appeal to your closet. If you could slide out each pole individually to place your pants on and then slide them back it would be 50 times better. As it is right now the entire rack slides out and you're forced to carefully squeeze each pant in between the others upon each pole. Many here have expressed that the spacing between the pants are a bit too close together, but in my opinion the current spacing would not be a problem at all if you could slide out one pole at a time- place the pant on it and just slide it back in between the other pants. If not for that one flaw I would give this 5 stars.
September 3, 2011
Rated

5

out of

5
 by
JazzyPoet
Love this space saving rack
I love this pant rack because of the space it saves. I don't have that many pants, so one fits just fine in my closet.
January 23, 2011
Rated

5

out of

5
 by
scituatemom
gliding pant rack
The gliding pant rack is so smooth. I like that all my pants are visible and all in one spot - permanently. My new elfa system makes ma feel like I have doubled my wardrobe because I can see everything now.
January 13, 2011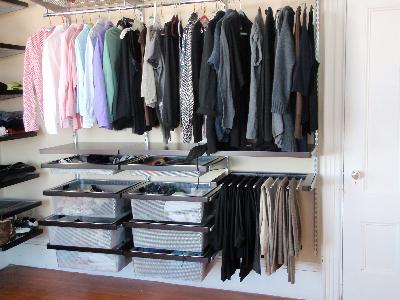 Rated

4

out of

5
 by
adkenRx
Love It!!!
The gliding pant rack is great! It allows for extra room (as far as length from the bar to the floor- allowing for more room vertically) because there is no coat hanger which hangs at least 4 inches from the bar. Although the rack does get a little crowded when it is full, I would definitely recommend this to anyone with space issues in their closet.
January 6, 2011
Rated

5

out of

5
 by
disneyfan1
Husband is in love
My husband is now the most organized he has been in our 30 years of marriage. He just loves the way his pants hang with no creases and don't slide off. He can see what he has and is able to separate his work jeans from his play jeans with ease. Combining them with the glider drawers for his essentials was the perfect fit for this area of the closet.
December 31, 2010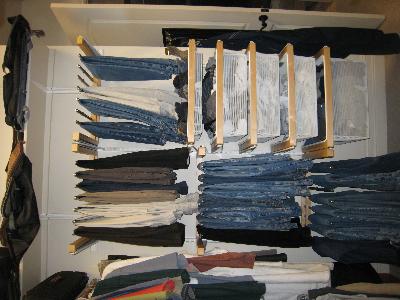 Rated

5

out of

5
 by
mamaoftwo
best ever!
My husband is in LOVE with his gliding pant rack! At first I thought that the pants would slip right off of the individual chrome rods, but there are little "rubber bands" on the rods to prevent pants from slipping! (I'll admit in an unpacking frenzy I accidentally pulled the little bands off and quickly figured out the problem before throwing them away! Learn from my mistake!). : )
May 22, 2010
Rated

5

out of

5
 by
ElfaObsessed
Great purchase
I almost didn't buy these because they were so expensive compared to just buying another hanging rod and using hangers, but I am soooooo happy that I got them. Skipping the rod and hangers saves about 3 inches of vertical space which is a big deal when you are doing two levels. I have a rod at the top and the pants rack below. Love it!
May 17, 2010