Rated

5

out of

5
 by
denthomp
Finally organized my jewelry!
I've tried many, many jewelry boxes, but they always have the wrong combination of compartments: too many of one size; not enough of another. This system allowed me to choose the type and size of compartments I need. At long last, my jewelry is ORGANIZED and protected.
August 22, 2016
Rated

5

out of

5
 by
TXnCutie82
Love the Versatility & Options
I bought a few of these when I moved into my last apartment. While I have organizers for my dangle earrings and necklaces, I didn't have anything on the wall that could hold studs, charms, and some other jewelry. I use this to keep everything together as a supplement to my wall organizers. I keep them tucked in my closet on top of my Elfa Start-A-Stack melamine top. They are small enough they can be hidden easily in case someone breaks into my place (not that I anticipate that, but I prepare for the worst).
July 19, 2016
Rated

5

out of

5
 by
jaknitter
Jewelry stackable boxes
Have been looking at these for a long time and finally decided to order them. Love them all and ordered 2 additional ones, so I can have 2 "piles"! Everything is finally in one place and easy to find.
January 25, 2017
Rated

5

out of

5
 by
GigiS
Wonderful.
Looks like leather. Very well made. It's beautiful. Loooooove the white color. It's not a stark white.
December 31, 2016
Rated

4

out of

5
 by
Misskimbo
Great system but needs better necklace storage
I love this system. As your collection grows, a new tray can be added in a neat, organized way. However, I have lots of chunky necklaces that don't fit into the small slots and the open tray would leave them a tangled mess. All that's missing is a tray specifically for necklaces.
September 1, 2016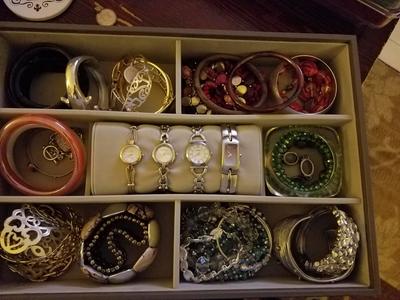 Rated

4

out of

5
 by
MMPop
First Real Jewelry Box - Great Find
The large lidded Stacker is very nice, holds all my sentimental fine jewelry and fun baubles with lots of room in between and I can clearly see everything. It's really nice to see my rings facing upwards! This is a first for me. The ring holders, there are more than necessary and I have used that space for earrings as well. The lidded box is not deep enough for larger rings - this is a HUGE CON. Definitely bumps the ring section down to a 3 star. It sits out in the open, and so far I haven't purchased another "stacker", not sure I am fond of not having the option to have them slide out. If you do not have in a dresser, you need double the space of a Stacker on a surface since there isn't a drawer-like feature. Hoping that the inside fabric helps with silver not to tarnish. I have already downsized my jewelry collection before purchase, I will probably get the deep open stacker for statement necklaces. The Stackers are giving me the opportunity to downsize even more!
August 17, 2016
Rated

5

out of

5
 by
AZtiger
Greatest Jewel Box Set
Could not be happier with this purchase. Although I spent more than anticipated, the arrangement of the stackers with a lidded top tier means all my jewelry in one place, even enough room for my husbands watches, rings and bracelets.
August 6, 2016
Rated

5

out of

5
 by
M2N2
love.LoVe.LOVE
Best jewelry boxes ever!!!!!!!!!!!!!!!!!!!!!!!!!!!
July 22, 2016
Rated

5

out of

5
 by
yorkeemommee
Wonderful jewelry organizer
Great way to easily store and see my earring collection. Fits easily into a dresser drawer.
July 16, 2016
Rated

5

out of

5
 by
Sarah77
You need this!!
Absolutely love these Stackers!! They look expensive and love that you can add to them as you get more jewelry. I would like to see more stackers with multiple earring slots, or for the store to get more in stock as they are normally on back order. But otherwise, this is a must buy!
April 28, 2016
Rated

5

out of

5
 by
FLGAL25
Elegant and functional
I bought a few pieces and love how organized my jewelry collection is. Plus, I love that it is tarnish resistant! Keeps my jewelry looking shiny and new! The stackable units fit securely on top of each other via a little groove. So it's pretty hard to knock them apart. These trays also look very elegant and high end. I will be buying more trays as needed.
April 16, 2016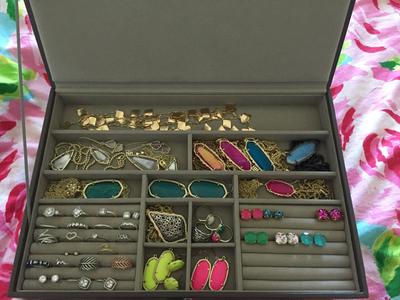 Rated

5

out of

5
 by
Jjr3
Beautiful
Beautiful display of my jewelry. Very elegantly designed.
March 31, 2016
Rated

5

out of

5
 by
dianereeves
wonderful for making a neat jewelry drawer
These super stackers have transformed my messy jewelry drawer (full of bags & boxes) into an elegant, well-sorted display. I use and enjoy more of my jewelry, and it makes me happy every time I open the drawer and see everything so well-sorted. The stackers look nice and even smell nice.
March 12, 2016
Rated

5

out of

5
 by
Wiglover
Fantastic storage box
I rarely write reviews but I really can't say enough about this unit. I have intended for a very long time to clean out & reorganize my very large jewelry collection but just couldn't figure out how to do it. These stacking trays were the perfect solution. The tray selection is excellent & gives you several different ways to organize. When you're finished, you have a very attractive, sturdy jewelry case. I had planned to place it in my closet but couldn't find a place, so I put it on display in my bedroom. It's pretty large but it fits fine with my decor & I think I will enjoy it for years to come. Highly recommend!!
March 7, 2016
Rated

5

out of

5
 by
LizbethBur
Great Purchase
I bought 3 of these stackers to replace all the little cardboard boxes and small jewelry boxes that I used for my jewelry. Every time I wanted to wear a piece of jewelry it took me forever to find what I was looking for. These are much larger than expected and they are perfect to store all my jewelry and than some. Extremely happy with my purchase and would highly recommend.
March 1, 2016
Rated

5

out of

5
 by
Valsie
WOW, what a stunning looking box. I bought it for my sister and I know how thrilled she will be. I will be ordering one for myself together with the deep 7 section stacker. It will look stunning in my bedroom and I will be able to see all my jewelleyr at a glance. It is so classy and nicely made and I can't wait to see my sister's face when she opens her gift.
October 24, 2015
Rated

5

out of

5
 by
OrganizingGuru1983
5 Star Jewelry Storage
This is an excellent product! High quality, good value. I highly recommend this product to my clients.
September 12, 2015
Rated

5

out of

5
 by
doglover531
just what I needed!
I ordered a couple of pieces from the supersized premium stackers. I love the option to create what works for you. I purchased 2 of the opened stackers which I have watches in 1 and bracelets on the other. I would highly recommend this!
July 22, 2015
Rated

5

out of

5
 by
Smitty64
Jewelry Storage
These stackers are wonderful, they helped me organize everything into one convenient place. I no longer have to go through numerous small boxes to find what I am looking for.
July 20, 2015
Rated

1

out of

5
 by
MidwestLouise
Poor Quality
I purchased 2 white supersize stackers plus 1 white folding tray which fits inside a deep supersize stacker. None of these should passed a quality inspection. All three had inside compartments which were not put together at right angles so you had the feeling of vertigo due to the wavy lines created. The outside covering was nicked at the corners of the folding tray. Very very poor construction, especially for the price. Honestly, I am so disappointed that I doubt I will purchase another item from The Container Store again. I wish I had taken a picture of them to show you before sending them back. Moving on...
June 8, 2015
Rated

5

out of

5
 by
AprilJones
Great quality
I purchased several vanilla jewelry stackers this morning. I'm very pleased with the quality of each item. This is a well designed system that will be easy to add to over the years. It's not the least expensive option at the onset, but the high level of quality and multiple options to grow the set make it a real value in the long run. Definitely recommend to others.
May 12, 2015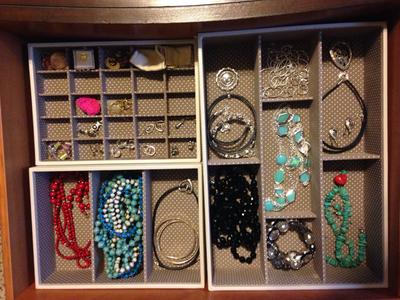 Rated

4

out of

5
 by
kathyw
Great for organizing your jewelry
I had so much jewelry that I didn't wear a lot of it because it couldn't easily find it. Fifteen percent off (Real Simple magazine) coupon in hand, I trotted down to The Container Store in El Segundo, CA and bought one of each of the supersize white STACKERS (with mink interior, I believe) and an extra of the 41-section STACKER. I was a little off-put that they didn't snap together, but I'm not sure how that would look anyway. Doing this forced me to cull out what I don't wear and donate it to the local thrift store. What I absolutely didn't like about the lidded piece was after I put my rings in it, the cover wouldn't close and I had to take some of them out and lay them in one of the trays. The lidded piece should definitely be deeper. I also would have liked a tray with larger individual slots or make some of the tiny 41-section slots larger. What I also decided was to put my earring studs and tiny charms and such in a clear acrylic lidded case and store them in the flat piece along with the watches.
May 2, 2015
Rated

5

out of

5
 by
shimmerbug
Amazing Versatility
One of the best things this jewelry box offers is the ability to expand! You can purchase the additional boxes/compartments as needed. Great price for the value and quality of the product!
March 16, 2015
Rated

5

out of

5
 by
organizedgal321
Love My Stackers!
I have watched these for years, but could never talk myself into buying one. Finally decided that I wanted all my good jewelry in one place and bought a few of the super sized layers. That quickly I was addicted and wanted to keep buying until all my jewelry was stored in pretty stackers. And that's what I loved most, is that I can mix and match the layers (mainly supersize and classic) as my jewelry collection changes. The layer thing can be a pain and I worry about dropping the classic layers stacked within the super ones, but I do love seeing everything in one spot.
August 6, 2014
Rated

5

out of

5
 by
Jhym0330
Perfect for Jewelry!
I had 3 Jewelry boxes and could never find anything! My mother made for me and/or gave me a lot of beautiful pieces I never wore because I couldn't see/find them. These stackers are AMAZING! They really help me to see what I have and what I would like to wear. I need to get a few more, but I wouldn't have even know that until after I started organizing. I love these stackers!
July 30, 2014
Rated

4

out of

5
 by
Constancee
Great Jewelry Storage
I really like this jewelry storage solution. They are well made and jewelry pieces do not slide or get stuck under the dividers, like in some other brands. I would like to see the lining made with a tarnish resistant fabric, and perhaps be able to purchase separate lids. It's great to be able to stack these, but I wanted to be able to put a lid on a stacker that was not the same design as the lidded one they have.
July 12, 2014
Rated

5

out of

5
 by
makeroom
I love my jewelry stackers!
I have all 3 sizes of the supersize stackers, I can now find what I am looking to wear for the day. Great product--attractive and functional.
July 2, 2014
Rated

4

out of

5
 by
thebusywoman
Great storage!
I bought the large set. They hold everything I need. However, I don't care for having to lift off the layers for some things. But that being said, these are still my favorite jewelry storage containers over anything else. They keep my jewelry clean and dry. In the jewelry storage I used to use, my silver tarnished very quickly... Not so much with these.
April 25, 2014
Rated

5

out of

5
 by
Arthur
Stackers boxes
These stackers make a world of difference in my jewelry organization. Now I can find jewelry that I forgot I had. It looks beautiful in the elfa drawers in my closet.
April 22, 2014
Rated

5

out of

5
 by
donna96
great organizing tool
I bought this and 4 smaller ones to organize a drawer in my dresser to become a jewelry center. It worked out perfectly and it is super cute also.
April 21, 2014