Rated

4

out of

5
 by
Gretl
Multiple Use Organizer
I bought the first spin tray to put in my refrigerator to make it easier to access items. It worked so well, I bought a second one for my pantry. I have put all the different vinegar bottles on it and saved some room on the shelf. It's also much easier to access a bottle of vinegar, there is no back row. I can think of many other uses for the spin tray.
July 30, 2016
Rated

4

out of

5
 by
YesYouCan
Good Value. Consistent Product.
This is one of the cheaper options for a larger spin tray, but it handles heavier foods very well and spins consistently well. I am currently using mine in my refrigerator for keeping a bunch of salad dressing bottles and other condiment bottles easily accessible. The lip on the perimeter of the circle is helpful for keeping everything on the tray. The only reason it is not rated as a five star is because it would squeak at a certain part of the spin rotation when I first purchased it. However, the noise stopped after I used it for a couple of days.
March 20, 2016
Rated

1

out of

5
 by
NAMary
Poor Quality
I bought 2 of these. I was excited to find this size and happy with how smoothly the tray rotated. In just a few months they both started to sag so items on the edges were tilted outward. One of them actually cracked down the middle. The description claims they'll hold up to 100 pounds and I didn't even have a fraction of that weight. This is a poor quality product not up to The Container Store standards.
August 8, 2015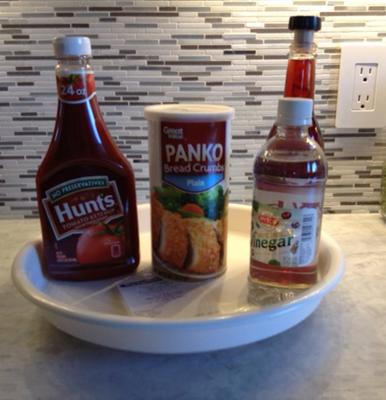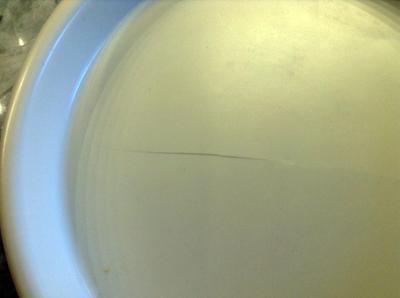 Rated

5

out of

5
 by
Cotton30
Smooth
These spice rounders are great! They hold lots of weight and still turn perfectly smooth. They are worth the little extra money compared to the cheaper ones from other places.
May 27, 2014
Rated

1

out of

5
 by
Crazykat1983
Disappointed
Ordered online for store pickup. Got home and the put items on tray and it wouldn't spin. The problem was the base was attached to spin top with cheap sponge stickers and must have fallen off prior to purchase and had to be reattached but was now attached off center. I now have to drive across town to return. Very disappointed.
May 5, 2014
Rated

5

out of

5
 by
messymary
Spin tray simple solution to organizing!
I used this product under kitchen sink for cleaning supplies, dishwashing detergent, etc. I absolutely love it, spins beautifully and organized so many things neatly. So easy to find what I'm looking for. I wish I had thought of this years ago!
April 19, 2014
Rated

5

out of

5
 by
StampQueen
Perfect!
I purchased 2 spin trays to organize bathroom cleaners under the sink and the other for my hair products to be stored under the bathroom sink area. It's the perfect size for what I have. All I need to do when looking for a particular hair product is just SPIN! I'm going to go back and purchase 4 more for my other bathrooms to store cleaners, etc. I like things "in or on" something in lieu of just having them stored separately under the sink and then I need to fumble through what I'm looking for. Great solution for my needs.
April 19, 2014
Rated

5

out of

5
 by
JudyK
Great for a deep, lower cabinet
The Spin Tray is very sturdy and has solved a vexing problem. My undersink corner cabinet is very dark and deep. I chose the Spin Tray to organize the numerous bottles of cleaners so that I can easily see and select the one that I want to use. It works beautifully and saves a lot of time removing and replacing the many items that find their way to this 'dark cave'. I will purchase a second one soon.
March 13, 2014
Rated

5

out of

5
 by
aaceti
Spin tray
I absolutely love this spin tray! I have 2 in my refrigerator and another in my pantry. In the fridge, one holds our yogurt, sour cream etc and the other for all the different jars of pickles, salsa, etc. It creates an organized space, makes the items easily visible and accessible to everyone in the family. What I like best, is that when it's time to clean the fridge - all I have to do is pick it up and the shelf is clear and easy to clean up. I highly recommend this product!
March 18, 2013
Rated

2

out of

5
 by
mariag
I had to return it
At the first glance I thought this spin tray would be perfect for my kitchen to keep several botles of oil, vinegar and so on. But it did not work, since this tray does not have stability. The spinning base is tall and small in diameter, so if you put a bottle of, say, olive oil slightly off center, the whole tray tilts to the side. And she spin is not smooth, it is shaky and, again, unstable.
May 2, 2012
Rated

3

out of

5
 by
pesach
great fo top shelves and small shelves
i use this item to store my top shelves with my many spices that come in all sizes.
April 30, 2012
Rated

5

out of

5
 by
organizednut
Works Great
I put this in a previously barely accessible corner of the pantry and it has opened up a world of more easily accessed storage. I have it full of oils, vinegars, etc. and it definitely holds all the weight without a problem and isn't at all wobbly.
March 11, 2010