Rated

5

out of

5
 by
SimpleHappyLife
Control Your Remotes
This is perfect for storing multiple sizes of remotes. Larger than most remote holders this allow us to store them all in one location. Multiple slots offers different sizes and heights. Should hold up for years to come, made of thick plastic.
March 26, 2016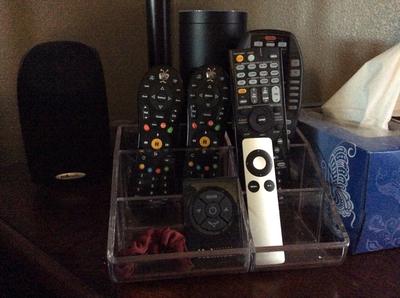 Rated

5

out of

5
 by
jced
perfect
am in hospital and had friend pick this up for me - big enough to hold my phone, kindle (on the diagonal) - glasses, cards, chap stick and stash of salt - it is exactly what I needed to corral the stuff that was spread over my tray. plus I don't have to worry about my electronics getting wet.
September 30, 2014
Rated

5

out of

5
 by
aztaurus
Gorgeous
Looks great on my vanity. Super organized. Goes with any décor.
June 6, 2014
Rated

5

out of

5
 by
Cam321
Great product!
Love all the compartments-really helps declutter my desk!
April 16, 2013
Rated

5

out of

5
 by
Mandygirl25
I absolutely loved this organizer! I had been looking for a way to organize my everyday cosmetics and yet still save space on my small bathroom counter. All of my things fit so nicely and for the price I just couldn't pass it up. I have recommended it to all my girlfriends because I know they would love it too!
April 5, 2013
Rated

5

out of

5
 by
ebug11
Perfect for makeup!
I wanted something that would hold my necessities and look nice on my counter. This product does just that. It holds all the makeup I need on a day to day basis. I store my extra makeup in another container. I highly recommend this product.
April 4, 2013
Rated

5

out of

5
 by
VicCake
A organized desk is a happy desk!
I am a metal-smith and I needed some desk top organizers to put on my work bench. I also bought the 4-Section Acrylic Cosmetic Organizer in clear, and although I preferred the quality of the 4-Section this one works wonderfully! It's a little less expensive and I feel like that shows in the construction but it is still very helpful in keeping my work bench tidy!
March 7, 2013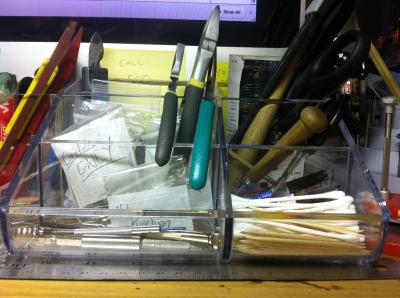 Rated

5

out of

5
 by
Five
My Mini-Medicine Cabinet
When I saw the 6-section Acrylic Organizer, I knew my searching days for loose prescription bottles were at an end. With this wonderful product, I can stack the bottles and know they will not fall down every time I reach for one. I can see the labels on the bottles stacked above the lower racks. The organizer size is just right. I can fit several organizers on a shelf and have an organized-looking shelf. I also love its multi-functional uses.
March 2, 2013
Rated

4

out of

5
 by
SheriBear
Very Useful
I find that the organizer is very handy and useful for holding pens, pencils, remotes, glasses and all sorts of other things that take up room on a desk or that get lost on a regular basis, ie. glasses. It is well worth what I paid.
June 22, 2012
Rated

5

out of

5
 by
Sue1
The best thing I have done for a while
I'm redoing my bathroom, tearing everything out and this is the store that I decided to go to for things that I needed to organize things that just stood around. So when I get going more, I will be buying more things as I go Thank You Sue 1
May 28, 2012
Rated

5

out of

5
 by
BunnyLuv
Great For MakeUp
My daughter bought this item to use in her dorm room for storing her makeup on top of her desk. It's really perfect! She loaded it up with lipsticks, mascaras, eyeshadows, brushes, etc. Since it's clear....it's easy to see all the items, and everything stays nice and organized. Dorm rooms tend to be cramped and crowded....so it's hard to stay organized. Instead of keeping your makeup all lumped together in a makeup bag or thrown in your desk drawer....buy this to keep it all neat and easy to get to. It's really well made, too!
April 27, 2012
Rated

5

out of

5
 by
SCBB
Great Medicine Cabinet Organizer
I purchased this to hold the miscellaneous products floating around in my medicine cabinet. It does a great job of organizing them & keep everything contained to free up space in there!
March 21, 2012
Rated

5

out of

5
 by
SteveCalifornia
Office Supply Caddy
I like the see through look of the caddy and it holds all that we need on the desk. I would recommend this for an office or even home use
March 19, 2012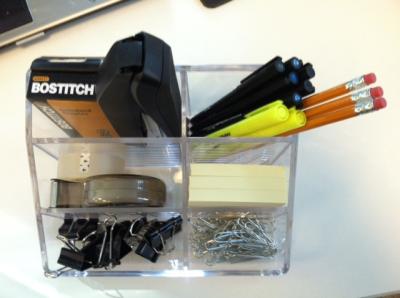 Rated

5

out of

5
 by
BlueSand93
Fits everything in its own place to keep my desk organized and efficient
April 11, 2011
Rated

5

out of

5
 by
nbraun
great desk top gizmo!
I like the clear plastic organizers because I can see whats inside without pulling everything out. Also it looks good (if you store good looking stuff inside, of course! )
March 31, 2011
Rated

5

out of

5
 by
bubblegirl
very useful
this is a great addition to the collection of various acrylic organizers i have been getting for my new desk - i could not decide what colors / styles i wanted and then realized i could use a combo of chic plastic accessories and then change paper and folder colors if and when i wished, without a complete re-decoration!
February 15, 2011
Rated

5

out of

5
 by
CarolinaSister
Great Organizer
This is a great organizer. I use it for my makeup. It holds everything I need and puts it in easy reach. I would definitely recommend this to a friend.
December 9, 2010
Rated

4

out of

5
 by
PinkStarfish
Very Functional
This is very durable and looks really cute on my office desk! It is a bit smaller than I thought, but still very functional. If you have a lot to store, you may want to consider a bigger organizer
August 20, 2010
Rated

5

out of

5
 by
Louisa
Fits in my medicine cabinet to hold daily necessities. Helps minimize clutter.
March 10, 2010
Rated

5

out of

5
 by
nanbergan
Great product
These are great. Allowed me to store stuff on my counter and out of the reach of my 1 year old.
March 3, 2010